Introducing Hivestats V3 Phase 2 | Rewritten Backend and 60x Speed Improvement + 500 LEO Bounty Contest
---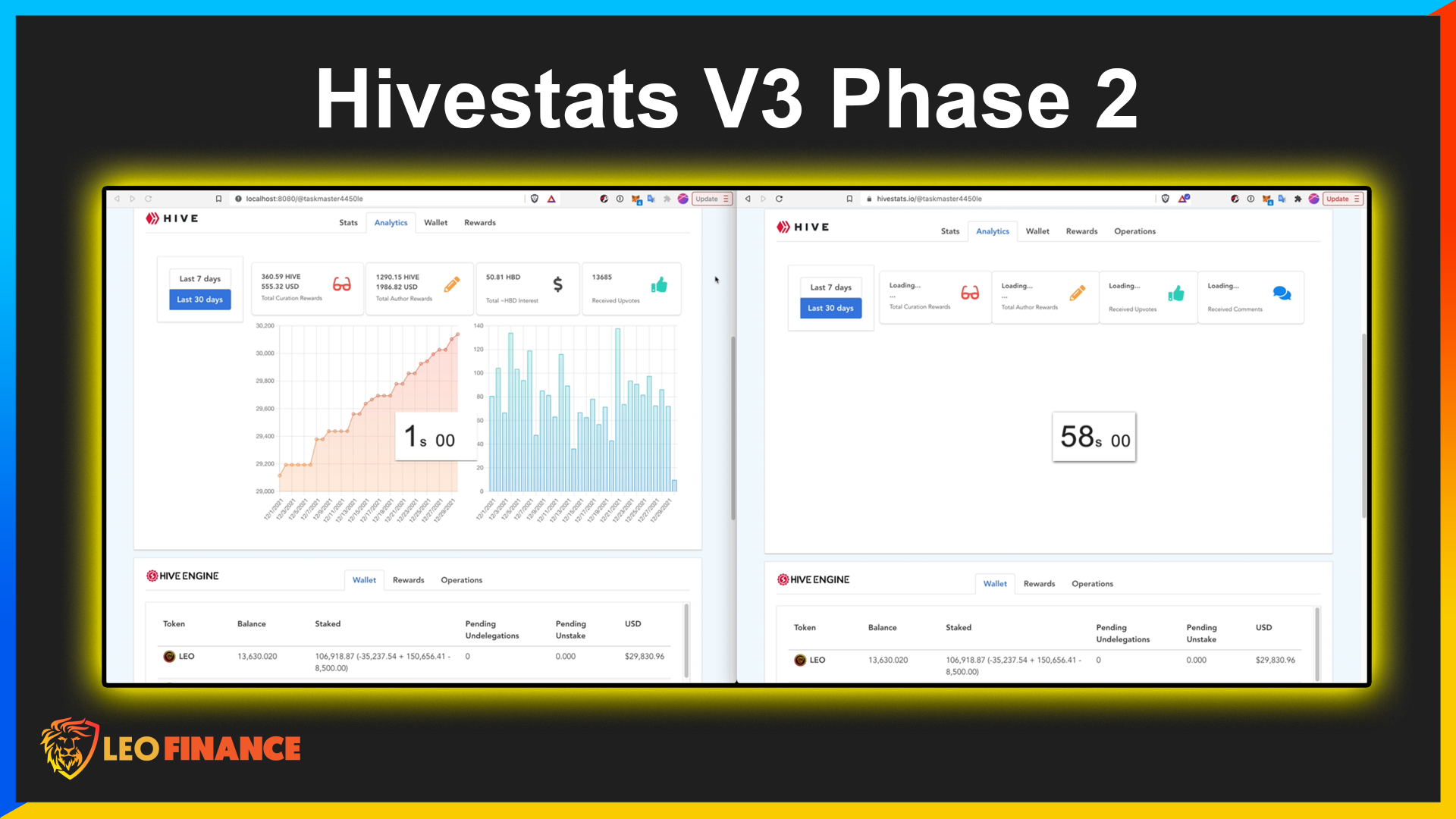 With our newly expanded dev team, Hivestats has been able to get some love lately. Not unlike the Matrix movies, the time between the V2 and V3 update of Hivestats had a long gap in between.
In V3 Our Focus Has Been:
Adding features that have long been requested by the Hive community
Rewriting the backend to optimize the loading of Hive ops
New Features in V3
V3 has a couple of new features that we've seen requested over the past several months.
Featured Posts on LeoFinance
While it is quite a simple add, this new addition to the Hivestats.io UI is great for the LeoFinance loop. We want to keep our users in the Leo Ecosystem and showing them potentially great content that they might like to read as they check their Hivestats is an amazing feature.
I've personally found myself clicking content from this tab more frequently as of late. It's a great way to have some random piece of crypto news / content catch your gaze at a glance and take you off to that article.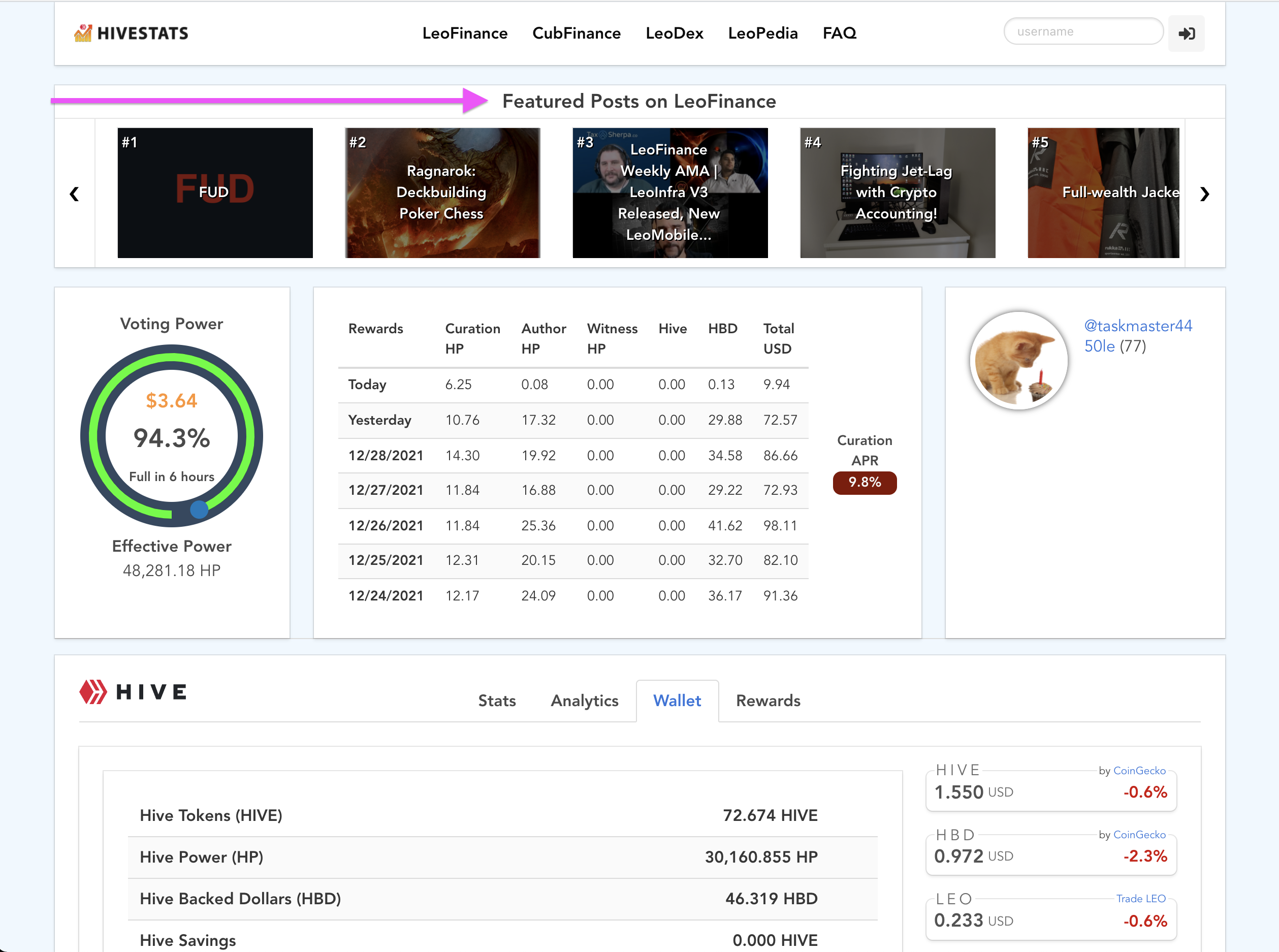 New Price Feed Displays for CUB and APY Displays
We've also added some updates to the price feed displays including the CUB token price and the CUB APY for single Kingdom staking.
Alongside that, we added a bLEO-BNB APY staking module to show the community some of the opportunity that is available for buying and staking LEO.
It's pretty incredible to see a 100%+ APY consistently for staking LEO in the bLEO-BNB pool.
In Phase 3 of Hivestats V3, we'll add a "Hive Opportunities" page which will show more opportunities for staking LEO along with staking HBD (Savings at 12% APY) and staking HIVE, etc.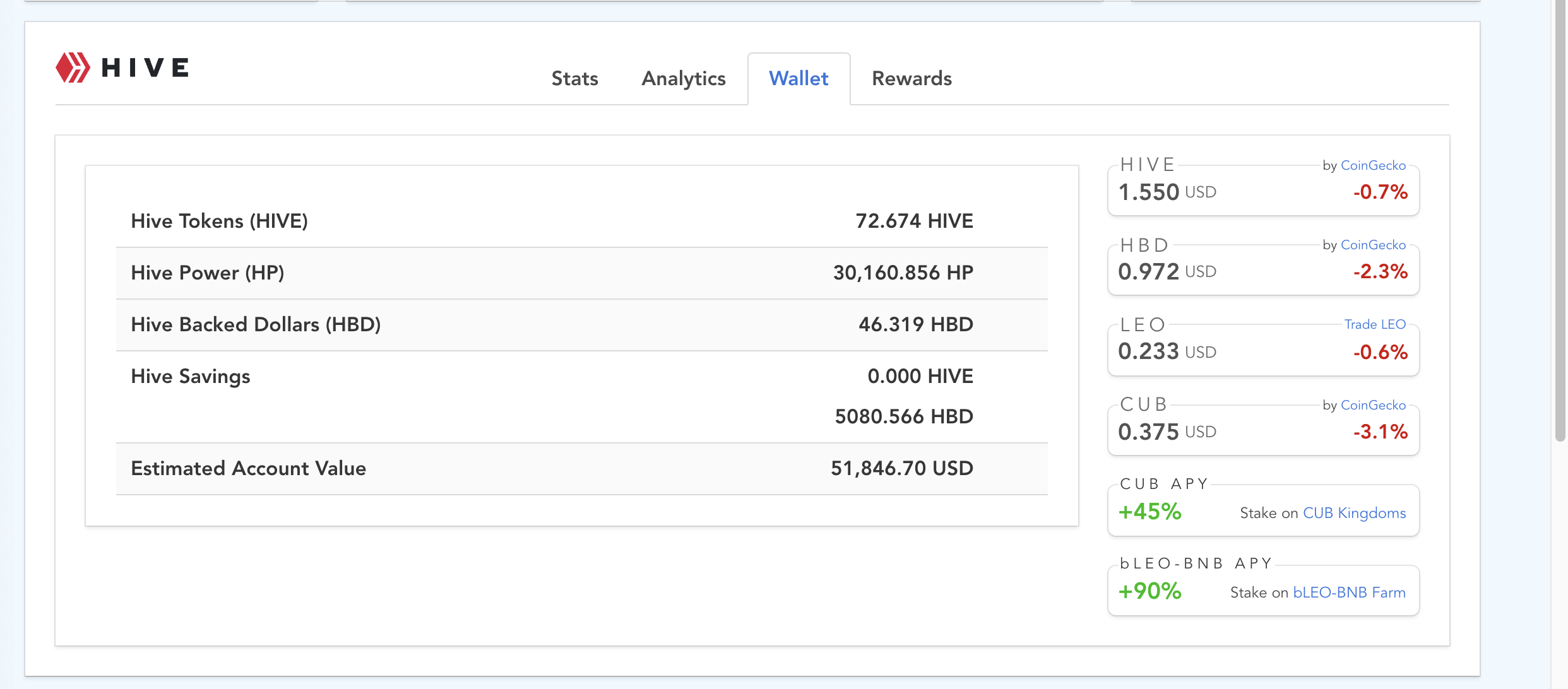 HBD Interest added to the Analytics Tab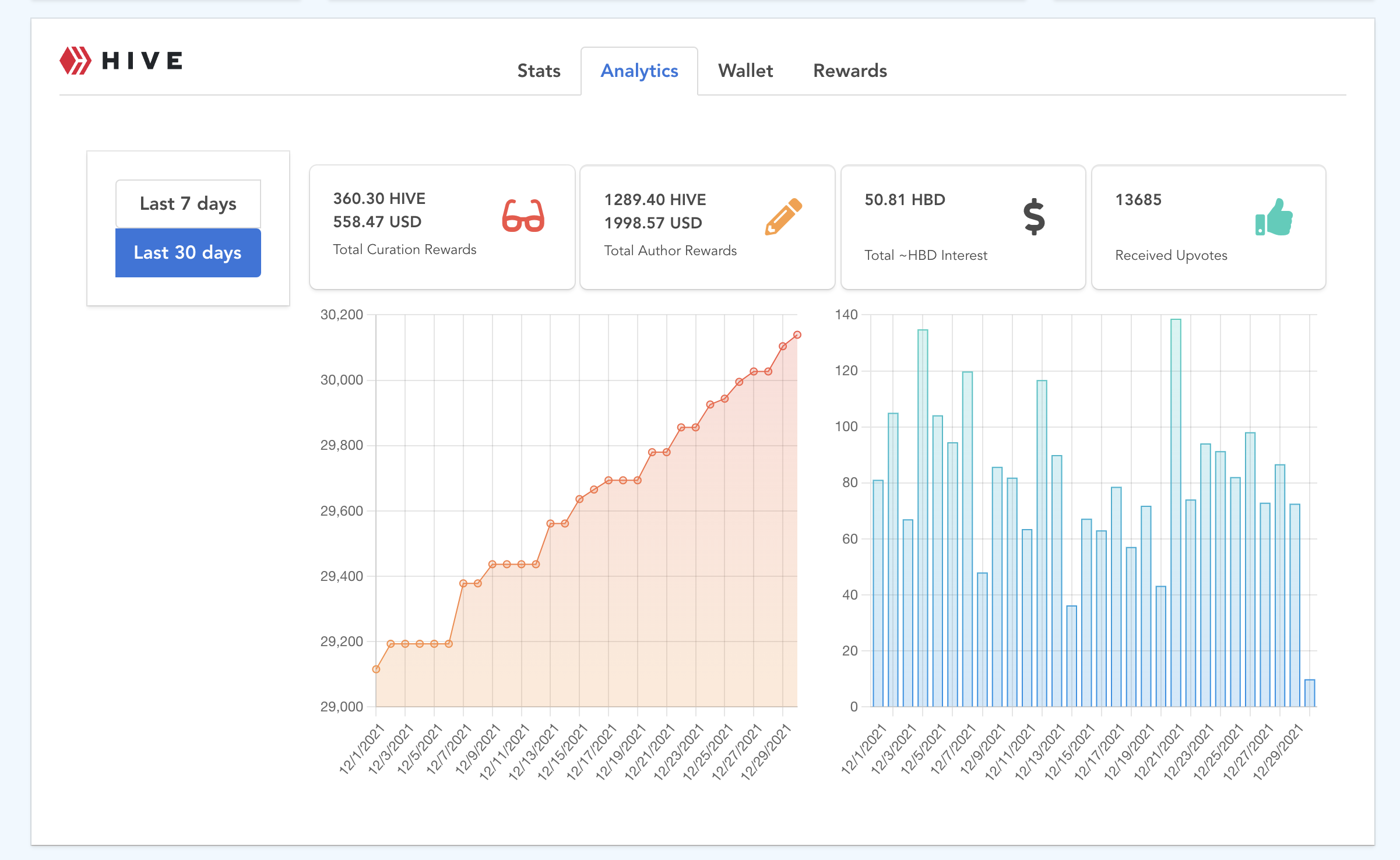 We added an HBD interest box to the "Analytics" page. This is an estimation of the HBD interest you will earn based on the amount of HBD you have saved in your wallet.
We got a little creative with this module because as it stands, there is no pull for the data we need to show historical HBD interest on-chain. We may find a different solution in the future but the one we came up with now is the following:
Take user's current HBD in savings
Multiply by 12%
Divide by 52 (for weekly)
Divide by 12 (for monthly)
Display the resulting approximation for HBD Earnings
*Keep in mind that this calculation is showing the current HBD Saved not historical. So if you read this analytics page as "Last 30 days" but just added HBD to your savings the day before you read the page, you obviously did not earn the updated HBD interest.
Thus, this HBD Interest tab can be useful if you know you haven't updated your HBD savings for 30 days. It can also be useful for simply projecting what you will earn over the next 30 days.
Rewriting the Backend of Hivestats
Wow was this a fun update to deploy. The User Experience of Hivestats.io is vastly improved in this update.
With the new backend, Hivestats is running 60x faster than the previous version when loading certain data displays. It's pretty incredible when you witness it side-by-side with the old version.
If you want to see a side-by-side comparison, we just posted a video of the Analytics page loading on Hivestats V2 vs V3. You can view that video here:
https://twitter.com/FinanceLeo/status/1476600663874363399
---
CONTEST! Win 500 LEO! Share Your Hivestats Experience!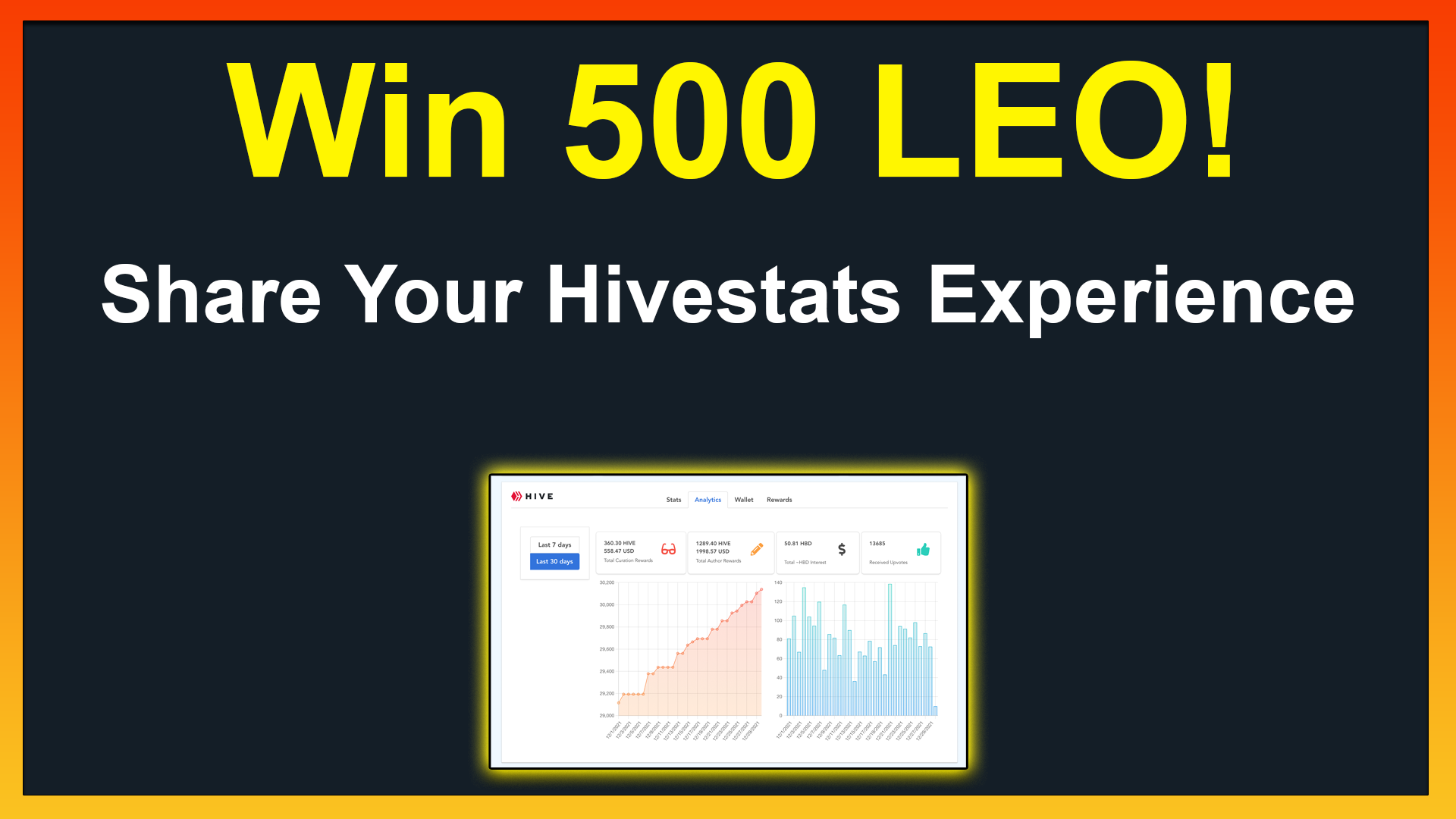 Many Hive users share the Analytics charts on Twitter and in Hive posts to show the community their growth on-chain. We thought it would be fun to have a contest to extend this sharing with the new version of Hivestats V3 Phase 2.
How to Participate
Make a post on https://leofinance.io talking about https://Hivestats.io
Include "hivestats" as the first tag in your post
Share the post on social media (Twitter, Discord, Facebook, Linkedin, etc...) and post a link to your shared content in the comments below your post
Your post can cover anything you want it to cover. Here are a few ideas to help you get started:
How you use Hivestats.io to track your Hive progress
How you use it to optimize your curation
How the recent speed improvements have made your experience of Hivestats better
Share charts of your Hive account and growth over the last 30 days
What features you would like to see in Hivestats V4
...
Rewards:
1 winner will be chosen to receive 500 LEO
Runner-ups will all be curated with @leo.voter (1.8M+ HIVE POWER)

LeoFinance is a blockchain-based Web3 community that builds innovative applications on the Hive, BSC, ETH and Polygon blockchains. Our flagship application: LeoFinance.io allows users and creators to engage and share content on the blockchain while earning cryptocurrency rewards.
LeoFinance | CubFinance | Hivestats | LeoDex | LeoFi
Delegate HP & Earn 16% APR, Paid Daily. Currently @ 2M HP
Posted Using LeoFinance Beta
---