Kingdoms UI Update | Data Displays, API Improvements and CUB IDO FAQ
---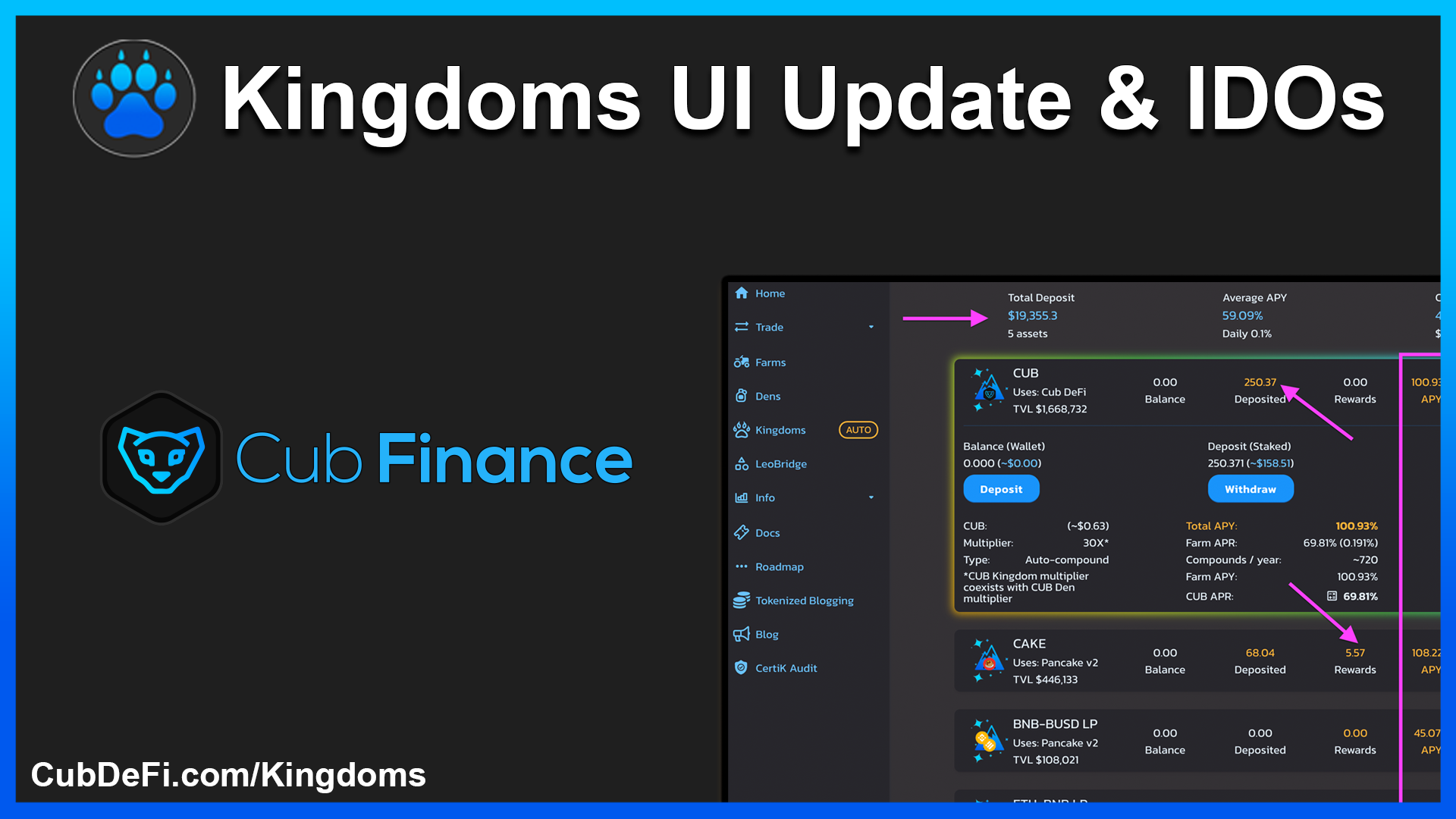 We've got an incredibly long list of developments rolling out in the DeFi space. The existing https://cubdefi.com UI has gotten over a dozen improvements over the past week which make the UI/UX exponentially better.
This dev update will describe the upgrades we've made to the UI, the future UI improvements coming and some of the other major developments we've been plugging away on.
p.s. we still have the week of CUB PRs locked and loaded. We decided to spread out the release of the PRs as we make final preparations for our Polygon DeFi Platform, sign a deal with a new BSC-based yield app that will IDO through CUB & new Kingdoms UI.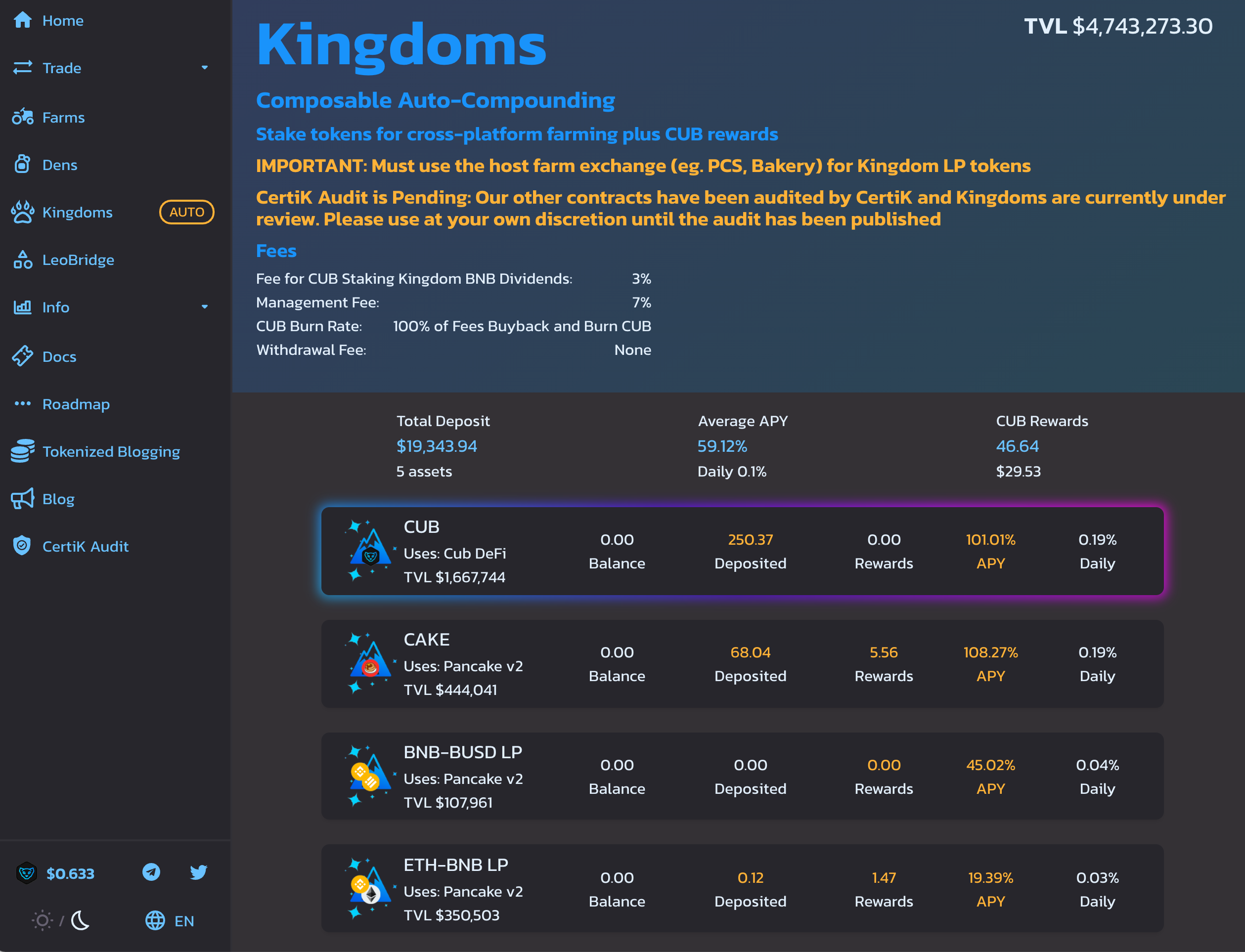 Kingdoms UI Update
The Kingdoms UI has gotten a number of updates along with the entire Cub Finance UI.
One of the major issues with the CUB UI has been the unreliability of various PCS / BSC APIs. We recently deployed a fix for one of the most widely reported issues: /farms and /dens page crashing on refresh.
Additionally, we deployed an in-server script that helps load APIs faster. Many of you may have seen the slow loading times over the past week or so. Again, this was due to various APIs we were using.
The loading time for various data on the CUB UI: I.e. the CUB price, APY displays, user balances, etc. is now several times faster than before.
Data Displays
The Kingdoms UI received a number of data display updates. As mentioned in last week's AMA, this is a step along our development path toward a full dashboard for tracking Kingdoms statistics.
Totals
At the top of the Kingdoms UI, you can now see your total deposit figures. This shows the total USD value of your deposits across the 9 Kingdoms and how many of the kingdoms you are in (i.e. 5 assets = participation in 5 Kingdoms).
Average APY shows the average yield in the "5" Kingdoms you are in (note: at present, this shows the average yield - not the weighted average yield. I.e. it doesn't account for your $$ value deposited in Kingdom A vs. Kingdom B).
CUB Rewards is an obvious one: it shows the total CUB Rewards waiting to be harvested from your Kingdoms positions.
Highlighted Values
A number of users mentioned that it would be nice to have a more clear distinction for the Kingdoms that they are participating in. We added variable highlighted text to help differentiate.
Now if you have a balance in your wallet (i.e. 1 CUB in your wallet), you'll see the "Balance" column highlight on the CUB Kingdom with your 1 CUB.
If you have a Deposited (Staked) value in one of the Kingdoms, it will highlight the "Deposited" column.
The same goes for Rewards. The APY columns are always highlighted to show the current total APY for participating in any given Kingdom.
In the next major Analytics update for the UI, we'll start having historical user balances, graphs, etc. that will make it easier to track your rewards and compounding over time. These charts will radically change the way you can see your portfolio growth over time as the Kingdoms work to autocompound your base assets + pay CUB harvestable rewards.
BNB Rewards for CUB Kingdom Staking
The BNB reward mechanism for CUB Kingdom Staking is ready to deploy. We have one final change to make on the UI-side to be ready for this update and then it will deploy into production. When this feature is live, anyone staking CUB in the Kingdom will be able to claim liquid BNB rewards.
These BNB rewards come from a 3% management fee taken on all Kingdoms-based harvests (i.e. when $1,000 of CAKE rewards is harvested in the PCS-based Kingdoms, $30 is swapped from CAKE to BNB and then split amongst all CUB Kingdom stakers to be claimed as BNB).
We're confident the BNB Reward Display will go live within the next 1-12 hours. Following that, the BNB Dividends will slowly begin to accumulate from management fees during each snapshot.
CUB Economics PR
This is the next PR we'll release. We made some significant changes to the whole Economics model driving CUB.
CUB has successfully migrated from the "Goose" model of yield farming to the "Autofarm" model of multi-platform yield farming with lower inflationary rewards from CUB itself.
The next major move for CUB is our launchpad. CUB IDOs will burn millions of dollars worth of CUB. The new tokenomics PR will talk about the major impact that Kingdoms have on the stability of the CUB price and then it will dive deeply into the tokenomics behind CUB IDOs and how they will drive exponential value to CUB via:
CUB Burns (each IDO will burn a large % of the CUB supply - depending on the size of the IDO launch)
Value for CUB Holders (in order to participate in a CUB-based IDO, users will need CUB to stake in a new IDO-specific vault. This means that CUB holders gain first-access to buying new tokens that launchpad through our platform)
CUB IDO FAQ
Since the questions about the upcoming major development for Cub Finance (IDO Launchpad) have been rolling in, here's a quick FAQ:
How Do CUB IDOs Work?
This will be described in the upcoming CUB IDO deep dive PR. There are currently 4 different IDO models that aspiring launchpad tokens can choose from.
How Many CUB IDOs Will There Be?
The only limitation to how many CUB IDOs we can do is how many platforms sign up for our launchpad. Currently, we have 2 upcoming IDOs scheduled. The first is our Polygon-based platform that will also serve as a case study for other tokens to see how CUB IDOs can perform as a fundraising and launchpad mechanism.
The second IDO scheduled is an external BSC yield farming app that approached us after the AMA a few weeks ago when we started discussing IDOs. This platform is targeting $100m+ TVL and they want CUB Diamond Paws to have first access to purchasing their token via Initial Dex Offering on CUB.
This IDO is also special because they've agreed to launch a CUB-BTC farm on their site. This will provide CUB's very first external farm listing and will allow us to launch a CUB-BTC Kingdom that autocompounds the yield from their platform + pays a small CUB Multiplier. This particular IDO will seek to raise $1m via CUB IDO which means that an equivalent amount of CUB will need to be burned (IFO Overflow model). More details soon™️
Wen First IDO?
Out of the two scheduled IDOs, the Polygon platform will be first. Contracts have been deployed and the UI is being prepared. We're getting very close to our debut on Polygon which will include a number of simultaneous feature launches:
Polygon-based Platform
pLEO
pLEO LeoBridge Extension
CUB IDO Vault
How Much CUB Gets Burned in an IDO?
It can depend a few factors. The main factor is how much funds the target platform is seeking to raise via IDO vault.
For example, if the BSC platform that recently signed a deal with CUB to do an IDO seeks to raise $1m in BUSD and successfully completes the raise, then $1m in CUB will be burnt (a total $2m raise). This will launch with the IFO Overflow Model which creates a CUB-BUSD vault. Users pool CUB and BUSD together and then deposit it in the new IDO vault.
When the raise is complete, users receive ___ token (their platform's native token). The platform gets 100% of the raised BUSD from the CUB-BUSD LP tokens. 100% of the CUB from that LP position gets burned permanently from the supply.
At current values, that'd be 1,000,000 BUSD and 1,579,778 CUB. The platform would receive 1M BUSD and 1.57M CUB would get burned.
Will Only CUB Holders Participate in IDOs?
In order to participate in a CUB-based IDO, users will first need to buy/hold CUB. If you investigate other launchpads / IDOs / token launches on BSC and Polygon, then you'll see that a wide range of people participate in these types of launches
Existing platform users (i.e. existing CUB Hodlers)
Traders (people looking to quickly buy into the IDO and trade out post-launch)
Whales (large buyers looking to buy in at "presale" prices)
Sniping bots (bots that will quickly trade into CUB and then deposit to participate in the IDO prior to "human" participation)
The key is that CUB IDOs will service all of these groups but all roads lead back to benefiting CUB: since all users will need to hold/buy CUB to participate and then any participating CUB tokens will get burned via the IDO vault mechanism.
WLEO-ETH Geyser
We've had some rocky months to the new WLEO-ETH Geyser model we've been developing. It's required a lot of manual intervention as we continue to iterate on the model toward our end goal: a fully automated Geyser distribution system.
In our last AMA we talked about the geyser a bit. There was a dev call just before the AMA and another one since then. We're looking good to deliver on the updated Geyser shortly after the 1st of August. To prevent any other delays, the Geyser payout for the last period just paid out up through the 1st of August (a few extra days).
This gives us a few days to implement the new model and have it working by the time the next geyser pays out on the 15th. By then we should have our automated model tested and fully implemented. When we confirm that it's operating smoothly for a few weeks/months consecutively, our goal is to migrate it to payout weekly since it will require 0 manual intervention.
Next Update:
The BNB Dividend Faucet for CUB Kingdom Stakers has just been flipped on as of this post going live. Our next update post will talk about the detailed mechanisms going into this BNB Faucet for staking CUB.
This is one of our major developments for the CUB Ecosystem. As TVL in Kingdoms continues to grow through development, new vaults and marketing, the BNB Dividend distribution will continue to grow and users who stake CUB in the Kingdom will benefit both from liquid BNB rewards and from the appreciation of CUB from the external management fees which autonomously buy/burn CUB as well.
More utility has arrived! Our next major utility-based development are IDOs. There are now 2 scheduled IDOs with a 3rd being signed and scheduled this week and a few other projects discussing possible IDOs through CUB as well.

LeoFinance is a blockchain-based social media community that builds innovative applications on the Hive, BSC and ETH blockchains. Our flagship application: LeoFinance.io allows users and creators to engage and share content on the blockchain while earning cryptocurrency rewards.
Earn a 16% APR on HIVE POWER and Support LeoInfra's Onboarding Efforts by Delegating HP to @leo.voter (Currently at 2M HP). We Use this to Claim Accounts and Delegate RCs to Newly Onboarded Users + Daily LEO Payouts to Delegators
Posted Using LeoFinance Beta
---