LeoFinance UI Update | Kingdoms, CUB, Marketing and Communication
---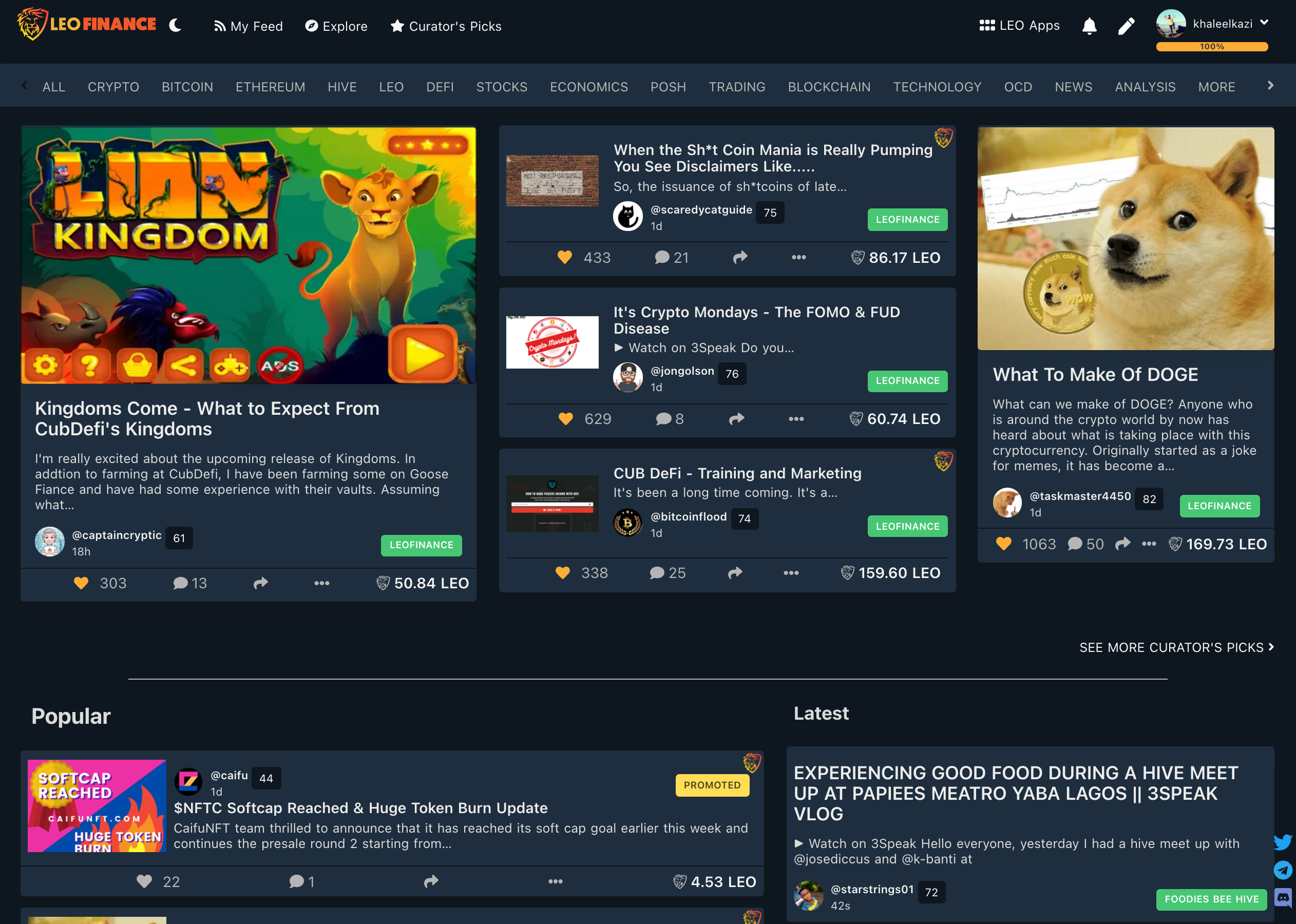 We've had a crazy 5-6 weeks of development surrounding CUB, LeoFinance and LeoBridge.
There is a disconnect that has been brought up in Discord and Telegram over that period of time related to development and communication.
LeoFinance has always been a project that put communication at the top of the stack in terms of importance but over the past several weeks, we've been developing a number of complex projects (LeoBridge, Kingdoms, Leo UI update, PBlank, etc.) and comms have taken a bit of a backseat.
Needless to say, comms have taken a bit of a back seat since the launch of CUB but the development pace has never been more aggressive for LeoFinance and Cub. We've never had so many irons in the fire and exciting things on the verge of launching.
LeoBridge is now in production as we continually test it with a low swap cap. As the bridge matures, we'll continually raise the swap cap and once we feel the cap is high enough and the bridge TXs are working smoothly (around $20k+ swap cap), we'll begin our press release runs with outlets like Cointelegraph and other major crypto news sources.
Kingdoms will also bring about a major change to the entire Leo/Cub economy. Many have talked and speculated about Kingdoms and some think that Kingdoms are the same thing as PCS V2. This is definitely not the case and the blame is on us for the lack of communication as we developed Kingdoms.
The Kingdoms contracts work similarly to Autofarm. They compound the base asset (i.e. BNB-BUSD if that's what you're pooling) and on top of that, they pay out the normal CUB harvestable rewards. These contracts are composable which means they leverage the power of pooling assets across multiple platforms simultaneously to stack APR for the most optimal return. We're working on an updated page for the Cub docs along with a post to explain how Kingdoms work.
LeoFinance UI Update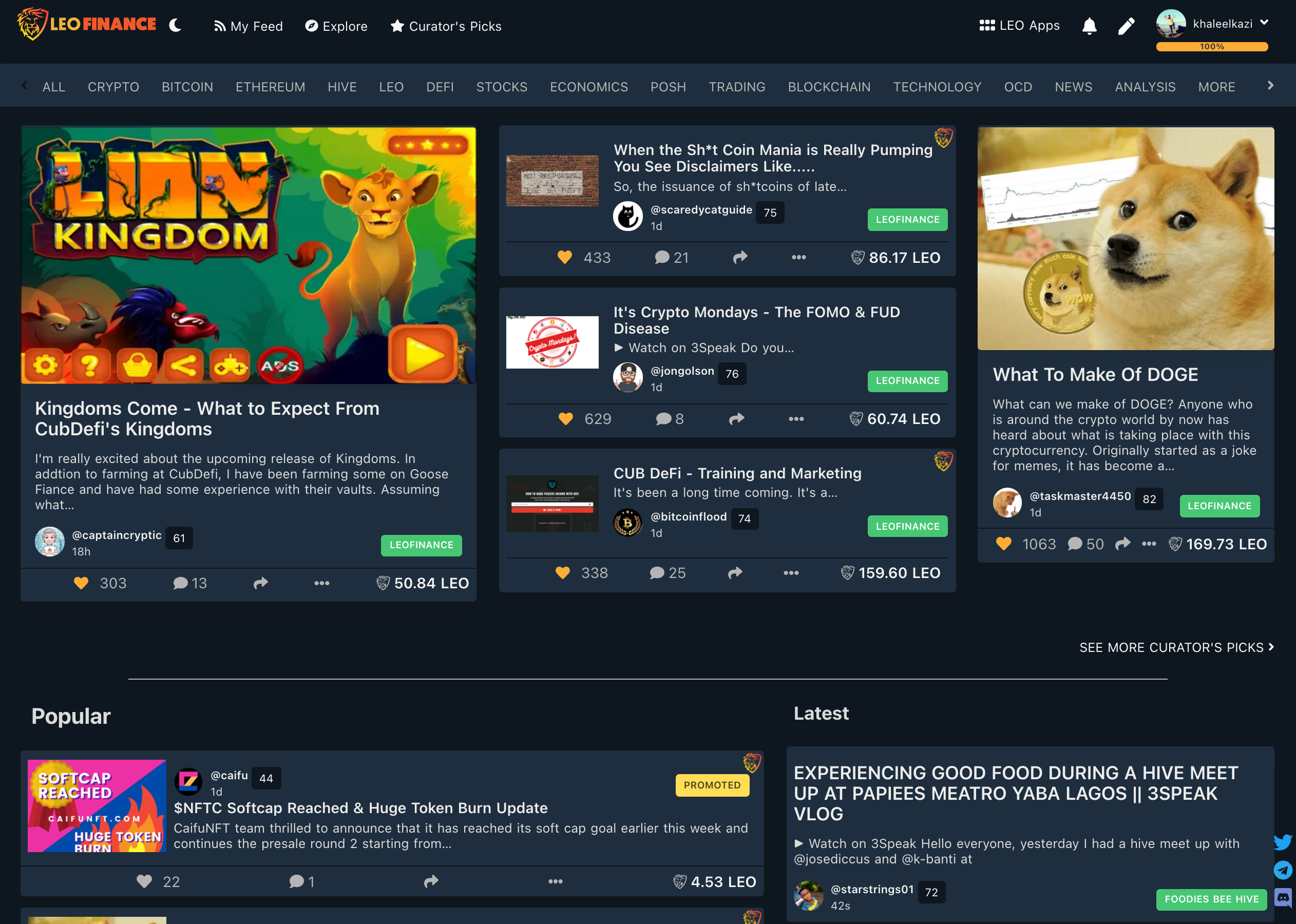 LeoFinance has undergone some major UI updates lately. It took a backseat during Project Blank, Cub and LeoBridge developments but with our expanded team of devs and our latest addition: an executive VA to take some of the administrative burdens off my plate, we're now back in action making updates to all of our major projects.
LeoFinance.io is our flagship app. It's important that we stay up to date, fix any and all bugs and continually roll out new features. Over the coming weeks and months, you'll start to see a lot of exciting UI updates again. We're excited to get back to the old pace of regular updates for our main app.
In This Update:
Notifications
Mobile Post Feed Layout Update
Device Layout Optimizations
Footer Updates
Navbar Styling and App Link Update
Major bug fixes including Image Uploading issues
....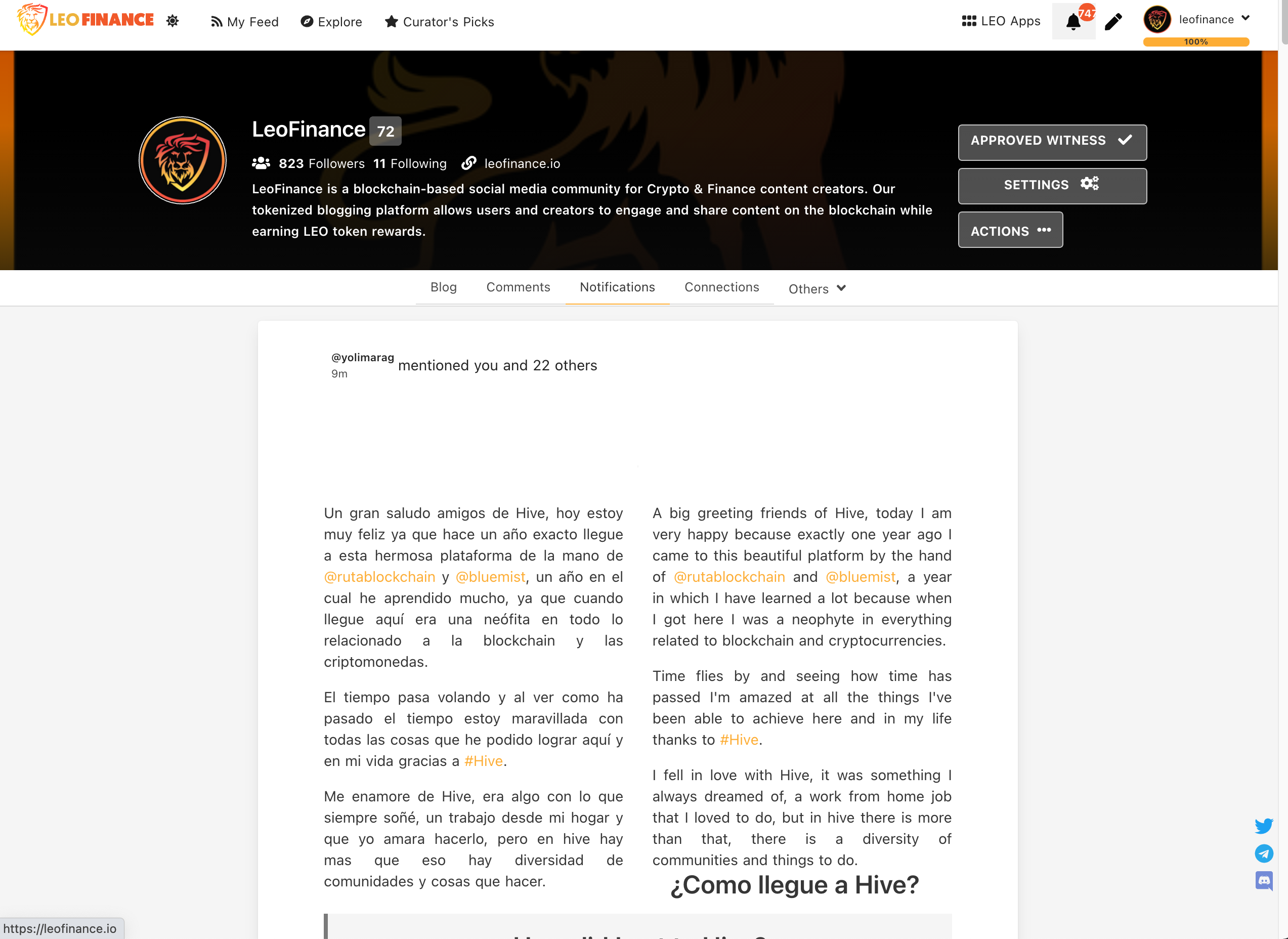 We'll let you get out there and explore the updates. Many of them are performance enhancements and bug fixes. We're setting the stage for a number of major updates and feature rollouts to make LeoFinance.io the best platform for Crypto & Finance News, Community and Discussion.
What's Next?
As mentioned in the beginning of this update, we've been working hard behind the scenes on all of these major projects: Cub, Kingdoms, LeoBridge, LeoFinance UI, Project Blank and more.
Our pace of development has never been more aggressive and fast-moving. This has come at the expense of communication in general, but I'm hoping that our expanded team will help alleviate some burdens across the board - especially menial, administrative stuff that was sucking up a lot of time - and allow us to have the best of both worlds again:
Fast-paced development on LeoFinance and Cub that has never been seen before along with rapid and extensive communication like we had up until a few months back when the project expanded faster than the team could.
All of our remaining Kingdoms contracts and strategy contracts were deployed today. This leaves two main things before the Kingdoms update can go live:
CertiK audit completed
Merge development UI into production to open Kingdoms
While we could launch Kingdoms without the audit being completed (or at least with the audit completed prior to being finally published), we'd rather wait and go for maximum security for our community.
There have been some major issues on other DeFi platforms on BSC. Hacks, migration issues, etc. with platforms like Venus and others. We will always develop fast-paced but still prioritize security over releasing products that aren't ready for prime time.
We'll continue to release updates in real-time via this account on Hive and the Cub telegram and LeoFinance Discord. Stay tuned for a new era of LeoFinance and Cub!!

LeoFinance is a blockchain-based social media community that builds innovative applications on the Hive, BSC and ETH blockchains. Our flagship application: LeoFinance.io allows users and creators to engage and share content on the blockchain while earning cryptocurrency rewards.
Earn a 16% APR on HIVE POWER and Support LeoInfra's Onboarding Efforts by Delegating HP to @leo.voter (Currently at 2.2M HP). We Use this to Claim Accounts and Delegate RCs to Newly Onboarded Users + Daily LEO Payouts to Delegators
Posted Using LeoFinance Beta
---