LeoFinance Weekly Dev Update #7 | Mobile App v0.0.12, Leo Podcast, Marketing, IDOs and Kingdoms TVL $6m+
---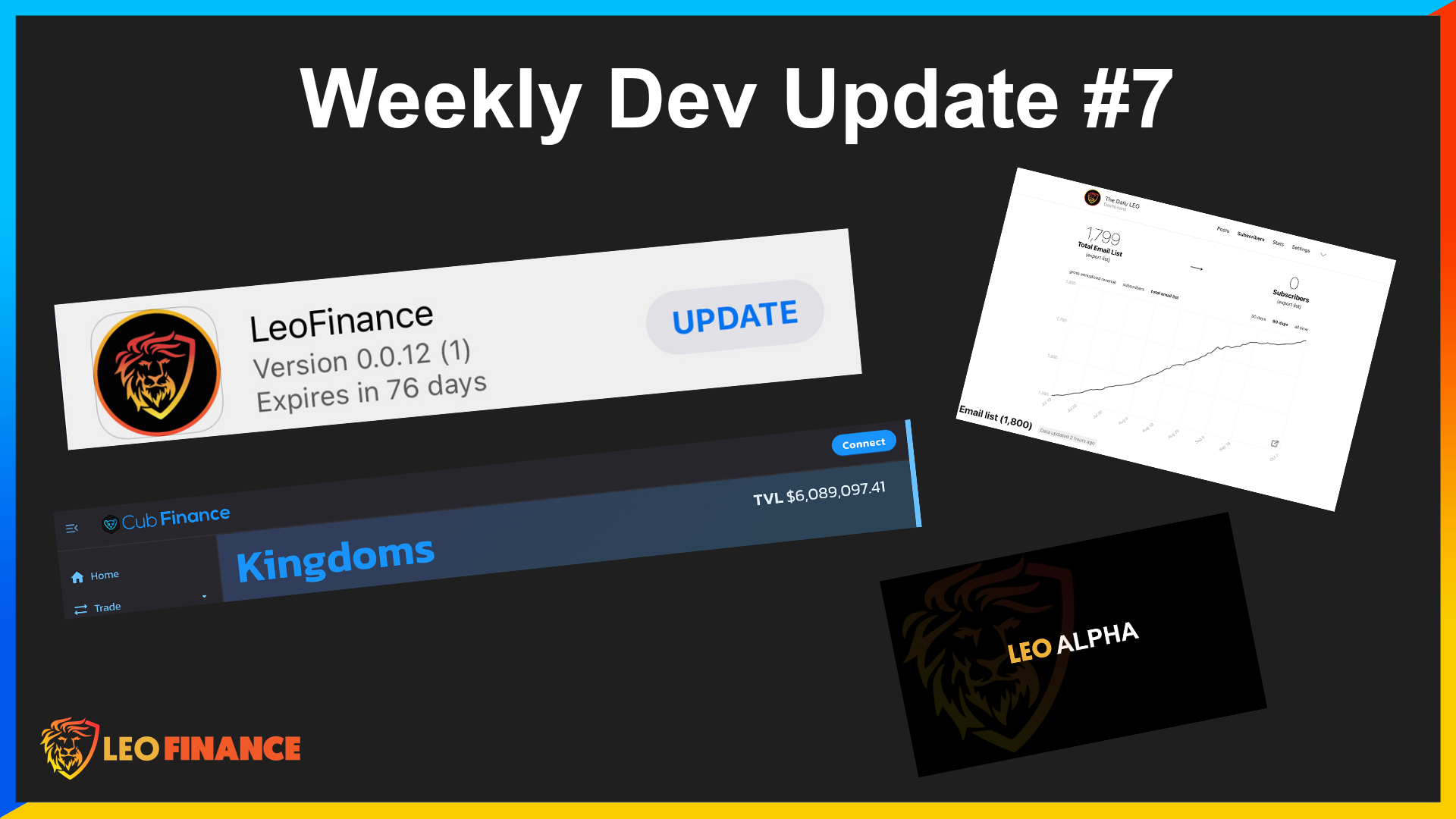 In This Week's Update:
LeoFinance
Latest Iteration of the LeoFinance Mobile App and Progress Update
Leo Podcast Returns!
Leo Marketing - Newsletter, LeoAlpha, Podcast & More
CubFinance
Kingdoms TVL Reaches $6M USD (and climbing)
IDOs On Pace for Uptober
Polygon Platform In Final Stages
General
---
LeoFinance

Welcome back to another weekly dev update. We've been working on quite a few projects in the background. Many of these things have been discussed at length in our weekly AMAs every Friday.
Mobile App Progress
Major progress is being made on the mobile app front. Our target to deliver this into open beta is early October. Currently, we're in a very limited private beta. This is allowing us to fix the major bugs and make sure that our V1 rollout is as smooth as possible.
This initial version will be very familiar to the Hive community. As the version progress, weekly updates to the app will be launched and you'll see rapid improvements roll out.
As many can tell I (Khal) have been using the mobile app almost exclusively for commenting / replying in the LeoFinance community. It's a great experience and I'm really excited to have everyone jump over and start battle-testing it.
In addition to rolling out the app into open beta, we're going to be running a lot of engagement competitions aimed at getting rapid feedback for how to improve the app now and in the future as we develop amazing features. The roadmap for the Mobile App is already extremely exciting.
Web3 is going mobile... and there's nothing quite like it out there. Just wait till you see the end of 2021's version of the mobile app... setting the stage nicely for a nearly unrecognizable version in 2022 as we continue down our mobile app roadmap.
The LeoFinance Podcast Returns!
The LeoFinance Podcast has returned in a big way! Now taken over by the marketing team, full podcast episodes are being arranged, recorded and post-produced completely by their team. This requires no intervention from me. All I have to do is show up, look pretty (if possible) and have a conversation with our guest.
I'm excited to see the amazing progress we can make in fulfilling our base mission for LeoFinance: expand the width and depth of our community.
The podcast can bring a great deal of width to the table as we bring on amazing guests and collaborate with a much broader audience.
Stay tuned for a lot of podcasts that we have lined up. Many will be with projects that are truly massive in the space. It's an exciting time for LeoFinance to become a media company in addition to all the other things we're buidling.
Leo Marketing - Newsletter, LeoAlpha, Podcast & More
I touched on the podcast aspect of our marketing initiatives but there are a lot more things going on in terms of expanding the width and depth of our community.
Leo Newsletter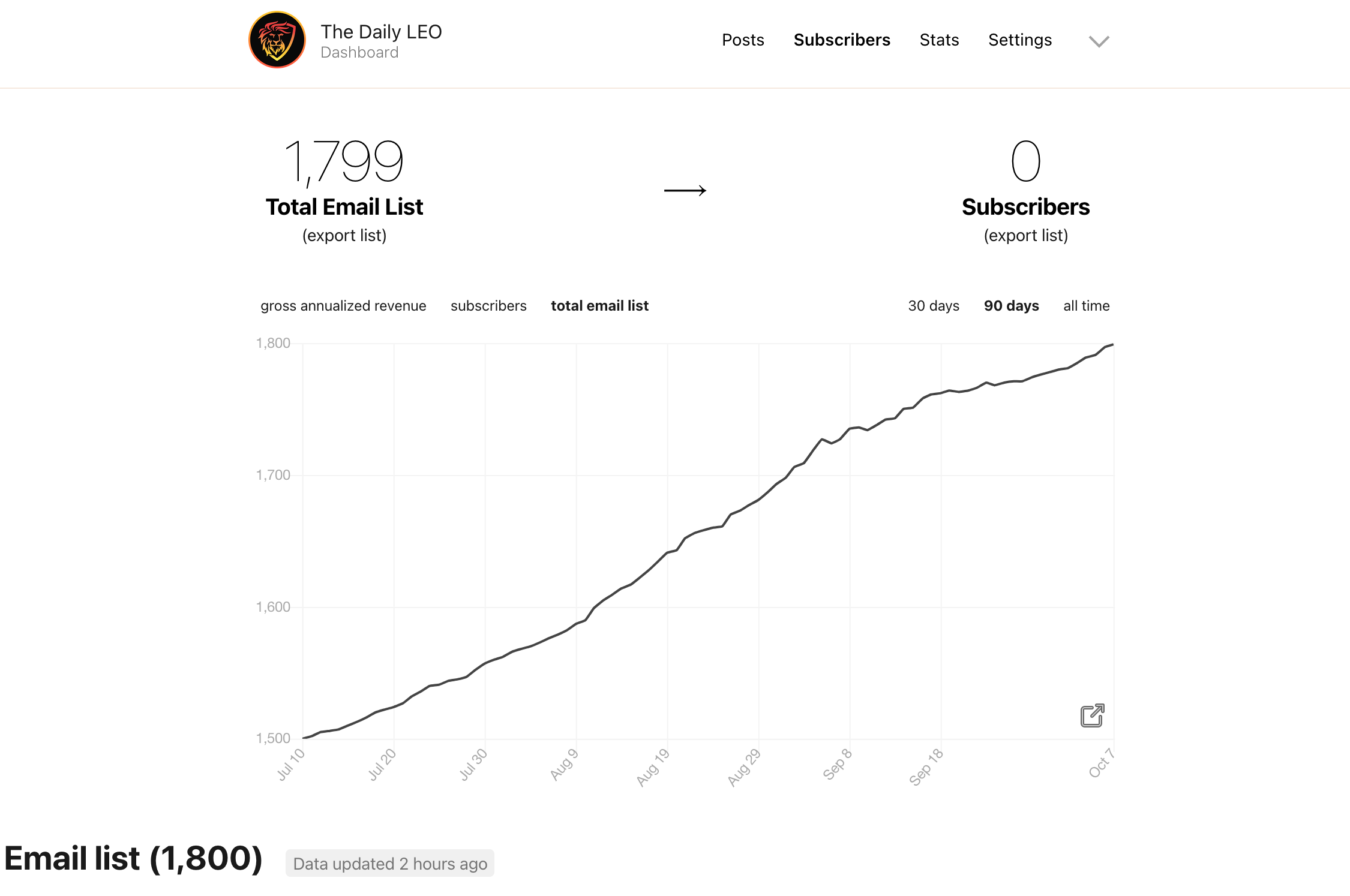 Taskmaster4450 has taken over the Leo Newsletter. Providing us all with an amazing read delivered right to our inbox every Monday and Friday.
The newsletter subscribers continue to grow at an exponential rate and engagement on our newsletter is also performing incredibly well. I believe the newsletter will be one of the cornerstones of LeoMarketing going forward. That's hitting on both width (getting new core community members) and depth (increasing on-site engagement from existing community members).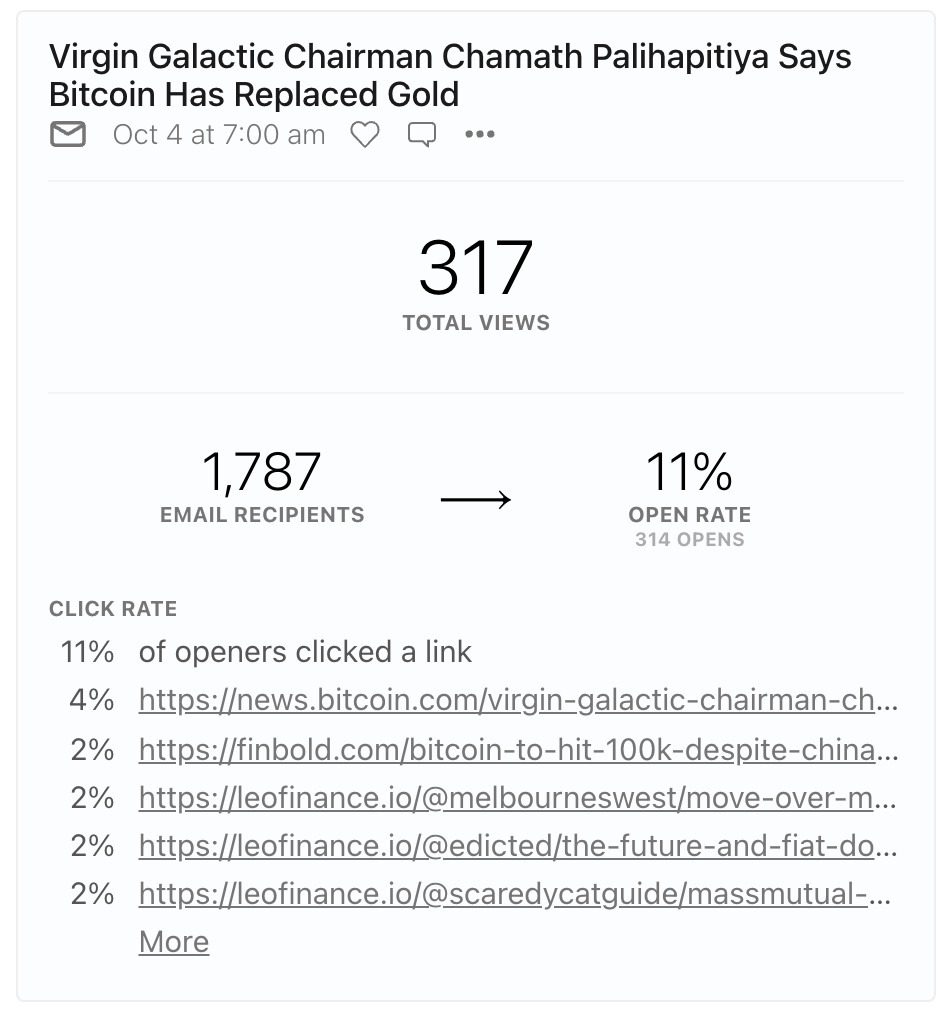 LeoAlpha
There are some incredible initiatives being built out there on LeoFinance. I am really excited to see more thoughtful community members step up into a leadership position as they take on their own initiative to expand the width and depth of LeoFinance.
In a recent blog post on my personal account, I drew some inspiration from conversations with the marketing team, with community members like @forexbrokr and @trumpman and also from following initiatives like @acesontop's #AskLeo, @taskmaster4450's @leomarkettalk and @forexbrokr's @crypto-guides.
One idea that I was spitballing with the marketing org was hiring some research analysts to help us develop targeted content about up and coming crypto projects in the space.
This research could all be spun up into various blog posts and whitepapers under the banner "LeoAlpha" - with the dual purpose of generating Alpha for the LeoFinance community and expanding the scope of our community by sharing this content on social and getting the attention of the projects being reviewed.
After all of the above conversations, I decided to write my idea out and post it to LeoFinance... hoping it would be picked up by other community members who want to play around with it and take some initiative of their own.
My first LeoAlpha post will go live soon. This will outline a project I've been watching/participating in and some ways that I think research can be done to create a better understanding of the project which could lead all of us LeoFinance members to generating some Alpha for our crypto portfolios.
Just another tool in the toolkit. I'm hoping to see a lot of participation as we move the ball forward on that!
CubFinance
CUB has been getting hurt a bit in the current market. The times are tough but development continues. In a discord conversation, we talked about the future of CubFinance and if it will survive the downtrend it's in.
There are a lot of factors at play here but the development of our next few platforms to take Cub into the multi-chain universe of DeFi will move us to the next level IMO.
The vision is crystal clear. Execution time has arrived and October will be a big month to see a lot of our hard work move from behind-the-scenes to center stage. I think this is a make or break month for CUB and I am excited to make it the former.
Kingdoms TVL Reaches $6M USD (and climbing)
Earlier this week, we released 2 new Kingdoms for CubFinance; SPS-BNB and BTCB-BNB (Updated Kingdom from Bakery)..
In discord, I predicted TVL would move from ~$4m to $5m overnight and that's exactly what happened.
Since then, TVL has risen even more. Crossing the $6m mark (partly helped by the rise in BTC value).
Kingdoms TVL have a direct correlation to how much CUB is autonomously burned from the management fees generated through our Kingdom contracts.
Growing the Kingdoms TVL has become a core focus as of late. As we roll out our cross-chain platforms and introduce a number of incredible new features to CUB throughout the end of 2021, we'll also show an incredible growth in the TVL on Kingdoms. $25m+ TVL is very achievable by year's end and that's going to have a MASSIVE impact on the viability of CUB as we look to continue that climb in 2022.
IDOs On Pace for Uptober
Uptober is in full swing as BTC starts approaching ATHs once again. We're on pace to deliver at least 1 IDO this month (maybe 2).
With a significant change to Polygon CUB (details to follow soon), we'll see some interesting changes to the tokenomics governing CUB as we embrace the multi-chain future.
Polygon Platform In Final Stages
Polygon CUB is gearing up for launch along with a few other multi-chain projects we've been quietly designing and developing.
CubFinance is about to undertake a massive expansion in both TVL and use case. This is going to change the way CUB is viewed forever. With these multi-chain projects set to release before the end of the year, vCUB DAO and a few other core developments, I think it's highly likely that CUB will be $3+ by the end of 2021, but as always: high reward accompanies high risk. ALWAYS DYOR.
General
Our Next Live AMA Will Take Place Tomorrow @ Noon EST!
Tune in on Discord, Twitter Live, YouTube Live!

LeoFinance is a blockchain-based social media community that builds innovative applications on the Hive, BSC and ETH blockchains. Our flagship application: LeoFinance.io allows users and creators to engage and share content on the blockchain while earning cryptocurrency rewards.
Earn a 16% APR on HIVE POWER and Support LeoInfra's Onboarding Efforts by Delegating HP to @leo.voter (Currently at 2M HP). We Use this to Claim Accounts and Delegate RCs to Newly Onboarded Users + Daily LEO Payouts to Delegators
Posted Using LeoFinance Beta
---