Volume Three, 2021: LeoFinance's Most Explosive Year of Growth Yet | 12 New Team Members, LeoMobile, LeoInfra, CubFinance and More!
---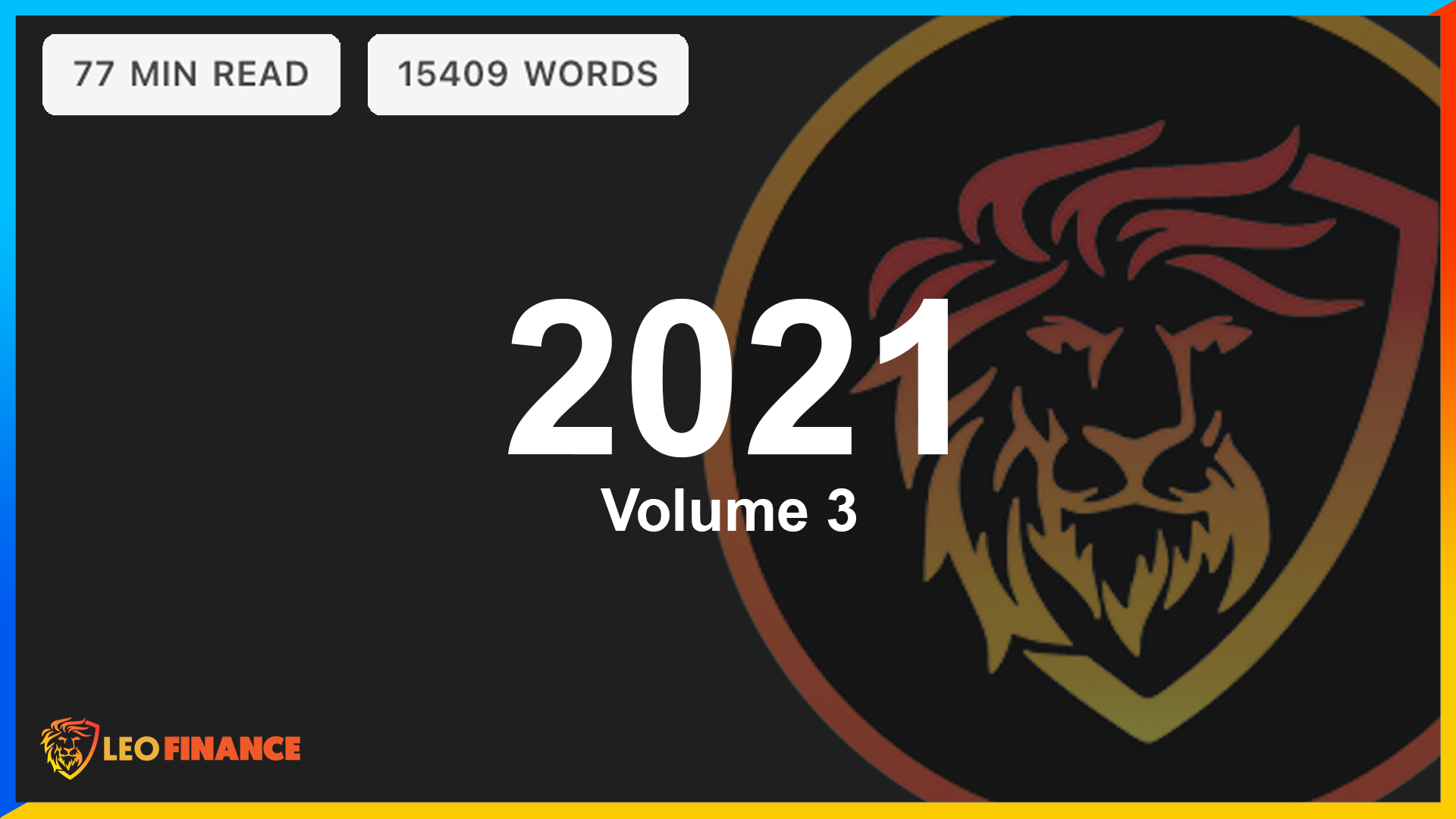 ---
---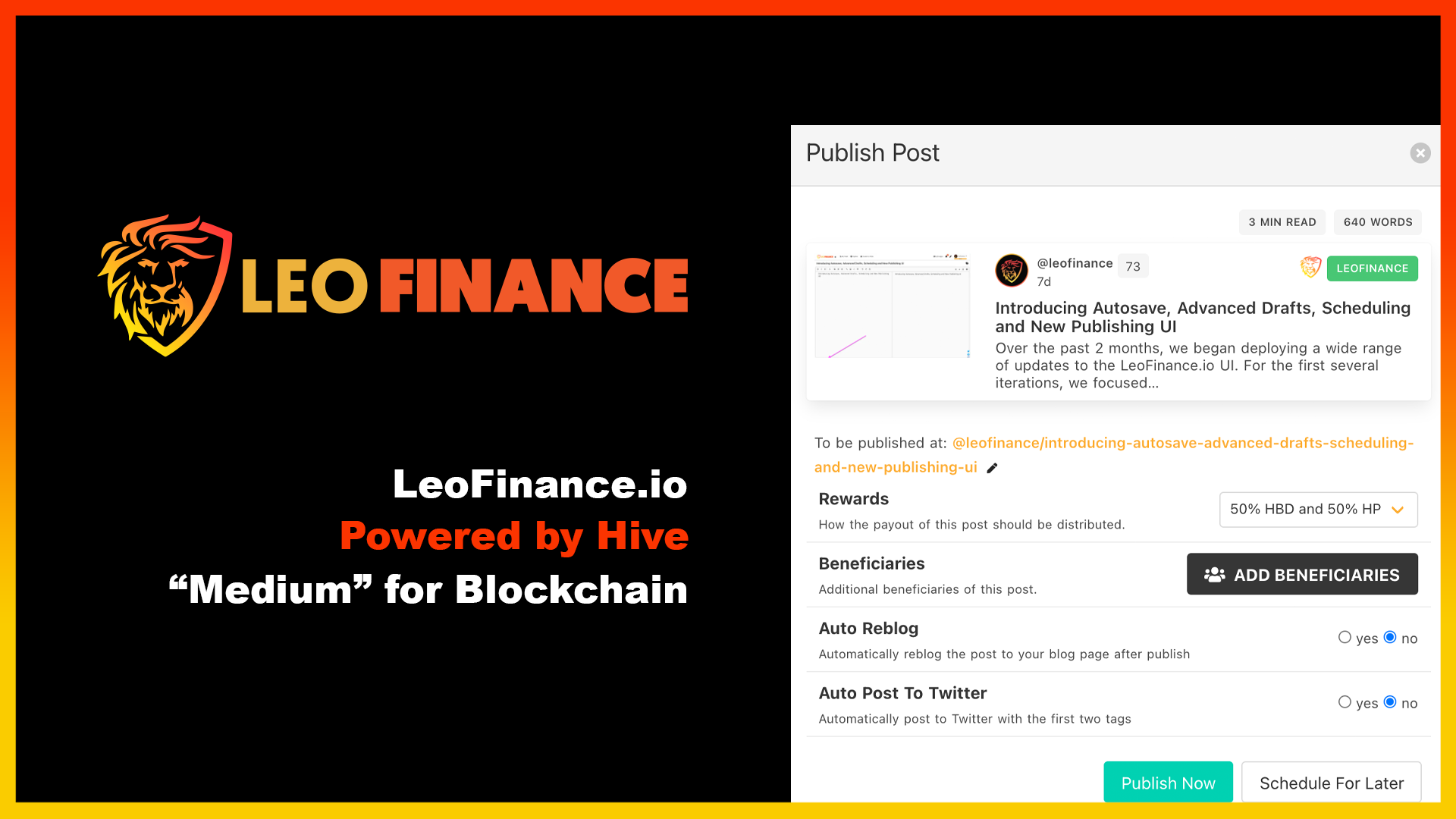 Over the past 2 months, we began deploying a wide range of updates to the LeoFinance.io UI. For the first several iterations, we focused on bug fixes from previous UI versions. If you reported bugs to the Leo Team, then you'll notice that many of them have been resolved.
As mentioned in a section above, I spent a lot of time focused on expanding the team both in terms of finding, interviewing and hiring new developers and in building better organization tools and administrative capacity.
The ladder half of 2021 was spent focused on expansion and navigating the new world of becoming a larger organization that could handle the capacity of development that we so ambitiously desired.
With all these new hires came the ability to focus and get more development done across the board. This was the busiest period of LeoFinance's history (and little did we know that we would only get busier from there as we kept expanding).
In this LeoFinance UI update, we deployed some new features to our "Home Layer" - the LeoFinance.io Web3 Platform for Crypto & Finance Content:
Autosave
Advanced Drafts
Publish Post Confirmation Window
Scheduling
Preview and Share Unpublished Posts
UI/UX Improvements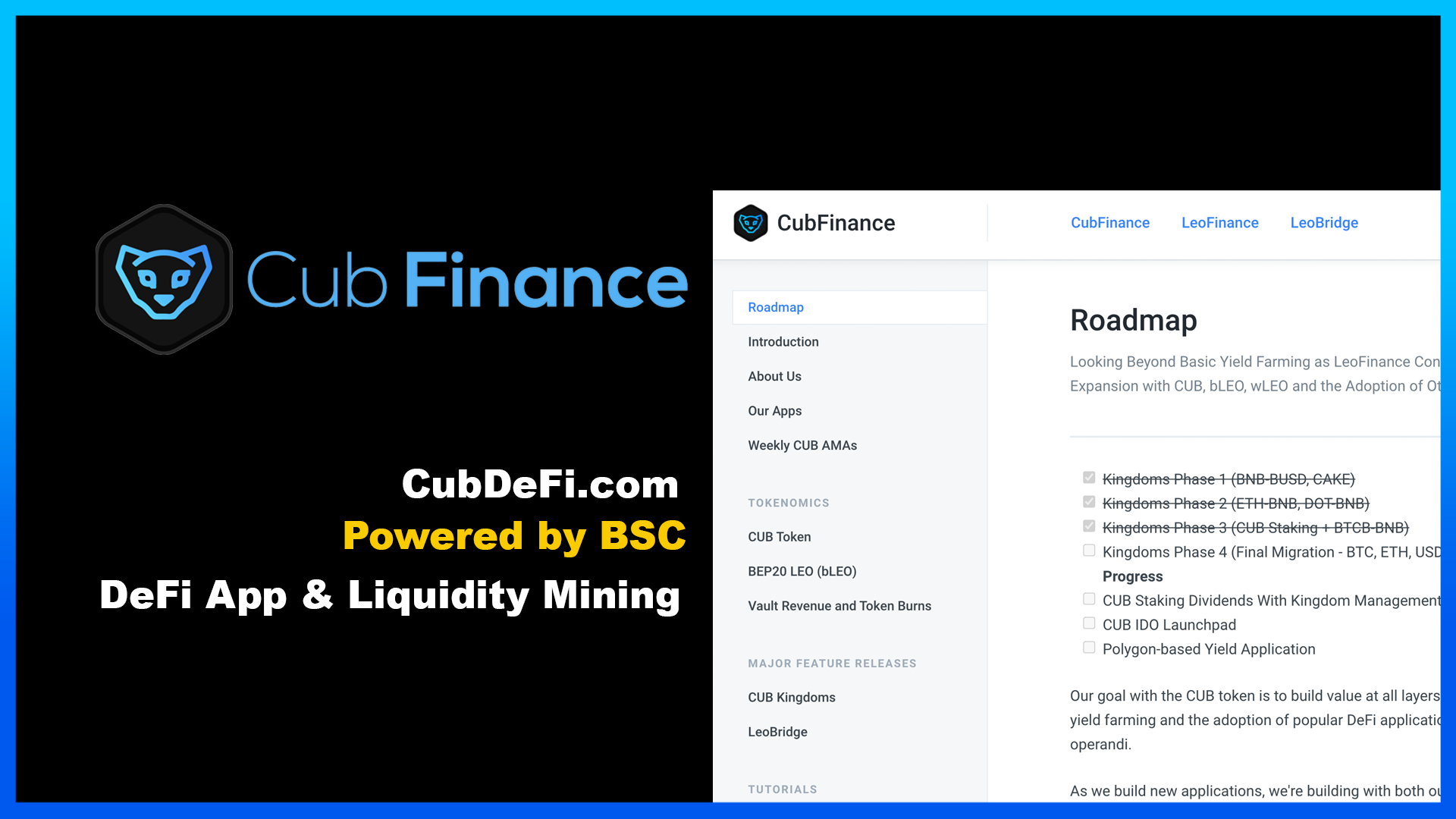 Our goal with the CUB token is to build value at all layers. We see sustainable yield farming and the adoption of other popular DeFi applications as our modus operandi.

As we build new applications, we're building with both our existing Leo/Cub userbase and with the broader DeFi market in mind. The entire foundation of everything we build is rooted in the idea of growing our core community in depth and width while bringing value to the CUB token.

When you look to the track record of the entire LeoFinance project, you'll see our mode of operation: build and launch quickly. Follow up with rapid and relentless iteration to add new features.

You can view the updated roadmap in this post or view the revised version of the CUB Docs.
Rolling out Kingdoms Phase 4 was a massive relief for the team. I can remember how those few months felt during the development of Kingdoms and getting to the finish line of development had never felt so good.
Looking back at this post, I also see the updated roadmap for CUB:
☑️ Kingdoms Phase 1 (BNB-BUSD, CAKE)
☑️ Kingdoms Phase 2 (ETH-BNB, DOT-BNB)
☑️ Kingdoms Phase 3 (CUB Staking + BTCB-BNB)
Kingdoms Phase 4 (Final Migration - BTC, ETH, USD Stablecoin) - In Progress
CUB Staking Dividends With Kingdom Management Fees - In Progress
CUB IDO Launchpad
Polygon-based Yield Application
Back then we were just finalizing Phase 4 of Kingdoms. We were also starting to set our sights on the Polygon (PolyCUB) platform release.
The roadmap for us has always been clear. DeFi is here to stay and we are building CubFinance for the future of this Web3 Tokenized Home we all call LeoFinance.
If you look through this short roadmap for Cub, you can see that we ended up achieving everything we set out to achieve in 2021. The Polygon yield application has obviously taken much longer than we anticipated but we believe that we're all better off for that. PolyCUB today looks nothing like the initial design we had back then.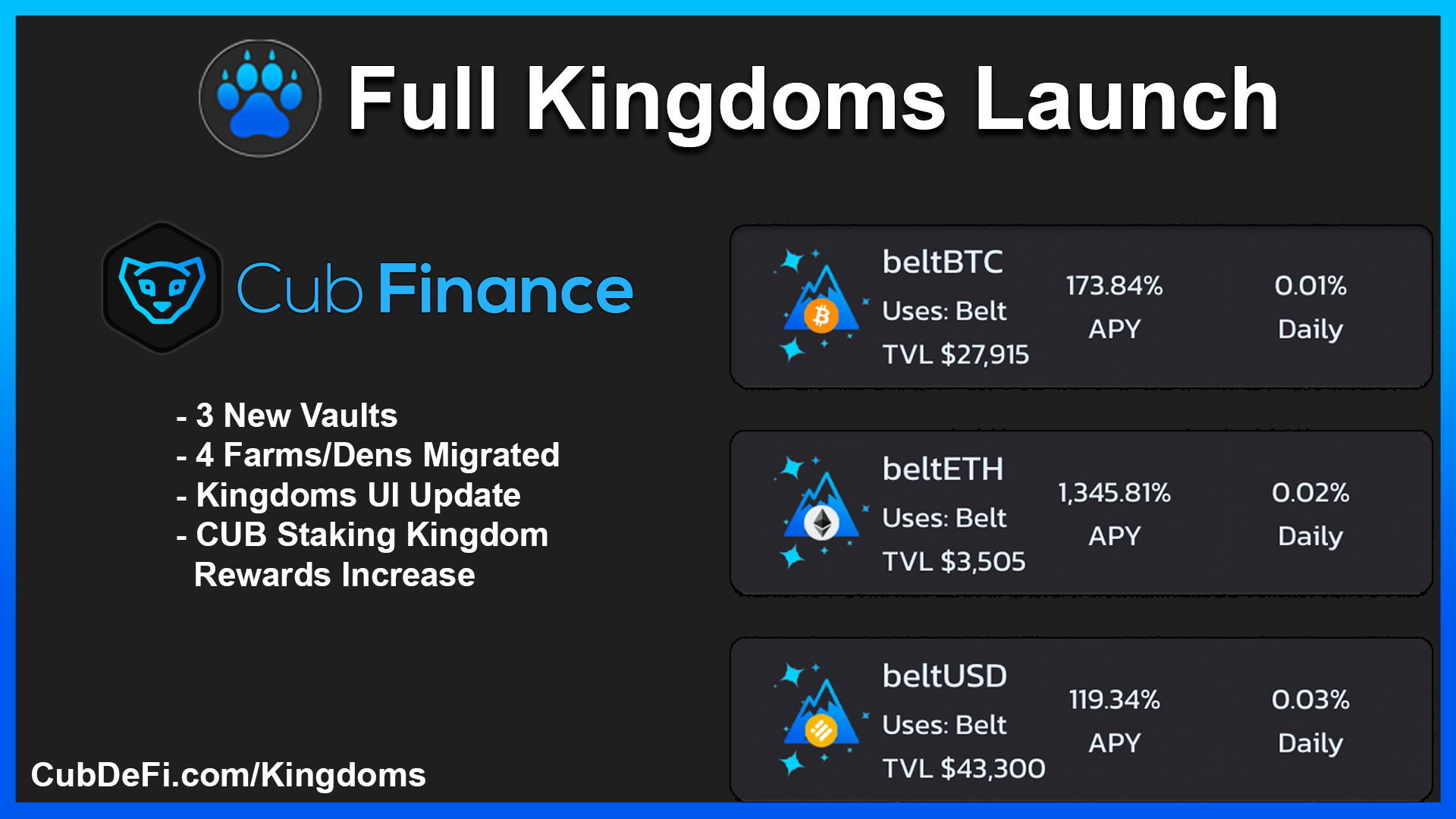 Kingdoms mark a radical shift in CUB Tokenomics. Migrating away from High Multiplier, Single Platform Yield Vaults and into Low Multiplier, Multi-Platform Yield Vaults.
What exactly does this mean for CUB?
A lot of things. Most notably: sustainability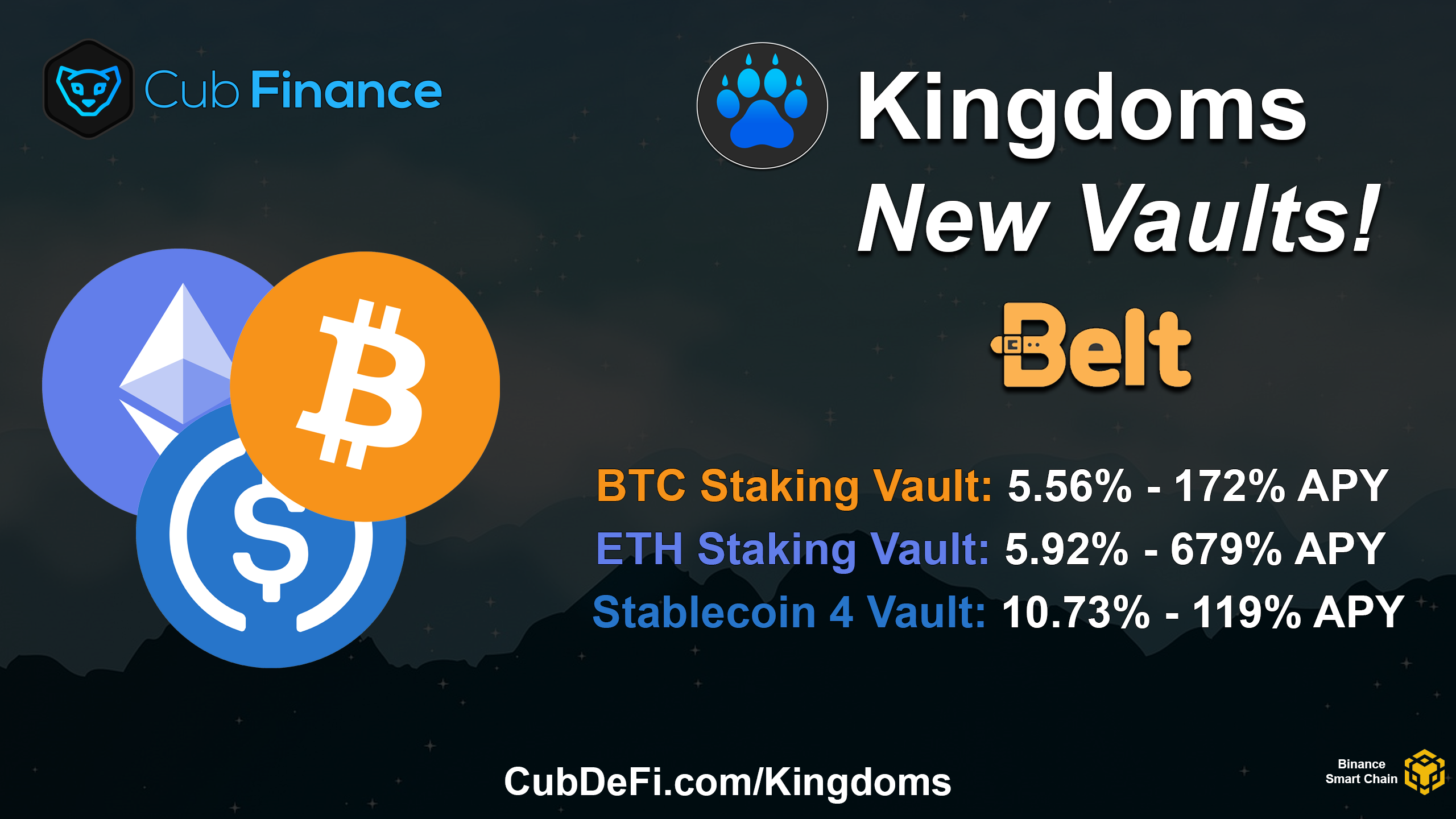 Today marks the full Kingdoms launch. There is a lot that goes into finalizing the Kingdoms migration. Yes, we've added 3 new vaults but that is just the tip of the iceberg:

Cub Kingdom update = 2x higher rewards
Deprecation of BTC Den
Deprecation of ETH Den
Deprecation of USDT-BUSD farm
Deprecation of DAI-BUSD farm
Launch of BUSD-USDC-DAI-USDT kingdom
Launch of BTC kingdom
Launch of ETH kingdom
Kingdoms UI update
Migration of multipliers to the kingdom contract
Miscellaneous tweaks/bug fixes
This was a massively important event for CubFinance. If you were around for the official launch of Kingdoms, then you remember how big of a deal it was. It marked the turning point for CUB and showed the community that LeoFinance (once again) always delivers...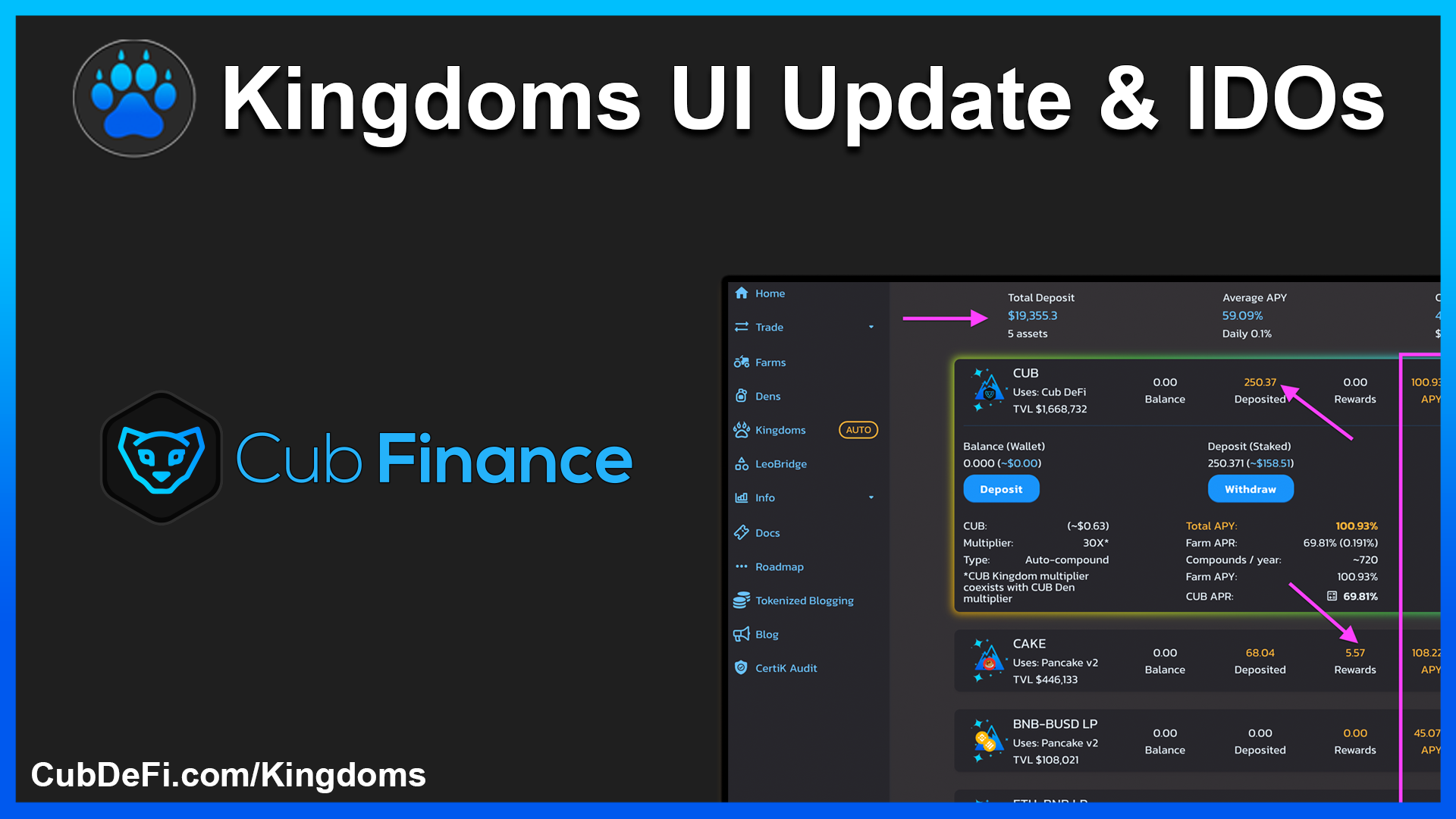 The initial Kingdoms UI was developed to handle the multi-phase rollout. We knew that a better UI was ready-to-be developed but we wanted to rollout Kingdoms ASAP.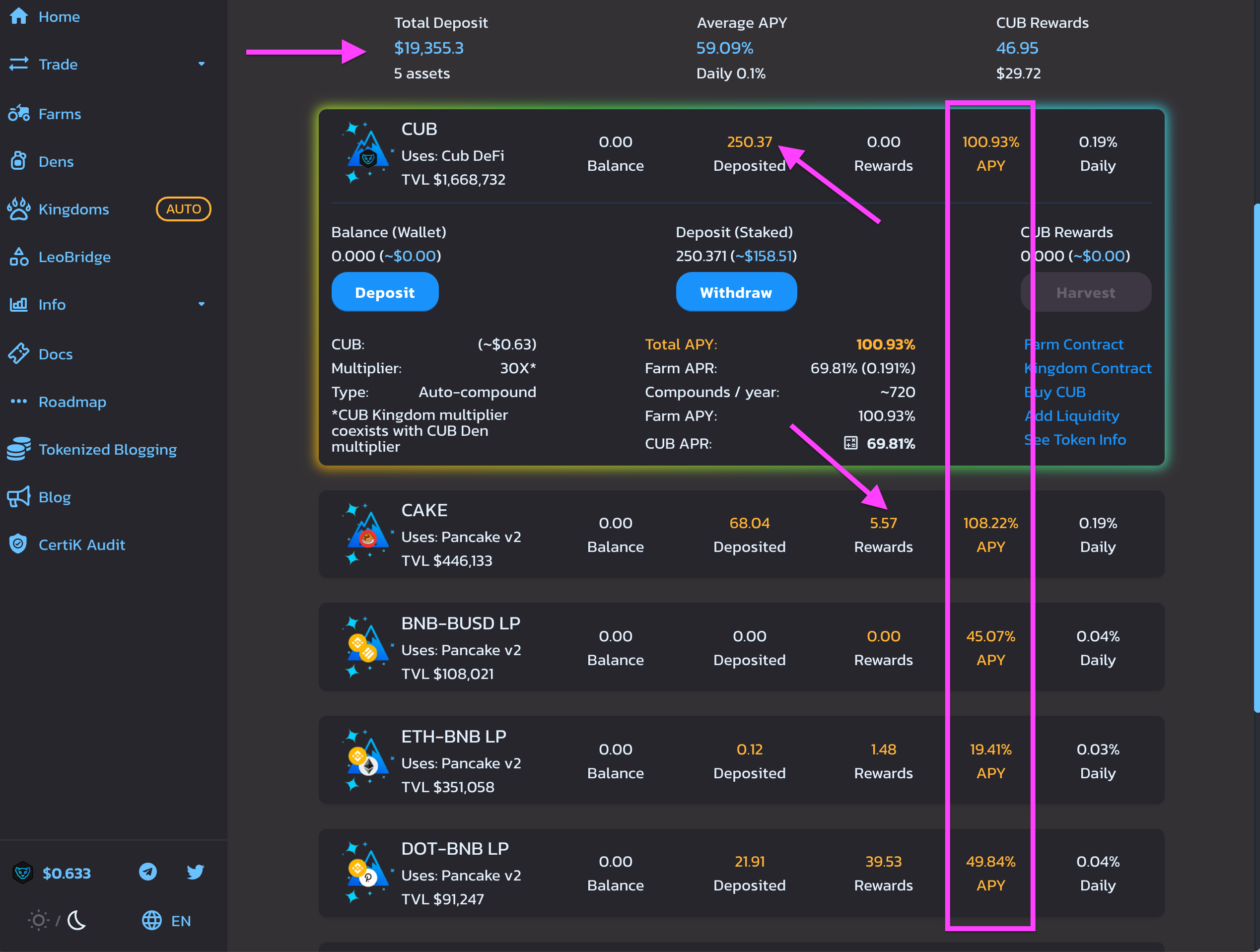 Once the final phase of Kingdoms was in production, we turned our attention toward a massive UI overhaul for the Kingdoms vaults. This allowed us to integrate a number of features that vastly improved the UX.
We also had to develop a better way to handle price tracking and APIs. We ended up deploying our own server to handle various Pancakeswap, Belt and Bakery APIs because of the instability we were experiencing. Extra work and more unforeseen challenges, but we persevered.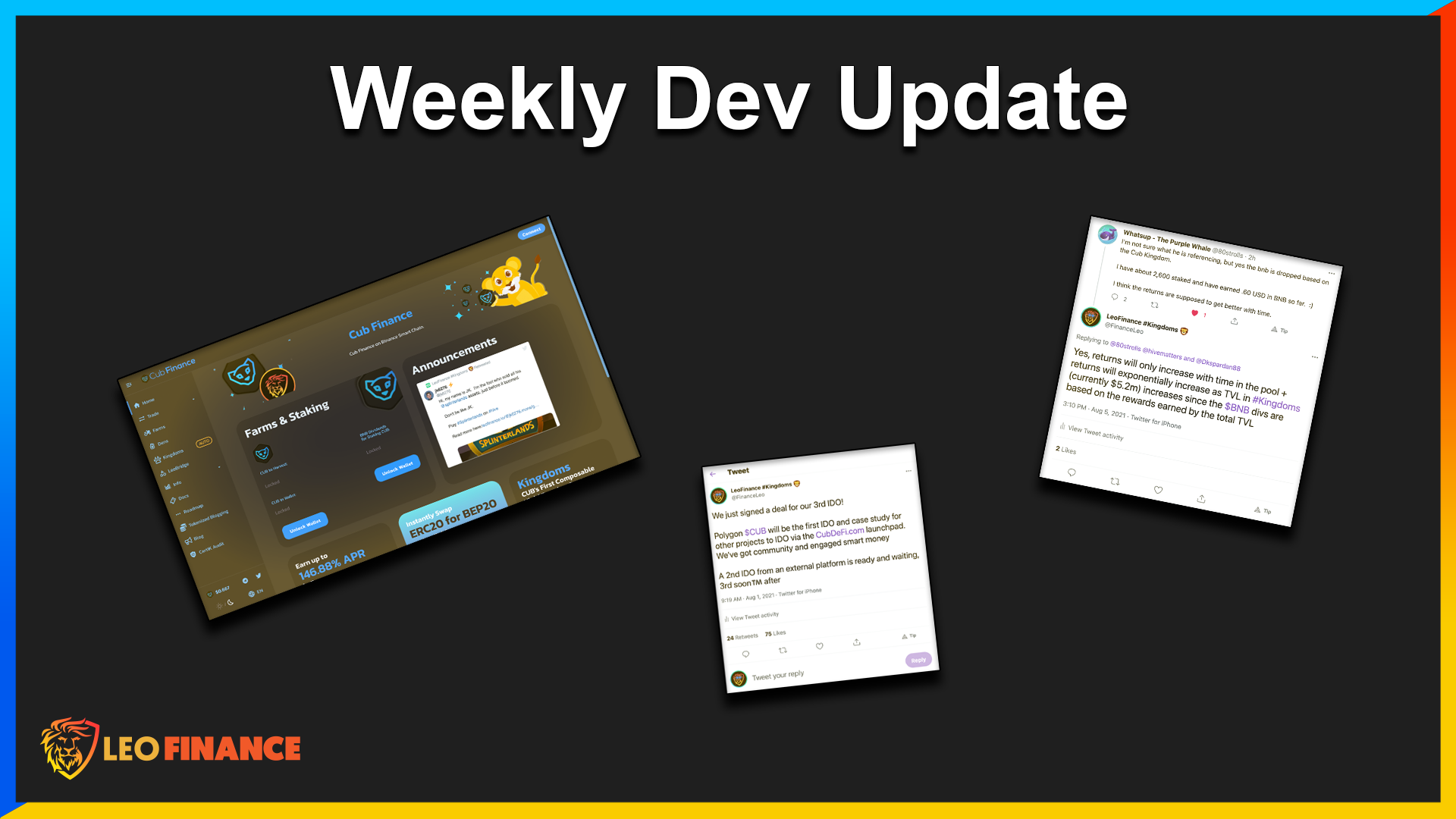 Ah the first ever weekly dev update. After hiring so much new talent to the team and getting our organization... organized... for the first time in a long time, we wanted to bring a greater degree of communication.
The weekly AMAs were doing a great job of communicating our developments to the community but these weekly dev updates added a quick place where anyone could view what was happening week-to-week alongside the LeoFinance development team.
In This Week's Update:

CubFinance:

CUB BNB Dividend Backend Operational
CUB BNB Dividend Frontend Operational
3rd CUB IDO Deal Signed
Polygon CUB Contracts & Frontend Progress

LeoFinance:

LeoFinance.io Performance Update
LeoFinance Mobile App and New Desktop Interface

General:

AMA Timeslot Last Week and This Week
After a few months of these weekly dev updates, we ended up merging them into the AMA. Each AMA session starting around September included the first 10 or so minutes of dev updates from me (Khal).
I'd still like to get back to the written updates at some point as well, but many have taken a liking to the video / audio updates and subsequent clips that we post each week.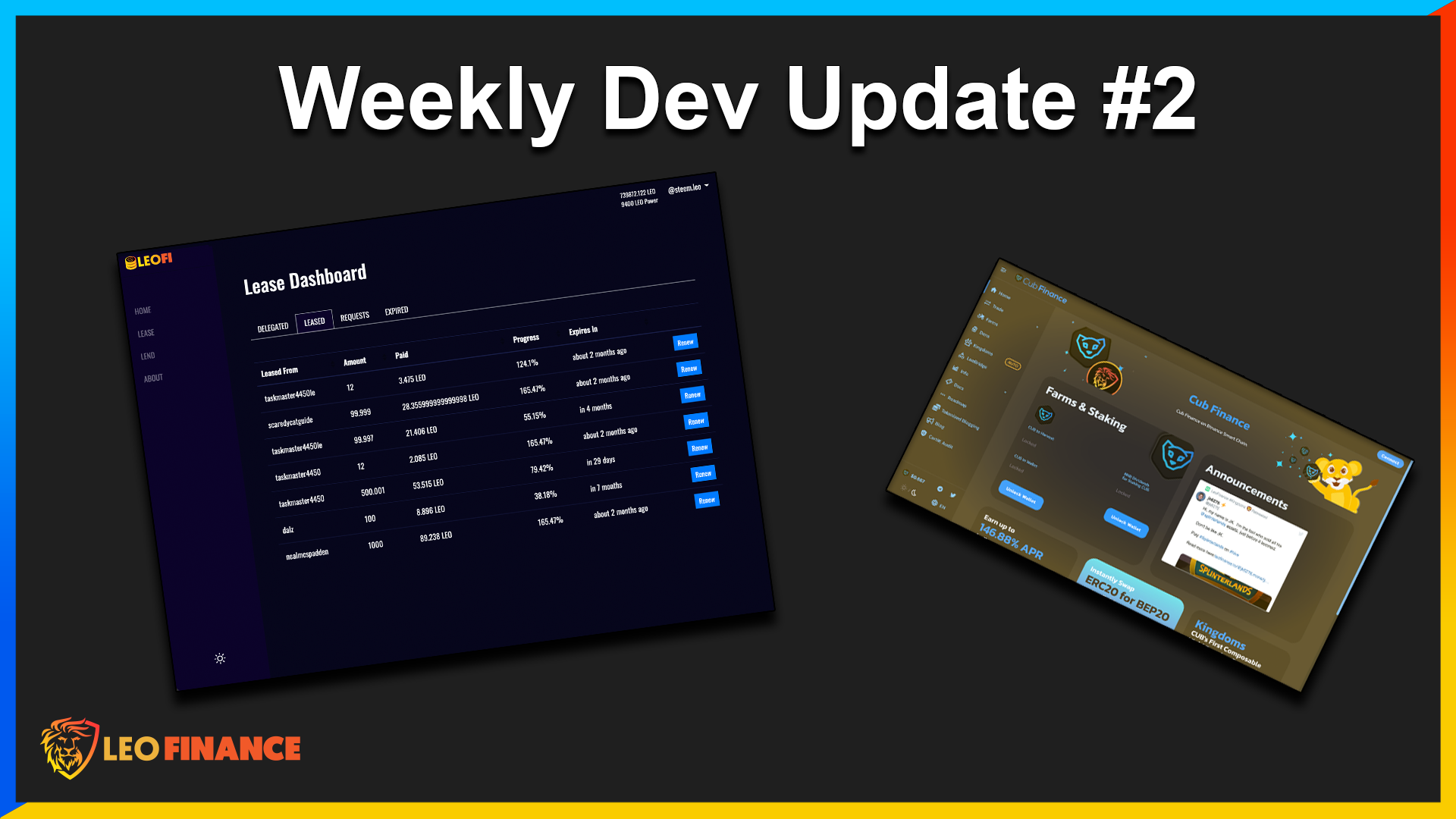 In This Week's Update:

CubFinance:

BNB Dividend API Fixes
IDO Release Schedule Update
IDO #1 Details

LeoFinance:

LeoFi Application - Final Touches Before Launch
Automated Geyser Operational For August 15th
LeoFinance.io Performance Update
Return of the Daily LEO?
LeoFinance WhitePaper Book

General:

AMA Tomorrow At 12 PM EST
Weekly AMA Clips and Episode Uploading Begins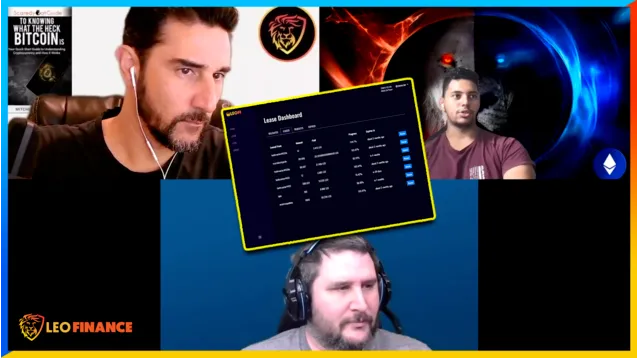 Around this time we had hired on a marketing team to help manage a lot of different social media-related tasks.
One of these has been clipping up the weekly AMAs and preparing them to be uploaded to Hive / 3Speak, YouTube, Twitter and various podcasting platforms.
The expansion of our team really shines through in this ladder part of the year as our communication restarted and we were able to do it all: develop and communicate.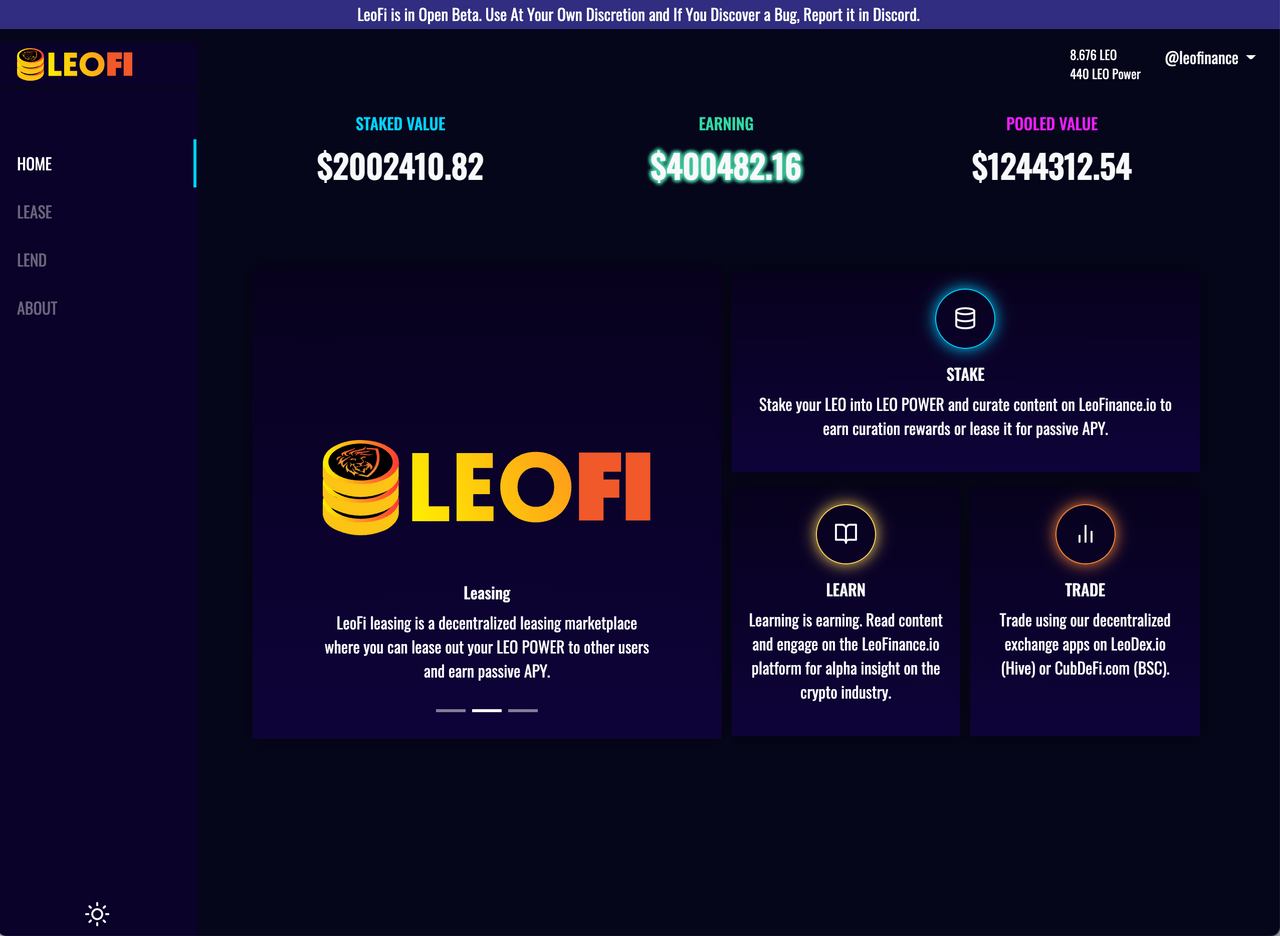 If you go back several months in time, then you'll see our early talk about LeoFi. As we first began our research into LeoFinance's expansion into the DeFi space, LeoFi was our natural progression.

While LeoFi was under initial development, we started researching platforms like PancakeSwap, Binance Smart Chain, etc. That led us down the path of developing products like Cub Finance. Through that, we sidelined LeoFi for a few months - knowing that we'd run some more extensive testing and development of the backend for a later release.

Today's the day for LeoFi to move from closed beta to open beta!
If you look back to the beginning of this 2021 recap, you'll see some initial talks about LeoFi.
We had been working on this LeoFi app in December 2020 and continued that development into January.
During that development, we were continually watching the DeFi marketplace and looking for ways to penetrate the broader market.
LeoFi is a great tool but we realized something about it:
It fulfills the depth part of our mission statement (giving existing LeoFinance users more access to tools) but it lacks in the width department (gaining a broader audience and growing our Web3 userbase).
Right around the Jan/Feb timeframe, we started CubFinance development and pushed LeoFi development to the wayside for a few months.
Once the team expanded and our capacity to develop expanded along with it, we turned back to LeoFi and put the finishing touches on the platform.
Today, you can lease out your LEO POWER to other community members and earn passive APR on your LEO. Yet another utility for the LEO token and we still believe https://leofi.io is underutilized today.
With all of the various forms of utility for LEO, it can be daunting to research and choose from all of them. The investor's dilemma is real and our goal is to continually make that dilemma harder... Our goal is to drive so much utility to LEO that there are simply so many ways to utilize and earn with it that you feel the endless need to have more.
In This Week's Update:

LeoFinance:

New LeoFi App Released Into Open Beta!
LeoBridge Rounding Error Fixed & What We're Working On
Automated Geyser Successfully Implemented on the 15th
LeoFinance.io UI Update & Performance Improvements

CubFinance:

IDO Infrastructure Completed
First IDO Tentatively Scheduled for Tuesday, August 24th
CUB's New Value Capture Model - A Preview of the CUB Tokenomics Update

General:

AMA Tomorrow At 10:30 AM EST
The big news during this week's update was our work on the LeoFi app, fixing some major issues with LeoBridge and obvious upgrading the WLEO Geyser distribution model.
Up until this moment in time, the WLEO Geyser was always a pain point for us. It was only partially automated and required a lot of manual intervention. We also had turned our developers and resources to CubFinance, LeoFi, LeoFinance.io, etc. and we didn't have the capacity nor desire to throw our other developments off track.
Thus, we spent some time designing an automated solution and quickly rolled it out. Ever since then, the Geyser has been far more reliable - a few hiccups here and there that have needed patching but there are no more multi-week delays in the Geyser.
At worst, there are a few days when we have to turn it off for some maintenance. We're continually working on making automated systems (like the Geyser) more profound and reliable.
We've deployed over a dozen VPS's this year that handle various automated tasks and also backup a lot of the work we're doing. All of this is helping the LeoFinance team and organization thrive and be vastly more productive.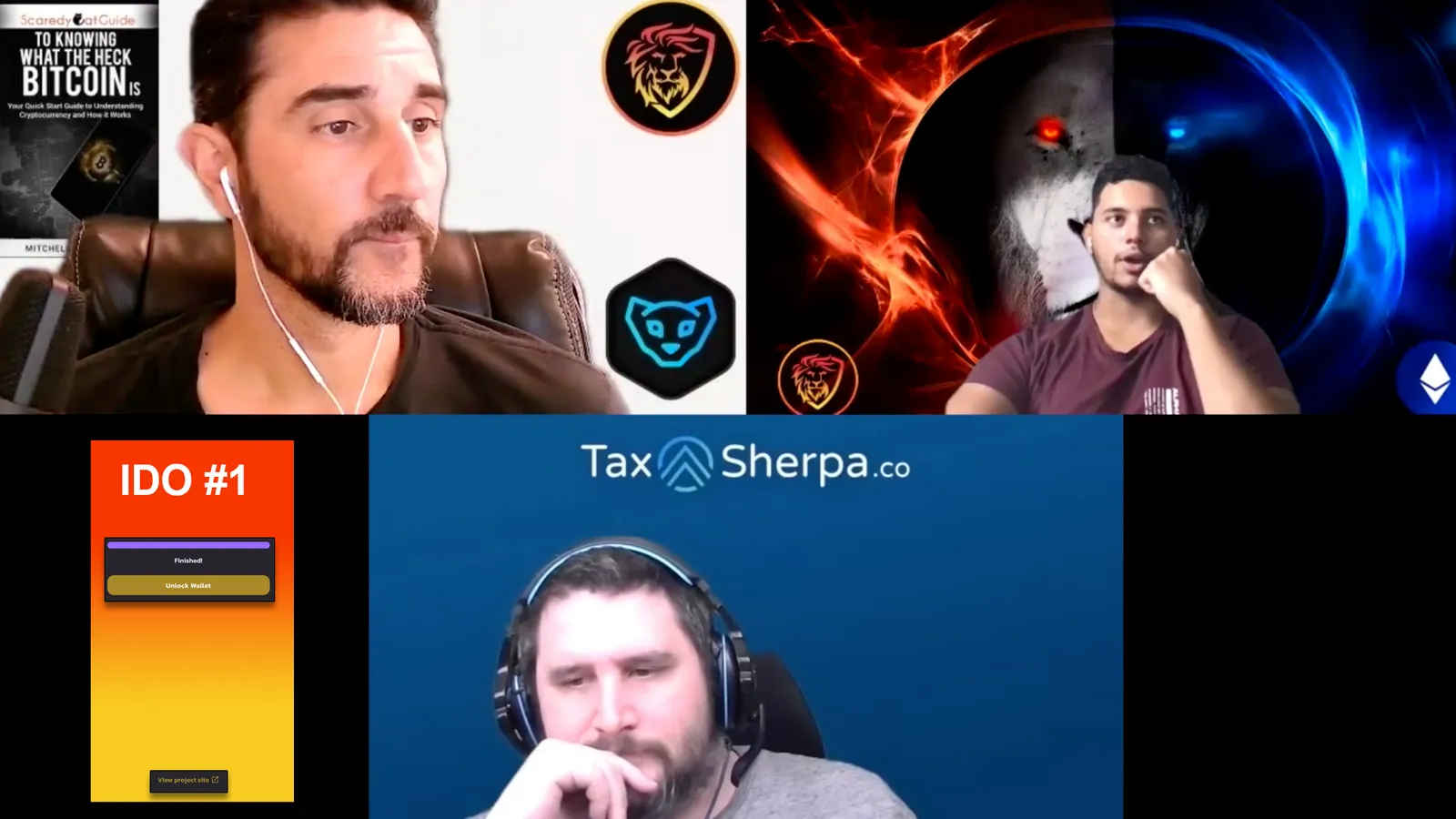 In this clip from the weekly AMA, we talk about the 3 stages of CUB and how our development had progressed throughout the year. A lot of these sentiments have been reiterated in this recap post, but looking back on this clip is fun. We've come a long way in a very short period of time.
Initial Launch of CUB
Migration of CUB From Unsustainable (Goose) to Sustainable (Autofarm) Yield Platform - Kingdoms
IDOs - Creating a CUB-based Launchpad Ecosystem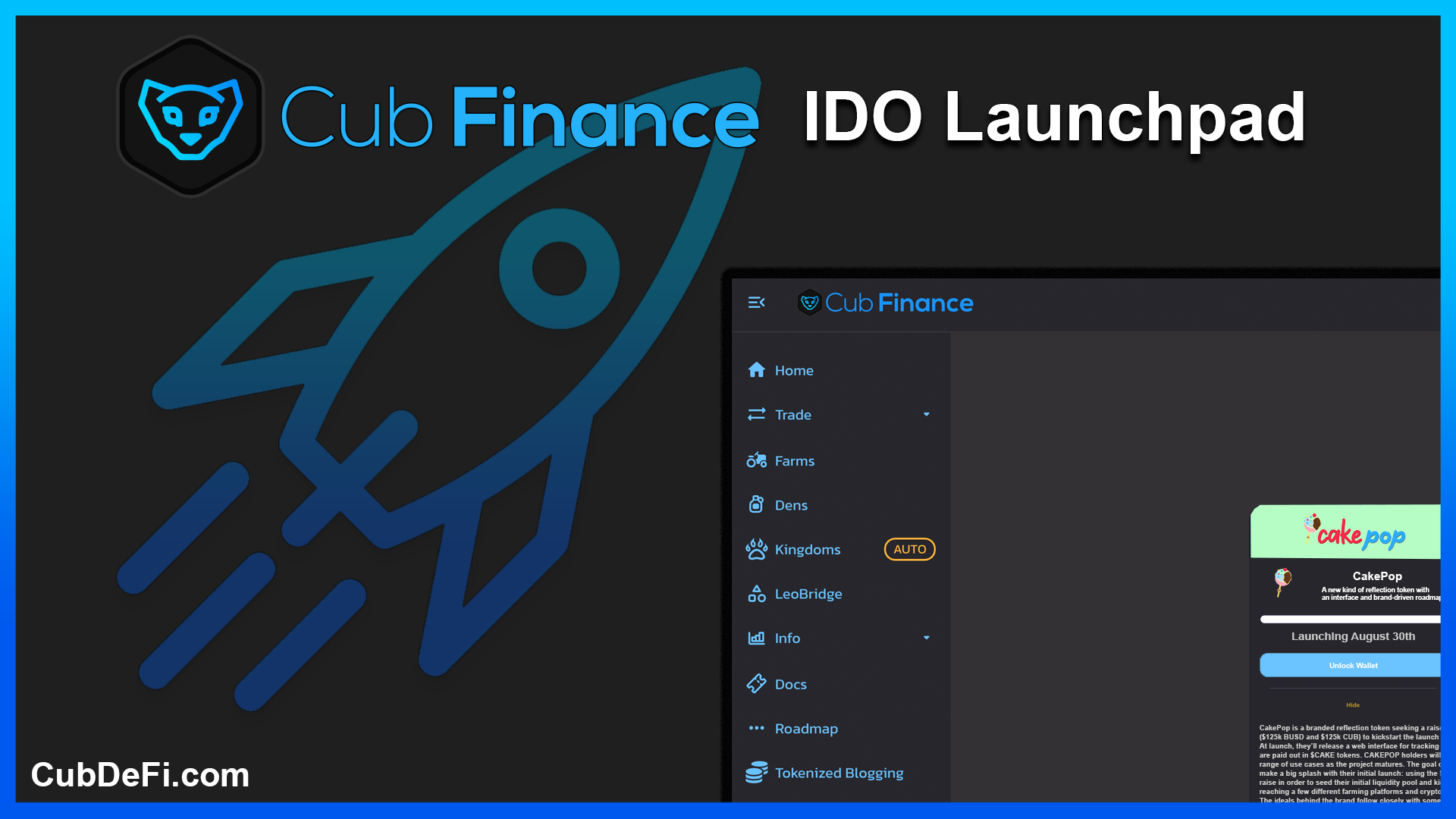 IDO stands for Initial DEX Offering and essentially allows anyone to launch a token and gain:

Initial liquidity
Access to a community
A launchpad to begin their project
The CUB IDO Launchpad brought on a new set of catalyst-driven mechanisms to the CUB token economy.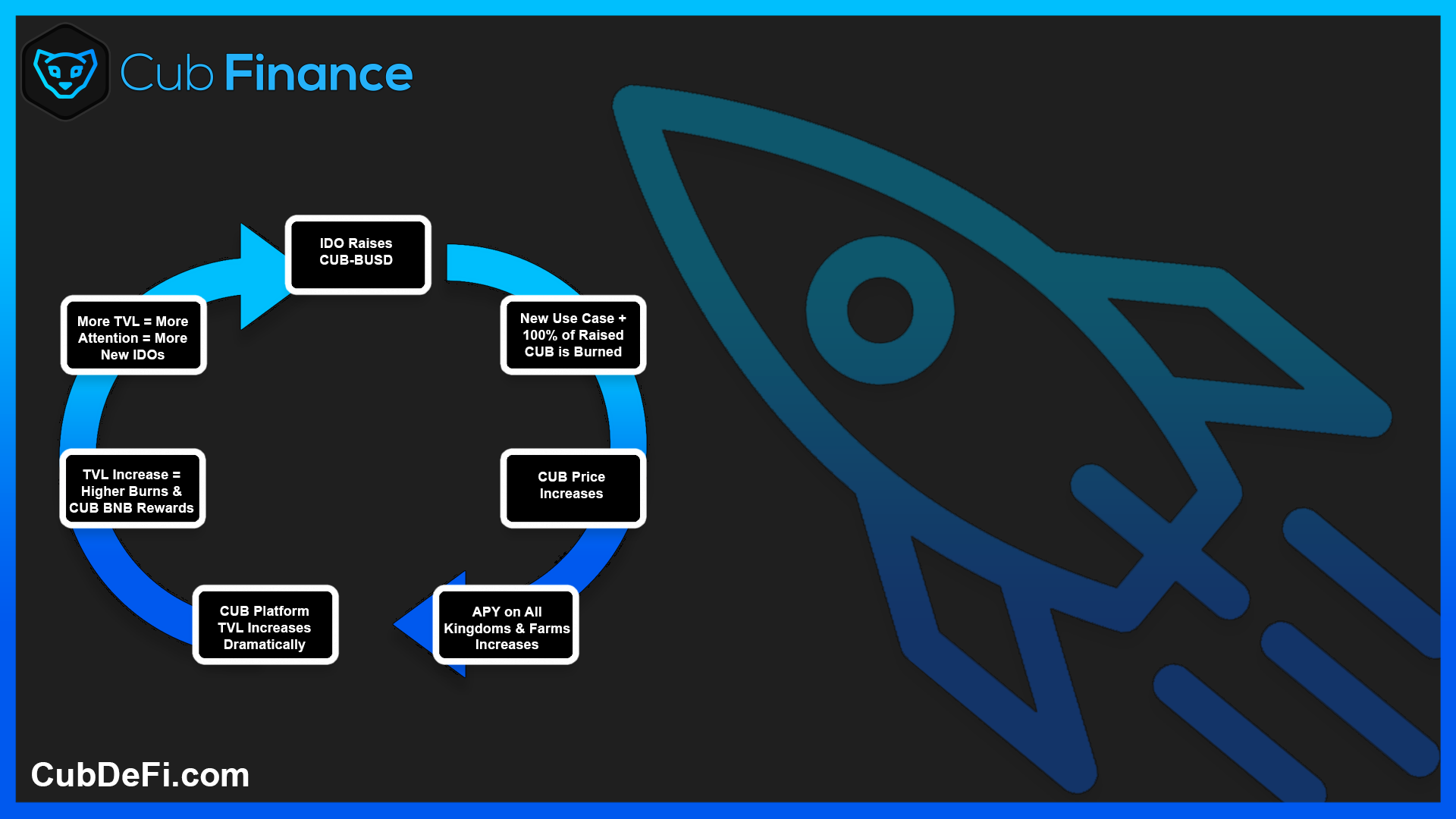 Many recall the first "tester" IDO on CubFinance and how that went. There was an interesting forewarning in this post (before that IDO had been finalized and announced):
Aren't All LaunchPad Tokens Shitcoins?

There are good and bad aspects of adding this Launchpad contract to the CubFinance ecosystem. We've outlined a lot of the good impacts here in this post.

As with anything in Crypto/especially DeFi - there will be shitcoins. There will be scams. There will be tokens that downright don't deserve to see the light of day.
Well, we all know how IDO #1 turned out. I participated and closely watched the first IDO on XRUNE and it turned out quite similar to the first IDO on CubFinance.
Needless to say, we went back to the drawing board on IDOs and found a more sustainable model for future launchpad events. We haven't allowed an IDO through CubFinance (yet) but IDO #2 is a highly expected event.
When it happens, the Launchpad V2 model will prove itself as a far more sustainable and economically viable model for IDOs moving forward (we still have several IDOs scheduled in the coming months).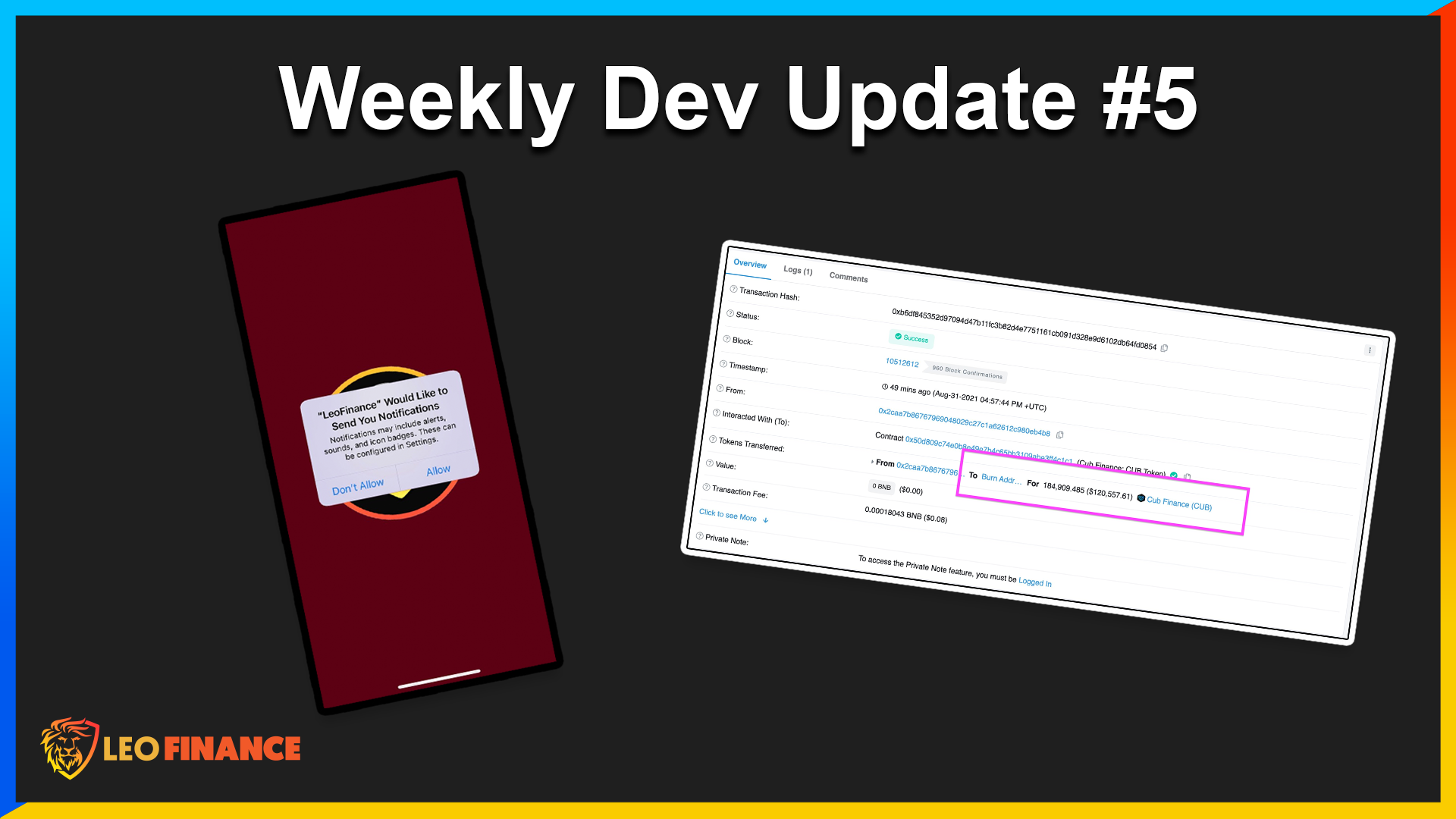 In This Week's Update:

LeoFinance

LeoFinance Mobile App Rollout
Mobile App Features for Hive Ops
Mobile LeoLightning & LeoInfra Integration Plans
HIVE POWER Leasing (LeoFi App)
Return of the LeoFinance Podcast!?
The Daily LEO Showing Massive Potential

CubFinance

$125,000 CUB Burned!
CUB IDO Infrastructure Technology
Recuperation
General IDO Improvements For the Future

General
In early September, we started making some significant progress on the Mobile app front.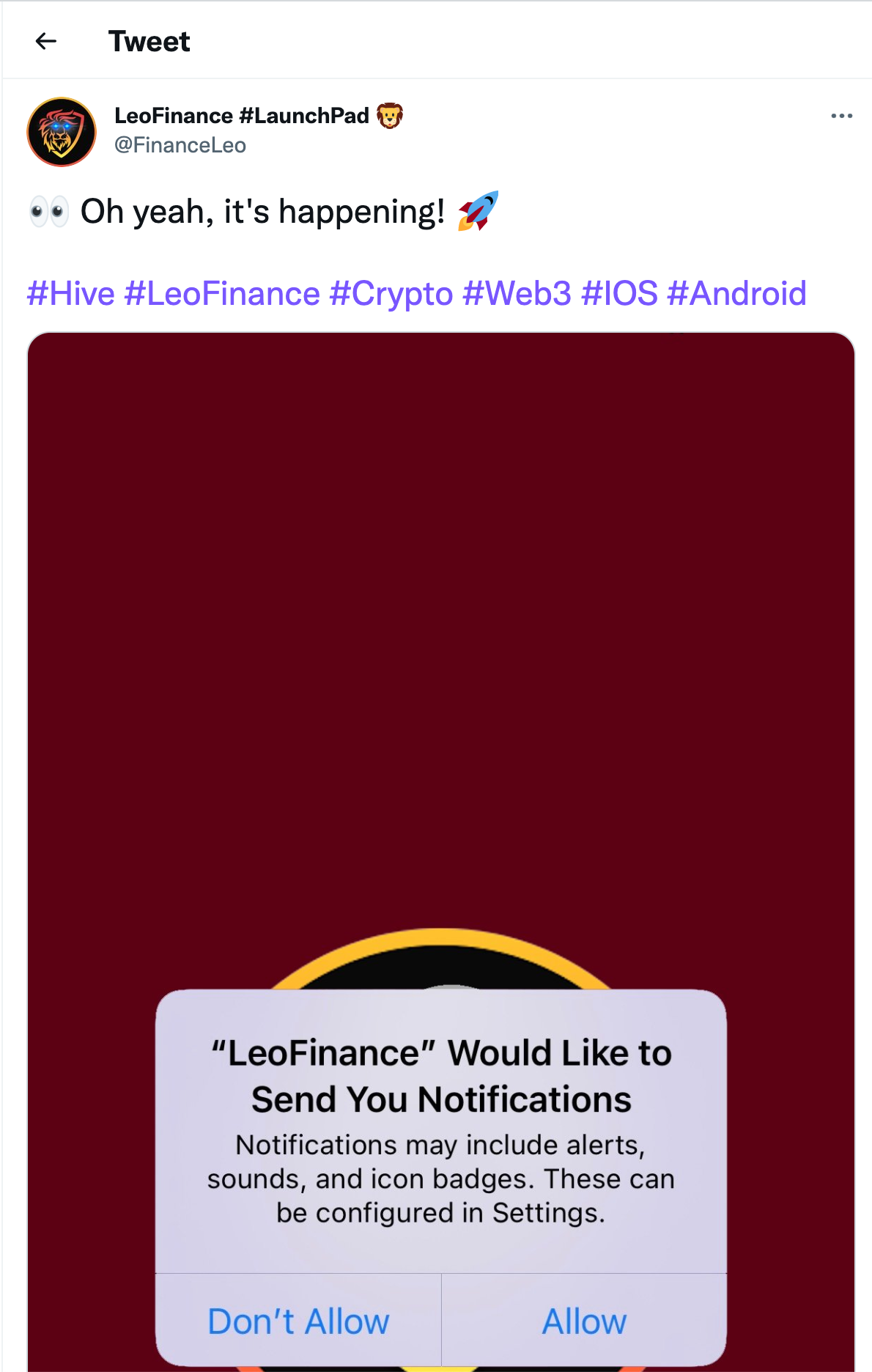 Post-CUB IDO #1, we also went back to the drawing board and completely redesigned our IDO model for the future launches. IDO #2 is now planned for early 2022 utilizing Launchpad V2.
We burned $125,000 CUB from IDO #1, so it was still a successful event on that front.
The infrastructure technology we started building for LeoMobile was starting to come to light. The work behind the scenes on LeoMobile throughout 2021 was arduous... to say the least.
Regardless of all the obstacles, we started to test and roll out new versions of LeoLightning, LeoInfra and early closed alpha testing of LeoMobile.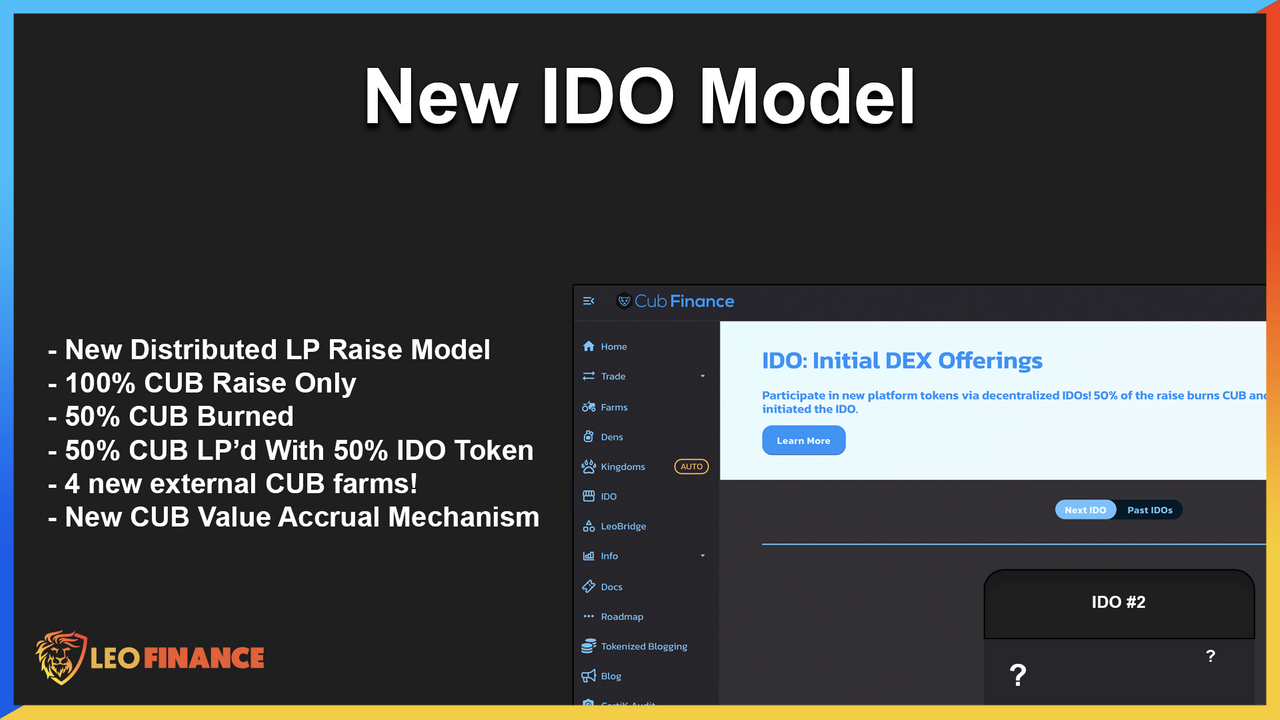 This post did an incredible job explaining the new IDO Model that we built and the value proposition that future IDOs would bring to CubFinance.
We'll see this all play out with IDO #2 in 2022 and we'll also see some incredible tokenomic impacts unfold afterward.
I think this post is a great read to understand the long-term future of CubFinance as a multi-pronged DeFi ecosystem.
Remember: the initial launch of CubFinance was to create a base layer token economy. Something that we could continually add layers to over the coming years.
The Kingdoms release radically changed that base layer and made it far more economically sustainable.
The IDO Launchpad model sets out to create two important economic impacts for CUB:
As a short-term catalyst for burning massive quantities of CUB and permanently reducing the supply
As a long-term snowball effect with the rollout of partner Kingdoms that autonomously buy and reinvest CUB (see quotes below)
The next IDOs that we have scheduled will utilize a new model for IDOs. In fact, it's quite similar to the original IDO model we built for #1 with 2 key changes:

Instead of CUB-BUSD deposited, it's 100% CUB
Instead of IDO's XYZ token distributed at the end, it's an LP Token with 50% CUB-XYZ token
Example:

1,000,000 CUB is the target raise of IDO #2
1M CUB is raised in the IDO
500k CUB is burned permanently from the supply
remaining 500k CUB is paired with an equivalent value (500k worth of CUB) in IDO XYZ token
this creates a liquidity pool with 500k CUB + ___ XYZ token from the IDO
users claim CUB-XYZ LP tokens from the IDO vault on CubFinance
We'll also be able to spin up a Kingdom contract that utilizes their farming incentives to autocompound back into CUB-XYZ token.

For example, if CUB-XYZ LP tokens are paying out XYZ token rewards on their farm, then our Kingdom contract will allow users to deposit CUB-XYZ LP tokens on https://cubdefi.com/kingdoms.

Once deposited, our Kingdom contract will deposit those LP Tokens on their farm, earn XYZ token rewards and then autocompound those rewards back into CUB-XYZ tokens (selling 50% of the XYZ token rewards into CUB and then pooling both halves back as the base asset).

This creates a continuous, automated CUB reinvesting mechanism for anyone sitting in the Kingdom.
With our upcoming IDO Partners, this is going to be an amazing thing to watch. 4/5 of them are all farming platforms with Liquidity Pool incentives.

What this means is that once all 4 of these IDOs are complete, there will be 4 new liquidity pool pairs for the CUB token on Binance Smart Chain.

What's even better? ALL 4 of these new Liquidity Pool Pairings will have externally funded liquidity mining incentives that are paid out by these 4 separate platforms.

What's even better than that? ALL 4 of these new LP pairings will have Kingdoms on the /Kingdoms page which will autocompound the XYZ farming rewards back into the -CUB base asset. Creating an autonomous and continuous buying pressure for CUB.

What's even better? The 50% CUB that we want to burn from each IDO STILL GETS BURNED. We're not sacrificing anything with this model. In fact, it seems better from all perspectives and we've already discussed the change from raising BUSD to a distributed CUB raise model and all of our upcoming IDO partners have signed off on the change.

In last week's AMA, Neal mentioned this idea of snowballing the amount of CUB that gets burned... creating an exponentially deflationary model for CUB.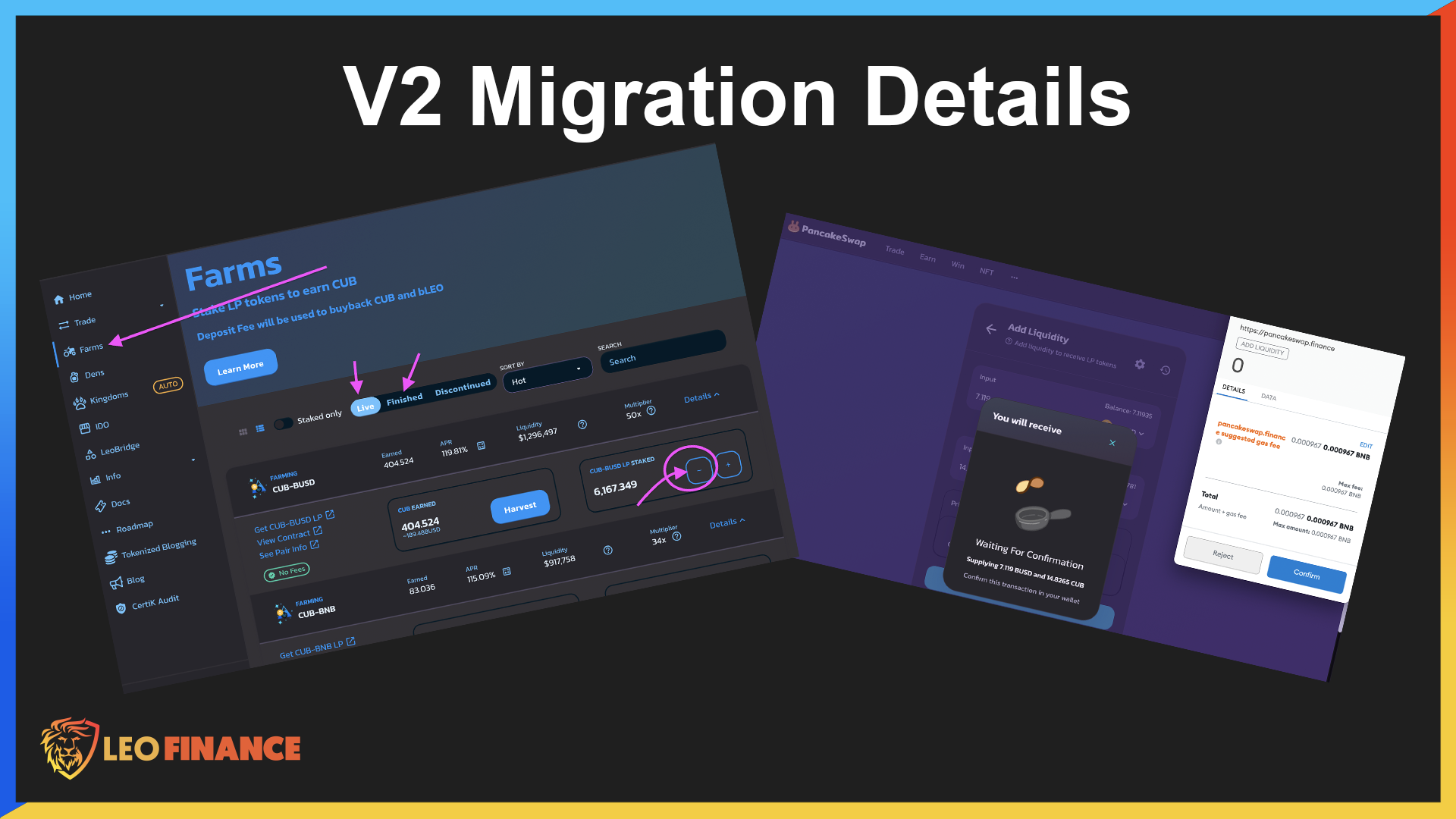 This migration marks an important moment in the CubFinance history books. We're not only migrating our liquidity, we're migrating the vaults that earn CUB and seed liquidity. We're also prepping bLEO for the migration to V2 which includes LeoBridge.

The LeoBridge system should be far more reliable (and include lower slippage) under the V2 LP contract.
The migration to V2 was something we postponed as long as we possibly could. We knew it would cause an endless source of headaches for a few weeks, but it was a change that needed to happen at some point.
Not upgrading to V2 right away didn't really hurt us. It only started to have a material impact once Pancakeswap decided to deprecate V1 APIs.
Within 1 week we decided to migrate to V2 and we made the leap for all CUB and bLEO pools.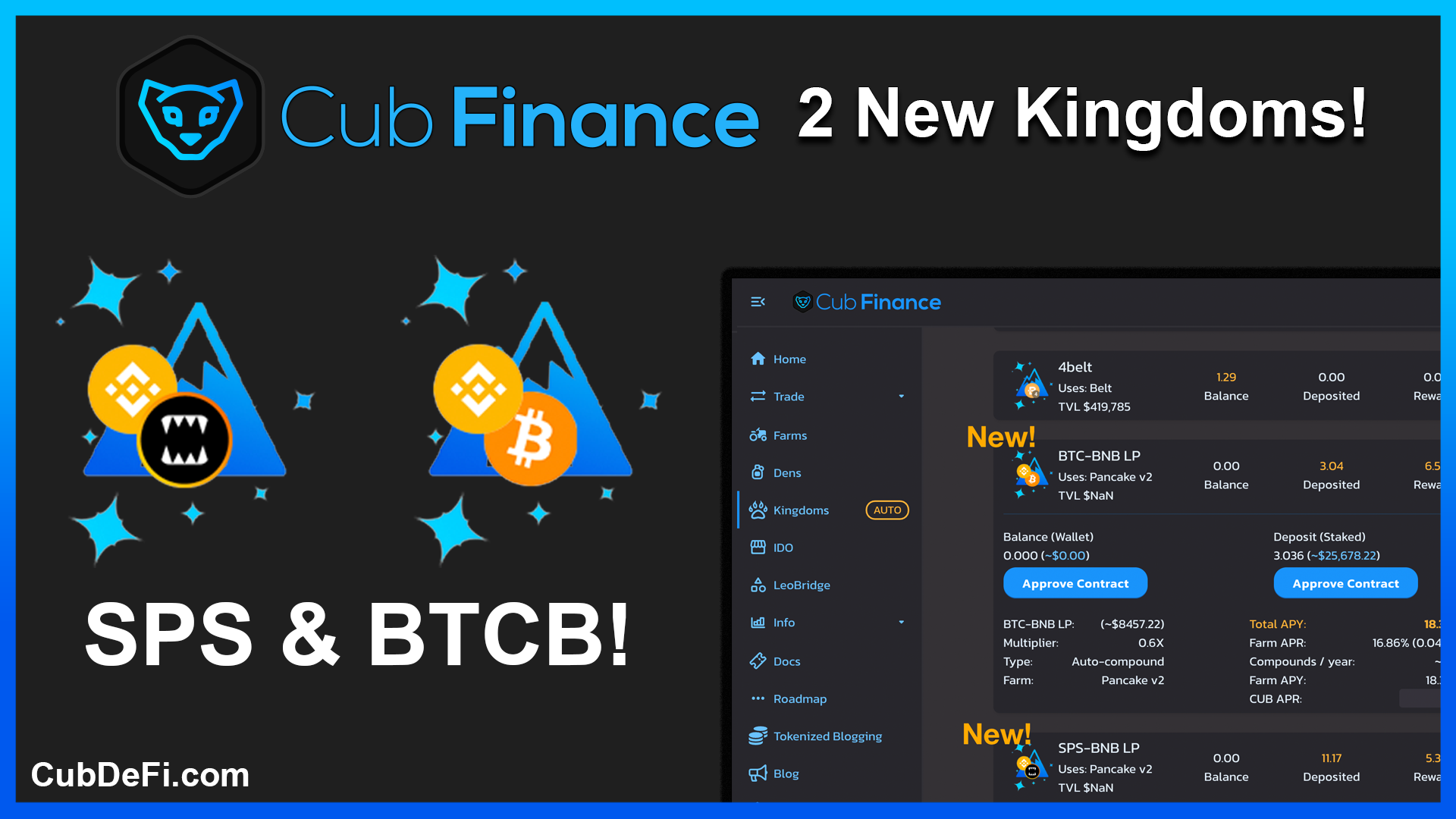 In this update, we released two new Kingdom vaults. One was a migration from Bakeryswap to Pancakeswap for the BTCB-BNB vault.
This is the nature of yield farming: the ball is always moving and we need to be on top of the move as it happens.
With the migration off Bakery and toward Pancakeswap, we saw a larger total addressable market and Bakery was deprecating their V1 BTCB-BNB vault as well.
We also added the much anticipated SPS-BNB Kingdom vault. This vault has since become one of the largest vaults by TVL and is a massive success.
SPS-BNB has a very high APR paid out in CAKE and those CAKE rewards are autonomously sold and compounded back into SPS-BNB, with 7% of the harvesting reward being taken as a fee to buy and burn CUB automatically on the market.
SPS-BNB Kingdom has been a smashing success and we're actively looking for more partner Kingdoms like it. It's burning more CUB than nearly all of the other Kingdoms vaults and we believe adding a couple more Kingdoms like it will have a material impact on the future sustainability of CUB (and importantly, grow our community further through collaboration).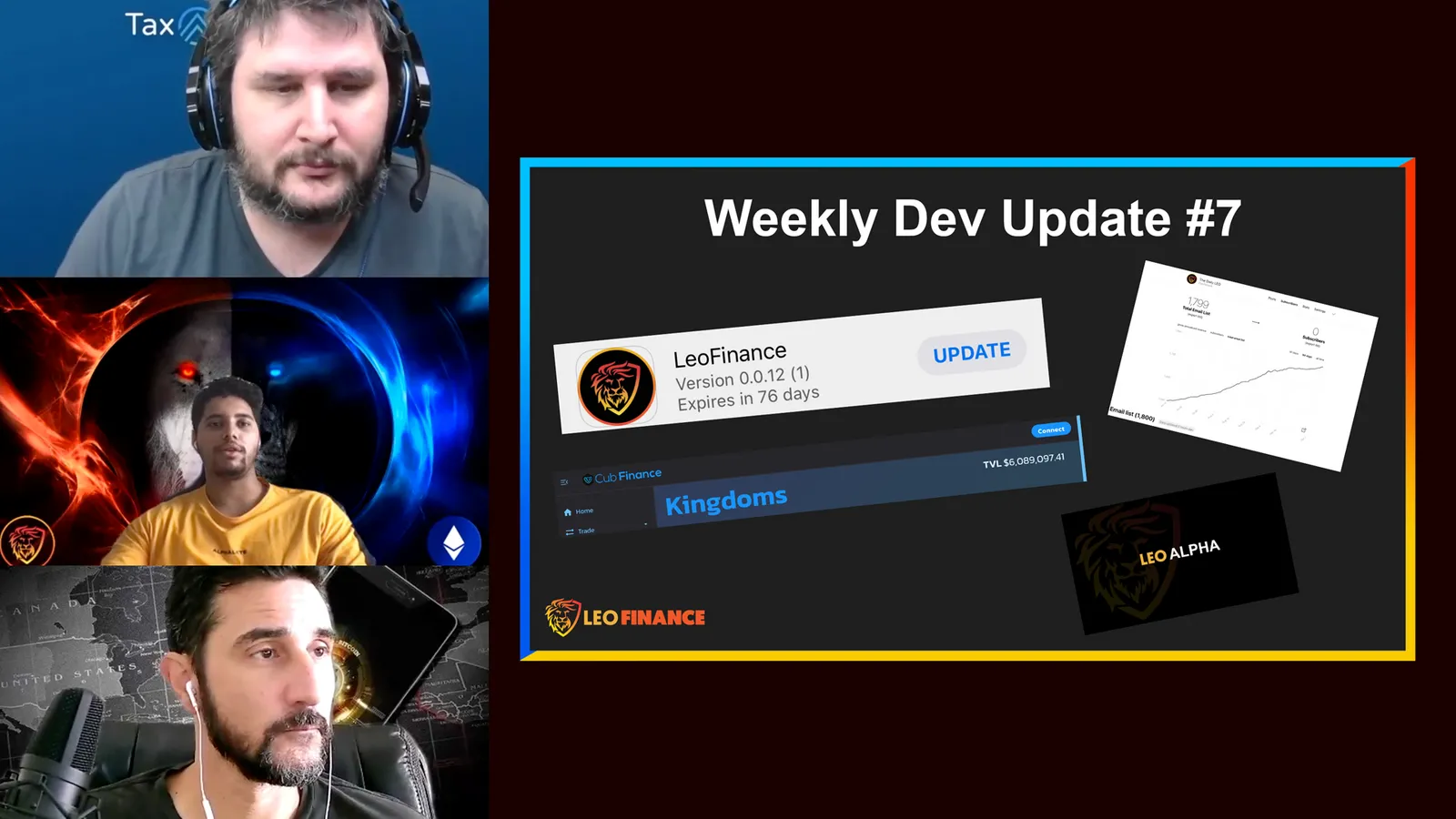 In this dev recap video we covered the week's updates on the development front. As I said many times throughout this 2021 recap: we hired on so many developers and talented people to the team.
The amount of development we've been doing each week in the ladder half of 2021 has been astonishing. This clip is a testament to all of the great work we were doing and have been doing since.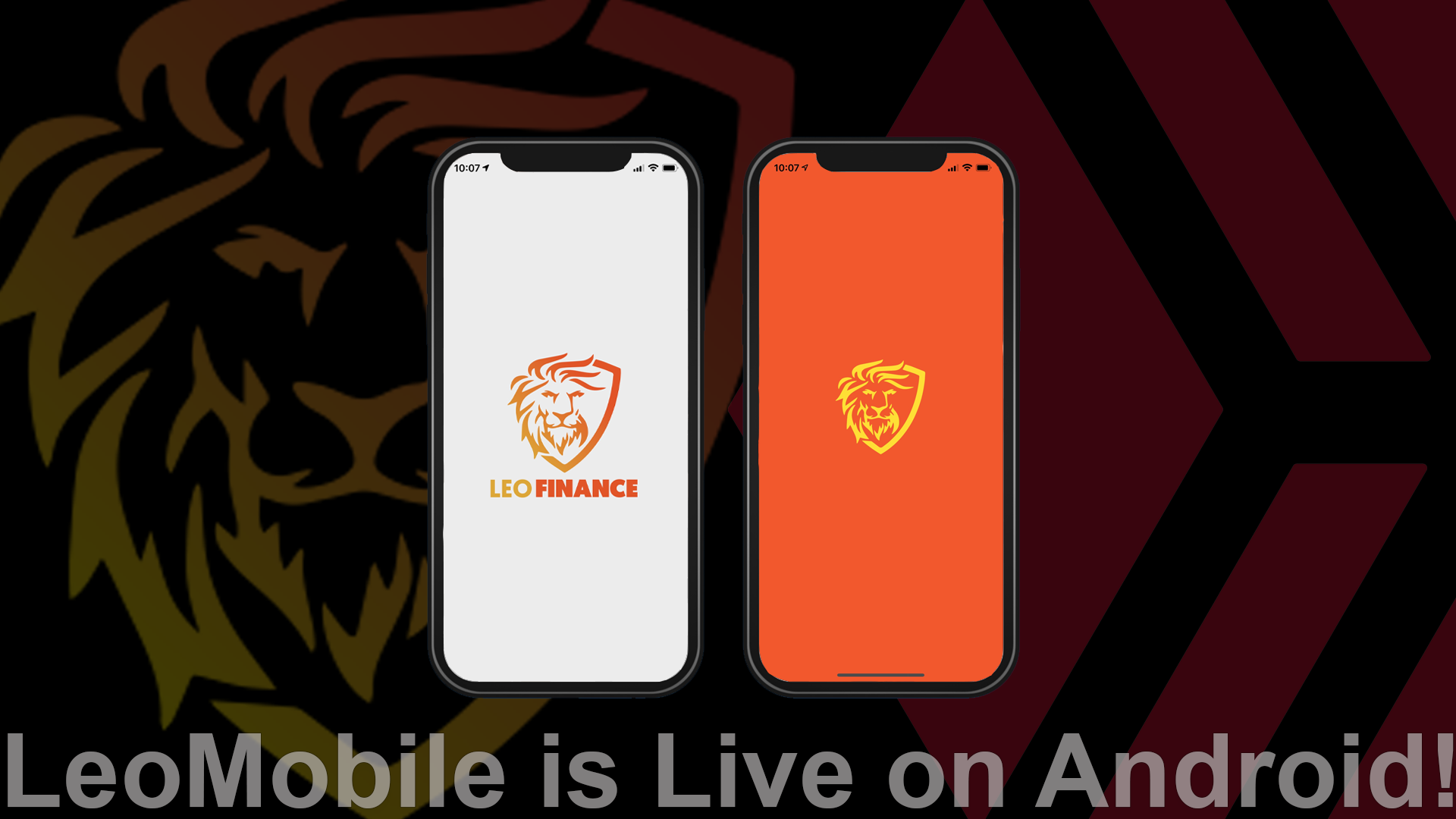 We've been waiting for this day for months now... LeoMobile has finally arrived and Open Beta is in session.

If you saw, last week we had a planned release for IOS. The day before that release, the Apple App Store decided to put our testflight under review. We're working with Apple now to get our app back online in Testflight so everyone on IOS can get out there and start Open Beta.

Originally, we planned on releasing Android several weeks after IOS. This was for a number of reasons but life is funny. Since IOS delayed our first iteration of Open Beta, we spent the last week working on Android and focusing on pushing it out into the Google Play Store.

Well, this morning we finally got approval... from the Google Play Store.
After so many months of development, we finally got LeoMobile released in an App Store.
At the time, we were waiting on Apple Testflight approval for weeks and weeks on end.
In fact, we had approval at one point for our closed Alpha version of LeoMobile. Then we redployed LeoMobile for Open Beta and got instant approval.
We then announced our launch day for LeoMobile (IOS) as October 21st, 2021.
The day before we were set to launch, Apple put the Testflight App under review because they flagged it for being similar to our closed Alpha app.
It took months of begging, pleading and calling Apple on the phone but we finally ended up getting LeoMobile approved in the IOS Testflight program.
Due to that delay, we turned our attention toward Android in the meantime. We managed to work on the Android version of LeoMobile and deploy it to the Google Play store in under 2 weeks... That was a true feat of strength from our (now) larger development team and more organized method of working on projects.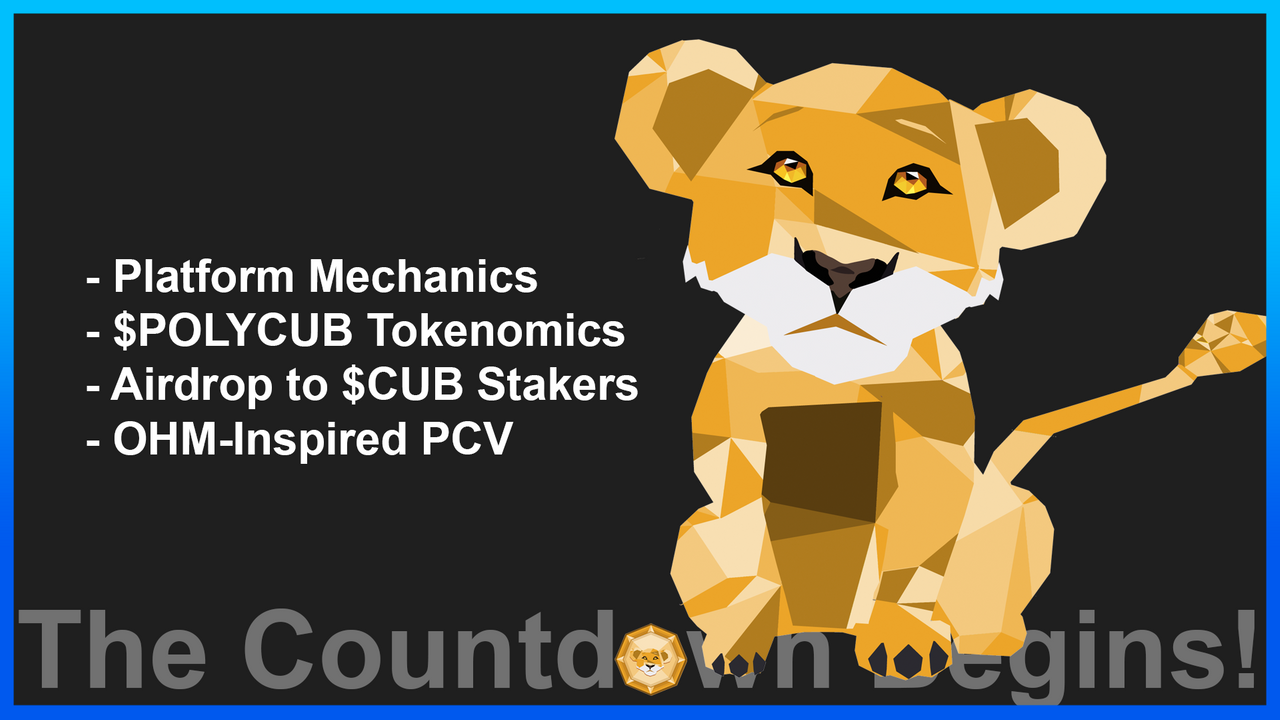 For months, we worked on PolyCUB. Our mission with PolyCUB is to build a truly incredible DeFi 2.0 platform from the ground up.
PolyCUB has changed through so many iterations to the mechanics, tokenomics and smart contracts governing the platform. It is unrecognizable from the original design, but we believe that all of this time and work has been well worth it.
The work we've done on PolyCUB will change LeoFinance and CubFinance forever. We're driving so much value back to LEO and CUB, it's truly astonishing.
The launch of CUB went incredibly well. So well that all of our systems overloaded (as discussed earlier in this recap post).
The launch of POLYCUB will be 10x bigger, better and more sustainable. We've spent all of these months building the best possible platform we can build while adding a lot of beef to the existing infrastructure behind LeoFinance and CubFinance.
It's incredibly important to us to build amazing tools with real value for our community. Building for the long-term is always what we have in mind and this often means delaying launches to ensure that we do our best work.
In this post, we introduced the finalized mechanics of PolyCUB and seeded the ground with the community before we get ready to launch it. The launch has been delayed so many times but these delays have been for great reasons and LEO and CUB are WAY better off for it.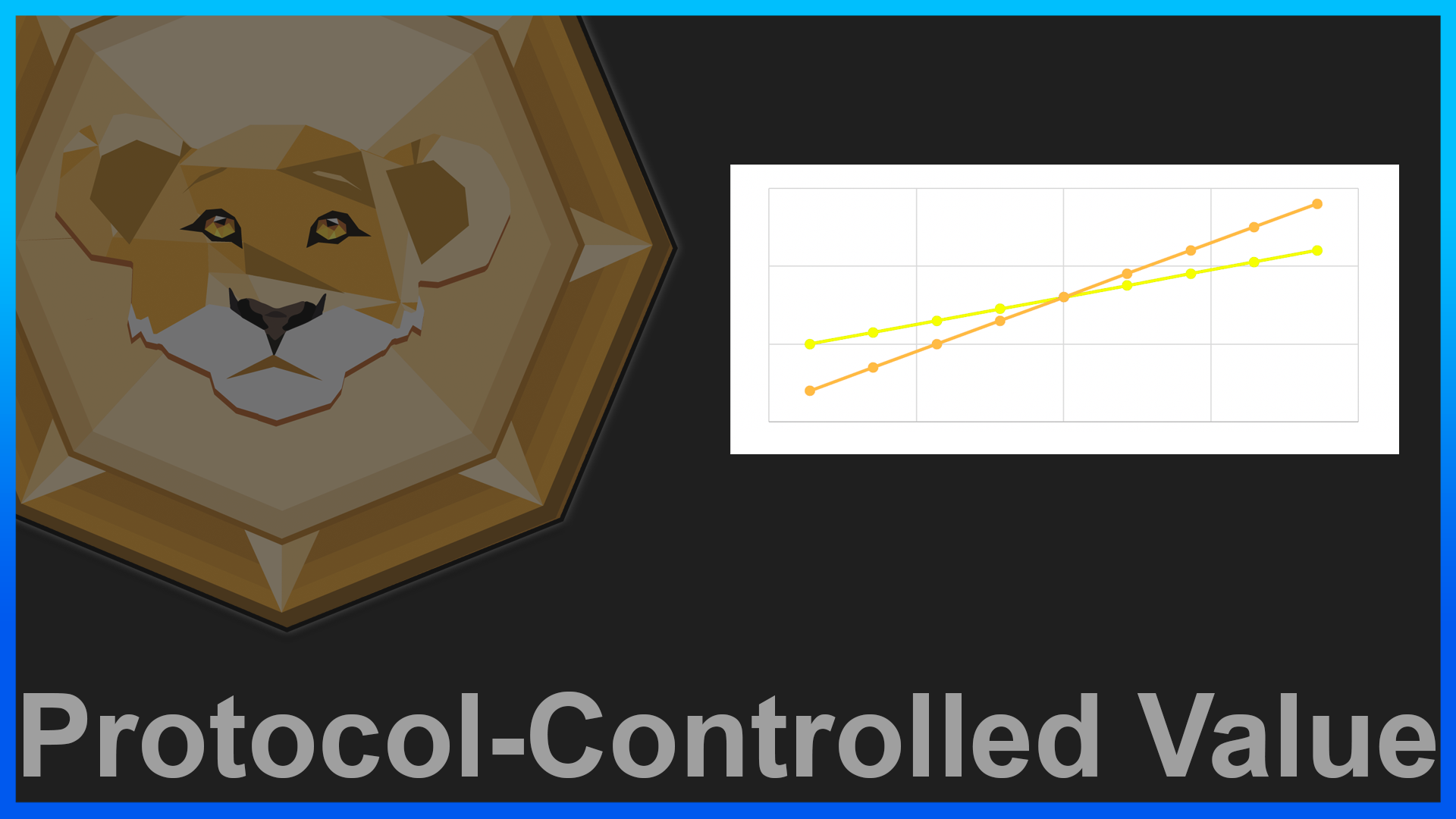 PolyCUB has shaken up the LeoFinance ecosystem (in all the great ways we expected it to). Building on the lessons learned - successes and failures - of all of LeoFinance's prior launches, we're aiming to do this one much better than the past.
One of the main questions we've been seeing are related to the $1,000,000+ PolyCUB token airdrop to CUB 💎🐾s (no surprise there). The airdrop details and participation instructions will be featured in one of these spotlight posts.
PolyCUB has become the main focus of the LeoFinance community as of late. There is great reason for this ($1,000,000 airdrop to CUB holders, being a big one)... But PolyCUB represents the same thing that CUB represented when it launched:
An extension to an entirely new market and yet another layer on our DeFi branch that will propel the entire LeoFinance community into the future.
PolyCUB has deflationary mechanics through Protocol Controlled Value and the principles of RFV and platforms like OHM. In this post, we spotlighted the mechanics we built into PolyCUB to build PCV and a sustainable future for our Polygon extension of CubFinance.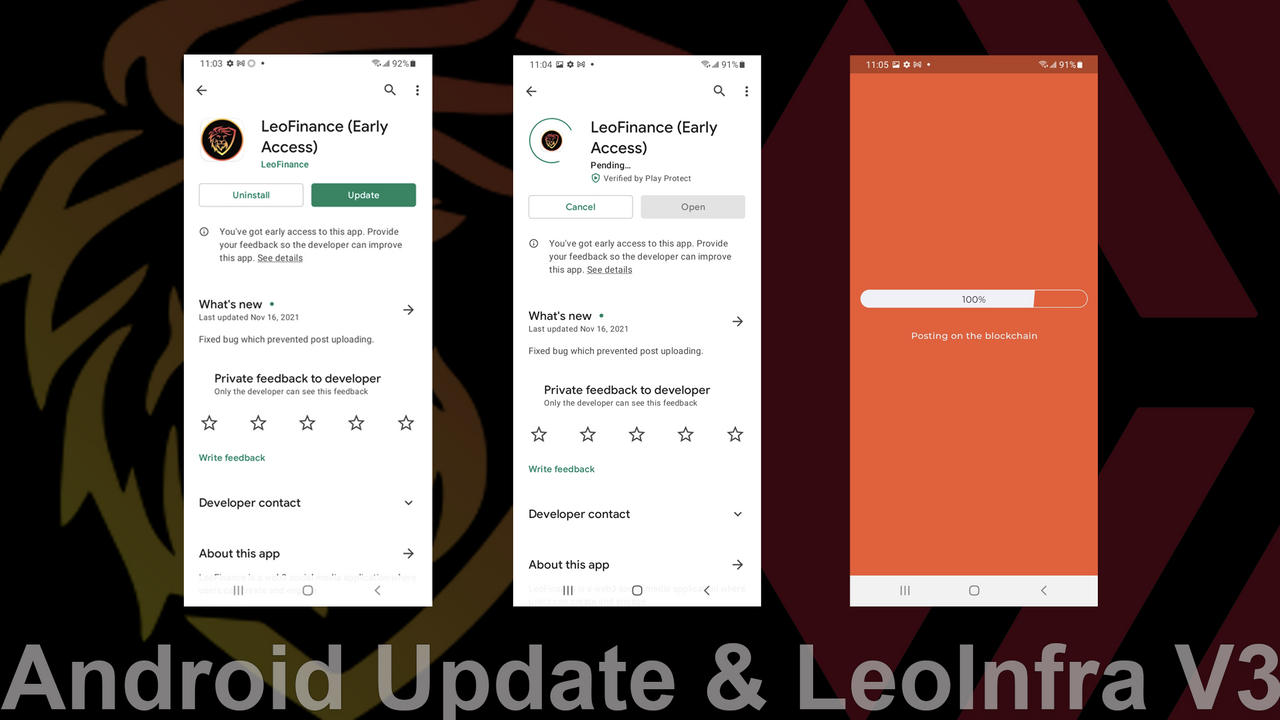 Again, despite the IOS App Store giving us a headache over Testflight Approval, we continued our development of LeoMobile and the surrounding infrastructure that will make it great (and seed the ground for ProjectBlank's release).
In this post, we discussed the major update we deployed to the Google Play Store to fix a number of bug issues. We also were about to hit 200 downloads on the Android app just shortly after its release (and despite the issues the first version had - where you couldn't even publish a post).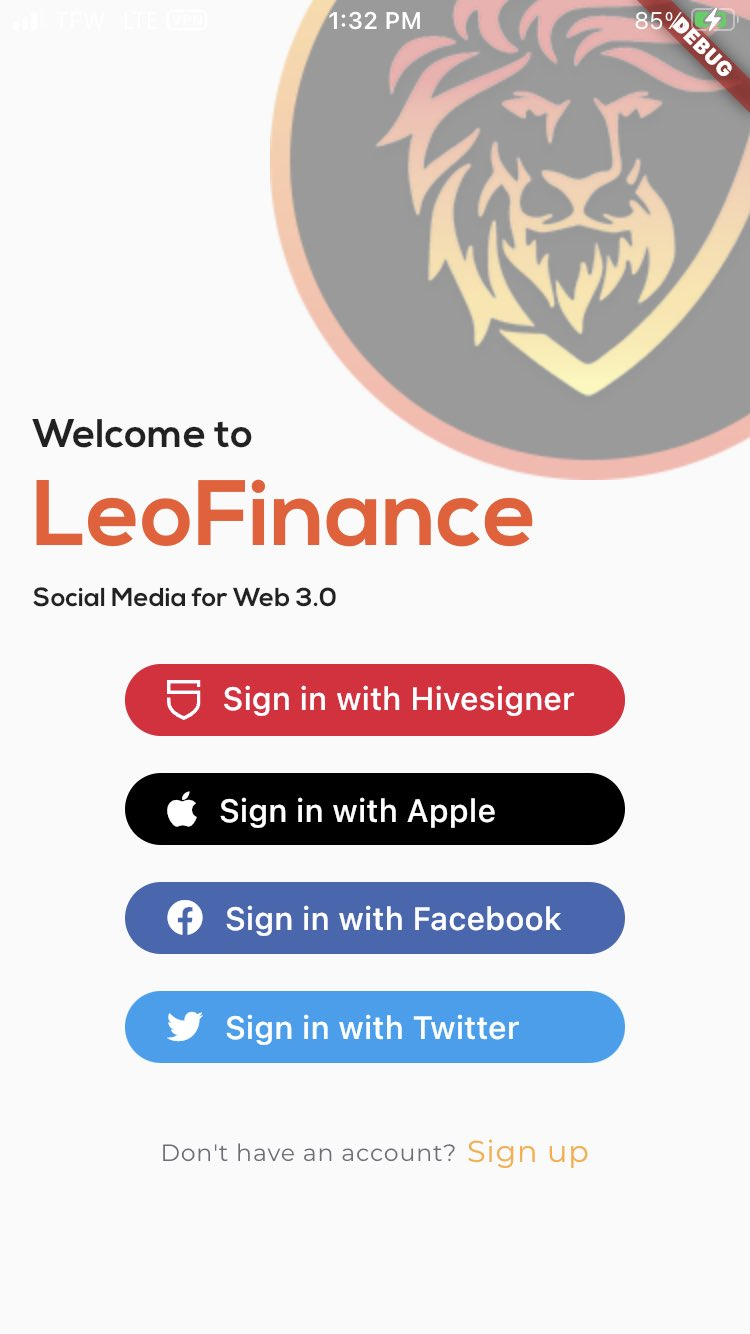 We also discussed the release of LeoInfra V3. We started private testing LeoInfra V3 which released a number of infrastructure improvements and also added Facebook Lite Accounts for the Hive Blockchain - the first and only mechanism for Web3 Lite Accounts!
If you want the video version of these updates, check out this Clip of the LeoMobile App Development Updates.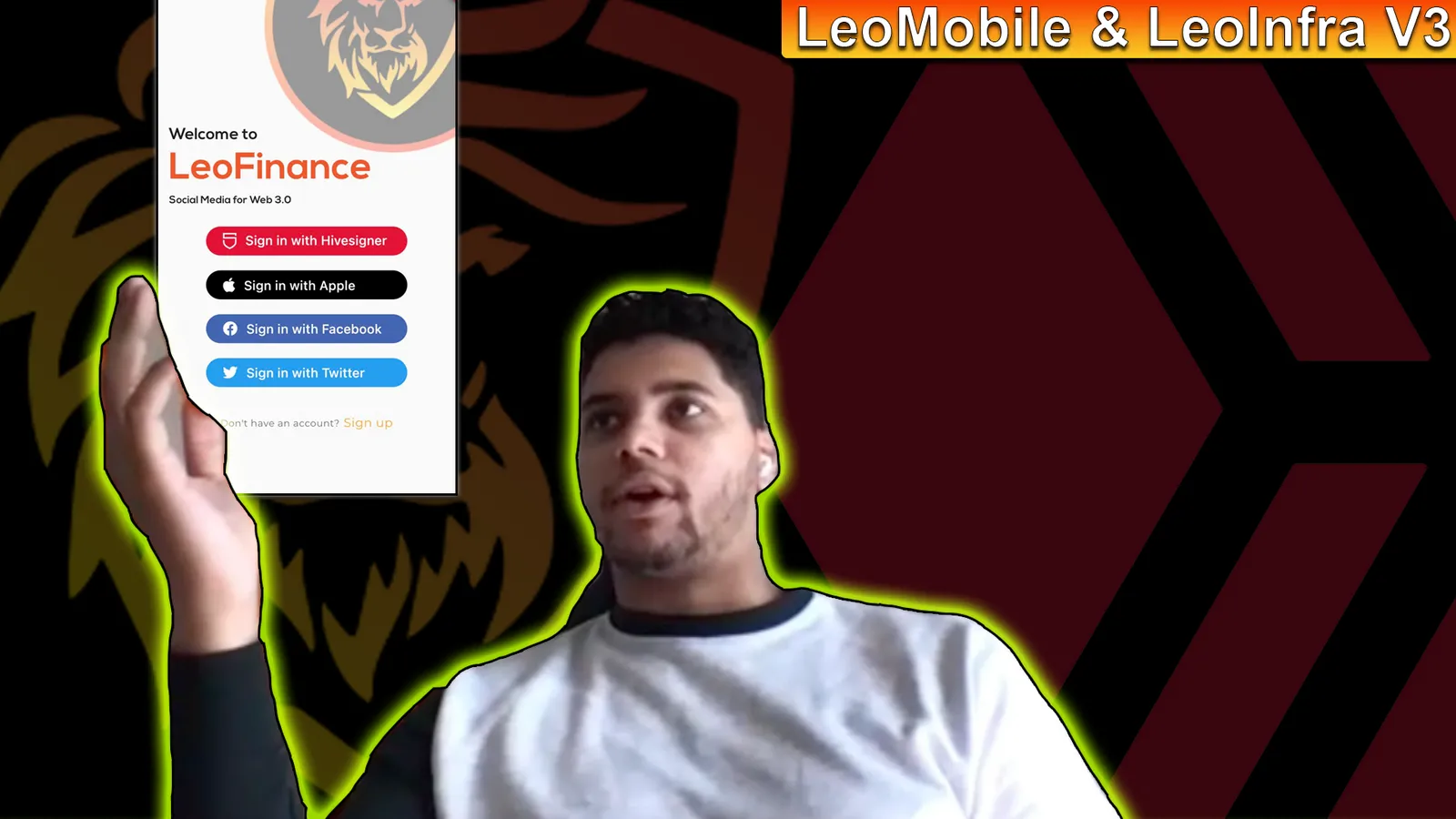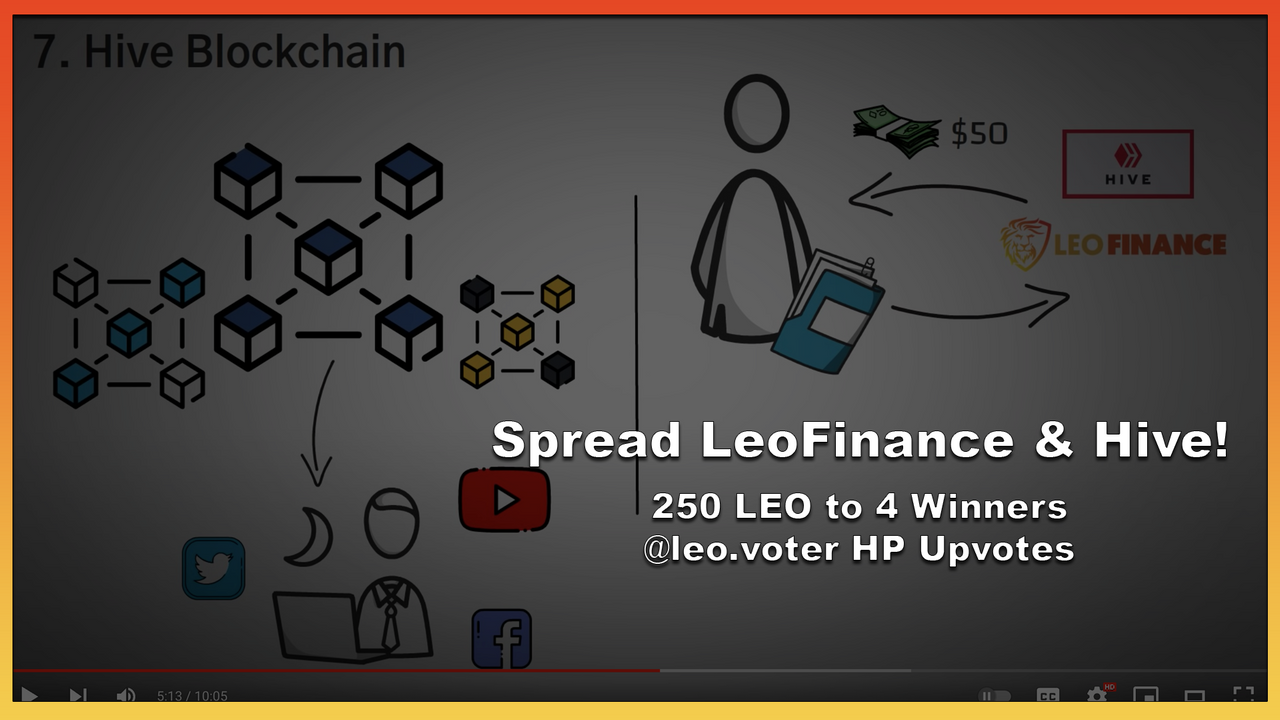 LeoFinance started getting some positive press from a few different sites toward the end of November and Early December.
One major shoutout we got was from Whiteboard Crypto who mentioned LeoFinance as one of the top 10 ways to earn crypto!
We ran this initiative to spread awareness about this and get more outside traction. We saw a record number of signups follow this event.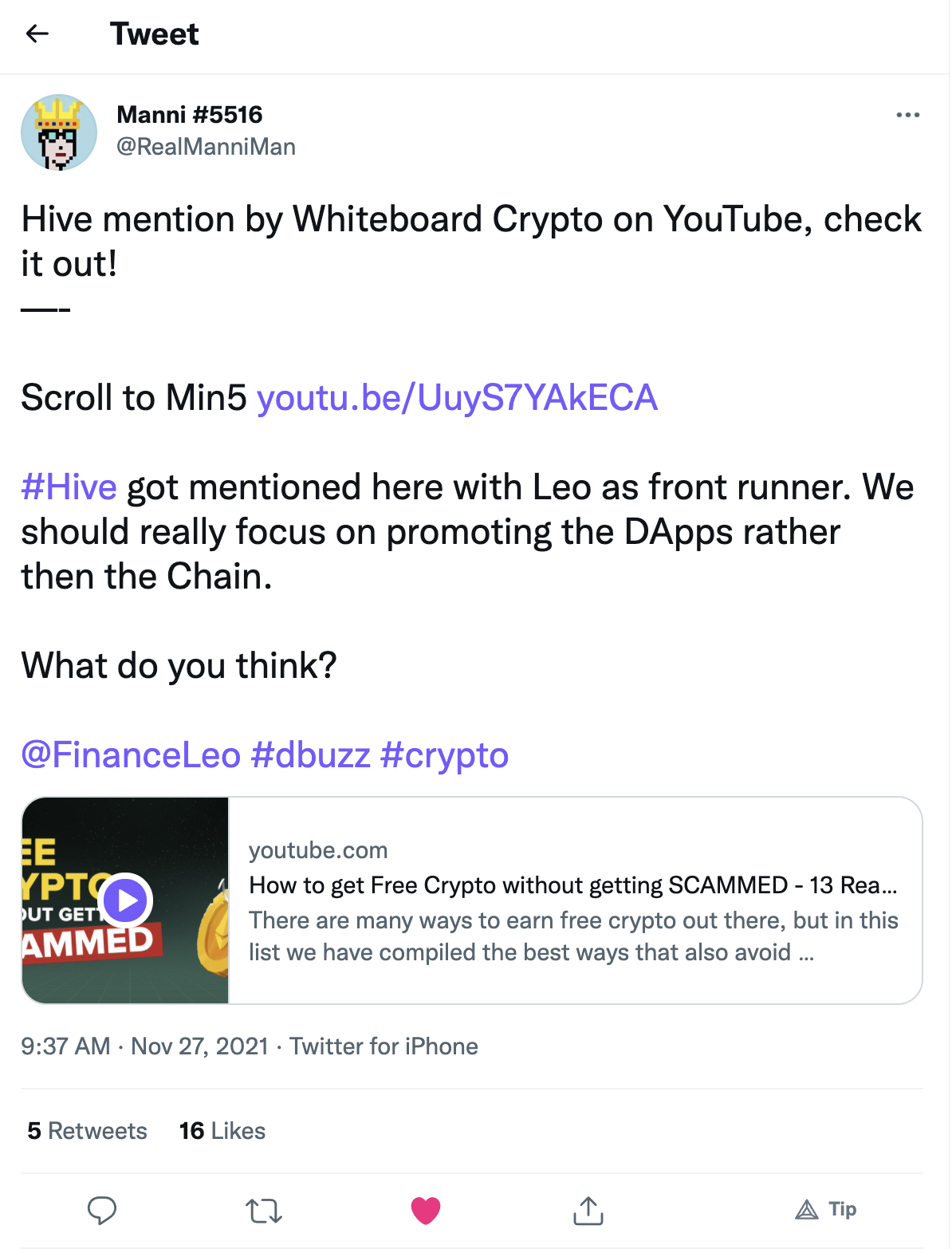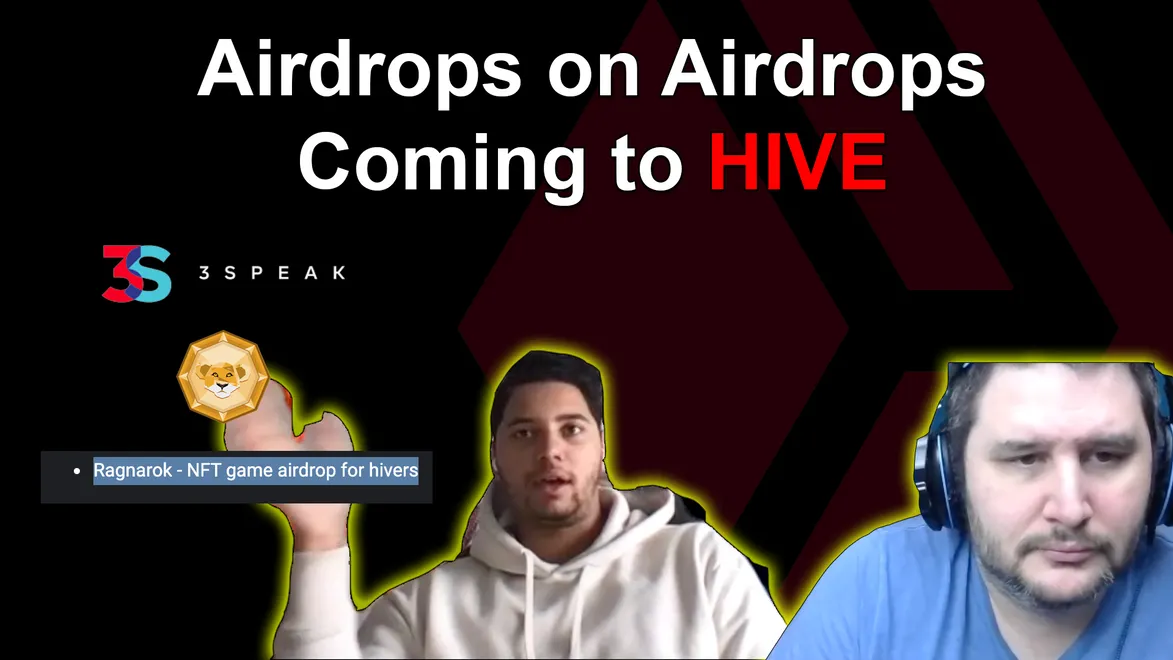 In this clip from the weekly AMA, we talk about the Airdrops happening for the Hive community. The POLYCUB airdrop is set to happen any day now for CUB holders and the Hive blockchain is also supposed to get 2 major airdrops from 3sepeak and Ragnarok.
We also saw the awareness that these Hive-based airdrops were getting and recommended to the IDO #2 team to consider doing an airdrop to HIVE holders in addition to the airdrop to CUB holders and subsequent IDO.
After that chat, we think it's highly likely that you'll see IDO #2 airdrop to HIVE Holders, CUB Holders and then run the first of many IDOs on the CubFinance V2 Launchpad.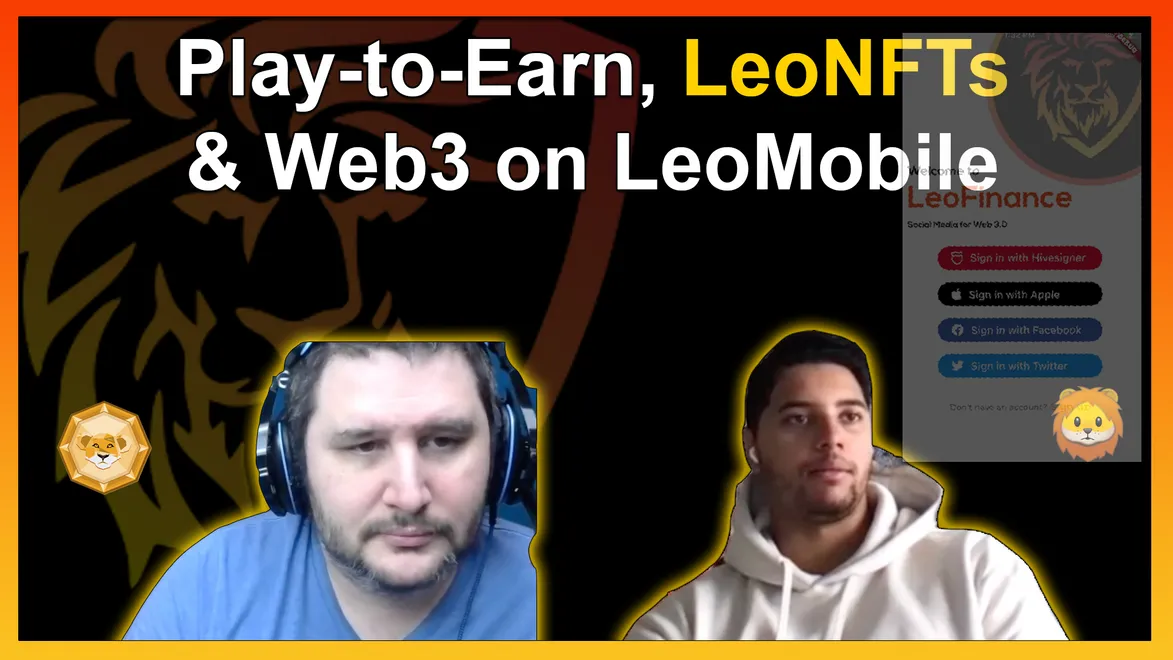 LeoFinance is always looking for ways to expand and further fulfill our mission of expanding the width and depth of the LeoFinance Web3 Community.
The metaverse has gotten a lot of attention lately and NFTs are here to stay. In this clip from the weekly AMAs, we talked about LeoNFTs and a full-stack Web3 experience on LeoMobile.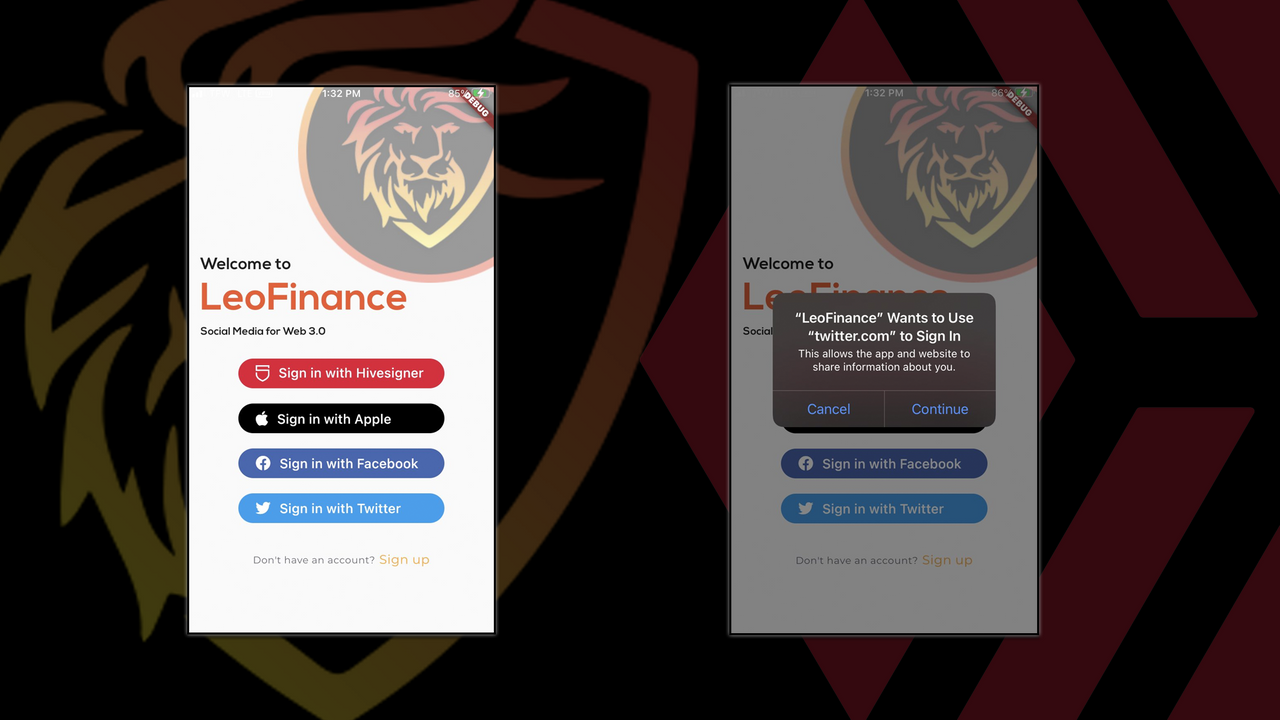 We finally did it! LeoMobile got Apple Testflight approval after the initial issue with us being flagged for deploying the app twice.
Now, we have multiple versions deployed but we have them deployed in various testing "sandboxes" using Apple's framework. This allows us to have multiple versions out with the approval of Apple - since they know that it's us who has multiple versions and not people trying to maliciously deploy similar applications.
In this update post, we also talked about LeoLightning and LeoInfra V3. Throughout the end of 2021, we spent a lot of time building our foundational frameworks for the future. These frameworks are necessary for the future of LeoFinance and ProjectBlank as it is eventually rolled out.
All of these frameworks combined is what makes a radical innovation like Project Blank possible.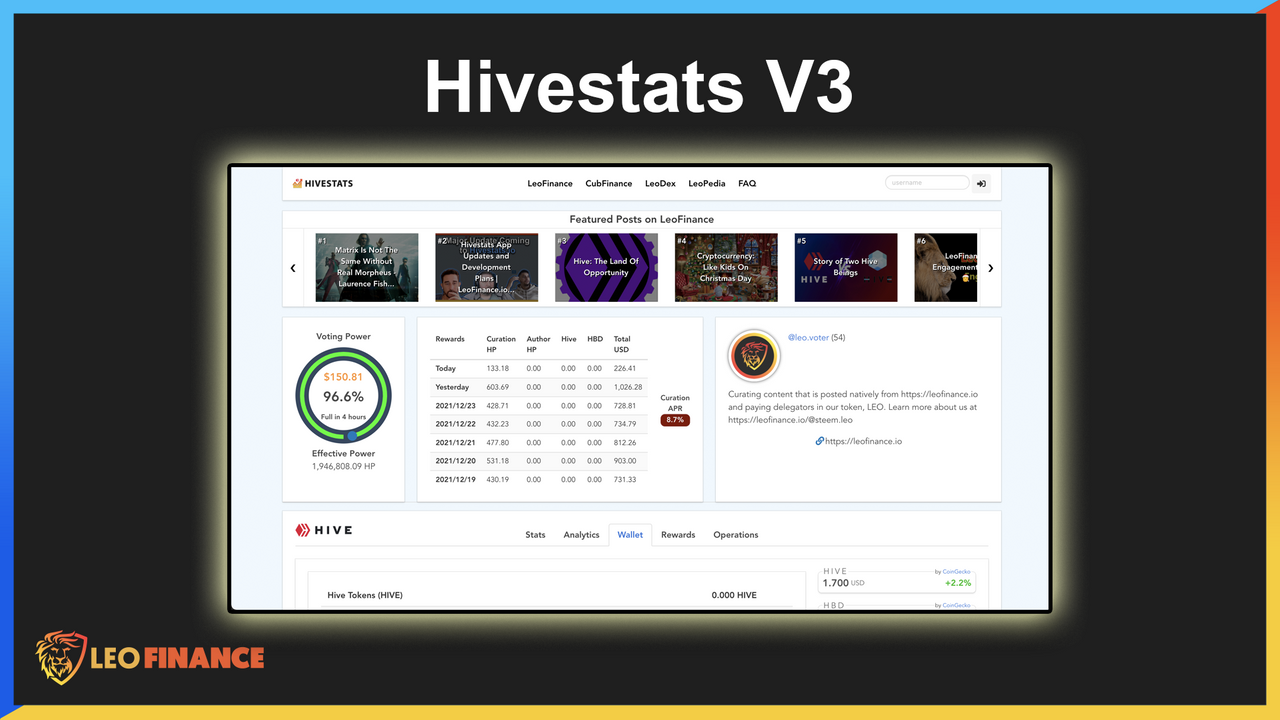 Merry Christmas 🦁 we have a little Christmas surprise planned for the community. We just released Hivestats V3 into production.
We didn't want to come to the LeoFinance Christmas Party empty handed!
On Christmas day, we released Hivestats V3 into production. This update brought a few cool features to the Hivestats interface along with a massive round of API updates and bug fixes.
It had been a year since the last Hivestats updates and that is crazy... The reason for the matrix-sized delay in V2 -> V3 was for many of the reasons outlined throughout this 2021 recap: growing pains.
As we continued our expansion in early 2021 with the release of CubFinance and our focus on Smart Contract-based efforts, we spread our small team out far to thin.
We grew and expanded our ambition much further than our team. Since then, we've focused on expanding the team itself and growing with the developments as opposed to fighting the tides against them.
In December, we had our most recent hire and brought on another full stack dev to the team. His first mission has been making a wide range of updates to the Hivestats application before tackling other aspects of the LeoFinance project.
Side note: we're currently interviewing another full stack dev and are avidly looking for more devs of all kinds for the LeoFinance project. Our expansion has far from stopped: it's happening exponentially in front of your eyes!
Ah ending the year on a fantastic note. Hivestats V3 is set to roll out in 3 phases. The first phase introduced 2 new features and a massive round of bug fixes.
Phase 2 focused on adding more features and displays and Phase 3 finalizes many of these changes with a couple more feature-adds.
The Phase 2 release was our final update to close out the year of 2021.
We also integrated a massive overhaul to the backend which optimized the loading of data on Hivestats 6 ways from Sunday. It's really incredible to see the results (we posted a demo on Twitter with a side-by-side comparison. Hivestats V3 outperformed V2 by 60x speed in many aspects).
Conclusion
If you made it this far, let me start by congratulating you. This post was always intended to be a lengthy recap, but pushing 15,000 words has made this feel like a marathon to write... I imagine you'll have a similar feeling after reading it.
The year 2021 has been an incredibly challenging year. We've had to grow a lot as an organization. We've had to learn a lot from what we've been working on. There's been a seemingly endless stream of challenges as we continued to expand the team and what we thought was possible for LeoFinance.
Sitting here on January 3rd, 2022 and comparing LeoFinance today to LeoFinance in 2021 gives me a feeling of inspiration.
Elon Musk said this quote in an interview a few years back:
"Starting a company is like eating glass and staring into the abyss."
This year has drilled local meaning to this quote right into my brain. It's been a trying year for the whole team and for myself as we learned to navigate this crazy and ever-evolving landscape we call crypto.
The journey of starting LeoFinance and getting to this point has been the most fun thing I've ever done. The past few years have been a mix of growth, pain, inspiration and immense joy. I'm looking forward to the next 10 years of building LeoFinance and all of our applications as we drive forward the principles of Web3 as one of the first tokenized communities in the world.
Thank you for being an essential part of this journey. Let's crush 2022 and deliver on all these amazing projects we've been working on 🦁

LeoFinance is a blockchain-based Web3 community that builds innovative applications on the Hive, BSC, ETH and Polygon blockchains. Our flagship application: LeoFinance.io allows users and creators to engage and share content on the blockchain while earning cryptocurrency rewards.
LeoFinance | CubFinance | Hivestats | LeoDex | LeoFi
Delegate HP & Earn 16% APR, Paid Daily. Currently @ 2M HP

Posted Using LeoFinance Beta
---