Leo Finance Ambassador Program - Are you ready?
---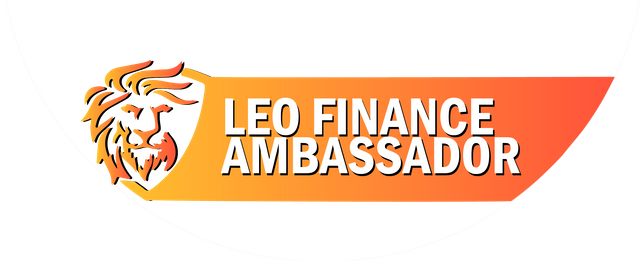 The Leo Ecosystem is expanding rapidly and, in order to keep up with this accelerated growth, we are increasing the size of our inner-pride.
We want YOU to be a Leo Ambassador
A Leo Ambassador...
Knows their way about Cryptocurrency, they are not necessarily experts but, they have some experience in the cryptoverse.
Is proficient at writing in English (speaking English at a good level is a BIG plus)
Is passionate about the Leo Ecosystem and understands the potential of the LeoVerse. Ideally an ambassador's portfolio contains Leo, Cub, PolyCub and/or Hive.
Ideally has a local crypto presence and network in their home country - or is willing to build one.
Is active in LeoFinance.io and enjoys engaging in Discord conversations.
If these five bullet points describe you, sounds like you are perfect to be a Founding Member of the Leo Ambassador Program.
You will be the visible face of Leo Finance and will be part of the operations behind the Leo stage. You will be actively involved in spreading the word about the projects, launches and much more.
A Leo Ambassador is expected to...
Participate in coordinated efforts by Leo Finance such as asset listing, organic engagement boosting, raids etc. Think of this like an organized Lion pride that works towards goals that one person could never achieve, in a fraction of the time it would take an uncoordinated group to hit a target.
Guides newbies around the Leoverse.
Promote Leo Finance and its child projects in local crypto events - Leo Finance funds the attendance.
Be on the lookout for local and global partnership opportunities, online and in-real-life.
There is more to this position that we'll discuss if you become part of the team, but in order to keep things clear, being a Leo Ambassador will take around 3 hours of your weekly time budget.
As you can imagine, there are MANY benefits to being a Leo Ambassador which will be discussed in a one-to-one discord conversation once we pre-select the team members.
Do you think you are the next Leo Ambassador?
Let us know in the comment section, tell us why you should be part of the founding members of the Leo Ambassador program.
If we think you are a perfect ambassador, the discord user @anomadsoul#8455 (check the ID, beware of scammers) will contact you in exactly one week from now.

The #NewLion initiative is still on!
If you haven't posted on Leo Finance before, right now is the best moment to do so:

All the rewards from this post will go the Hive Fund. Give this post a vote, a ReBlog and share it everywhere, help us spread the Leo word.
Posted Using LeoFinance Beta
---