LEN:LENM Diesel Pool is Alive!
---
We finally did it! The LEN:LENM diesel pool is alive and you can find it on Tribaldex website, or on BeeSwap! Nobody has done this kind of pool, combining miner and mineable token and we are excited to see how it will go! It's nice to be a pioneer in this!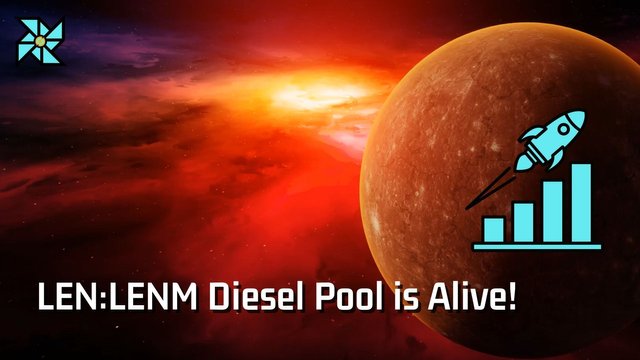 Created in Canva.com
Just a couple of short notes about it...
Now you can easily swap your LEN tokens into LENM tokens, and vice-versa without exchanging into SWAP.HIVE!
If you are accumulating your LEN tokens for the long term, you can put "them to work" by adding liquidity to the pool... It's "kind of" staking and you can get the compound effect...
Liquidity providers will receive daily rewards in different tokens (for now, you receive LEN tokens for doing that)
If people unstake LENM and provide liquidity to the diesel pool, that will mean higher APR for people who continue to stake them...
If people buy more LENM to provide liquidity, that means more funds for investing in different programs, which means a more stable LEN token in a long run...
We are committed in the long run and rewards are created for a duration of 365 days, which means that you don't have to be scared that funds will run out, or that you will not receive your rewards after a couple of days...

All rewards and initial liquidity deposits funds have been bought directly from the markets and there wasn't additional printing of LEN or LENM tokens... Only staked LENM tokens can mint new LEN tokens!
So, in any way, we expect a lot of positive effects from creating this diesel pool... Of course, we will probably create more pools in the future with other tokens involved... Also, we will try to add different tokens to the reward pool in the near future and we were discussing adding them on the weekly basis...
In the following days/weeks, we will create tutorials about how to provide liquidity to the pool, how to directly swap from LEN to LENM (or vice versa), what things to pay attention to when you do that, etc...
We have probably forgotten tons of things in this first post, so if you have any questions, you can ask them in the comment section and we will gladly answer!
Links where you can find LEN:LENM diesel pool:
https://tribaldex.com/dieselpools/pools
https://beeswap.dcity.io/swap?pools&search=LEN


Liotes
A project run by @ph1102 and @achim03
Resources
---