What is Hive? What Did I Find There?
---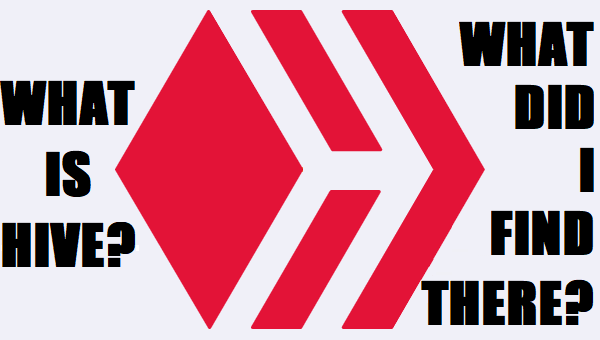 It was Dogecoin which brought me to Hive, but it was Hive which kept me at Hive. What is Hive, and what did I find there?
---
Cover image made using MS Paint. Hive logo comes from hive.io.
---
When you come to a fork in the road, take it.
-- Yogi Berra
How Did I Get Here?
Seriously. Dogecoin brought me to Hive.
But along the way I had a momentous decision to make: Steem or Hive
Although I knew about cryptocurrency as far back as 2013 when I began mining Bitcoin several laptops ago, it was an afterthought until Spring 2021 when Dogecoin was in the news for its gangbusters' climb to USD 0.75.
One thing led to another, and I discovered the social network Steemit. At that time there were many articles there about Hive and Steemit and this and that. One article explained the differences between Steem and Hive. For a while I wasn't sure which one to choose since I knew zip about both.
After a few moments of thought-- just a few moments-- I chose the fork in the road pointing to Hive.
▶️ 📉 ❎ 📊 ✅ 📈 ◀️
TL;DR
What Is Hive?
What I Found at Hive
1️⃣ Communities
2️⃣ Governance
3️⃣ Development
4️⃣ Cryptocurrency
5️⃣ Fiannce
6️⃣ Property Rights
7️⃣ A Ground Floor Opportunity
Just My Two Sats
▶️ 📉 ❎ 📊 ✅ 📈 ◀️
What is Hive?
Hive is a decentralized, scalable, and battle-tested Delegated Proof of Stake network running on Hive blockchain. Hive offers fee-less transactions in 3 seconds or less. Social Media is one of many use cases for Hive, and it is used to distribute the HIVE token. As HIVE is distributed to content creators, it also distributes its governance token (Hive Power) and its stablecoin (Hive-Backed Dollar).
Hive is also a development platform open to anyone for making decentralized applications (dApps) which leverage the Hive blockchain. dApps have been made for social media front-ends, block explorers, games, decentralized exchanges, development tools, analytics, payments, NFTs, wallets, and more.
Hive has grown so much since its launch in March 2020 as a hard fork from the Steem blockchain that it spun off a second layer. Hive at Layer 2 is rich with development and growth, and periodically new dApps are released just as for Hive at Layer 1.
Hive is a platform which can serve as the basis for an ecosystem of applications functionally equivalent to anything offered by Big Tech. However, these applications and services would be decentralized, trustless, and permissionless.
What I Found at Hive
1️⃣ Communities
Although it's done differently here, Hive the social network is a platform where we can find communities matching our interests and contribute to their growth. It's also a place where we can strike out on our own to form communities more to our liking. Hive even offers us the freedom to branch out to Layer 2 if the base layer is too limiting.
Can the Facebook users among us imagine FB with a Layer 2? Not Instagram and WhatsApp as part of the FB umbrella, but communities and tribes branching out to its own Layer 2? Hive has that.
It's even worse at Twitter. Communities don't exist there. Yes, we talk about things like "Sports Twitter" and "Movie Twitter" and "Crypto Twitter", but they don't exist as genuine communities. Filters and Trending Topics handle that. People didn't go there to hang out with filters.
2️⃣ Governance
At Facebook, people who form their own communities govern those communities. That's as far as it goes. When it comes to governance of the network and platform, that's left to the shareholders and/or the executives running the company.
Hive has its shareholders, too. They're called Hivers or Hivians (I've seen both terms, and I use the former). We are the shareholders by virtue of the staked cryptocurrency we earn, HIVE, when we publish content and engage with fellow Hivers and support them.
We can make proposals which seek funding for projects ranging from marketing a project to the creation of dApps to upgrading network infrastructure. We can also make proposals on a policy basis if enough of us can gain an audience.
I'm not talking about polls, either. Hive has a process in place where proposals can be created, distributed to holders of Hive Power, debated in comments, and voted upon. We take part in that. Hive lets us do that.
3️⃣ Development
Yes, development takes place at Facebook. But are you part of that process? It's a closed shop over there. Their developers are on the payroll as employees, consultants, contractors, or vendors.
While Hive has its own process concerning development, it is open to anyone who has the skills to produce a new dApp or to maintain and grow the infrastructure. Although some projects are closed source, they are that way due to the projects themselves, not Hive.
Since Hive is a relatively new platform, development and growth are among its key features. Just in the last few weeks Reverio was brought online at the base layer and Veews from CTP went live on Layer 2. During the summer LeoFinance released the LeoThreads microblogging platform.
Gaming is one area of development bursting with activity. Here are just 3 examples out of many:
Splinterlands is rolling out not only new game packs but also features such as land and plots.
PsyberX will be the first-person-shooter game for Hive blockchain.
WOO (Wrestling Organization Online) lets anyone indulge their inner Vince MacMahon and Ric Flair if they have the accumen to build out a promotion from nothing and to put fannies in the seats.
4️⃣ Cryptocurrency
As true as men are admitedly visually-oriented creatures, it's true that we came here for the cryptocurrency. It's OK, we're among friends! Whatever we do here, we earn HIVE, HP, and the HBD stablecoin in accordance with our stake and the stakes of our fellow Hivers. If you use the base layer front-end dApp Ecency, you also earn Ecency Points which can be used for various things.
Then there is the wide array of Layer 2 tokens we can earn alongside Layer 1 HIVE tokens. Post once, earn twice. What a platform!
Do Facebook or Twitter or YouTube let you earn cryptocurrency? Do they compensate you for your time? No and no.
At least Brave Browser rewards-- such as it is-- its users with Basic Attention Token (BAT). The Big Tech services don't even offer that.
5️⃣ Finance
Thanks to the cryptocurrency we earn from our activity on Hive and at Layer 2, we have a few ways to earn additional cryptocurrency:
How many brick-and-mortar banks let us do any of those things? Even Savings at a bank is so laughable as to be an insult to us (and that's not even accounting for 20% interest on HBD placed into Savings).
We can even introduce outside funds in order to increase our positions in HIVE and whatever Layer 2 tokens interest us.
All these things we can do on-chain. When we're ready to make the move, we can take part in off-chain Decentralized Finance using LeoFinance products Cub Finance on Binance Smart Chain and PolyCub on Polygon (MATIC).
Which among the Big Tech social networks comes close to letting its users participate in finance?
6️⃣ Property Rights
Even if you were able to monetize your content via Big Tech, it's their content; you only produce it. How many times have we heard of these platforms (including Google AdSense) demonetizing people?
It would be theft if they demonetized content they didn't own. Yet they demonetize people left and right, day and night-- and legal systems allow it. This means that they own the content.
I'm not saying people don't get banned or sanctioned on Hive; even Hive has to comply with its legal obligations. However, the worst that happens on Hive is we find a different community or another dApp and resume our activities. No demonetization, no censorship, and no takeaway of followers (but they can quit on their own).
We keep our earnings until we withdraw them. We say what we want at risk of being challenged or (even worse) ignored. We retain our followers except for those who choose to stop being our followers.
Most importantly, we own our keys. No one else has access to our cryptocurrency. If we aren't careful, we ourselves may not have access to it, either.
7️⃣ A Ground Floor Opportunity
Even though Hive itself is nearly 3 years old, and many Hivers go back to the early days of Steemit, we're actually at the ground floor. If we compare Hive to the 1849 California Gold Rush, we're 2 months after that started.
Many gold miners made their fortunes then. It can be that way for us right now. As the saying goes, fortunes are made during bear markets.
With all of cryptocurrency in a bear market and with global economic conditions being what they are, there is room for us to amass as much HIVE and as many bags of Layer 2 tokens as we can at these sale prices. When the bulls return (and they will, whenever that is), we may find ourselves Living the Dream and not relying on traditional finance anymore for our needs.
And that is if Hive stays the quiet place that it is, an afterthought in a world where lesser altcoins liftoff brightly only to flame out.
Just as top-flight futbol players wanted to join Pele on the New York Cosmos in the late 1970s, people using other social networks will want to join us on Hive.
Once Hive enters the spotlight and it's in the news as much as Dogecoin was in Spring 2021, Hive will be the place where people in crypto want to be.
Just My Two Sats
Hive is a decentralized DPoS network running on the Hive blockchain. It distributes its HIVE token mainly via social media dApps. When content creators receive HIVE, they also receive the governance token known as Hive Power and the HBD stablecoin. Hive is also a development platform which can be used to build dApps which leverage the blockchain.
When a new Hiver begins to use Hive regularly and consistently, there are 7 things the new Hiver will discover: Communities, Governance, Development, Cryptocurrency, Fiannce, Property Rights, and a Ground Floor Opportunity.
Compared to Big Tech and Web 2.0 platforms and services, the only thing Hive lacks is the user base. Over time, this will change once people discover that Hive can offer them everything they've been used to plus compensation for their time and engagement, control of their content, and ownership of their cryptocurrency keys.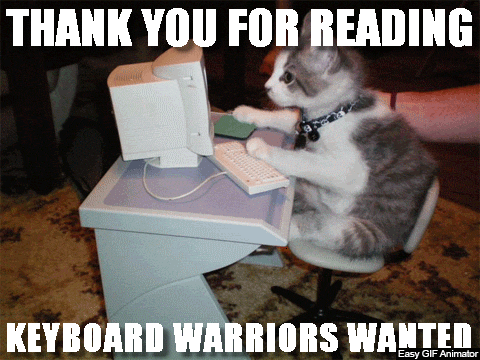 ---
---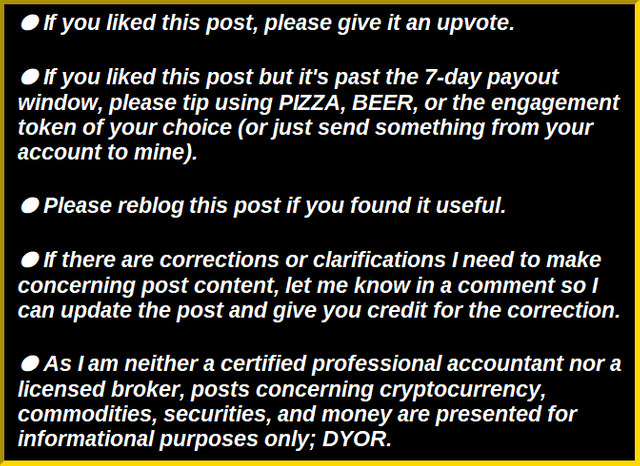 Posted Using LeoFinance Beta
---