Splinterlands - Reviewing My Account For 2021
---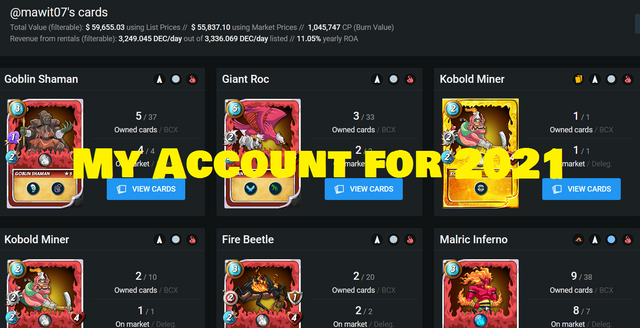 Ever since I started playing Splinterlands I have dreamed of days like what we had in the middle of 2021. Although currently my card collection total value has dropped significantly from all time highs it is still more than 10x where it was at the start of the year. What a difference a year makes. This post I look back at the year by looking through my current collection and what my plans are for the future.
My Splinterlands Milestones

The biggest milestone for me in 2021 is reach 1 million collection points. Then there was the start of SPS air drop and after the close of 2021 I was near a 30k staked in the token. As of today I have have exceed 30k SPS staked.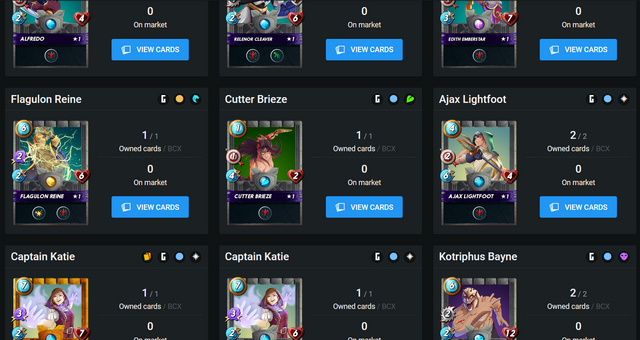 Then came the introduction of Gladius Packs and I have staked over 4,000 CP with the top cards being 1 legendary, 2 epics and 1 rare gold foil. I did not fare that well overall in the guild brawls but at least I had enough merits to have accumulated a total of 60 Gladius cards.
It may not be that great of an achievement but I have yet to purchase a single Chaos Legion series card. I intent to own some down the road very soon though.
Plans For 2022
As mentioned I want to own some Chaos cards and the plan is to get a max Chaos deck. It maybe a bit of a challenge to do since I will not have the entire funds necessary on day one to get a max deck. However I intend to gradually buy cards on the open market gradually to accumulate enough to make a max deck.
During 2021 I have purchase more cards near the second half of the year. This included mostly the new Chaos reward cards. Beyond that very few if any other editions cards but no Chaos Legion cards. This is planned as I knew moving forward a majority of the Chaos Legion packs sell in early 2022. I am hoping more supply in the open market will reduce overall prices.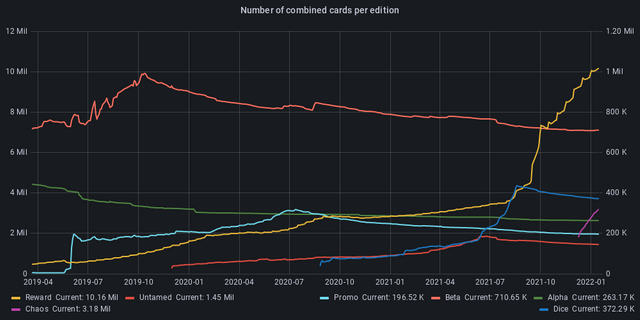 Reward cards are circulating at over 10 million which is more than all the rest of the series combined. With Chaos Legions packs reaching 12 million packs potentially sold in 2022 that leads to 60 million new cards added to circulation. It will definitely have a surge in supply but the big question is will there me drop in prices. If demand also rises it maybe difficult to see card prices drop. Fingers crossed.
On the front of my staking SPS and collection points I hope to achieve a 50k SPS staked and 100k added in collection points. I know it may not seem like to far of goals but the tokenomics are working against me here. For instance the yearly APR % for staking SPS continues to drop on a daily basis and is now currently running under 38% APR. In addition Chaos Legion cards do not posses a lot of collection points relative to pass series cards. It will take more cards from Chaos series in order to earn a lot more in collection points.
Conclusions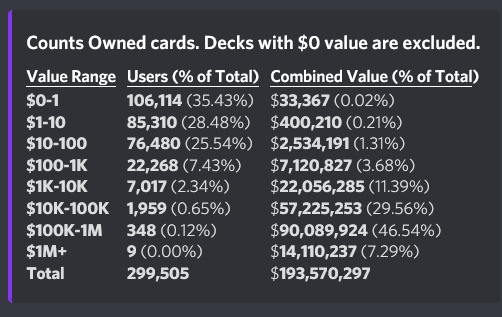 Table above has me in the $10k - $100k card collection range. When adding it all up I am in the top 1% of Splinterlands card holders. Wow never thought I would be in such a an group. With a ranking total of close top 2,500 out of 300k accounts that says a lot. Yet it took multiple years to get here.
A lot of times we hear stories of how people make crypto fortunes overnight. Yet this is not me. In fact over they years of playing Splinterlands and almost on a daily basis it has become a routine. The results paid off with where my deck value is but the game experience is by far better.
I have met so many wonderful people on and off Splinterlands and communicate with many of them on a daily basis. I consider them friends and some even best of friends because we interact daily. I also have joined a guild for over a year and well worth it. I hope to continue this streak in 2022 and see Splinterlands continue to grow and my crypto wallet to grow.
Until next time thanks for reading!!!
https://images.ecency.com/p/HNWT6DgoBc1692QWn5trsLBYecSp3jKD1kzdmSDR4FGzPSXomkgLtisN5TzrwHTsD1D4ocqDPHpFztKzeH4ibh1vQVU3d3dSaB6VYJ1U3RdsSDi5spmdafX25ph.webp?format=webp&mode=fit
If you want to play splinterlands then SignUp Here
I have plenty of other cards for rent! Just go on peakmonsters and check out the market place and if you are curious what I offer here is a link:
If You have yet to take part in playing this great game called Splinterlands please click on my referral link. It is free but in order to earn real assets such as cards and token you would have to invest in a starter deck or purchase game cards. Join the discord to learn more. Good luck!

THANKS FOR READING! CONTINUE TO PLAY SPLINTERLANDS!

---