Why do we consider investment to be so important
---
Investment is the commitment of a resource to a long-term value increase. Investment necessitates the loss of some current resource, the likes of money, effort or even time. Also Investment is just like building up some money which one can later come back to with yield and more profit, there are lot of risk involved in investment that is why novice in this aspect are adviced to have diversified portfolio so all won't go just like that.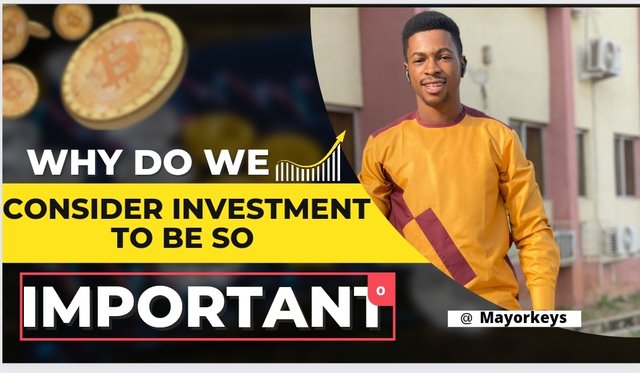 Why is there need for investing
Investing is a successful approach in other to use ones money and also possibly make one fortune Increase more, to expantiate on what I just said , a successful strategy in other to invest money and also increase in wealth is to open an investment account, money invested might see value growth which will exceed inflation if one make wise investment decisions.
Difference exist between Investment and Savings
Most people mix this two words together thinking they are the same thing but they are different from each other. An investment differs from savings because it is a better way of using ones money, whereas saving is typically thought of setting aside some of your salary without considering how you will use your extra money.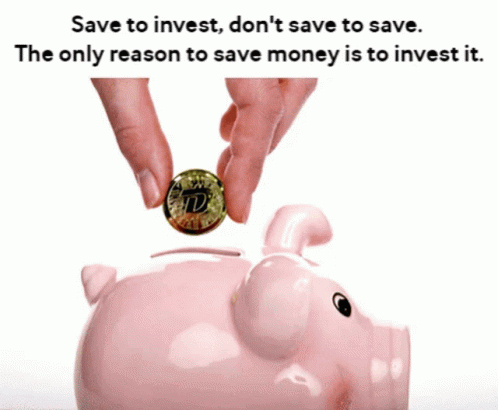 Powered by tenor
Some of the reasons why investment is important

Greater returns on investment: when one see better things to invest one there is surely going to be higher return on that thing been invested on, checking out stock investment, one of the way in which one could get higher return after investing in stock is through dividends and looking at another way which one could generate greater returns is through capital gains, moving further to another investment which can serve as greater return is through Real Estate, an investor will surely gain from real estate investment through capital gains and also rental revenue.

Powered by tenor
Obtain your financial objectives: one of the most important strategies to reach one's financial objectives is through investing, there are new financial obligations that will surely arise as a person progresses in life, typically buying of a home is where it begins, there is a large initial payment needed even though a person finances a home with a loan, one can accumulate the total amount of money necessary for the initial payment through investing in a variety of assets.
The higher level of a child in school can be a potential major aim of investment, these days, parent can start saving for their child higher level school expenses when they are still little due to high cost of fees, apart from monetary objectives, retirement is a constant financial objective for a person throughout his working life.
Create and grow a business: The development and growth of a firm business depend heavily on investment, so many investors enjoy assisting business and helping to produce new goods and also jobs, they take pleasure in starting up new enterprises, growing new companies into well received organisation which can actually give big financial benefits of their investment.
Posted Using LeoFinance Beta
---