As of now 1 BTC is worth more than 1kg of gold.
---


It is official. If you are willing to spend 1 BTC to buy that shiny 1kg gold bar...you get some change back too.
All those stories about gold is the only thing that matters and has real value while BTC is just a bubble that will blow up on our faces some day....ya those stories...Imagine that...
Also imagine this...
https://twitter.com/PeterSchiff/status/1363567495332966401
Now if this isn't bullish then I don't know what is?
Some facts about BTC that will make your skin crawl...
---
This is BTC's weekly chart. The thing is that once you zoom out you definitely have a clearer picture of what's going on and also what's going to happen next...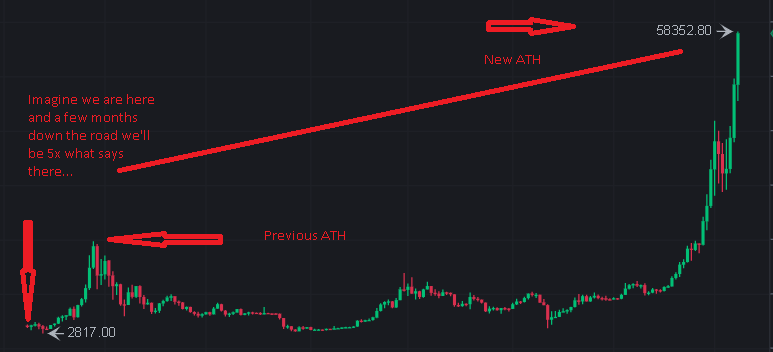 Doesn't previous ATH (2017) look like a small cliff while current ATH like a freaking mountain?
What's also interesting when you zoom out is that you realize how stupid you were for not jumping in on BTC train at any given moment those past 50 weeks. Ya it's been almost 50 weeks since it dipped at $3780 and price never looked back...
But of course you had some buy orders at #3000 - $3500, right?
And when price jumped at $6000 you placed some new buy orders at $5000 - $5500, eh?
And the same story at $12000...
With this and that we're a few inches away from $60.000. Do you still place those buy orders a few grand lower hoping for that massive dive?
---
It's been ~ 4432 days since BTC launched and its price goes up ~ $13 per day...

Price on February 1st, just 20 days ago was $33K...today it's cruising above $58K. That's $25000 up for each of the 18.63 mill tokens in circulation...a total growth of ~ 500 bill in the last 20 days...
I don't really know if there's any other asset that performs the same way BTC does all those years...actually I highly doubt there is one...
Probably the best reason why it's never too late to buy some.
There will be only 21 mill tokens and that's it. With institutions buying massive amounts competing each other who holds more you'll still belong to the elite even if you hold 0.01 BTC in a few years.
21 mill tokens is just not enough for everyone...
Grab some before mass adoption happens...because when we get there...it will be too late...
You're still an early adopter.
Have a good one people.
Cheers.
Posted Using LeoFinance Beta
---