Is Bitcoin about to burst?
---
It's been forever since I last posted a market analysis. Last time, technical were mixed; whereas macroeconomic movements were absolutely bearish: FED rates did rise and brought the markets down. Also, the amount of leverage in crypto — and stocks in general — have reached alarming levels. Finally, the FTX scandal drove the final nail into the coffin, sealing, momentarily, a market that sickens any true-to-the-principles libertarian. Here's the question:
Is the decade of easy money over?
Money printing after the 'dot com' bubble propelled the rocket, culminating in the 2008 subprime crisis. Not happy with such bizarre amounts of money printing, central bankers decided to remedy the hangover with more alcohol, which, of course, brought Bitcoin up to the moon.
Despite Bitcoin's incredible fundamentals — perhaps among the best inventions of this century so far — we cannot deny that most of its pricing is the result of easy money and over-leveraged players.
I don't have the answer for this macroeconomic nightmare, so let's rely on technicals.
Patterns
Bitcoins is forming a textbook falling wedge on the weekly chart. A falling wedge pattern is seen as a bullish signal as it reflects that a sliding price is starting to lose momentum, and that buyers are starting to move in to slow down the fall.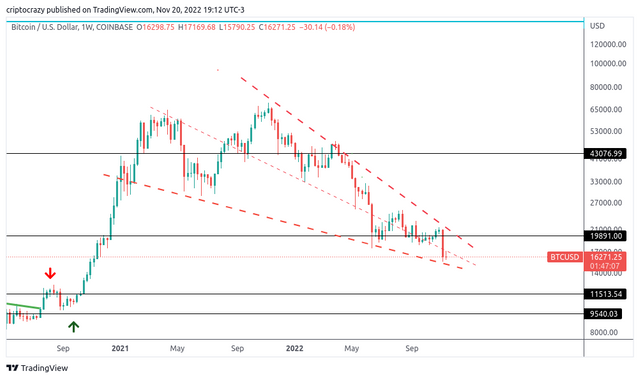 Combined with a RSI divergence it feels like we might see a bullish reaction after a week of mega dump. A divergence is when RSI is rising and price action is still trending downwards, indicating a possible reversal or reaction.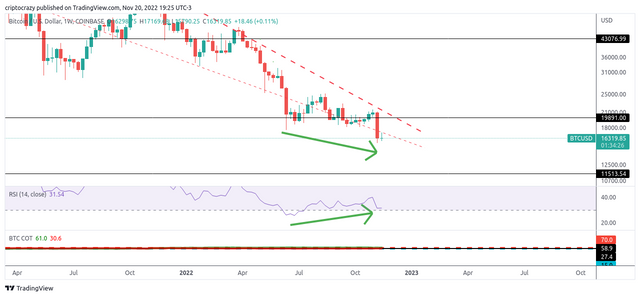 Considering we are analyzing the weekly chart, such technicals seem incredibly bullish — keep in mind that technical analysis is based on statistics, so it's still dependent on macroeconomics.
Final consideration
Despite Bitcoin's price direction — and given what's recently happened to FTX —, more important than hoping for a market reaction it is to store Bitcoin on a hard wallet. On a bear market many exchanges go bankrupt, so do yourself a favor and become your own bank.
NOT YOUR KEYS, NOT YOUR COINS.
Peace
Posted Using LeoFinance Beta
---