NFTFRAPPE NEWS and HAPPY NEW YEAR (ENG/ITA)
---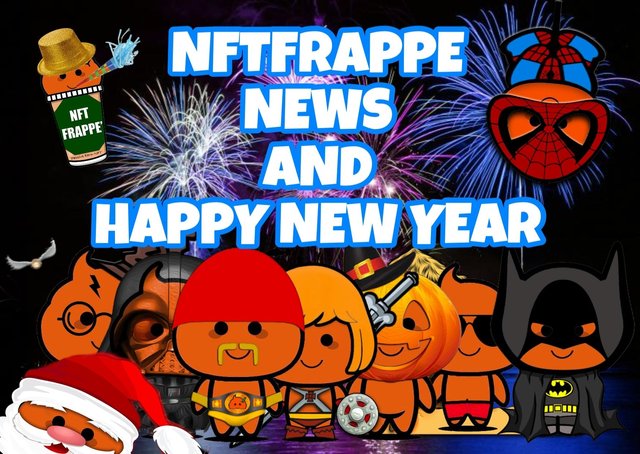 ---
ENG VERSION


(Segue versione ITALIANA)
---
Good morning guys and HAPPY NEW YEAR!!!
We are at the beginning of the fourth month of the NFTFRAPPE project and it is incredible how time has flown by, we take advantage of today's space to renew our wishes for a HAPPY NEW YEAR, may it be the best of all those passed to date, economically but above all in the life of every day surrounded by the people you love, healthy and especially HAPPY!!
In addition to the greetings, today we would like to update you on the news of the project, the information, the changes and the plans for the future and we will start immediately to list the various points.
the first change is the publication of the posts, before we published the releases and the showroom of our NFTs on Monday, the games on Wednesday and the numbers with graphs and tables on Friday, we decided for convenience to reverse the days and from this week except for today 2 January the posts will come out with this cadence:
MONDAY: Accounts, graphs, tables and earnings distributed over the week.
TUESDAY: New releases, news and showrooms of our remaining NFTs.
FRIDAY: Games including "GUESS WHO!?", "DELEGATE GIVEAWAY" and "GIMMI VS EVERYONE" will take the place of the "GIMMI GIVEAWAY" but we'll talk about it on Friday.
This point is not a change but a continuation of an initiative already started last year for the next six months we will continue to include in the POOL all the hives entered both from the sale of NFTs and those deriving from posting works at 100% % to increase everyone's earnings faster.

This month until January 23 we will distribute PGM then until June we will try to distribute HIVE, it will be a test to see if it is sustainable for us and beneficial for you.

NFT RELEASES: starting from January we will release only one NFT per month or regular editions with the classic COMMON - RARE - EPIC or with the SPECIAL EDITION.
For example, in the month of the SPECIAL EDITION only the SPECIAL EDITION will be released and no other NFTs.
The goal is to raise the APR of our NFTs and give those who want to keep up with all the transformations without putting too much stress on their wallets.

FUTURE GOALS
3 months after the launch of the project, we brought the pool from zero to 1,300 Hives.
As we saw in Friday's numeric recap, we added about 15 Hives per day to the pool, so the goal we are setting ourselves today is to arrive at the end of June and have a pool of 4,000 Hives.
Another goal that we would like to achieve, by the middle of next year and therefore June 2024, would be to land on other blockchains, one above all WAX where the user base is very large and the costs of minting and fees are not too high.

GENERAL INFORMATIONS
So to recap in short points:
Until the end of June all HIVE earned from the sales of our NFTs, HIVE earned from the REWARDS of our posts and curations will be 100% entered into the POOL to increase your earnings faster. (They will always be retained about 30 SWAP.HIVE to allow the various games to run)

Token distributed this week is the PGM, a token of our friend @zottone444, which expires on JANUARY 23rd

Starting January 23 we will distribute Hive

To increase your earnings we have decided to give all holders of our NFTs the opportunity to slightly increase their earnings from the pool.
Thanks to a delegation from HP, it will be possible to increase one's earnings up to 10% more than normal in this way:
| DELEGATE | EARNINGS |
| --- | --- |
| 50 HP | + 2% |
| 100 HP | + 4% |
| 150 HP | + 6% |
| 200 HP | + 8% |
| 250 HP | + 10% |
---