Buy to rent splinterlands series. Part 2.
---
The plan.
The plan is simple. Using my alt account I will rent out the full deck constantly. It takes up less time than trying to play the game. Using that rental income I will keep buying up cards multiple times a week. From this I will try to build a rental income of 10,000 DEC daily which is a living wage at these prices.


My starting point on the 01/11/21:
Cards listed - 1863 DEC
Cards rented - 1670 DEC
Return on rentals - 37.08%
My current point is:
Cards listed - 2030 DEC
Cards rented - 1770 DEC
Return on rentals - 36.61%
Going forward, I will keep adding to my collection. A few times a week I will be buying gold, epic, and beta cards for the rental market.
The higher my income gets. The better the purchases. There is no point in buying cheap or low CP cards as it takes too many that need to be tracked, organized and maintained. More expensive cards with a big demand and less work is the goal.
I will be doing this, every time that my DEC adds up enough to purchase a card that i want.
I am also using monstermarket.io for the purchases to get that extra 5% DEC rewards which add up over time and will allow for a few extra cards over the year.
Today's purchase.
I had not checked in for the past few days and my income had built up nicely to almost 8,000 DEC.


Harklaw x 4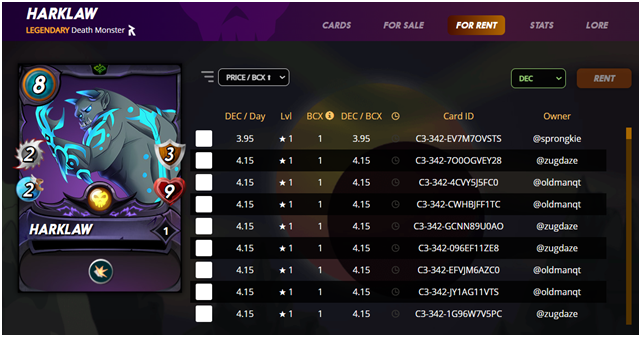 Chaos reward.
Legendary - Death monster.
Price - $22 - $24
Rental price - 4.1 DEC or 16.4 Total per day
Returns at 79.5%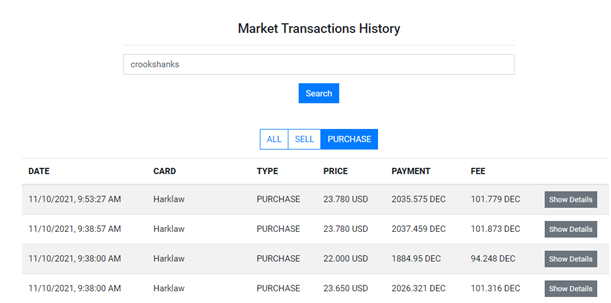 Rental status.
I'm very happy to have grown my daily income by 100 DEC per day with my last set of purchases and to have a steady return of almost 37%.
THat is a good return on any investment and as i keep adding to my rental deck it should keep growing exponentially. This will allow me to buy better and better cards for the collection.
I didn't just buy one legendary today. I bought 4 of the same one. The prices have kept dropping on these cards for the past few weeks and i expect them to keep dropping but the way that the game has been going it would be a shame not to pick up some legendary cards for $20. They will come back much higher in a couple of years and i play a long term game.
I could have tried to get a bit more DEC for the rentals but at 4.1 daily it is a solid return of 80% APR and they are all earning money already for me.
That is a win in my books.
Posted Using LeoFinance Beta
---