Splinterlands share your battle. Dragons.
---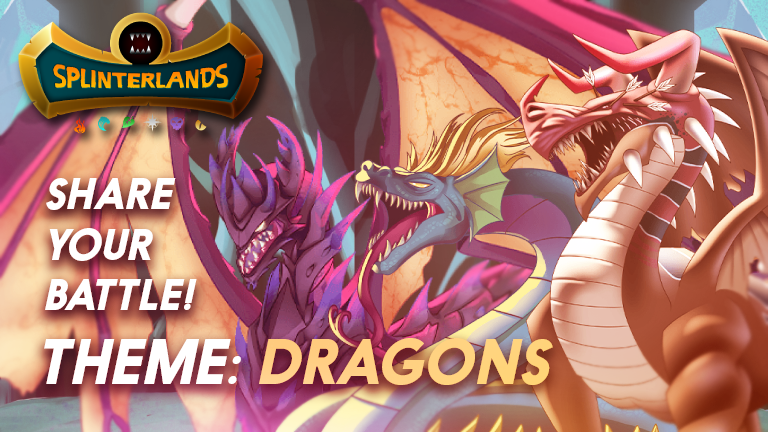 Dragons. Kings of the splinterlands.
For this weeks share your battle post the team has chosen my favorite splinter. Some people are all about fire in the higher ranks but i'm all about dragons.
I have a few options from my dragon summoners with a maxed out Daria, Drake and level 8 Delwyn. Shield, melee or magic options that i can spread across all of the other splinters. It's the way to go for most battles and gives the widest range of options.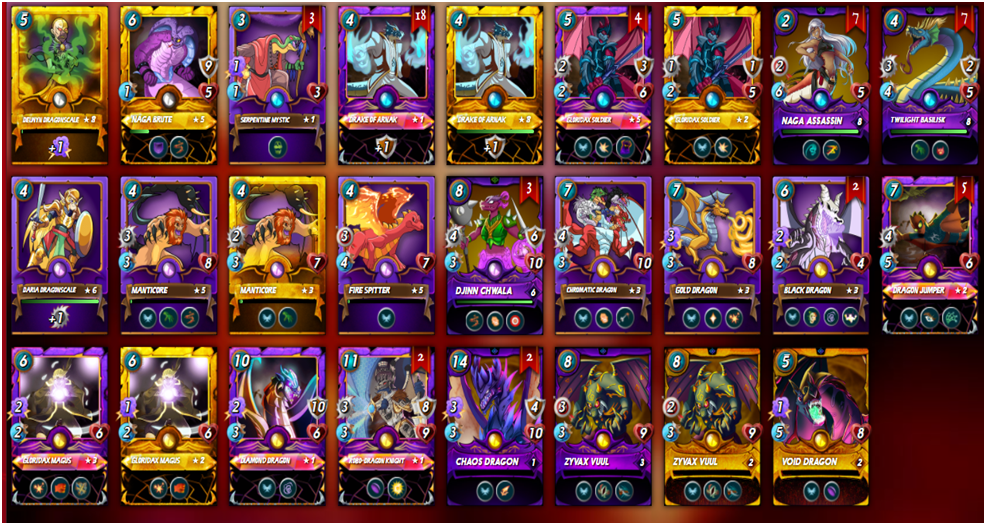 I mean, just look at all of those sexy options on top of all the other ones in the original splinter.
That is why it is my splinter of choice and I will show how well it worked in my latest battel.
The Battle.
The ruleset for this battle was:
Aim true.
Broken arrows.
It had a mana of 36 with only the options to play life or dragon splinters.
Since arrows are out for this battle I went with A maxed "Drake." Gold of course as well which was a lucky purchase before the prices spiked. A large stakeholder had a fire sale months before the prices went 50x.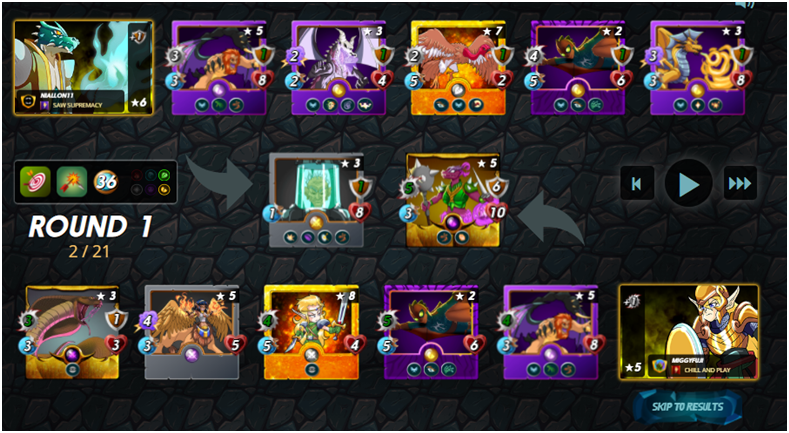 As you can see from the opening set up that I went with "Lord Arianthus", as my tank against magic or melee. He is the first choice for any battle and takes a lot of damage. I went with a mix of melee and magic with two of my cards fast attackers with opportunity. Always a dangerous prospect. Then I added a little magic with "Gold Dragon" who has blast and heal.
Unless they opponent has protection against magic then they are in trouble straight away. In this case they went with a heavily armored tank which will help against melee but offers no protection against magic.
A bit of an oversight in a match with out any ranged attackers. My line up wasn't the strongest but I was delighted to see this mistake which makes me very confident.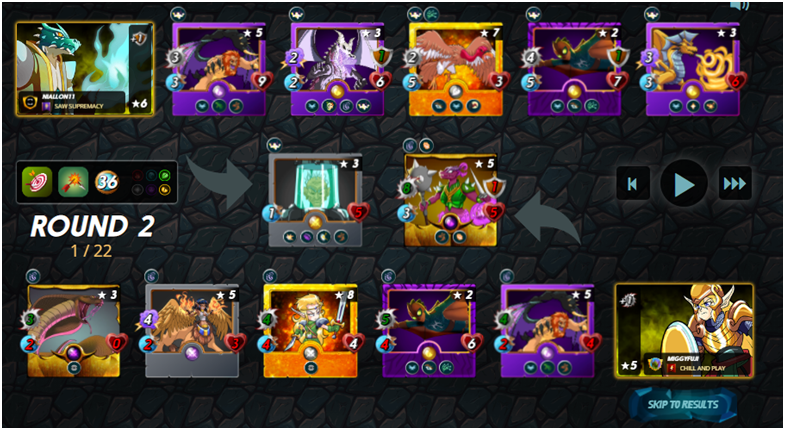 There were no casualties in the first round but it was advantage to me from the first attacks. I put pressure on their last monster and a lot of damage to the tank with little to nothing on my line up.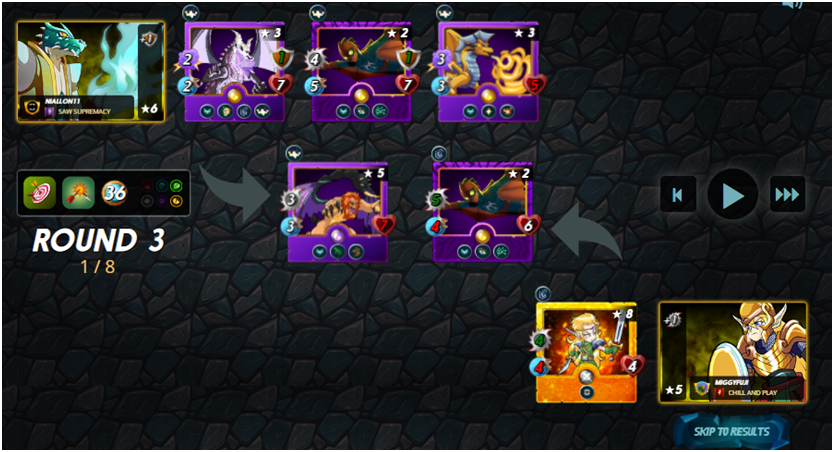 Round two was a different story as my opportunity attackers took out both back row monsters from the opponent. Then my magic took out the tank and it's support. I did lose my "Lord Arianthus" but it was too little too late already.
I still had plenty monsters on the field while they had only two weakened melee monsters. Now it was just a matter of when rather than if.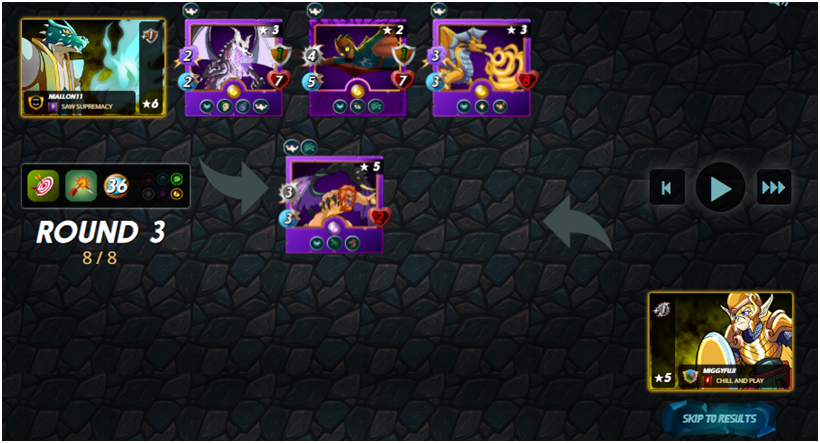 And round three finished it off. It took all four of my attackers to seal the deal but a handy win at the end of the day. My opponent played straight into my team selection by not protecting from magic combined with my two flying attackers which took out their back line.
I could have beaten a lot of teams with this lineup but a good defensive selection against magic could have made a difference.
Conclusion.
I think that I was lucky.
Lucky not to run up against a better team.
I rushed my selection and could have done better by balancing the team more. It's not often a great idea to split the attacks in too many directions. It takes away the strength of the attack and can cost you battles.
Sometimes you end up just overpowering your opponent which was the case here and with a medium team.
I did manage a decent win streak to get back up to diamond level with 15 wins.
Happy to use my dragons to such good effect.
They just give you that extra range of options in every battle that give you the advantage. For me it is easily the most powerful splinter and the best for newer players to build their deck up.
Try for yourself.
If you haven't played the game before then now is the best time to join. Today is much better than tomorrow and a lot better than later.
Link to the game here,
Posted Using LeoFinance Beta
---