Mining Techno Beats, Not Crypto - Hive Exclusive
---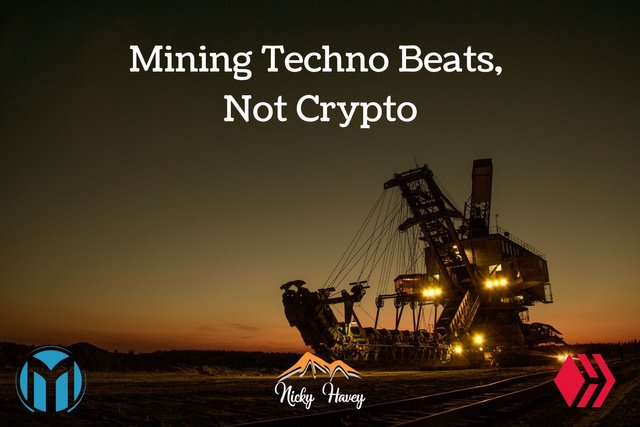 Remember Mining KOIN?
Anyone remember when KOINOS launched it's easy-to-use miner a few months ago? Well, I think it might have been what caused the eventual destruction of my PC as it was certainly creating some hot, dusty smells from the Gladiator (yes, that's the name of my music PC 😁) at the time of mining KOIN in that first week! Then the power supply unit went kaput and over the course of the last few months, my PC wasn't the same again and had to undergo some serious rehab - I won't be mining again, let's put it that way 🤣
At least, not crypto...
---
Mining Beats Instead
So as a result of the initial "dusty offerings", I thought I'd give the Koinos miner a break from trying to uncover KOIN and decided to open up my FL Studio software to mine some beats instead! Somehow, I drew inspiration from the noises that my PC was creating and, at the same time, was exploring a genre of music I'm mostly unfamiliar with called Techno courtesy of tuning in to the Techno Diaries from Miss Efemby on Twitter.
The characteristic big hitting kick drums and rumbling basslines on display was something I could relate to being a drum & bass head and so I thought I'd mine myself some sub frequencies in a track that I've appropriately called Miner - the secret Soundcloud link to a clip of it is here - so grab your headphones for a HIVE exclusive clip 🎧
---
Miner Plans
Well, if we're talking about the Koinos miner, unfortunately, that all went when my PC collapsed last month and as far as putting any crypto miners on my music PC goes, I won't be doing that again! If anyone knows what the latest is on that project, let me know, last I remember was that after a 6 month initial mining period, they'd do a swap to their own blockchain once it's launched depending on how much KOIN you mined? Is that still correct? 🤷‍♂
As for the Miner track - I'm SO glad the PC Repair Lad was able to resurrect my old music projects after the trauma of the blue screen of death I reported last month! I'll be sending the tracks off to the mastering studio I normally use so that they can bring these tracks to their fullest and will be releasing on Spotify - can't wait to share them with you later in the year!
Did I mention that this is track is purely a preview for you folks on HIVE? Well, it is! Hope you enjoy! Here's that listen link again!
Happy mining!
Nicky
P.S. going to tag in some Techno heads I know on HIVE @edje and @uwelang - would like to hear your expert opinion lads!
---