Bitcoin ETF News: Doubles MicroStrategy Inc. Bitcoin Investment To $6.7 billion.
---
Michael Saylor's company MicroStrategy is one of the biggest beneficiaries of the Bitcoin ETF news launch, the company's investment has double to $6.7 billon as price of climbed above $60k for the first time since the fall in May 2021, According to this report, the company had officially acquired 114,042 Bitcoin at an aggregate price of $3.16 billion. The average price of each Bitcoin at the time of purchase was $27,713, which was inclusive of all fees and expenses.
MicroStrategy had purchased an additional 5,050 bitcoin for around $242.9 million. Over the 3rd quarter of 2021, MicroStrategy purchased 8,957 bitcoin for $419.9 million, with the average price of each bitcoin around $46,87. Their investment is now valued at $6.7 billion, with the current price of Bitcoin crossing $60,000 as the cryptocurrency approached record highs on Friday.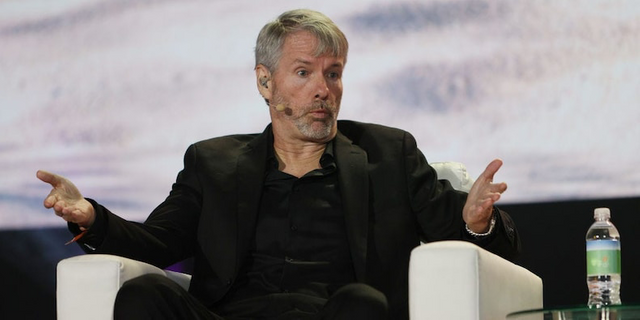 Source
Michael Saylor who recently posted on his twitter feed that "Bitcoin is the Kingmaker", he is a very huge supporter of Bitcoin and has never been shy of talking about it, he has also said in the past "that Bitcoin is the future", and also that he thinks Bitcoin is Superior to Gold, which I totally agree with him on that, although some may disagree but here the facts over the last 10years Bitcoin has performed way better than Gold. Michael Saylor started staking up and buying Bitcoin since August 2020.
Both MicroStrategy and Tesla are holding Bitcoin on their balance sheet, and has made huge profit from holding Bitcoin, few days ago Elon musk's company Tesla was up $1 Billion in profit before the big Bitcoin ETF approval by SEC, MicroStrategy is up $3.54 billion in profit as well doubling the company's initial Bitcoin investment.
MicroStrategy is not an investment company so it's required to report Bitcoin as an intangible asset. What this means is that Bitcoin will be recorded on the company's balance sheet at its historic cost and can be impaired if the value drops. However, if the price of Bitcoin increases, the value cannot be revised. MicroStrategy has already written to the Financial Accounting Standards Board, stating, source
"This disconnect between an entity's financial statements and the economic reality of its financial condition and results of operations creates confusion and fails to provide investors, analysts, and the general public with the information they need to make an informed assessment of an entity's current and future prospects."source
I think the next generation of billionaire and world richest men or women, will be from the crypto community, what do think?, I would love to know your opinions just leave a comment below. Thank your for reading and Happy Sunday to y'all🖐🏼😊.
Posted Using LeoFinance Beta
---