Bitcoin Update: Get Ready For the Pump to $250k
---
A week ago i made a post about Bitcoin to hit $250k, Once History Repeat Itself., I know as at last week some people who saw that post didn't believe it's going to play out, but am glad that the picture is get a little bit clearer now, and i will tell you why in a moment after this brief previous chart history of 2013 and 2017 Vs what is currently happening now in 2021 Bitcoin chart.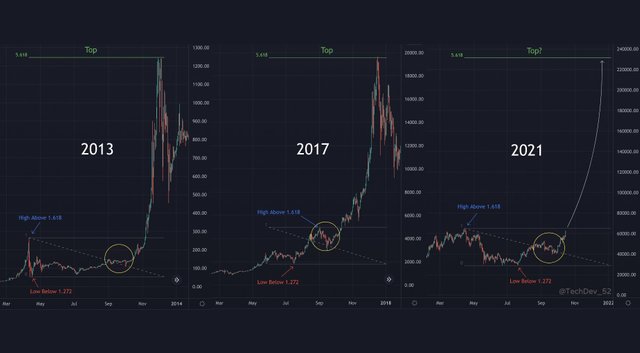 Twitter
Exiting the yellow consolidation area marked the most significant breakout in both previous full cycles, sending it up to the 5.618 from mid-high to mid-low, Bitcoin has just done it. In October once again all thank the Bitcoin ETF news out burst of piled up sentiments and anticipations.
Now here is what is going to fuel the pump and why it's going to pump like crazy
first of all, Elon musk company Tesla hit $1 Billion in profit few days ago, that got a little bit of reaction in the market but wasn't really noticed like that, but in got the attention of the institutional investors and other major companies, it also built some sentiments in the crypto community.
Then yesterday those sentiments that has been building up as we all were waiting for SEC big news to approve Bitcoin ETF, Exploded massive on Twitter and pushed Bitcoin price from $58k to $61k in a matter of minutes or seconds, after people thought the SEC has finally approved Bitcoin ETF, but it was just Nasdaq announcement that they are ready to list the Valkyrie's Bitcoin strategy ETF. But few hours after, SEC approved Bitcoin Futures ETF, then price spike to $63k almost the hit the previous all time high a $64k, but it's currently correcting now and price is back down to $61k, which is still high compared to previous week's highs.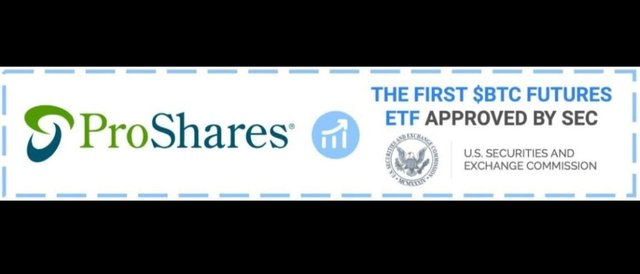 Twitter
ProShares will launch trading of the first SEC Approved Bitcoin (BTC) Futures ETF on October 18th, which is what most institutional investors are waiting for, Once it goes life and institutional investors and big companies come into the market, this is going to have a monster effect on Bitcoin price, get ready for the pump.
Posted Using LeoFinance Beta
---