CZ and Binance are GOATED this Bear Market, Hiring more than 7.4K people and Targeting 8k or more by end of the year
---
It is no secret that Binance is one of the most successful crypto exchanges in the world and also it has the highest amount of trading volume on a daily basis in the crypto industry, which is why after CZ the CEO of Binance tweeted about dumping FTT after the FTX/Alameda research balance sheet was released. After it was released and CZ tweeted FTT crashed hard and now almost everyone is thinking that he has a hand in it and are tagging CZ to be one of the most dangerous men in the world and alive. Fun fact that most people might not know is that CZ lost huge in FTT, when it crashed hard because he stop selling after receiving a call beging him not to dump all his FTT in market.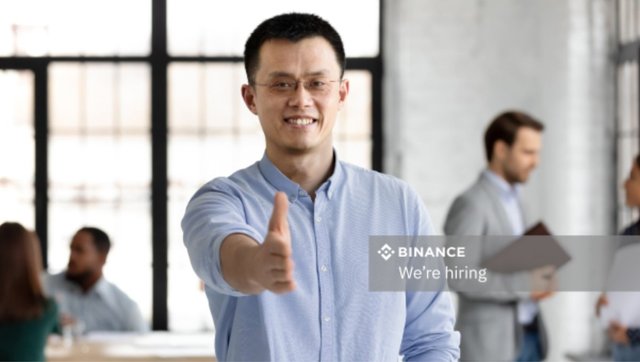 Source
As much as i don't like one man to have so much power over the crypto market and industry, we can not still denial the fact that CZ and his company Binance are key players in the crypto industry and i do not think anything can change that, the entire crypto market is crashing hard and Binance is hiring while the majority of other crypto exchanges are firing their stuffs and struggling to keep their head above water. But Binance is thriving regardless of the market condition, it has also donated half a billion dollars to Elon Musk when he wanted to buy Twitter.
CZ also set up funds worth above half a billion dollars for Bitcoin miners to help them during this bear market condition and this was done after Binance was hacked and lost over $580 million if i remember correctly, so even after the loss of more than half a billion dollars, Binance was still able to set up funds to help Bitcoin miners as i have said before, although the set up funds for Bitcoin miners have term and conditions so no random person will come just lie and claim to be a Bitcoin miner to receive free funds.
All these i have mentioned above shows that Binance has great money management culture and that is why it is GOATED in the crypto industry, Binance are still robust while other crypto exchanges and platforms are struggling, and might even be thinking of filing for bankruptcy. Binance currently has employed 7400+ people this year and their target is 8000 or more by end of year. Binance is great y'all but i still have to ask How Much Does Cz And Binance Really Have?
CZ Tweets
In June
It was not easy saying no to Super bowl ads, stadium naming rights, large sponsor deals a few months ago, but we did. Today, we are hiring for 2000 open positions for Binance
Two Days Ago, November 21st
At the time of this tweet 👇, @Binance had 5900 people. Today we have 7400+ people. Targeting 8000 or so by end of year. Hiring continues.
PLEASE FOLLOW ME ON:
Discord: onwugbenuvictor#3447
Twitter: @VictorOnwugbenu
Posted Using LeoFinance Beta
---