Crypto Is a 'Major Priority' for Miami Mayor Building City Into Crypto Capital of the World
---
Cryptocurrency keep proving to the world that it has come to stay and it can't be ignored anymore, many government feel it threatens their economy and some feel it could big good and boost their economy, a recently report shows that Miami could soon be called the crypto capital of the united states of america or of the world, as the mayor of miami would love it to be called, here is why the mayor of miami Francis X. Suarez, who has been working towards making Miami a crypto hub of the U.S. and said his planning on paying government workers their salaries in Bitcoin, also would allow them to pay their taxes in Bitcoin and certain other cryptocurrencies.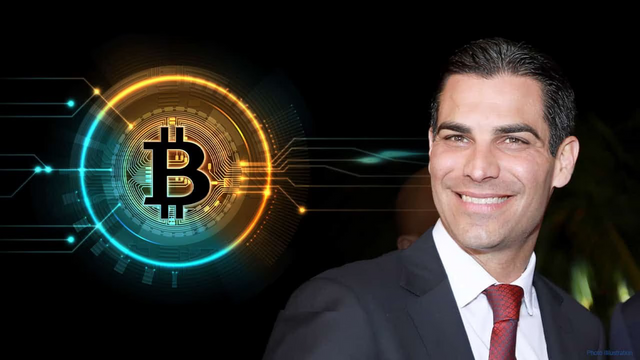 Source
The payment method is not going to imposed on anyone, In an interview with Forbes 8months ago, Mayor Francis Suarez said "tangible paths to expand Bitcoin's adoption throughout the city included enabling city employee salaries to be paid in BTC".
Since the city treasury doesn't fall under the Mayor's direct control, the idea of the payment of government workers with Bitcoin is kind of far fetched but the Mayor Suarez is ready to make it possible, the city of miami will issue a request proposal to make it a dream come true later in this month of October. Are you thinking what am thinking, when the proposal goes through and is accepted, sentiments around crypto will be high and the crypto market will benefit from it.
The mayor had this to say "I want us to differentiate ourselves as a crypto capital of the United States or of the world,"
Mayor Suarez has been positive about crypto like the president of El Salvador Nayib Bukele, sometime this year the mayor introducted a proposal at about the city of miami being able to invest is crypto, but the statutes limitations in Florida doesn't allow government to hold any volatile assets.
"If we would've been able to hold it from the moment that I put the resolution on our agenda, it'd be up by 30 or 40 percent, so I would've looked like a genius back then," he said. "But that's the way it works. the mayor explained
source
Miami is Already Mining its Own Cryptocurrency:
Current Florida Statures might have prevented Miami from directly investing in Bitcoin, but Suarez found a way around it as well with Miami Coin. Miami coin is the first native crypto asset of a city, it is based on Bitcoin and the funds generated from mining the token would be utilized towards the development of the city. Within two months of launch, Miami coin has already added $10 million to the city's treasury. Mayor Suarez in the past has also revealed plans to make Miami a clean Bitcoin mining hub as Florida is already leading the charge in terms of growing popularity of Bitcoin mining in the State.
source
Posted Using LeoFinance Beta
---