Michael Saylor: I'll be buying the top forever (Bitcoin), is that a smart move?
---
I away like watching Michael Saylor's interviews on crypto, his confidence is next to nothing, and he does not shy away from letting the world know that crypto is the future despite the current market condition, people expect someone like him to be scared of the crypto market volatility currently because of how much he has invested or have a plan B (and exit plan) to exit his positions he holds on Bitcoin or should at least sell off some Bitcoin, so he does not lose everything as the Terra Luna investors did when Luna crash to Zero.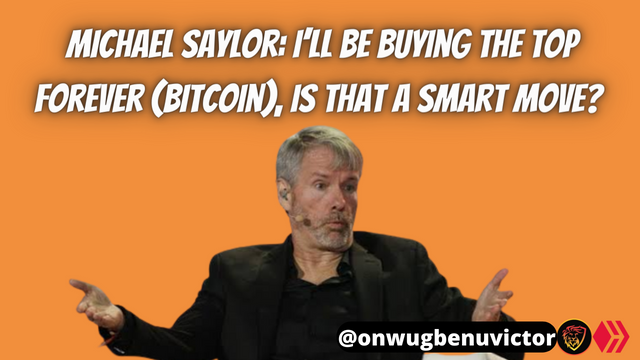 Although it is highly impossible for Bitcoin to drop to zero at this point, in that expect he is a 100% save but the major concern of people is how many billions he is losing or down now in this bear market and much more will he be losing if bitcoin keeps dropping, some people on Twitter thinks that very soon he will get a margin call from the crypto exchanges he invested in, if Bitcoin keeps going down to like below $10k and might possibly get liquidated if it drops below $3.5k. I made a post a few weeks ago when he cleared the air on this and said he will not still sell any Bitcoin no matter the situation or condition of the crypto market price-wise.
Michael Saylor: I'll Be Buying (Bitcoin) The Top Forever.
Now, that is a very bold statement for someone who is down $4 billion in his Bitcoin investment based on the news on Crypto Twitter, $4 billion is a huge amount of money to me or anyone but maybe not to him though, because on top of the pending loss when he was asked by Tucker Carlson in a recent interview on his show about his take on Bitcoin and how he is handling the bear market ups and downs. He had something to say, reminding everyone how firm he is behind crypto, let me be specific Bitcoin because the whole world already knows he is a Bitcoin Maximalist and if you don't know by now then you really don't know Michael Saylor.
Bitcoin is the most certain thing in a very uncertain world. In a market full of chaos, sound, and fury, people need a safe place to stand, apart from the intervention of a government, agency, or corporation and Bitcoin is that safe haven.
My Opinion On Michael Saylor Buying Tops Forever
Let's talk about Michael Saylor's bold statement about buying the Bitcoin top forever, is it a smart move? everyone in crypto knows that buying the top is very dangerous, just in case the market dips and enters a prolonged bear market like we are currently. So we were all taught to buy low and sell high (top), Michael Saylor buying top I don't think is advisable though but since he is a HODLer and can stomach the drawdown then am sure it is not a problem for him, but for those who have paper hands, and can not HODL their coin during the dip or a bear market, my advice is you should not think about buying the top, don't chase the price of any coin let it come to you or better still practice the dollar cost averaging strategy, it will reduce the crypto volatility impact.
THANKS GUYS FOR READING MY POST.
PLEASE FOLLOW ME ON:
Discord: onwugbenuvictor#3447
Twitter: @VictorOnwugbenu
Posted Using LeoFinance Beta
---