Reasons why LeoThreads is the best microblogging ever and why you should try it out
---
Honestly, before the #LeoThreads feature was launched two days ago I didn't know what to expect but since it was coming from the leofinance team I knew it will not disappoint and it would be something great, trust me it has been mega successful since its launch and might have exceeded most peoples idea of what microblogging should be like, also I love the love and energy been put in from everyone in the leofinance community and on Hive in general because #leoThreads is not restricted to only we lions (those in the leofinance community) but it is for everyone on Hive and we welcome new users who want to have a taste of what #LeoThreads feels like (Note: #LeoThreads is addictive).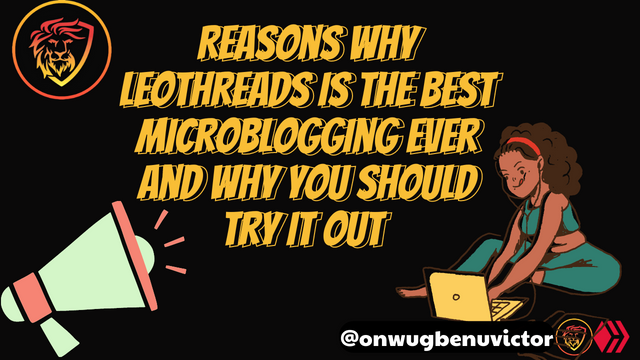 How To Access LeoThreads
Before I continue with my post if you don't have a hive or leofinance.io account it would be advisable you create one now, to be able to access the #LeoThreads feature, if you have an account already on Hive great just sign in your account through the leofinance.io frontend and click on threads but to make everything easier for you just click on this link it will take you directly to LeoThreads and you are good to go.
Why You Should Try Out The Twitter Killer LeoThreads Microblogging?
#LeoThreads has no restrictions on what to post unlikely our normal leofinance contents that need to be financial or crypto-related.

Unlike Twitter you can get rewards in Leo token and Hive and you can also reward someone else for their amazing comments.

You really do not need to write a lot, share more often or beat around the bush just go straight and make your point.

I love the fact you can share memes, connect with people, and also improve your Hive and LeoFinance visibility by connecting and making new friends through #LeoThreads.

You can learn about new things quickly, at ease, and in a fun way.
#LeoThreads is so fun and easy that anyone can do it, because it is user-friendly.
THANKS GUYS FOR READING MY POST.
PLEASE FOLLOW ME ON:
Discord: onwugbenuvictor#3447
Twitter: @VictorOnwugbenu
Posted Using LeoFinance Beta
---