What's your favorite and best Crypto community?
---
I guess without me saying it anybody reading this article and all my other articles already knows the answer to the question but for clarity's sake let me just slip it out, for me, I don't know about anyone person but my favorite and best crypto community is LeoFinance powered by Hive the best crypto ecosystem. Just like how the former CEO and Chairman of Microstrategy Michael Saylor say Bitcoin is the best asset in the world and there is no second best because he is a Bitcoin Maximalist. That is the same LeoFinance is the favorite and best crypto community for me, so I guess I am a LeoFinance Maximalist, which is very cool and I can bet that most Lions 🦁 in the LeoFinance community are LeoFinance Maximalists as well, wish is why the LeoFinance microblogging #LeoThreads is blowing up since the day it was launched until date.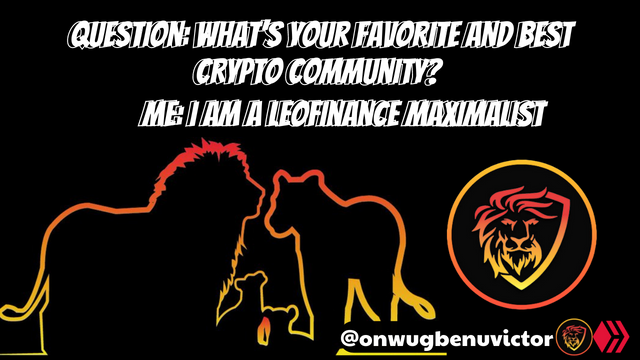 LeoFinance Has Impacted A Lot Of People
The LeoFinance community has impacted a lot of lives and it is still going to impact many more because the community is filled with brilliant and creative minds that are always ready to help and willing to teach others in their blog post, giving us different quality crypto updates and news as soon as they drop, which help us in the community stay ahead and give us a lot of information to help us make the best crypto decision we can make, I have learned a lot here on LeoFinance from each and almost every content creator on LeoFinance and Hive generally, I must stay I am blessed to be part of the LeoFinance community and Hive ecosystem.
So many people started their crypto journey here on hive and through the LeoFinance community and have advanced their crypto knowledge by getting a very good crypto education to back up what they are seeing here on LeoFinance and that help them understand the crypto space and industry better because you getting to see different perspectives and solutions to problems they might have been having, with gets you a step or many steps closer to the solution of your problem which you need. I love the LeoFinance community and its team members, cheers 🥂 to more knowledge and ideas to my fellow LeoFinance Maximalists.
THANKS GUYS FOR READING MY POST.
PLEASE FOLLOW ME ON:
Discord: onwugbenuvictor#3447
Twitter: @VictorOnwugbenu
Posted Using LeoFinance Beta
---