Just holding those DEC, already brought me 20 $ worth of SPS...
---
A great opportunity
Life brings us bad days, good days, obstacles but also opportunities. And besides Polycub and Cub, there still is a great opportunity to make money, for actually doing nothing, with Splinterlands.
All you have to do is have SPT tokens staken, hold cards or just hold Dark Energy Crystals. And every single day, you get airdropped an amount of Splintershards in your Splinterlands wallet. And that is not the only thing. If you stake those Splintershards, you get a daily interest on them too. Right now, it is about 27 % APR.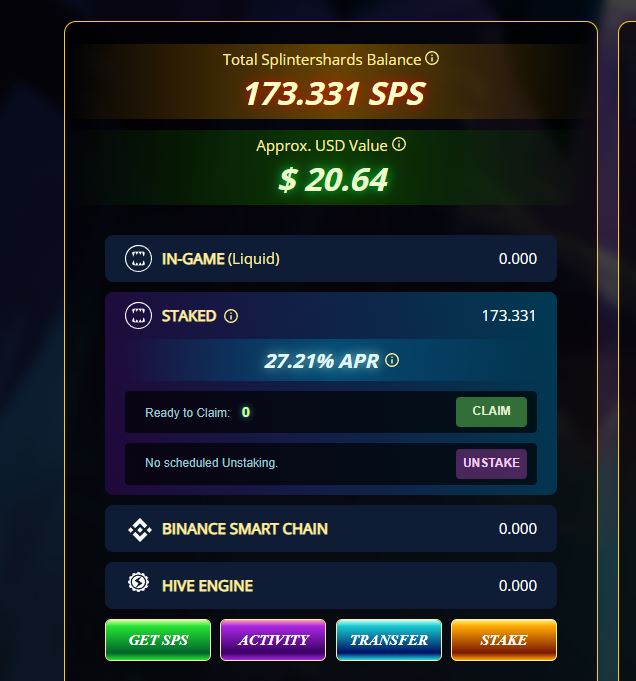 If you talk about opportunity, that is quite the opportunity to me. Unlike Polycub and Cub, there is no real risk involved. Not that the risk in Polycub and Cub is big, but there is still a risk of indefinite loss. That has to be calculated in. The only risk here is, the price of DEC and SPS, but those have very stable the last few months. And are actually on the low side right now. Which gives another opportunity, to profit from the upwards potential of these tokens.
I have been holding Dark Energy Crystals for about three months now, steadily building up my stack, and get airdropped around 4 SPS per day now. Which is pretty decent, that is almost 0.50 USD per day. And that will keep going on for another 118 days. And also another 118 days of interest on those SPS tokens. I suspect, I will have about 100 USD worth of SPS, by the end of the airdrop. But hé, every little bit counts in this game, in my opinion. I am in it for the long run!
So, for those that haven't gone for this airdrop yet, there is still 118 days to profit from it, so go for it!
Sincerely,
Pele23
Posted Using LeoFinance Beta
---