Getting free bitcoin while playing CounterStrike?
---
There's already a good amount of video games where players can earn tokens in cryptocurrency and it was only a matter of time for more mainstream games to adopt the system of crypto rewards. So it's no surprise that CounterStrike now also enables it's players to stack satoshis while playing.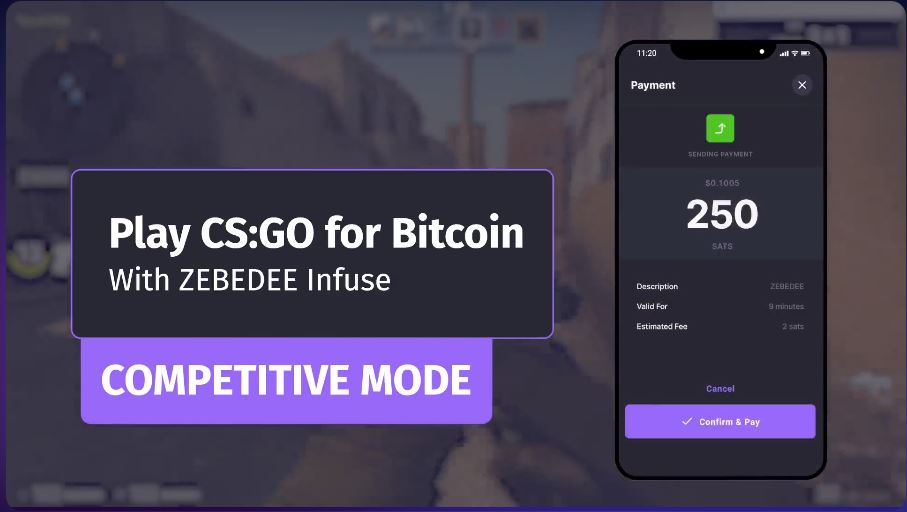 This was presented at the recent Bitcoin Miami 2021 event in partnership with Zebedee, the crypto wallet provider, and the longest running crypto exchange Bitstamp sponsoring bitcoin available in the games.
Get too greedy for those sweet #Bitcoin coins and it'll get you killed. Problem is, they're really hard to resist.

Get Infuse and join in: https://t.co/BtO4qJTX8F
All matches tonight are free, presented by @Bitstamp pic.twitter.com/wZbVoFDIBj

— ZEBEDEE (@zebedeeio) July 16, 2021
Skeptics will ask where's the catch… and there actually is none! You literally collect bitcoin simply by playing, you can instantly withdraw it to the Zebedee wallet without any investment or revealing personal details (KYC, etc.).
You might ask why would the companies just give away the assets so the players can collect them for free, but it's easy to understand by examining these two aspects:
Companies are constantly on the lookout for new advertising avenues to promote their brand, build affinity and consequentially attract new customers. What's a better way to do that than giving away freebies through a digital system that's reaching billions of people across the globe?

Speaking of which – we're really talking billions. There was a total of an estimated 2.8 billion gamers across the globe in 2020. And the global gaming market is on track to surpass $200 billion in revenue in 2023. The size of the industry is huge and the users are actually immersed in the experience. And they're being rewarded for playing while collecting branded tokens that represent real sats which can be withdrawn immediately.
So how do you start?
You download Infuse here and select CS:GO. That's currently the only game available but Zebedee says the range of games will soon expand to offer a wider variety. Don't forget to get your bitcoin gaming wallet here.
You can then browse infused servers with different rules and rewards. All you need to do before joining the game is scan the QR code when prompted to connect your wallet.
Zebedee calls this the Bitcoin gaming revolution, and indeed it's an awesome use case that's gonna help boost crypto adoption among a huge community worldwide.
Ref:
Global Gaming Market to Generate 175.8bn in 2021
Number of gamers worldwide in 2020
---