LITTER MATERIALS ARE NOW BEING SOLD, SO IT'S SHOULD BE INCLUDED AS PART OF COST OF PRODUCTION IN POULTRY FARM BUSINESS.
---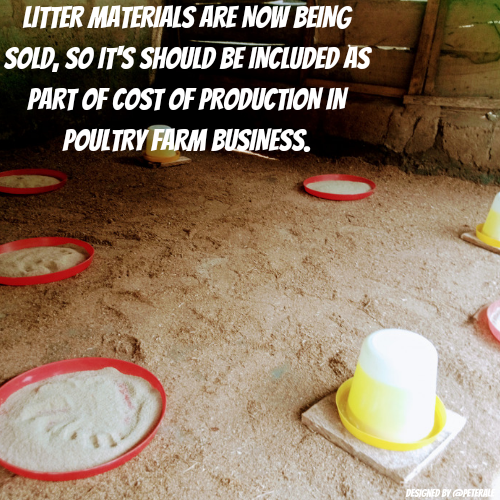 What are litter materials?
Litter materials are the waste materials that are use to cover the surface of the floor in the poultry farm. They are the brownish materials that the drinkers and the tray feeders are sitting on in the picture above. It serves lot of purposes in the farm. Resists the floor from getting messed up. It paves ways for easy packing of the messed up litter materials when the need to change the litter materials arises.
The cost of production is now adding up in the poultry farm business.
There are different kind of litter materials that can be used in the poultry farm. Some use sand, some farmers use rice shell and mostly here in this part of the world, we use waste from sawmill station. Formerly, I usually get this free of being charged, but not until recently that we were informed that the Sawdust (litter materials) are now being sold; meaning you can't pack the sawdust litter materials for free anymore. A bag of sawdust is now N100 per bag and normally for every batch of birds fr day one to week seven, I will use nothing less than 30 bags before round off a single batch. That means I am using almost N3,000 per batch.
Apparently, that's a whole lot of money, meaning I am adding that into the capital for the cost of production. I have not even mentioned the mobility cost part from the sawmill station down to my farm. Nothing is going for free right now to the extent of waste from planks are now being sold.
---
You can click below to view some of my projects.
PART ONE OF THE BROODER PEN CONSTRUCTION:- CLICK HERE👉🏻SOURCE
PART TWO OF THE BROODER PEN CONSTRUCTION:- CLICK HERE👉🏻SOURCE
PART THREE OF THE PROJECT,THE BIRDS ARE NOW 2WEEKS PLUS:- CLICK HERE👉🏻SOURCE
Also thanks to @balte , @schlees and @satren for their upvote. I really appreciate.
---
Thanks for stopping by to view my blog. Please do have a wonderful day ahead.@peterale cares🤭
---