2021 Hive Year Review!
---
I'm not used to doing these kinds of stuff, like year reviews, or reviews of any kind... In school, when some exams would finish, at the moment when I left the classroom, I wasn't thinking about it at all... Other friends would try to calculate how many good answers they have done, where did they make mistakes, was it right, was it wrong...
Even with the posts that I'm creating here on HIVE... When I finish it, I don't read them over and over again... I know that you can make things better, and that's fine... But, there is always an opportunity to do that in a new post, on a clean, blank page... My posts are usually how my thoughts are going and if I go back and change things, I have a feeling that I'm cheating on myself... :)
Back to the topic... But, I suppose that doing a year review can be a healthy thing to do, as it can encourage and motivate us to continue... It's very similar to creating goals for the future, but in reverse... Checking on things that you have accomplished and maybe reminding yourself about important things that happened...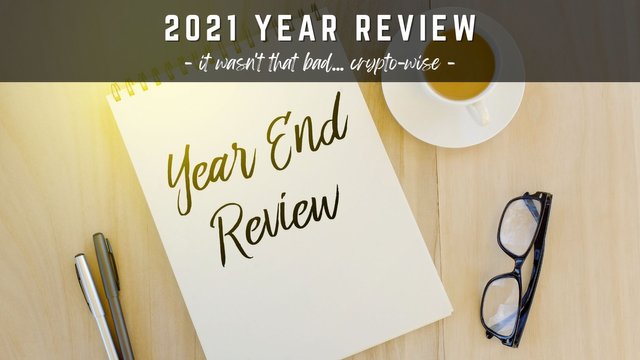 Created in Canva.com
So, despite the thing that we are "flattening the curve" for 2 years, instead of 2 weeks, this 2021 wasn't that bad in the crypto world... As a matter of fact, I could compare it with my first year in crypto back in 2017, but with a lot more experience and maturity...
The things that I know are that I have tripled my crypto portfolio this year, but counting only my long-term holdings like BTC, ETH, and HIVE... Besides that, I have earned a lot of other tokens here on Hive-Engine that I don't know how to count as they are diversified a lot... :) As my bank has blocked my debit card for crypto purchases, all that I gained this year in crypto was or earned, or got on value by HODL-ing... (thanks banks!)

Regarding HIVE and my work here, I have made a huge step forward... It's not a step in my stake here, which you can follow in #MyHiveGoals weekly reports that I do, but in showing up my face and engaging with more people than ever... When I came to HIVE I was scared to even create content and I wasn't a person who would go out, meet new people, engage with them... I was always searching for my little box (or a small community) where I can be quiet and don't bother anyone around...
Thanks to @achim03, in March this year, we have created @Liotes... The idea was simple, to create a project where people will come to find that "calm spot" in the middle of the ocean where they can earn by staking tokens and learn from each other... Of course, we had (and have) much bigger ideas that we want to implement, but that was the basic idea when the Liotes community was born! No HYPE, no FOMO, no FUD, just a relaxed atmosphere where all members are winners... I suppose that we both (Achim and I) had that business attitude where "the client is the most important", and we are following that principle on Liotes...

Liotes was the highlight of 2021 for many reasons, but one of the most important ones is that we have met new people! Through sub-projects like @Ourpick, I have met some extraordinary people and to be honest, that wasn't a hard thing as HIVE is full of them... But, to find these gems, you have to read posts, leave comments on them, and engage with people... On the @Ourpick account, we are creating posts with suggestions for reading, and finding them is similar to mining diamonds... And when you find them, you want to stay in contact with these awesome persons, and you want to share their work with others! The @Ourpick is perfect for doing that!

After one year without visiting my family, I did that this year... To catch up with things, my vacation was over a month-long! That has distanced me from HIVE, but I had some talks with friends teaching them about blockchain technology and presenting them the benefits of it... For everyone who has tried to do that, you know how hard is to onboard people from the "outside", even if you are showing things as a "live example"... But, one friend is jumped onboard with GPU mining and I hope that another one will jump directly to HIVE, but as a developer... It's still in the air, but I'm positive about that...
This year had its upsides and downsides like any other year... Yes, I was stressing about stupid things like always, but I also had some very nice and pleasant moments...
It showed to all of us that even when things are bad we can turn around the table, take our power back, do things in different ways, and WIN!
All of you who are reading these lines, you didn't succeed because you have listened to your government, or a TV, or some politician... You have succeeded because you have listened to yourself, to your gut, to your close friends that showed you this awesome place called blockchain, called HIVE!
Thank you for your valuable time,
~ph~

If you want to support my witness, you can do it by voting for @ph1102.ctp here https://tribaldex.com/witnesses, or just scan the QR code down below...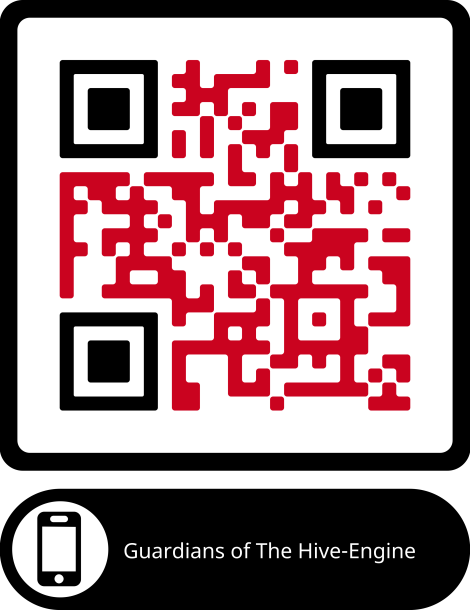 Don't forget to follow, reblog, and browse my Hivepage to stay connected with all the great stuff!
You can also find me on LEO Finance .:. Twitter .:. LBRY
---