Earn $30 of $DAI by Making a Transfer into Celsius
---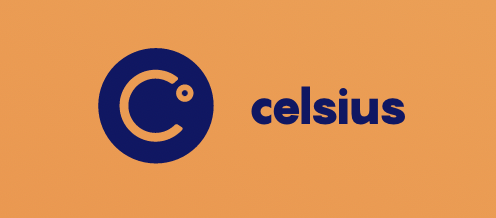 Celsius is a cryptoasset business that is organized in the United Kingdom, and regulated by the Financial Conduct Authority.
Services
Celsius provides numerous services to users, including:
Wallet: The wallet is where you can hold over 35 different cryptocurrency assets including $BTC, $ETH, $XLM, and $LTC.
CelPay: Celpay allows you to transfer various cryptocurrencies to people in your contacts that also utilize Celsius.
Borrow: Celsius provides collateralized lending if you hold your assets within Celsius.
Earning
Celsius provides you with a respectable interest rate for holding your assets on the platform. While rates may change over time, some of the current rates include:
$BTC: 6.20%
$ETH: 5.05%
$BAT: 3.51%
$BNT: 10.51%
$GUSD: 10.51%
$MATIC: 13.99%
$SNX: 13.99%
These rates are high, and manage to beat out the rates provided by BlockFi for the most part. This is especially true if you have a high dollar value of cryptocurrency, as BlockFi does reduce rates the more you have held on their platform.
Borrowing
Celsius provides collateralized lending options for people holding their assets on the platform. You can continue to hold your long-term cryptocurrency like $BTC, and $ETH but receive cash to utilize elsewhere.
Since the loan is secured by your collateral, the interest rates provided by Celsius are fairly low, especially if your Loan-to-Value (LTV) ratio is on the lower side. For example, you deposit 1 $BTC as collateral on Celsius:
a TVL of 25% includes a 1% annual interest rate (APR) on your loan
a TVL of 33% includes a 6.95% APR on your loan
a TVL of 50% includes a 8.95% APR on your loan
You can reduce the APR on your loan in multiple ways:
Paying off your interest with $CEL, which provides a discount of around 5%.
Holding enough $CEL to increase your loyalty level
Note: assets put in as collateral do not continue to accrue interest like if you simply held them.
Loyalty Level
Celsius rewards holders of their native token: $CEL. The percentage described below is the percentage of $CEL compared to other tokens in your wallet.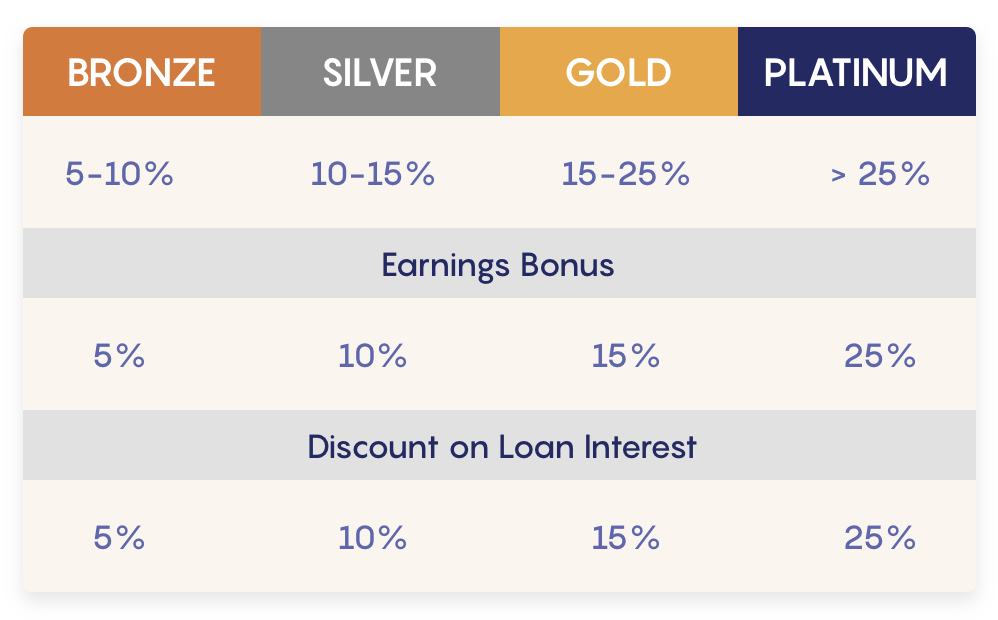 If you're planning on using Celsius for large amounts of cryptocurrency, you can significantly increase the amount you earn by holding $CEL and deciding to be paid in $CEL. For example, your $GUSD could pay out over 13% in $CEL. These perks can stack quite nicely: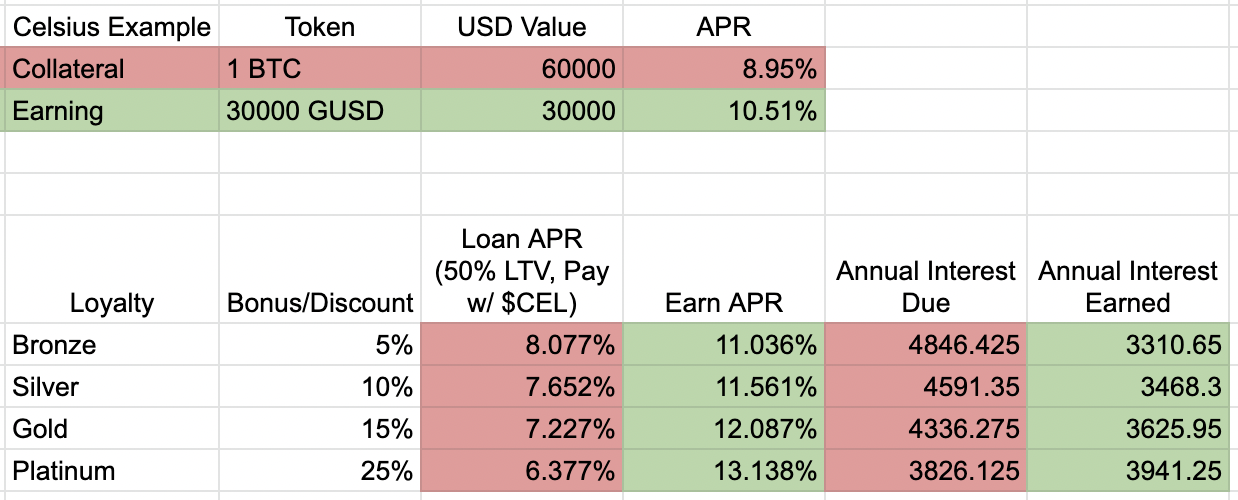 As you can see, by thinking about how you allocate your funds, you can take out interest-free loans against your cryptocurrency assets. You can then do whatever you want with your loan, including depositing into one of the Cub Finance Farms for a larger (but riskier) APR, or play it safe and deposit it into something like the DAI-USD stablecoin pair which still pays out a ridiculous 90%~ APR.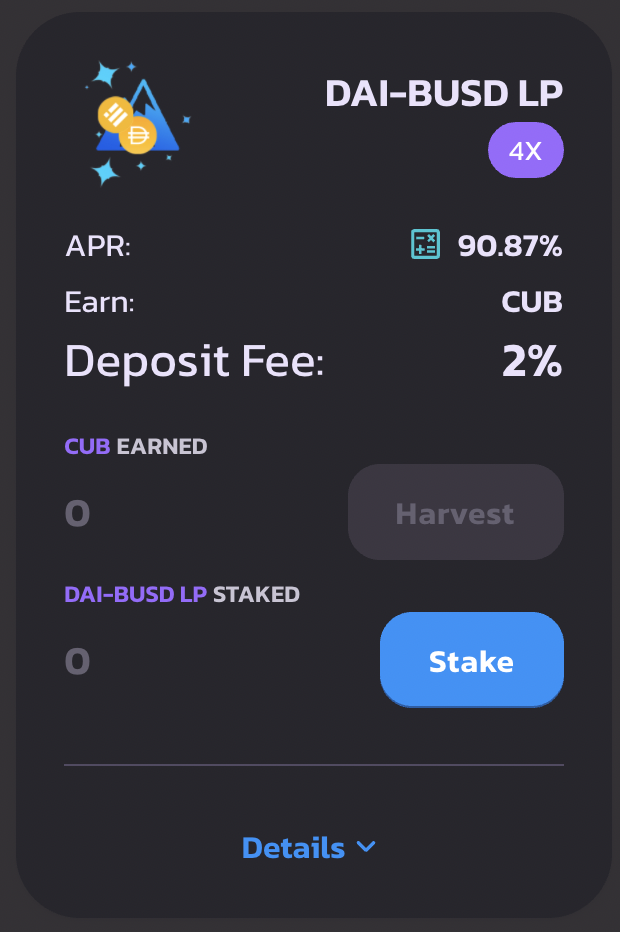 Risk
As with anything finance-related, and especially with anything cryptocurrency-related: there are risks. Remember, that you are borrowing dollars against your cryptocurrency assets. This means that a significant decline in your the value of your assets allows Celsius to liquidate your position in order to pay back what you owe. For this reason, you should be sure to avoid overextension when taking out any loans.
Still, there are ways to reduce your risk. If you wanted to simply hold dollars at Celsius: you could do so, and avoid liquidation risk. The risk would then involve how you decided to go about using your loan.
In Conclusion
I've been using Celsius for a few days now, as it seems to be superior to what BlockFi is offering in terms of interest rates. Celsius also allows loans to be made on smaller amounts of assets, but I am currently borrowing on Venus.io (post on Venus will be coming around tomorrow). Whatever I have parked at BlockFi will be mostly migrated over to Celsius for the time being.
Currently, you and I can both earn $30 in DAI if you transfer $200 over to Celsius using my referral link, and hold that $200 for 30 days. This is what got me to sign up, and an easy, effective APR of 180% is pretty hard to beat.
Note: I realized while writing up this post that United States citizens are not eligible to purchase or hold $CEL. This means that you can't receive the perks from the different loyalty levels, or pay off loan interest in $CEL. With that being said, the rates for earning on your assets are still superior to something like BlockFi.
This material, and any responses below, have been prepared for informational purposes only, and is not intended to provide, and should not be relied on for investment or financial advice. You should consult your investment, or financial advisors before engaging in any transaction.
Posted Using LeoFinance Beta
---