KNEE JERKING, BTC IS STILL AT $20K
---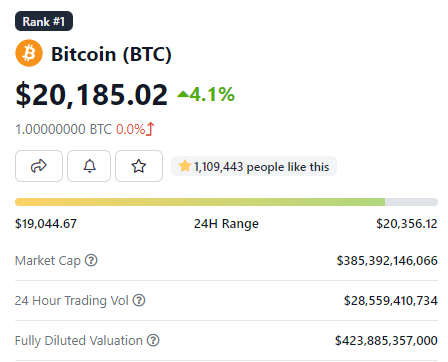 source
Everyday has its heyday as of today is all about the new inflation mark from June hitting 9%. I have to say the world economy is resilient. While US is strong to counteract the inflation with a strong labor market you can see the remnants everyday. I have to say gas price touched down a little. I did some at a club I paid $4.09, way better than the crazy $4.83.
While everything should move no matter what, crypto is no different in the face of adversity.
At the news of CPI went down to nine percent, BTC did not take long to touch nineteen thousand dollars in the moment. Many are saying today is the bottom day. Not so fast but inside I am positive crypto will not go down without a fight. As you can see BTC retakes $20k this afternoon Eastern time. I know the economic of the world is fragile to say the least.
Just knowing crypto is an eye opener for many reasons. This is a moment of reckoning for everyone looking for another market to invest in. Crypto is slowly pinching #traditional market, #metals market. Crypto is giving its effort around the world to prove it can be efficient and change the way we do business.
Taking about inflation might seem overwhelmed for many but it is needed for daily business so you know how to adjust and always spend only what you can afford to make.
Inflation is everywhere. Not all inflation is bad, so playing with the numbers can give you a choice
to savvy with the economic.
When you look at Leo token, Hive, CUB, Polycub, inflation plays a big plus with the price daily. This is the reason with Hive alone, the more you hold, inflation helps you to get more in the long run. The less you hold inflation depraves you of seeing value coming your way. At the same token if Hive becomes deflation let's hope with help of HBD, it helps the holders as well knowing each Hive maintains their value despite how the market reacts.
Tomorrow is another day with #LPUD, be ready and keep on vesting.
Posted Using LeoFinance Beta
---