Hive Engine : Making use of Hive Engine Lease feature.
---
Hive Engine : Making use of Hive Engine Lease feature.
It is quite some time that Hive-Engine has launched it's lease feature and it's lease feature is little different from dlease as Hive-Engine Lease market offer Lease for HP delegation, RC delegation and BEE delegation. While Dlease is just used for HP delegation only.
Another big difference is the the way that in which currency you will pay the lease. Dlease accepts Hive for lease payments, While Hive-Engine accepts multiple currency to pay for lease like Swap.Hive,BEE , DEC and SPS. So basically Hive-Engine allow you to pay the lease through Hive-Engine tokens.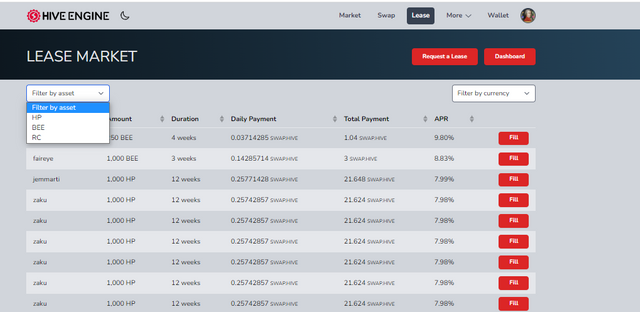 I guess Hive-Engine might be first interface that will help you to get paid for delegating the RC. Currently I see the highest APR of .15% for delegating the RC which in fact not bad as you can still earn the curation rewards by voting and .15% is extra on top of it. But be careful while delegating RC nd do not delegate too much that your own account start suffering from Resource Credits crunch.
Another Delegation that interested me is the BEE token delegation, I am actually building my BEE token profile for quite
some time though I am not at all aggressive for it and my main focus is still Hive goals. My reason of keeping and building BEE stack is that currently there is no plan chalked out to build Hive second layer officially and even it is announced it will take years to complete. Till then Hive-Engine and it's native token BEE has almost monopoly in this space and a bull run will definitely pull the BEE token up.
So I decided to create a small BEE token lease for me that will help both me and others (who have BEE tokens staked but not using it), then can delegate to me and earn some BEE for their delegations.
So here I am , creating a lease for me.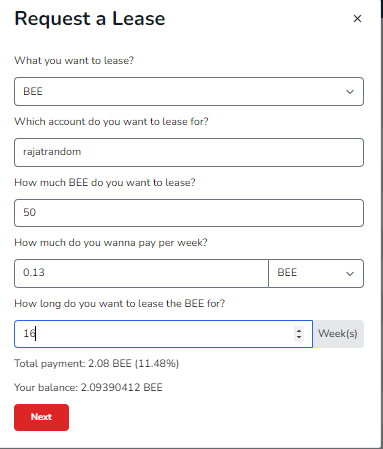 First I filled all the required details for my lease request, (please note that total payment need to be above 1 BEE)
And finally I paid for this lease.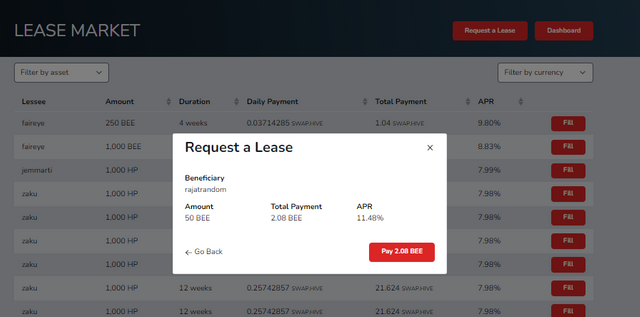 My Dashboard shows if it do not filled till 7-December it will expire.
I hope for all the best for this lease and hope all you enjoy leasing and delegating in Hive-Engine.
Posted Using LeoFinance Beta
---