Once A Bitcoin Critic, Now A Top Bitcoin Whale Maximalist
---
What Does Michael Saylor Know About Bitcoin That We Don't
Michael Saylor was once a top bitcoin critic, I think in year 2013, he condemned bitcoin, now he is buying bitcoin like the way people bought tissue paper before the pandemic lockdown. He owns 0.67+% of the total bitcoin circulating supply.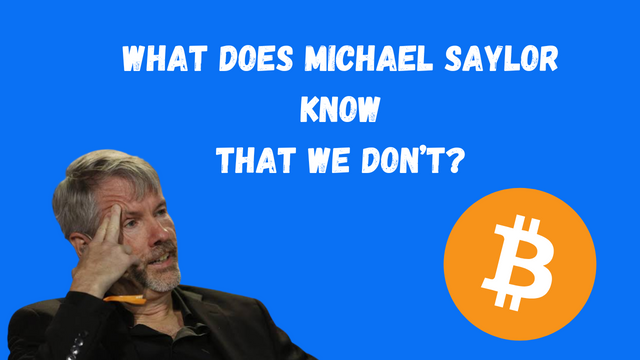 The story is getting more interesting, because Michael Saylor is really going hard to prove to these crypto critics that bitcoin is the future after being in their place 9 years ago. Michael Saylor has been publicly investing in bitcoin through his company, microstrategy, since 2020. He is one of bitcoins whales and one of Bitcoin's public maximalist that believe that bitcoin is the alpha and the rest are probably thrash. Remember when he was suggesting that other cryptocurrencies gets regulated except Bitcoin because they are tarnishing Bitcoin's credibility. Yeah his maximalist behavior towards bitcoin is that huge.
Even if he is a top bitcoin maximalist in the world it's nice to see him go so hard for Bitcoin. He has invested $3.93 Billion on 129,699 Bitcoin, dollar cost averaging, didnt buy everything at once, but today makes it the first time they are buying the smallest bitcoin purchase of 480 Bitcoin which cost $10 Million. Well, it was expected knowing fully well that Microstrategy loves to buy the dip. Making your bitcoin holdings public ensures transparency but also invites a lot of crypto critics/Twitter fingers to always be in your business.
While some people praise him for always buying bitcoin, some people criticize him and feel he is risking too much. In my opinion, I feel people achieve great things by doing the impossible, or doing something that seems like a foolish idea to a regular person. We are currently seeing the critics pounce on him on Twitter today, because the price of bitcoin is low compared to the all time of $69k, observe this space and watch it in a year or 2 years when the price of bitcoin probably pumps above $100k. He will suddenly be called a genius and a visionary.
Having 129,699 Bitcoin at $100k price means that $3.98 Billion investment will give him $12.9699 Billion value. That is the risk Microstrategy is willing to take, investing on bitcoin because of its security. Honestly speaking, out of all the cryptocurrencies in the world, Bitcoin is the most decentralized and most secured crypto we have. Yeah it lacks certain things like scalability but some people prefer to invest their money based on quality, security and value.
Sometimes I see these big whales invest massively on bitcoin and I wish, that could have been Hive, that would go a long way on Hive, but then, it's still slow progress for us, but we are definitely getting there. Though I don't see the price of bitcoin going $10k or below $10k, but it's still a huge risk.
Posted Using LeoFinance Beta
---