Persistence and willingness To Change With Your Crypto Decision
---
HODL, one of the most famous words on crypto means, Holding On For Dear Life, this means holding on no matter what happens, but this can only be applicable if you holding a valuable asset. Most times we do our own research and fall in love with a crypto coin, so we invest in that project and wait to get rewarded for our effort of believing. Believe it or not, most people investing in crypto are doing because they want to make money. Believing in the technology and the solution that comes with it is a plus.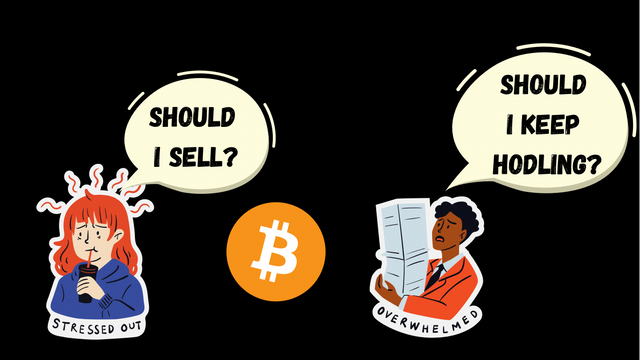 As a human being we constantly want to grow, its human nature, when I say growth, I don't mean physically, I mean mentally, psychologically and most importantly, financially. Its like a survival skill, as a matter of fact, its a survival skill. But to achieve this you have to be open and willing to change. This is why you find people changing careers because they feel it will help them grow. This entails a lot of discipline, doing things you are not used or doing things you don't want to because you have to get that changed you are looking for.
Knowing to letting go of old habits to learn something new is so essential in our lives, and its something that applies to us currently in the crypto world. Most people who don't support crypto are doing so because they don't want to adapt to change which is said to be the only constant thing in life. Crypto is new, quite different from what the other older people know or used to, money is going digital, which is way better, cheaper and good for the environment. Now how can the world embrace this change and look for how they can enhance it to make life easier for evreryone? This is something that we just have to be patient for.
Taking Responsibility For Your Future Self
Sorry I deviated a little, I wanted to talk about how you need to be willing to change to make better crypto decisions. Crypto is the future , we all know that, but how do you secure your future with crypto? First you need to make sure you invest in the right coin and don't end up buying a coin and wasting your time waiting for that coin to change your life. Be open to anything, not naively, always make doing your own research your best friend because its going to help you a lot. In 2021, the birth and trend of Shitcoins was created and we were made to believe that this is the future and its going to change lives. I bought into it and bought some Shitcoins, because they said it was going to change lives.
Lots of promises were made on how its going to help in the fair distribution of wealth, I bought them because who doesnt like wealth or securing it? But constantly doing my research and trying to know what the true utility of these Shitcoins are, led me to knowing that its just a Shitcoins without utilities and its good I pull out. I did that and that was the best decision I made in my life. I pulled out with some profits. I took responsibilities and was willing to change my decisions and that helped me to securing my capital and leaving those Shitcoins.
This should apply to other coins, if you have been investing and you feel your decisions are not right on that coin and you want to pull out, do more proper research to finalise your decision. Its okay to change your mind and pull out. You don't have to keep Holding On for Dear Life.
Posted Using LeoFinance Beta
---