I have powered up $Leo on #LPUD
---
Another month and another event to power up the Leo in the account. The more we power up then the more value we add to our account. This is a fantastic initiative started by Leogrowth and because of this, I can see that people are participating a lot and even I am able to reach my goal faster. I am so excited that a lot of people are taking part and this way we are able to power up a good amount as a whole on the same day which is why the token economy is also getting stronger. LeoFinance is a fantastic project in web 3 and we can see it growing significantly in the future.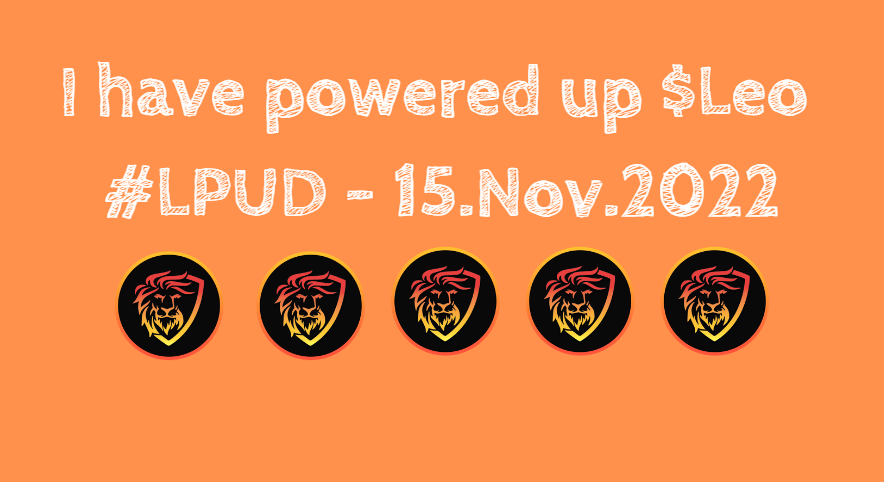 My Power Up
I have powered up my account with 349 Leo tokens and with this, I am pretty much closer to reaching my 5000 Leo power goal. As of now, I am only 254 Leo power away to achieve my goal of 5000 legal power and I think in the next month for sure I'm going to make it happen. I'm very happy that I can see the realistic distance toward my goal. This is just the beginning I would say because there is a lot of Leo power that I will be accumulating in the future.

Every month I power up all my liquid leo tokens in LPUD on the 15th of the month. I also update my delegation to @hodlcommunity because they are the guys who are able to manage it better. Needless to say that they are doing fabulous work in leofinance. I support them and will continue to do the same in the future. They reward me for my LP delegation and I am happy with it
My Leo Long-term Goal
My Leo goal for this year is 5000 Leo power and I'm very happy that I am pretty much close to this. I have been participating in the LPUD events since the beginning. This event has helped me to grow my stake faster and I will be able to achieve my milestone in the next event. So this way I will be able to achieve my goal for the year well on time and then I will decide about my next Leo goal for the next year. I will think of increasing it further to 10,000 or it may be even more depending upon the scenario but I will need some time to think about it. The reason why I believe in the Leo ecosystem is that it is a leading platform in web 3.0 and the future is bright. We are in the early phase of web 3.0 so if we can grow our holding faster in the early days then it will be a great opportunity for us to be benefited in the future.
---
We are approaching the year-end and I think now is the time when we need to focus more on the goals. It is also the time to achieve the goal for the year and then take a break to determine the next goal for the next year. Because I'm pretty much close to my current goal so I am happy but that is not the end because I want to keep this journey longer and for that reason, I will increase my goal in the next year. I hope to have 25,000 leo power in the next two years but I will plan it in a way that, it is achievable for me and also push me to do my best on the platform.
Thank you so much
Stay Safe
Posted Using LeoFinance Beta
---