Staked USDT with 22% APR
---
Crypto space is full of excitement these days and its very important to explore the available opportunities that can help us earn more. Last week I published a leofinance post in which I talked about the drop in USDT token price because of DUF in the Indian market. I was able to buy some cheap USDT and now USDT is kind of back again to its normal price. In India, the USDT price is most of the time at a premium which is INR 77-80 and I got USDT at INR 73. It was surely a good opportunity to buy USDT at a low price and whatever funds I had on the exchanges I use to buy USDT.
Now there is another opportunity that I have availed which is to earn 22% APR on USDT. Indian exchnage BitBNS has a deposit plan that offers 22% fo APR and I have staked my USDT. Its mandatory to have BNS tokens and with a combined deposit of USDT and BNS token will pay 22 % apr which is too good.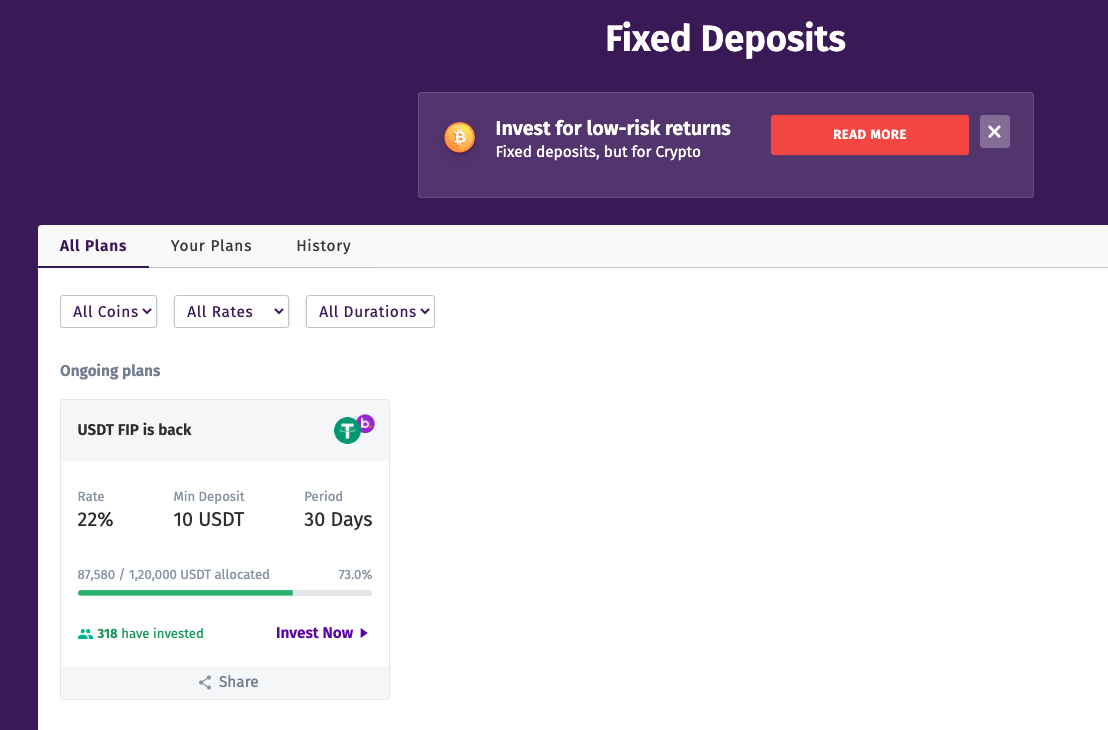 src
This plan is for 30 days and allocation has been completed by 73% so once its 100% then it will be locked and no further deposits will be accepted. Bitbns brings such a deposit plan with the duration of 30 days and I also use other plans with Bitcoin and Ethereum etc. I like these types of earning plans and this is one of my favorite exchnage because of this.
I have deposited 280 USDT and after 30 days it will be matured automatically so if there will another plan then I will reinvest once again.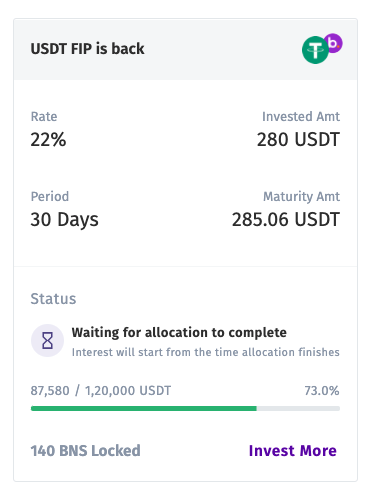 src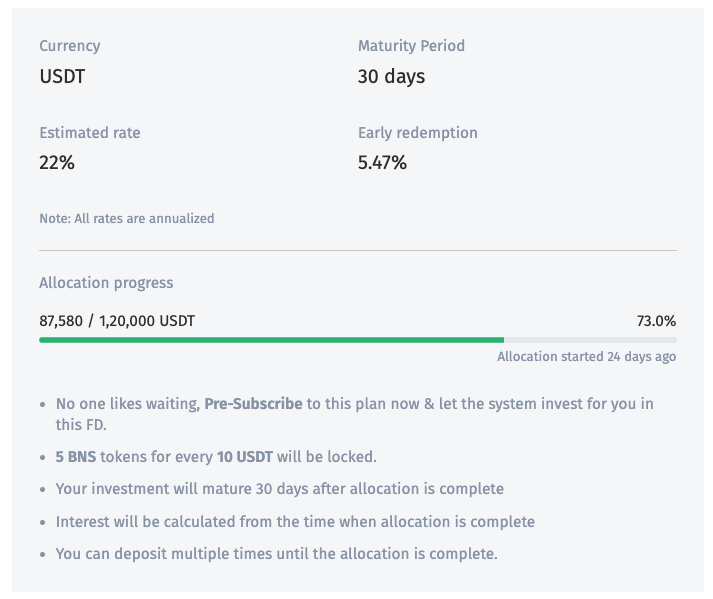 src
---
USDT is a stable coin so there is the least risk in holding it and even with a deposit I would be able to earn in form of USDT which is another plus. HBD is also a kind of stable coin in the hive ecosystem and I can earn 10% apr paid on monthly basis but here since I can earn more than double so I am taking this opportunity as of now. If I would have nothing like this then I know that I will convert it to HBD and put in saving to earn 10% apr which is double what I get from my banks.
I keep on exploring such opportunities that can help me earn this way because I usually don't do trading because I am not good at it and to be honest I don't want to lose my money. When there are plenty of options to earn with the least risk then why should I go for higher risk things.
What do you suggest on this?
Thank you so much
Stay Safe
Posted Using LeoFinance Beta
---