Splinterlands || Rentals || NFT's in Splintertalk...
---
Splinterlands journey has been epic. Everything seems magical for many users who have grabbed onto their assets. Some are technically can be called millionaires (0.1, 0.2 and so on)! While recently there has been some developments onto different attributes of Splinterlands and users new and old are taking the full benefit of it. Which is helping both the users get the best of their time and money. It is no doubt that, the cards price has increased a lot and there are new users who can not/would not want to buy cards rather they would take rentals from the market at a cheap rate and make the best use of it. Even though I do not have much cards available I am also putting some cards for rent and seems like they are kind of working. Let me share what's happening!
My Rental History
---
As you may notice the cards that I have up for rent they are not very much. Which is because these are the ones which I am able to put up for rent atm. While, seems like they are kind of being used and the DEC amount that I am getting is also decent. I am quite happy with it. Besides, due to the regular jump of prices in rental market it is wise to check the price and update them according to the market so that your cards get used properly and you can make the best out of it and the person who will be using it also gets the benefit from it.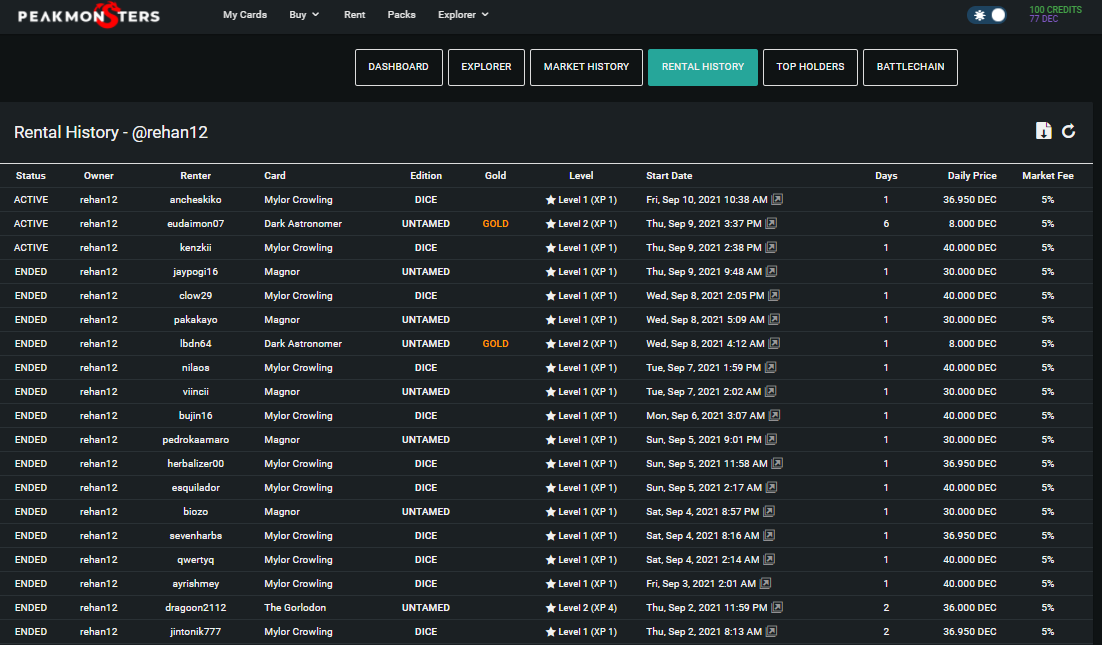 ---
With the DEC which I am getting from the rental, I am using them to purchase some cards and since the price has gone bazinga it is quite difficult to obtain the cards which I actually want lol. But these are small progresses and hopefully they will bear fruit in the long run.
DEC
---
On another note, the price of DEC has fallen quite a lot, almost from $8 per 1000 Dec to $6 per 1000 Dec. I have been holding onto some DEC and so far they have been giving some extra benefit in terms of SPS airdrop. I am staking them and hopefully they will provide a long term gain in the long run as we speak. I am going to hold onto them as long as I can and make the best use of them! Hope you are making the best use of your assets and collecting SPS ;)
---
Currently DEC is being traded at 0.007925 Hive per dec. And the 24h Volume 90978.95655292 HIVE $71935.332. Which is quite crazy but the amount is much less compared to other days. But hopefully the price will have an impact as soon as the CL comes into play. There might be some rush to buy into DEC, in order to purchase those limited packs.
---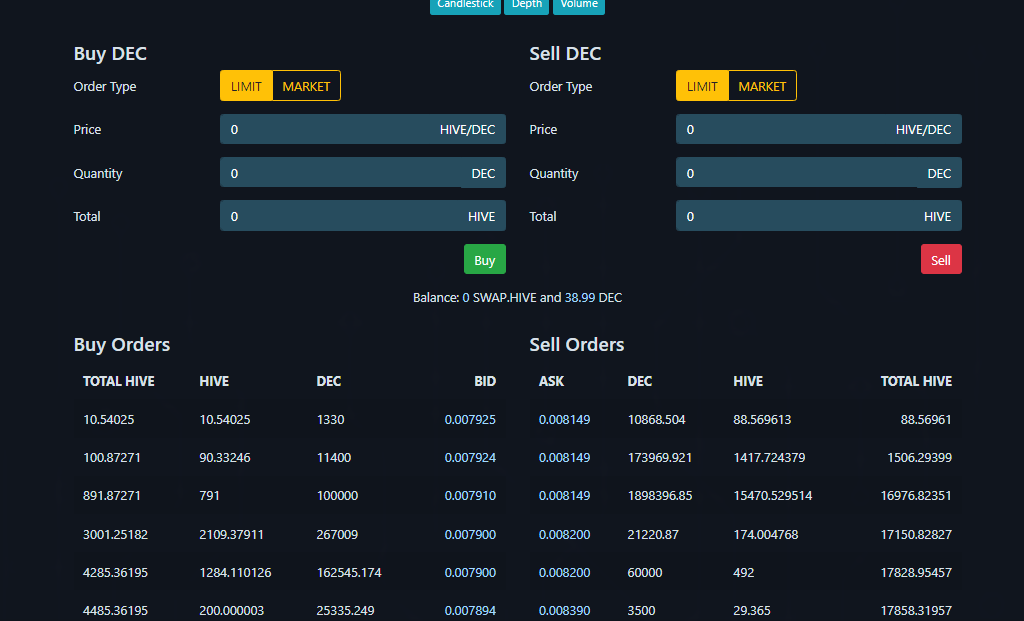 ---
Splintertalk
---
Splintertalk has been getting a lot of attention these days. It is indeed one of those projects which needed attention real bad. But lucky are those who were making the best use of it and collecting as much as they could (SPT). The price has seen a spike for SPT and it is indeed a good thing for hodlers and lets see how far it really goes :)
---

---
In addition to that, the NFT market place in Splintertalk is also seeing some positive impact. In fact things are going little crazy out there! Some of the NFT's which are being minted they are getting sold out pretty fast. Since they are probably going to be limited edition and I have no idea what are their use case, they are getting sold out pretty fast and they are getting expensive. Let me show you what is actually happening!
---
A single NFT of LIfe splinter is being sold at 35000 SPT (as shown in the image below). Which is exactly Current price of 35000 SPT is 665 SWAP.HIVE ($526.603525). That is pretty crazy. While once you purchase them and hand it over to the secondary market things are pretty tough over there as well. They are placed four to five times the price up for sale ;)
---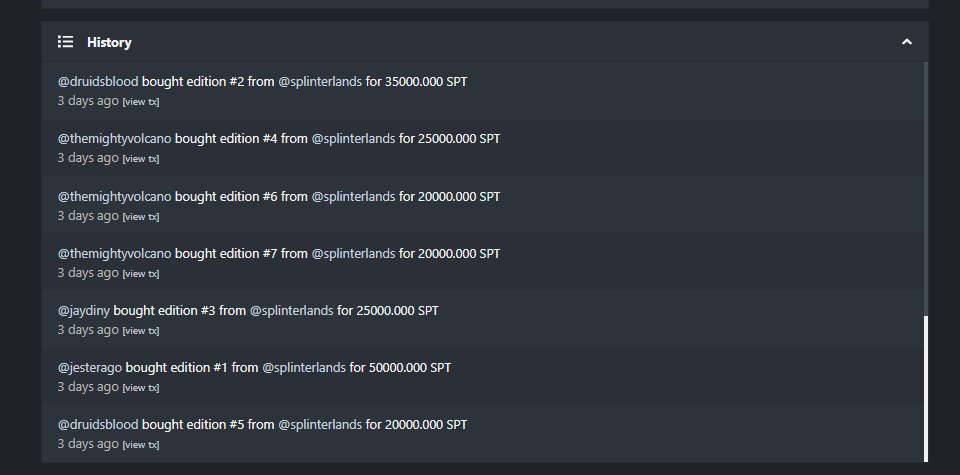 ---
But what I can say, Splinterlands is going through a krazyyyyy time and we have no idea how high this will go in the coming days. But so far what I can say is I am going to stack as much as possible be that it may DEC, SPT or cards. I might sound little off the track but I am all in on HIVE and Splinterlands. I might be little late but it is better late than never.
---
What are your plans for the next days? Do share it with us ;)
---
---
Best regards
Rehan
---

Posted Using LeoFinance Beta
---