SPS in exchanges || Expectations....
---
I have been going through some posts and seems like the current market value of SPS is giving some users, little bit of concern! There might be three reasons behind it! I am pretty much skeptical about these reasons as well and before I share them I must say, these are my personal opinions :)
---
Some users probably bought it at much higher rate than the current price
The airdrops that are being given everyday, some people are not able to dump them at higher rate :)
Some people are buying/staking SPS at this DIP ;)
---
Do not take this personally guys, I am jk ;)
---
Lets see what is happening in HIVE-engine and what are being done in other gateways of SPS! I am talking about 3 other places where SPS is being traded upon
Pancakeswap
Splintertalk diesel Pool
---
Hive-Engine
---
SPS is one of those tokens where the volume is literally at the peak compared to other coins in Hive engine. If you take a closer look, SPS has a volume of little over $19 k and approximately 26k HIVE. With an ATH of today at 0.3382 HIVE Price of 0.338 HIVE is 0.00000550 BTC (0.250 USD) and with a lowest of 0.31793 Hive. Well tbh the trading volume has been going down. Not sure how positive is that but I can say the FOMO of CL is slowly getting into people and the staking is happening everyday as we speak!
---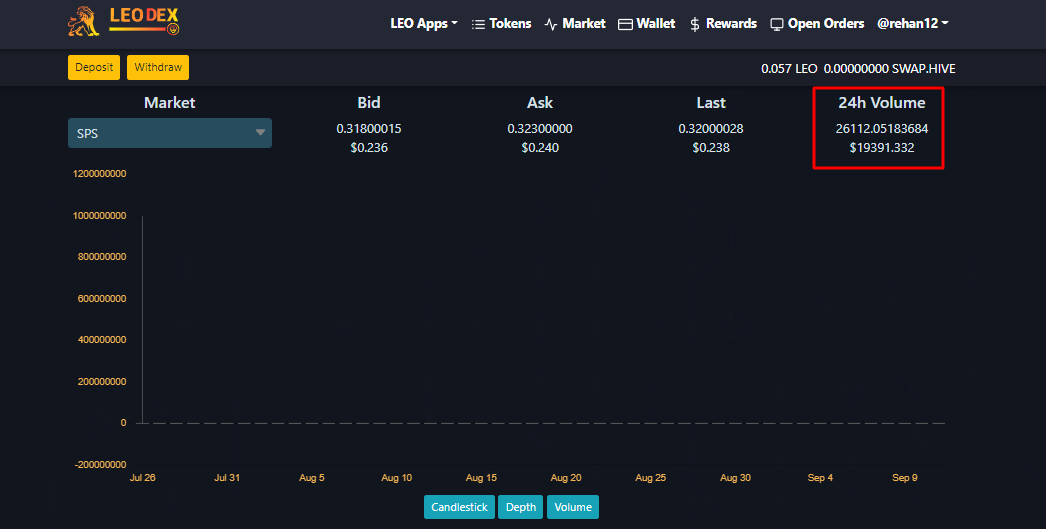 ---
---
---
In terms CEX, Gate.io is in the top 10 list of crypto (by Trust Score - Spot). The volume of the exchange in last 24 hours is not that bad at all $700,612,114. The procedure of getting the coin listed is also probably not that hassle, which is why SL took the chance with gate.io.
---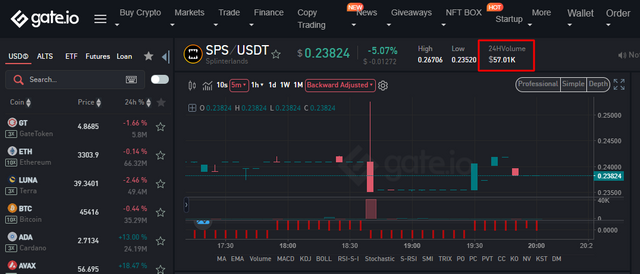 ---
Currently, while writing this blog SPS is being traded at $0.23824 and as you may see the volume in the last 24 hours has been quite good as well, around $57K. I have drawn the chart to 5min and as you can see the trades which are being done is not that great. There could be a nice chance of manipulating the price with a handsome amount of money ;) I have put some buy order in here and lets see if it gets filled up or not. As there could be someone impatient like me, who wants to get rid of certain tokens and sell at a lower rate ;)
---
Diesel Pool
https://www.splintertalk.io/pool/
---
Apparently, you can also convert your SPT tokens to SPS via a diesel pool which is currently available in Splintertalk platform. Quite a handsome amount of liquidity is present out there and seems like some people are using it very much. I have no data to share from here and I am not a techy guy to get through what is happening behind the diesel pool ;)
---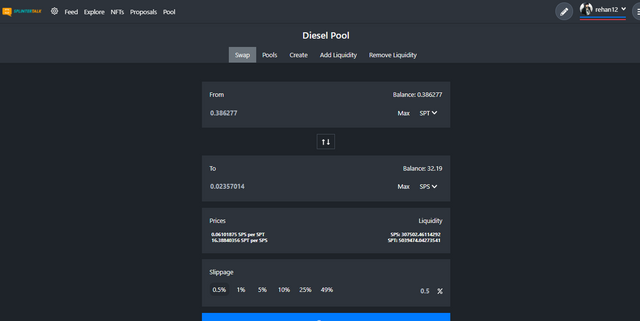 ---
Pancakeswap
---
Now, this is where it kind of gets interesting! Can you see the volume within the last 24 hours. This is something to really look out for. With this much volume, things could turn out in a lot of ways. After going through few pages of transaction over 100's of pages I mostly discovered users are selling more compared to buying! Well, I might be wrong as I only saw a partial part of the trading history. But things might go the other way around as well.
---

https://dex.guru/token/0x1633b7157e7638c4d6593436111bf125ee74703f-bsc
I used a tird party app to get the data. So some of these information about pancakeswap data might not be reliable as we speak.
---
The 30 day volume graph also seems like declining a little bit. Few days back we saw a spike in term of price increase but due to the recent downtrend of price it is going down. Also the market cap is being affected and thus the negativity among people is also increasing.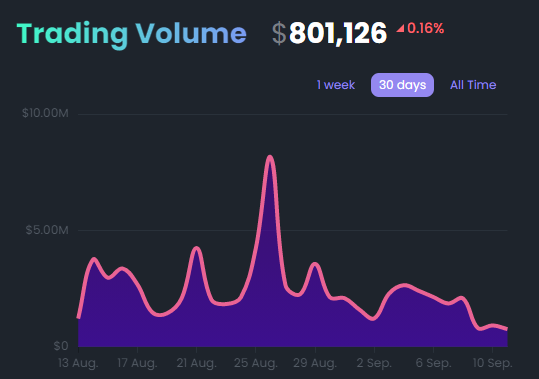 To sum up
---
TOTAL SUPPLY of SPS is 220,000,000. Already staked from the airdrop or by buying from other exchanges is 75,926,893. TOTAL LIQUID: 144,073,107 total amount of SPS, which is usntaked and available to be exchanged. A lot can be changed and a lot can be done in the next 318 days of airdrop. I am not saying it will go up! I am not saying it will go down. All I am stating is facts.
---
I was talking to a SL player who sold his deck for around thousand bucks few months back. Now that when he saw the pump in the coins he told me he would have been owner of more than 10k or even more. He was regretting for selling his deck during that period.
---

---
Splinterlands has much more things coming up! Lands, more fights, more partnerships (just a guess of mine) and as per previous records of developers and owners of the game, they do have huge visions up ahead. The price is just a number at this current point but this could be something huge in the coming days. Whereas, things could also go sideways. But from what I can see, I am going to buy SPS as much as I can and hold it as long as possible ;) Do not want to miss any sort of opportunity from now on.
---
Disclaimer : This post is not any kind of financial advice of any kind! DYOR!
---
Images which are used in the post are taken from Leodex, Splinterlands, Splintertalk.io, Dexguru & gate.io
---
Best regards
Rehan
---

Posted Using LeoFinance Beta
---