Need a New Side Hustle? You can Make £1000s from Matched Betting!
---
With the Euros just around the corner, now might be a good time to sign up with some online bookmakers and take advantage of some the introductory AND inevitable EURO-related free bet offers.
I did this five years ago in 2016 when I got into something called 'Matched Betting' which is a way of making money out of 'free bet' offers without any risk.
Over the course of seven months, I made about £4000 for not very much effort, other than placing (and 'laying' - see below) a few bets!
The principle is that you place the free bet (say £10) with the bookmaker, on say 'England to Win against Portugal' (unlikely, so let's say 5-1 odds).
Then you sign into a betting exchange account (you'll need to sign up with one) and 'lay the bet' which is betting on 'England NOT winning', so 'England either losing or drawing', which will have odds probably of around 4-1 (the market typically makes the 'main' and 'lay' bets quite similar odds).
You will then WIN at least one of these bets and depending on the difference between the win odds and the lay odds you will typically be in profit for somewhere between 60-80% of your free bet value, so on average around £7 up on a £10 free bet.
Matched betting is legal, tax-free and not actually gambling. It takes a while to get your head around it, but it is easily possible to make £500 risk-free in a month, although you do need a few hundred quid 'seed money' to start out. You might end up making less than that, but with a little bit of time each day (20 mins is sufficient) you should be able to earn at least £100 a month, and with practice more.
Getting started with Matched Betting
I recommend The Matched Betting Blog which is run by a guy who is making around £8K a year doing this – he blogs about the profits he makes and has a pretty comprehensive guide to how make money out of the bookies.
I also recommend signing up for an Oddsmonkey account which is what I used back in 2016. They have a section outlining all the free-bet joining offers when you sign up with a new online gambling account.
Several of the major bookies will give you anywhere between a £5-£50 free bet or bets when you sign up, and Oddsmonkey takes you through how to take advantage of all of these offers.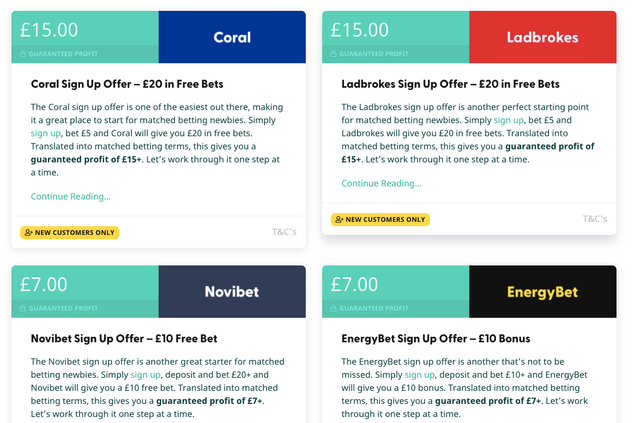 It also takes you through the process of signing up with exchange accounts – I used two – Smarkets and Betfair.
You will need to pay £15 a month in a subscription fee to Oddsmonkey, but you'll make your money back in an hour.
You'll also need Oddsmonkey to take advantage of the ongoing free bet offers – they have a search function which allows you to find bets which have close 'win' and 'lay' odds: the closer they are the more you can make out of your free bet.
I remember in 2016 both Coral and Paddy Power had offers for 'free bets' for every goal scored by the team you backed in the Euros – I made around £100 just from that one tournament.
Horse racing is another good source – SkyBet have a free bet offer every Saturday, for example.
Matched-betting isn't for everyone – some of the downsides are:
You need to double-check every bet you make and lay – one small slip could cost you tens or hundreds of pounds and wipe out your 'earnings for a whole week'
You need a few hundred quid to start off – you need to open several betting accounts – maybe dozens to make the most of every offer, and because so much money is floating around, you need hundreds in 'betting capital' to make things tick over smoothly.
There is the risk of 'gubbing' – having your account frozen by bookmakers – they keep tabs on people – and if all you're betting on is the special free bet offers, they'll close you down – hence you need to make 'mug bets' to cover your trail (all of this is covered on the two web sites above)
Some countries have restrictions for betting and exchange websites.
You will need to verify your identity with all the sites you use!
Matched Betting – Final Thoughts
I don't bother with matched betting myself anymore, but I enjoyed myself back in 2016 a lot.
I stopped mainly because I got greedy and got Gubbed by several accounts, and I think word gets around so it just got harder and harder for me to make money!
But I did OK - £3-4K out of the bookies is no small sum, and it's nice to make money out of the bookies too!
Posted Using LeoFinance Beta
---