Music Promoter Changes
---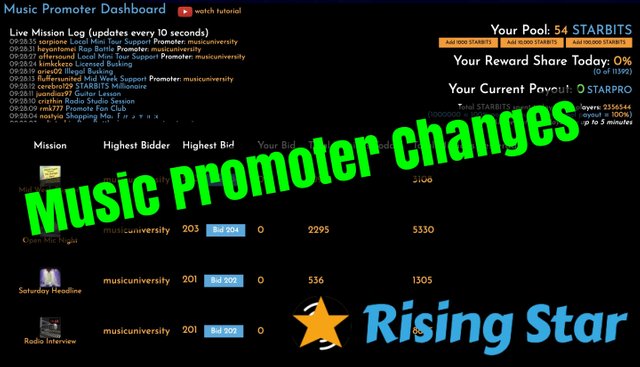 When we launched Music Promoter we had a mechanism in place to make sure that people did not get too many STARPRO compared to the value of STARBITS they had burned.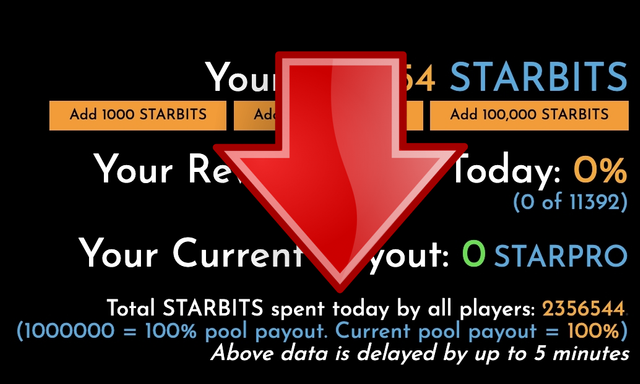 This value was based on 10,000 STARBITS being worth about $3 (the price of a pack in HIVE).
What we then failed to do was adjust this value as the STARBITS price changed.
In theory the lower the STARBITS price goes the more STARBITS would be burned in Music Promoter as players can get better value from STARPRO and this has happened to an extent but not quite enough.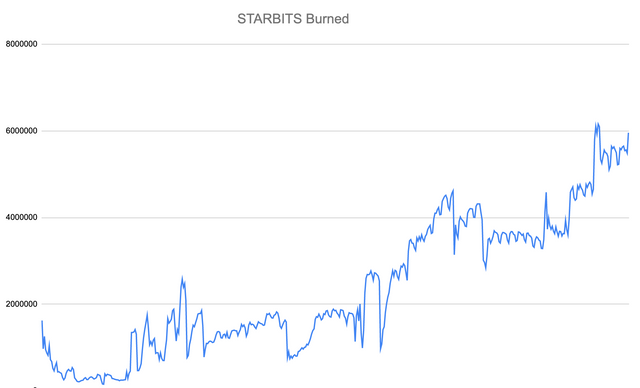 The above chart shows how the number of STARBITS being burned has increased over time to its current level of about 6,000,000 a day.
However if we take the current HIVE Price of $0.63 that means a pack would be 4.76 HIVE ($3 / $0.63).
The current STARBITS price is 0.000068 HIVE so $3 = 70,028 STARBITS (10000 x (4.76/0.68)).
So 70,000 STARBITS should be burned for each STARPRO.
To mint 100 STARPRO 7,000,000 STARBITS need to be burned.
The current average STARBITS being burned is about 6,000,000.
From tomorrow the minimum will therefore be set to 7,000,000 and the number of STARPRO issued will be reduced if less that 7,000,000 STARBITS are burned.
For example if this was in place now then 85.7 STARPRO would be issued (6,000,000 is 85.7% of 7,000,000).
This number will be modified as needed depending on price movements.
Further Changes?
We would like to open up another idea to put upwards price pressure on both STARPRO and STARBITS and that is a daily incremental increase to this number.
For example we could increase the minimum by say 1% a day regardless of the STARBITS and HIVE prices.
We would love your feedback on this and we will take it onboard before deciding whether to implement this or not.
Closing Comments
Bear markets are always tough and many people leave only to return when prices start rising again. I am sure this one will be no different so we are working hard to make sure we are stronger than ever when that happens.
For example we are working on an exciting new feature that requires a little bit of teamwork and will of course include more use cases for STARPRO. More details will follow in due course but we think you are going to love it!
As always we thank you for supporting Rising Star and look forward to your comments.
Jux and the Rising Star team.


Rising Star - The Play2Earn NFT virtual music career game built on Hive.
---