I was wondering how to take advantage of the correction in bitcoin price which took place a week ago. In fact, most cryptocurrencies got some kind of correction. I will first mention the reasons why I think the dip has occurred. They are the two main reasons in my eyes.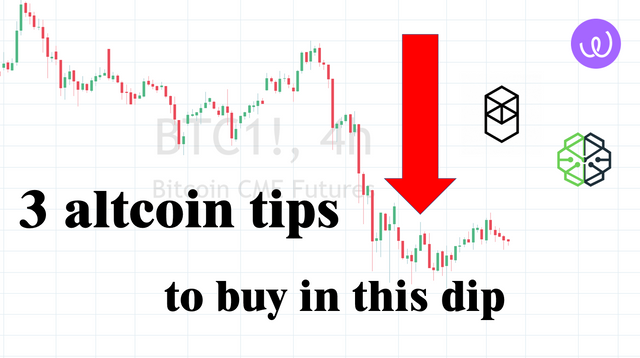 1. Stock market drop
Not only cryptocurrencies but also the stock markets have been falling since last week. And whether we want or not, bitcoin still correlates with stocks in some way. Especially during sudden falls, such as in March due to the Coronavirus crisis. The same correlation we might see in the growth of those assets because the newly printed billions of dollars partially fill the crypto sphere. Yeah, that's right. That's why we have a bull run, even though I don't expect so much from it. Is it a DeFi bubble? Maybe it's not a bubble. But it's Yield farming bubble for sure.


NASDAQ 100 Index, source: TradingView
2. Filling in the CME Gap
91% of this weekend gap in Bitcoin futures trading were filled in the past. This might mean that the price will return to this territory over time. It's logical? Maybe yes maybe not. But traders count on it, so it's such a self-fulfilling prophecy. And it is said that huge amounts of money are ready for USD 9,700 to buy crypto. Well, let's be surprised.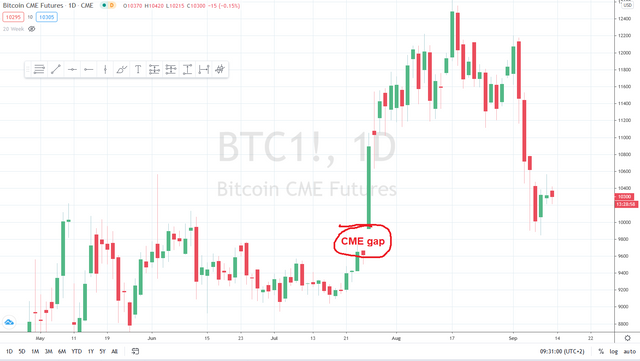 CME gap, source: TradingView
But now for what I wanted to write here. In this dip, it is good not to get cornered and panic and sell at a loss. On the contrary, as experienced investors say, buying when blood is on the streets is a good attitude. Or at least when CoinMarketCap is bleeding, HODLer or Trader would tell you.
But what to buy? And why?
1. Energy Web Token (EWT)
It is a network of the energy industry that includes almost all known giants involved in the industry. The decentralized energy market must be maintained somewhere...and where else but as a separate blockchain on the Polkadot network (so-called parachain). And beware, EWT is listed on only a few unknown exchanges, the largest of which is Kucoin. It is said that listing on Coinbase is going on, and then, of course, Binance and Huobi will follow.
2. Fantom (FTM)
DAG is a technology used by IOTA or NANO. Transactions move in parallel and scaling even improves with DAG networks with network expansion, not as with PoW blockchains such as Bitcoin or Ethereum, where there is a so-called "bottleneck" in which transactions are clogged, resulting in, among other things, rising transaction fees. PS. If you are familiar with Yield farming and the YFI token (YFI = yearn.finance, 24 position on CoinMarketCap!), Andre Cronje is behind the two projects in different roles. Remember this name, it will definitely be talked about in becoming months/years.
3. SwissBorg (CHSB)
Does Crypto.com tell you anything? It is a big competitor of SwissBorg. In fact, they created something very similar. An application where you can buy cryptocurrencies for fiat. In addition, if you lock your CHSB on their platform, you have zero fees for the purchase. SwissBorg works that it purchase crypto for you by looking at the current best rates of well-known exchanges and buying you a crypt at the best for you. Something like Skyscanner or Kiwi does with flying tickets. Only SwissBorg is further in the technology than in the price, Crypto.com already has its fundamentals in the price and therefore it is somewhere on the border of the TOP 10 among the crypto. SwissBorg is in 128th place with a capitalization of $ 65 million! Crypto.com has a capitalization of $ 3 billion. So it has about 1/50 of the value with similar technology.
Conclusion
All these 3 projects are "on-sale" right now, which might be a good buying opportunity.
But make your own decision from this article, I probably would not recommend you to jump on this train right away and blindly buy something. Rather, dive into these projects a bit and evaluate for yourself whether what I have spread out for you here makes any logic, any meaning. Projects you don't understand but still purchase, you usually would like to get rid of in panic because you don't trust them, you don't know their technology. Therefore, I always in the first place try to understand the projects I invest in. So don't take it as financial advice, just something that might help you with your understanding.
---
30% of the rewards from this post go to @ph-fund to support Project Hope Venezuela, which is an initiative created to grow. For more info click the logo of Project Hope: