Last few months we are definitely in the bull market. Hundreds upon hundreds of percent of gains through various types of cryptocurrencies makes me believe, that this bull cycle will be outstanding.
Many projects came back to their ATH (all-time-high) values, some of them were waiting for them for 3 years already. But they already get it (not all of them of course).
There are a few significant reasons, why the crypto market is on fire. And one of them is the inflow of capital from institutional investors.
Many of you already heard of Tesla buying bitcoins, their CEO Elon Musk purchased Dogecoin and some BTC as well just before Tesla did it. MicroStrategy and its boss Michael Saylor went also into the crypto sphere "big". Square is another example of a big company buying crypto in large amounts.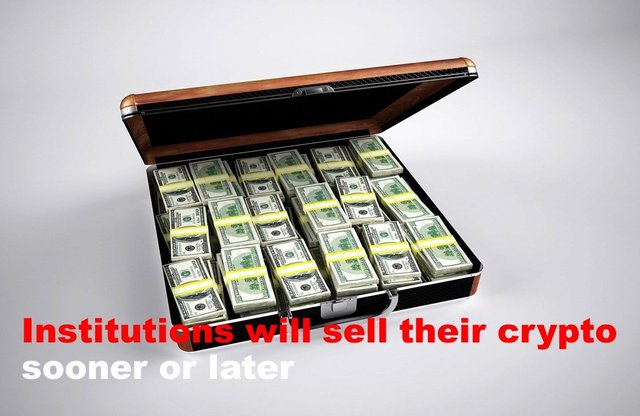 Two reasons of institutions entering the crypto sphere
There are two main reasons in my mind, why those instructions came into our blockchain world. And let's be honest, mostly they don't care if they send money over USD or USDT. They will not HODL them forever as someone from us.
Profit vs. Inflation protection
Thoseč two reasons might seem similar at a first sight, but let's talk.
Inflation protection is something that is understandable. The fixed total cap of Bitcoin with 21 million pieces is something in total opposite to the money-printer that goes brrrrr for quite a time. Covid or not-Covid, the new inflow of liquid money is absurdly high. To be honest, if you sit on a big pot of gold, would you rather keep your coins or don't care if some of them would get lost?! Surely, you got the point. And no one knows if the inflation rate will be 2% or 20%.
Profit. Short-term profit and mid-term profit. They are here, belief or not. Those companies have their shareholders, CEOs, and boards and they need to be in profit. And surely, as you and I heard of Stock-to-flow models, 4-year Bitcoin cycles and bear markets, they did too. And they are smart enough to protect their funds and make an additional profit as well in the future. How? By cashing out. On the top (or close to the top) of the cycle.
Will there be another bear market? Surely it will be. Because not just average Joe will try to cash out something, but some of those whales will do it as well. And because of that, the price will drop. We can only guess, if by 50% or 95%. The best thing you can do is to prepare mentally for it. And you can start now, in the bull market.
---
50% of the rewards from this post go to @ph-fund to support Project Hope Venezuela, which is an initiative created to grow. For more info click the logo of Project Hope: