Inflating is easing - Canada CPI
---
I updated you yesterday that the August CPI data for Canada was coming out today. It was published this morning. The headline inflation is cooling for sure. The annual inflation rate came out to be 7% which was lower than the market expectation at 7.3%. The market was expecting it to be higher.
CPI Median in Canada decreased to 4.80 percent in August from 4.90 percent in July of 2022. https://t.co/TiomY9hLjy pic.twitter.com/cYRBWGSZNd

— Trading Economics (@tEconomics) September 20, 2022
I was predicting it to be lower as we already witnessed the lower gasoline prices and housing market coming down in the last two months. It was almost certain and experts were also predicting it to trend lower from a four-decade high rate of 8.1% in June this year.
Newspapers were quick to pick this one
The US Fed is deciding their interest rate tomorrow. The twitter spaces including Crypto Twitter were buzzing on the possibility of 75 basis point hikes in the US tomorrow. Some users are expecting the rate to come down as we have seen in Canada. Others are expecting it to remain as predicted.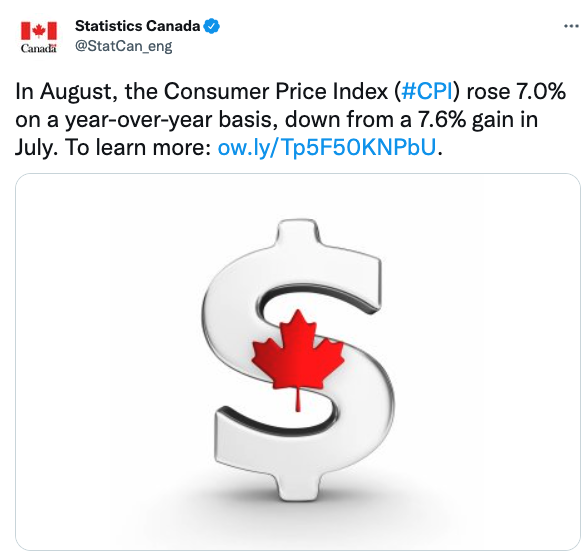 What does this inflation data mean for the Canadian rate?
In my opinion, the inflation is still high. The Bank of Canada will not lax with their measures especially when they know their tool is working. The 175 basis points rate increase since August is showing its impact. I think the BoC will go hard again on October 26 to give the final blow.
Having said that, the September data will definitely trend lower than the August one. Looks like, the inflation has peaked and that will ease pressure on BoC to come up with higher interest rate hikes. Nevertheless, experts are calling for 75 basis point hikes from now to the end of this year.
I am worried.
I am worried that my mortgage payment will go up. I am already over leveraged as more than 40% of my income is now going towards my mortgage payment. Then we have higher gas and food prices. It is not easy to survive in this market.
I am not investing
I am spending all my money on household expenses leaving me nothing to invest. It is a scary scenario and I know that. This would be an ideal time to DCA into stocks and crypto if I had liquid cash. The only investment fund I have is the passive income I have from my Defi portfolio on binance and Osmosis.
Let's ride another wave of interest rate hikes and wait to see how the ongoing macro political and economic scenario impacts crypto price.
Posted Using LeoFinance Beta
---