Is Hive a good investment? 5 reasons to love hive
---
Is hive a good investment? 5 reasons to love hive
It's been 9 months now, still feels like yesterday.
I owe my onboarding to the hive blockchain, to none other than @gentleshaid. I live in a country where things are so bad and an array of things that can add priceless value to your life such as this platform is being gotten in exchange for money, literally.
I was exposed to this platform by him, gained my first traction in my first post through him, corrected by him on some blogging dos and don't, advised and given some tips, all these without a dime, for that, I will forever respect and be eternally grateful to him.
From the very beginning, transiting to this moment, with my 9 months on the blockchain, I can confidently and emphatically say hive has been a good investment monetary-wise and time-wise, and here is why
Shortly for clarity's sake;
WHAT IS HIVE?
Hive Platform is a social media-like blogging platform that offers rewards in the form of cryptocurrencies. HIVE is a platform with The Blockchain for Web 3.0 that gives you super speed for your activities on HIVE like app development, NFT, social media and others, also without transaction fees.
It is a unique decentralized blockchain, is based on the Delegated Proof of Stake (DPoS) protocol, which ensures it is fast and scalable. It is attack tested and truly decentralized
Hive is a company without a CEO, but nevertheless still successful, truly decentralized.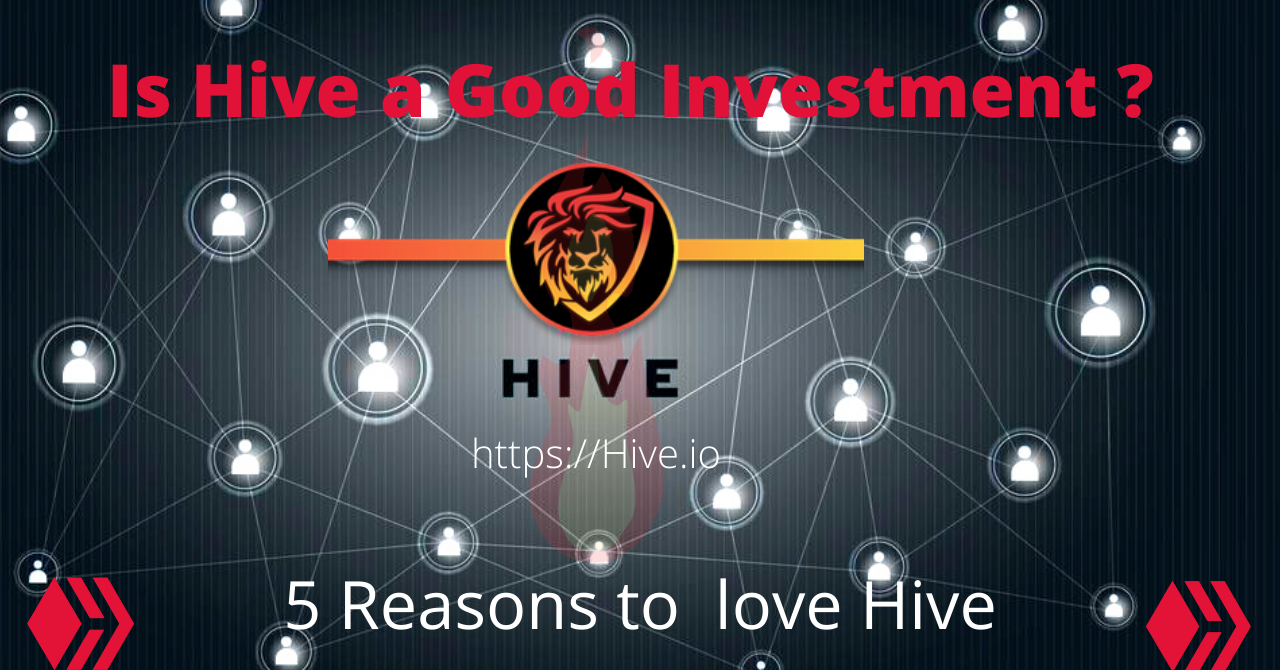 Why has Hive been a good investment monetary-wise and time-wise ?
5 reasons why Hive is a good investment 👇👇
Lots of great communities
Hive has many communities to join and share your stories, knowledge, and experiences based on what interests you. In the community, most of them have quality content and support each other, resulting in building a great community together. The scale of development is such that some of the projects are working very hard to bring more value to the community and ecosystem in general. Also if you think gaming, video streaming and crypto learning, we have pioneers here. I'm certainly not obligated to give names here, but I'll do it anyway. These names are Splinterlands, spk network and leofinance and they will all add a lot of value in the years to come.
Full control of what you have
The Hive platform is also a platform that allows you to share your knowledge and perspective without censorship, which sets Hive apart from other social platforms like Facebook, Twitter, and AdSense. Because of this, the Hive platform is a censorship-resistant platform where you have full control over your account as long as you have your account's private key.
Learning-Skill acquisition and development
The Hive blockchain is one of the very platforms that delve into skill acquisition and development with no cost or expenses incurred, just your time and willingness to learn. You get to learn almost any skill and build upon existing skills thanks to the specialised community. Before my onboarding into the hive, I knew nothing about art creation but with my experience on the hive blockchain gathered from communities like alien art hive, Onchainart and sketchbook, I don't only make art now, I generate art using AI, I specifically learnt this in Alien art hive. Regarding video editing and creation, 3sspeak indirectly imbibes this skill in you. still, on skill acquisition on Hive blockchain, you learn at your own pace with no pressure. A motivational factor has been inherently established with an added bonus of getting to have a feel of your progress through reputation, HP and number of upvotes from each post, which in most cases are the practical applications and reward for what you have learnt and applied. See it more like a more subtle way of grading your improvement but with no pressure.
There's no way anyone other than me can hack my account unless my keys are compromised. Even to avoid the scenario, the blockchain has a 13-week power-down rule and during that time if something bad happens, we can notice it and take necessary actions to avoid losses. So along with ownership, we also get security for our funds and I can't find that anywhere else.
Crypto Earning made possible
The Hive platform gives you new cryptocurrency rewards known as Hive tokens and Hive-backed dollars that you redeem for fiat. Rewards are given based on the quality of your article content and your participation in the community, e.g. being active, socializing, commenting, exchanging opinions, posting articles, etc., thereby allowing a community to build and grow. There are many communities on Hive that have their own token as the second layer of the Hive blockchain. This gives you an opportunity to earn many multiplied cryptocurrencies on the Hive blockchain such as For example, in the @proofofbrainio community, you can create a related article based on your thoughts or experience that is brilliant via the proofofbrain.io platform and you will be rewarded with POB tokens and Hive for your articles at the same time.
Relationship and future building
I know the future of this platform is going to be groundbreaking and now is a good time to gather everything we can, anything later might be impossible. Regarding the price of the tokens, we saw situations where the price was less than 10 cents and exceeded the historical maximum,of three dollars. The Hive platform also allows you to have friends around the world who are members of the Hive community, even more than just friends. You can call your family on Hive. A strong and supportive community builds a strong friendship by building a relationship between them.
I @sam9999 is still learning on the blockchain, I have come far, but not far enough. I believe that I am yet to even scratch the surface on what the hive blockchain has to offer, for this, I'm willing and will gladly invest my time and finances as I see fit, for there is no greater investment than that which we instil in ourselves, this made possible by Hive, a blockchain and decentralized platform, operating without a CEO yet successful with limitless potential and if you ask me IS HIVE A GOOD INVESTMENT? My answer is an unwavering and emphatic YES
Thanks For Reading
Keep learning, growing and earning
Posted Using LeoFinance Beta
---