Did you know Binance was an accomplice in Elon Musk's Twitter Takeover?
---
Hello Everyone,
It's been a couple of days since Elon Musk became the new owner of the popular bird app. His acquisition of the bird app has made it the most expensive purchase of a social media app. I even remember seeing on Twitter, a picture that showed the billionaire could buy several more than 10 expensive and big football clubs and still have some billions to spare. It's quite impressive when one imagines the enormous amount of wealth Elon Musk has at his disposal, especially in his stocks and other holdings. I think it should be about $267 billion if I'm not mistaken. So it's easy to say that the billionaire could buy the bird app all on his own. But here's the irony about the business these billionaires conduct.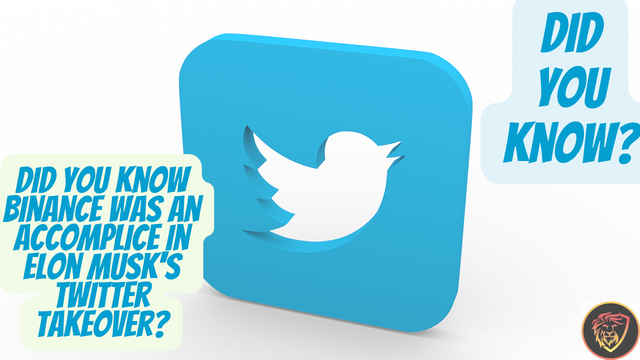 Image by Pixzel from Pixabay
They operate on the business mindset that all their money should not be the main capital that funds a business or startup even when they can afford it effortlessly, rather one should also seek partners or other investors as well. And this is exactly what Elon Musk did when trying to take over Twitter. One of his fellow accomplices during the Twitter takeover that has come to the limelight is the Crypto Exchange Platform known as Binance.
In accordance to the article published by nairametrics.comtitled "Binance commits $500 million to finance Elon Musk's Twitter takeover" confirms that Binance invested 500 million dollars in funding Elon's bid for Twitter which the United States Securities Commission confirmed in their books. The news site even went on to inform us that it was a total of 18 co-investor who backed Elon up in raising the funds for the purchase. Aside from the renowned Binance, other investors include Sequoia Capital Fund and Fidelity Management and Research Company.
Even the renowned wealth magazine, Forbes confirmed it in their post "Musk Adds Binance, Ellison, Prince Alwaleed And Others To $44 Billion Twitter Deal"
When they said, "Elon Musk has added more than a dozen new individuals and investment firms to his $44 billion proposals to buy Twitter, including Oracle
founder Larry Ellison, Saudi Arabia's Prince Alwaleed and Binance, the Chinese cryptocurrency exchange."
This just goes to prove that Elon has successfully employed the tactics of calling in other investors into the opportunity of gaining the bird app at a high price and building it for better use and do not forget making a good profit out of it.
Finally, it is more business-wise to call another rich investor to fund the project and stand a chance of making more out of the app rather than funding the entire project all alone. That's the Elon Way!!!!


Thanks For Reading!
Did you know?
Posted Using LeoFinance Beta
---