Did you know that Aliko Dangote Recently Became the 67th Richest Man in the world?
---
Being a Nigerian from Africa, the name Aliko or Dangote is not new or even strange. With his wealth and business mindset, he has grown to become a household name amongst Nigerians and even Africans. Aliko Dangote is currently the richest man in Africa with a net worth of 20.7 billion dollars, he's also the chairman and CEO of the Dangote Group, a conglomerate that has investments in cement production, sugar refinery and fertilizer production.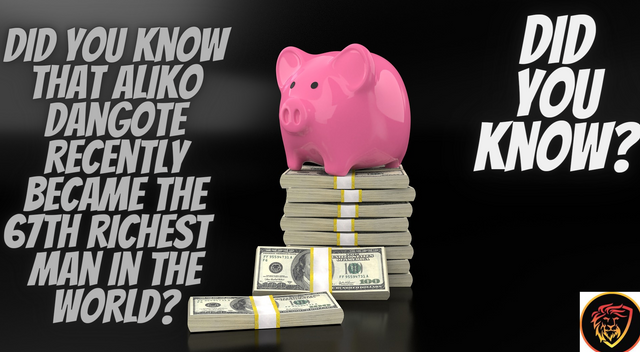 Image by QuinceCreative From Pixabay
The Nigerian billionaire was born on the 10th of April 1957 in Kano, thereby making him 65 years old, into the family of Dangote. He is the son of a wealthy Hausa family in the person of Mr Mohammed Dangote, his father and Mrs Mariya Sanusi Dantata, his mother and the daughter of Alhaji Dantata, thereby making Alhaji Dantata is a grandfather to Aliko Dangote. When it comes to education and a background in business, Aliko Dangote has it all. Coming from a family of wealth made through the power of buying and selling, he grew to understand the immediate concept that surrounds the business world, especially in the business affairs governing an African country like Nigeria. Before he moved on to gain his primary and secondary education from Sheikh Ali Kumasi Madrasa and Capital High School, Kano. Then graduated from the Government College, Birnin Kudu in 1978, afterwards he obtained a bachelor's degree from Al-Azhar University Cairo in Egypt. So it's obvious that business is a major background in his upbringing.
His company the Dangote Group began its operation in 1977 after he decided to move down to Lagos permanently. As of today, the company have its investments in Benin, Egypt, Nigeria and other African countries. The company which began as a trading firm is now regarded as the largest industrial company in Africa with more than 11,000 employees, all working in different sectors of the business. The Dangote Group has its cement factory where it makes strong and durable cement for building houses and renovation, it's sugar refinery is considered to be one of the biggest in the sugar refinery business with a production of about 800,000 tons of sugar per year, the sugar refinery also supplies sugar to beverage and breweries companies. The Dangote Group also has other investments in real estate, oil, textile and even in the exportation of food products to other African countries.
As of the last year 2021, Aliko Dangote experienced a decline in his net worth to the value of 15 billion dollars but with the constant improvement in shares of his company, his net worth has now experienced growth to the sum of 20.7 billion dollars, helping him to retain his title as the richest man in Nigeria and Africa and also moving him up the Forbes billionaire list to the position of 67. With his wealth and improvement in his shares, Dangote has successfully passed the Russian billionaire and owner of the football club Chelsea, Abramovich.
In conclusion, most of Aliko Dangote's wealth comes from his 86% stake in his company. And the billionaire is set to make more, a total of 5 billion dollars from his recently established fertilizer company in Nigeria. The fertilizer company set to produce tons of fertilizers for exportation in the advantage of the recent sanction placed on Russia.
Thanks For Reading!
Did you know?
Or
Posted Using LeoFinance Beta
---