Final 6 Hours of Splinterlands Chaos Legion Presale. $339,000+ to Take First Place!
---

This is it. The final six-ish hours of the @Splinterlands Chaos Legion presale event! I wrote a post yesterday about the Top 6 presale leaderboard and at the time it cost about $156,000 to make it to sixth place. Well, it costs a whole lot more than that today! Read on to see where we stand. Now, let's have one last look at the status of the presale event leaderboards.
---
Splinterlands Chaos Legion Presale Leaderboard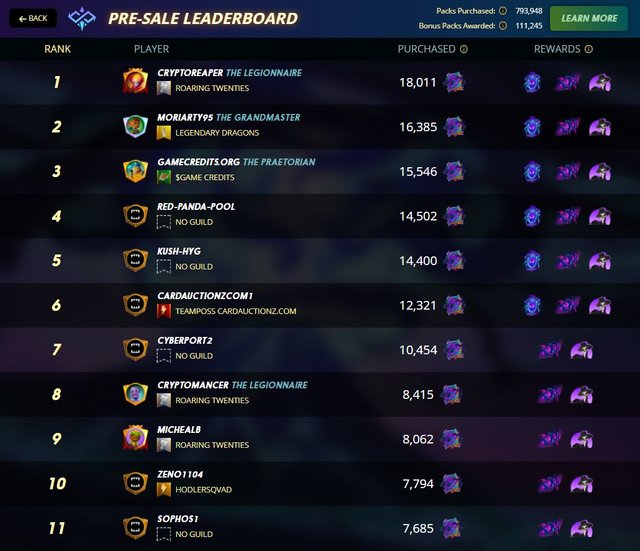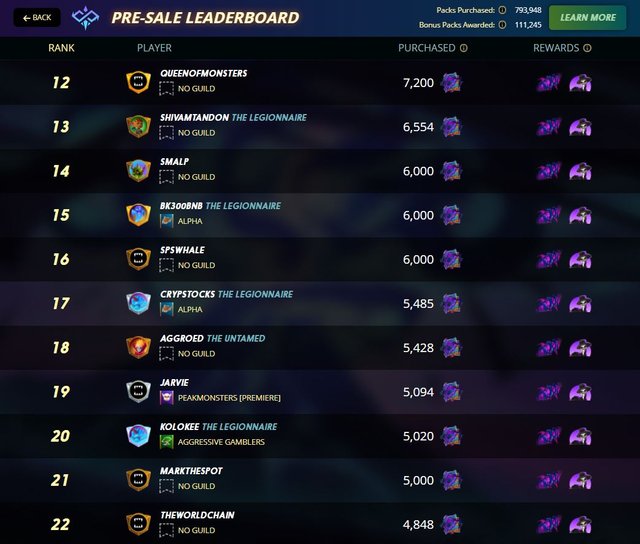 ---
Splinterlands VOUCHER Richlist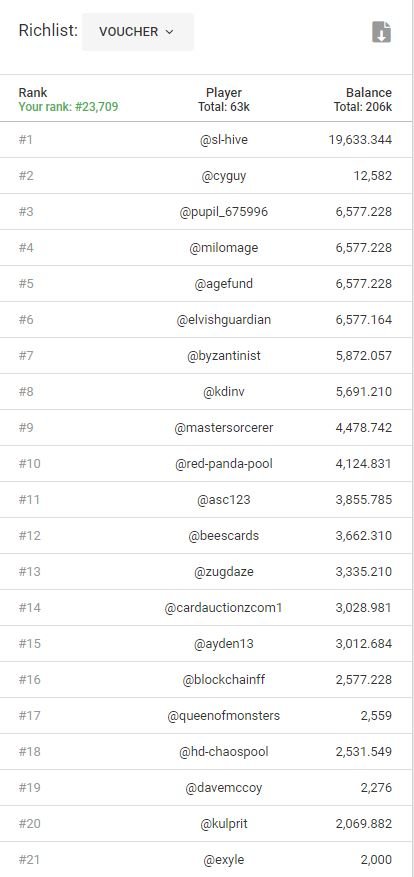 ---
Hive VOUCHER Richlist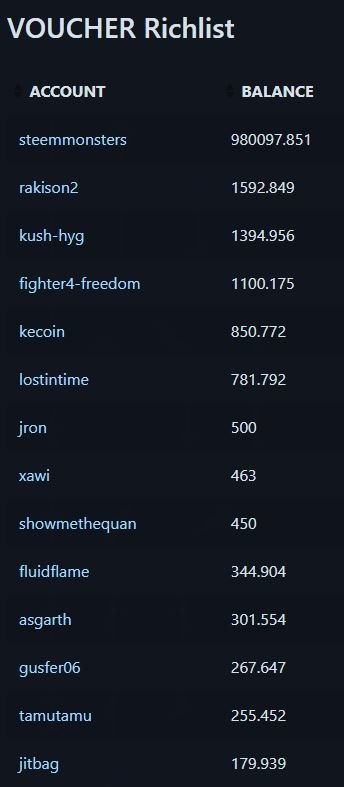 ---
After looking over the Richlists and the Presale leaderboard, you'll notice some common names that appear to be continuing to make moves for the Top 6 (and win the right to design and own their very own Legendary Summoner card) or even for 1st place bragging rights.
On the Splinterlands VOUCHER richlist, @cyguy is sitting on 12,582 VOUCHERs and appears to be making a snipe attempt for the top of the leaderboard. The four accounts with nearly identical VOUCHER amounts (@pupil_675996, @milomage, @agefund, @elvishguardian) are still on the list in 3rd-6th place and it's unclear what they are going to do with their 6,577 VOUCHERs each but they could pool them and take 1st place most likely.
@red-panda-pool is sitting on over 4000 more VOUCHERs and will likely try to further boost their 14,502 presale packs that places them in 4th place.
@kush-hyg is holding quite a few VOUCHER tokens on Hive-Engine and may be waiting to add to their 14,400 packs in 5th place.
@cardauctionzcom1 is also holding over 3,000 more VOUCHERs in Splinterlands to further boost their 6th place position of 12,321 packs.
It's become clear that there is going to be a fight to the finish and it may have significant impacts on the price of VOUCHERs on the Hive-Engine marketplace as we get closer to the 12AM Easter Time cutoff for the presale event.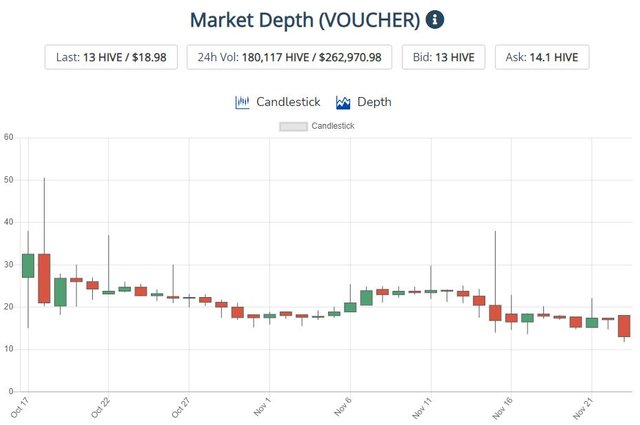 VOUCHER prices are sitting just under $19 or 13 HIVE. The price of HIVE has been rallying lately so it's caused some distortion in Hive-Engine tokens lately.
At $19 per VOUCHER and $3.60 per pack, the current first place purchaser, @cryptoreaper, has a purchase value of $339,207 (assuming they received a 20% bonus on pack purchases). I really think that with all of the recent movement on the leaderboard, we will see the top spot require at least $500,000 (about 26,500 packs with the 20% bonus).
The Top 6 is going to be very competitive in the next few hours too, with the #6 spot currently worth about $232,000 with 12,321 packs. I expect that by the time the event closes tonight, the Top 6 will require more than 15,000 packs.
---
DO NOT WAIT UNTIL THE LAST MINUTE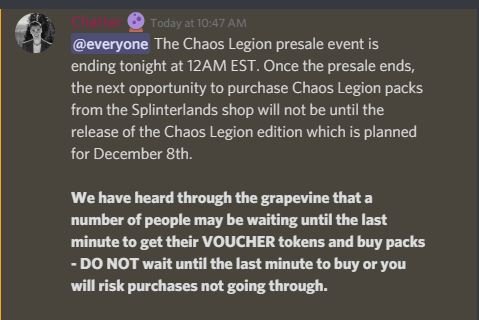 The @Splinterlands devs have made it abundantly clear in numerous Discord and blog posts that you should NOT wait until the final minutes of the presale to enter your orders for packs as they may not complete in time. There will be no refunds, reversals, or transaction time modifications for any reason. Do yourself a favor and get your final orders in early or you may end up with a lot of VOUCHERs that are worth many dollars less after midnight than they were before midnight. This would not be the first time that Splinterlands servers crashed or slowed down considerably.
If you're in any brawls, it may be a good idea to not enter your battles during the time around the end of the presale just in case a server glitch causes you to flee a battle due to transaction timeouts.
Since you made it this far, check out my latest #BrawlReport from the @hive.pizza PIZZA 2 The Deep Dish Guild: https://www.splintertalk.io/@shauner/splinterlands-brawl-report-pizza-2-dfedf76fca1b4
---