EasyDefi Promotion: Gold Foil Monster Card delegation for new EasyDefi accounts.
---
Gold Foil Splinterlands Card Delegations to new investors!
Venari Knifer with Thorn ability
I think he is a great addition to any card collection!
.
.
​I use the Venari Knifer as a low mana melee tank.
As you can see the 3 melee damage and impressive 5 speed make him a potent tank. Plus he has the Thirn Ability to extract 2 more points of damage from his opponents who use melee it adds up to 5 points a damage in one round, more then enough in a low mana battle to kill most low mana tanks!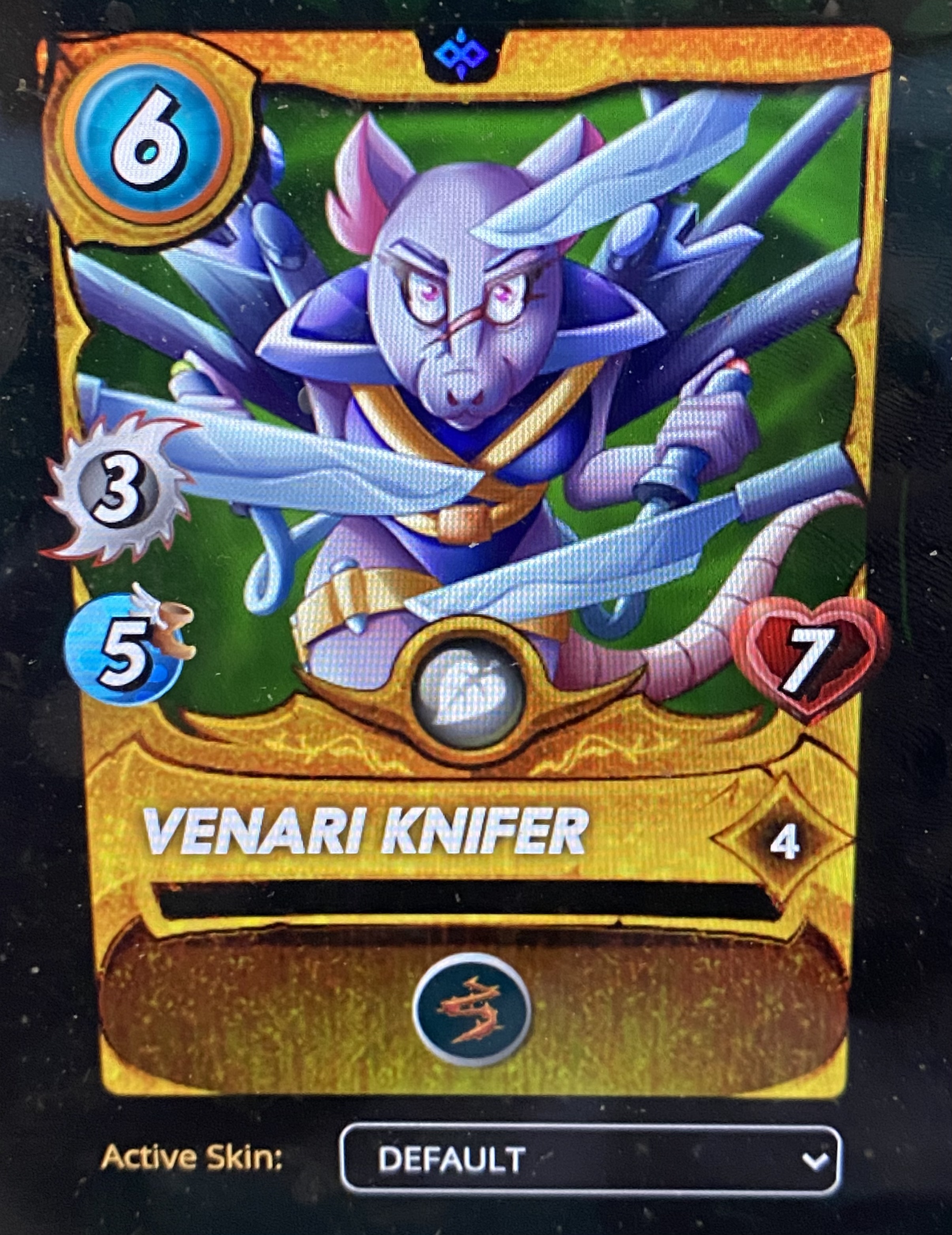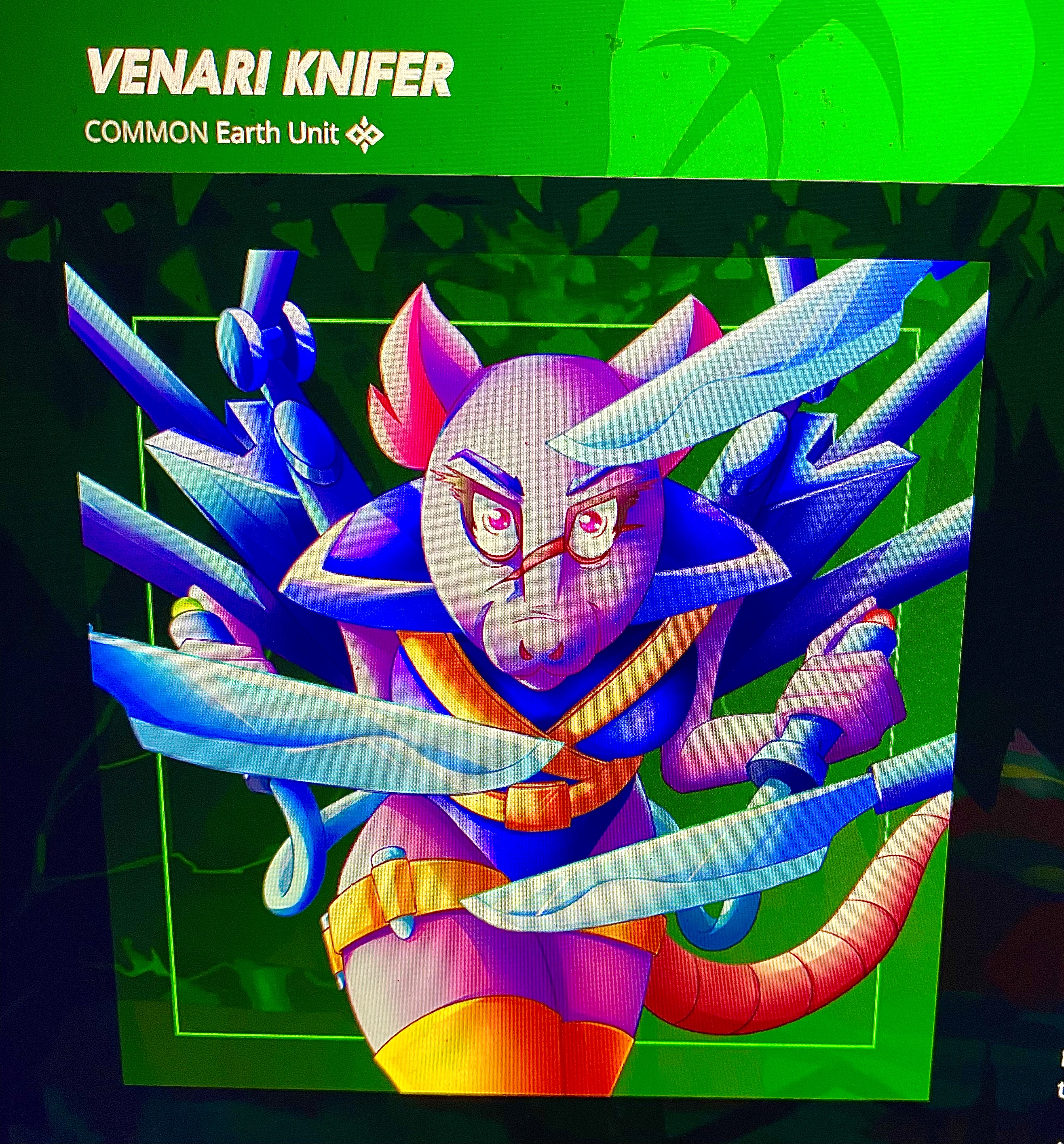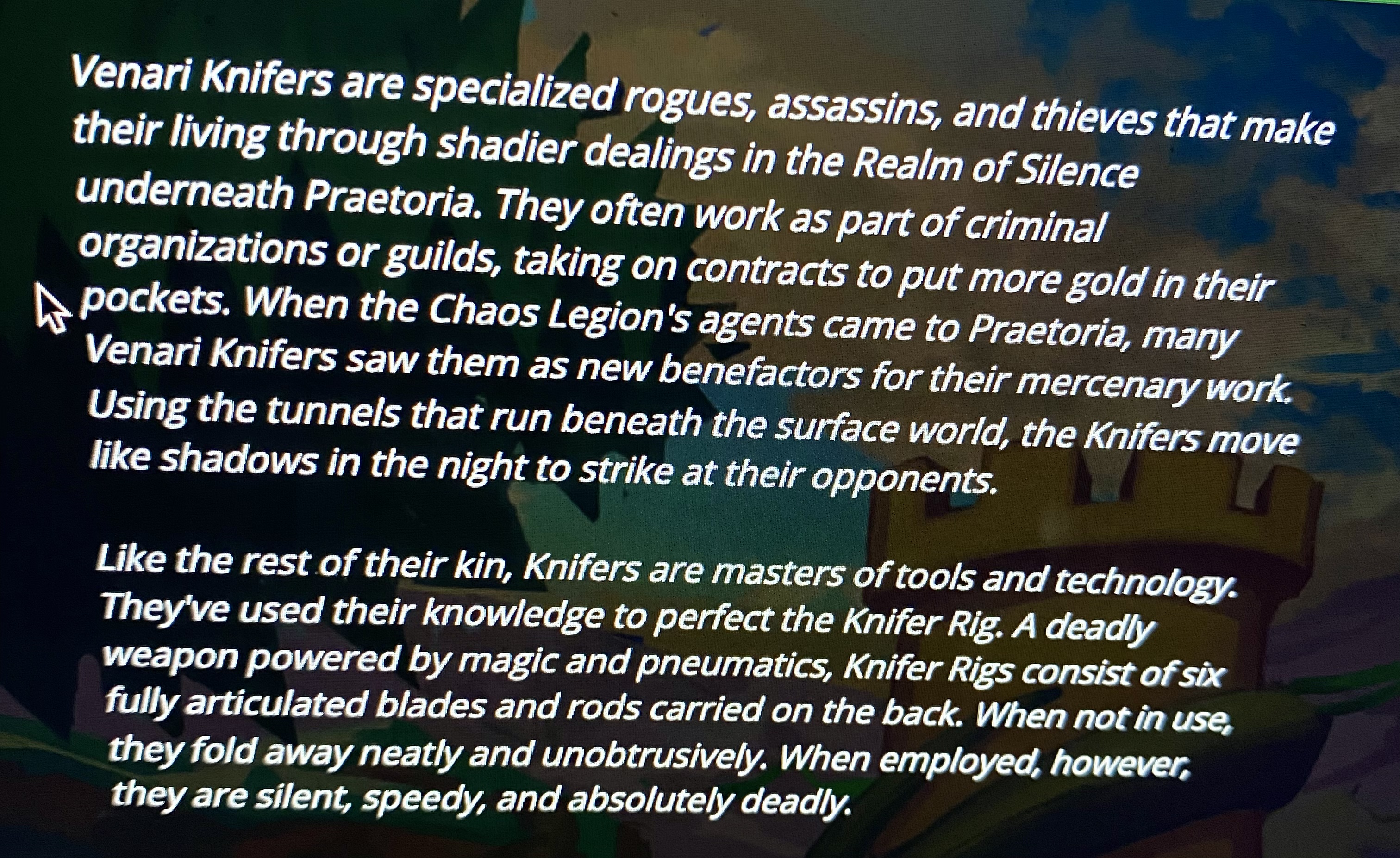 ​
Gold Foil Versions Venari Knifer Earth Splinter Monster
​
I bought six Venari Knifer Gold Foil cards which I will use as a gift delegation for new investors who join the EasyDeFi investment pool, who are also Splinterlands Players.
The Easydefi pool invests the pooled funds on Cubfinance, a staking, farming DeFi project created by Leofinance, a Hive Tribe.
Currently the APR on the Cub-BUSD pool is 88%.
While the APR of 88% is a great reason to invest, and the 33 week track record of the project, along with the 4 years plus longevity of @shortsegments on the Steemit, then Hive platform are good reasons to invest in the pool…
The delegation of a Gold Foil card to use as long as you are a member of the pool is a Bonus!
More about EasyDeFi Easydefi is below in the post below called **No Pain Only Gain.**
​
***Use @easydefi for no pain, only gain.***
​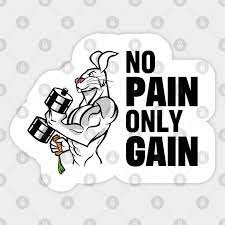 ​
​
EasyDefi removes the painful complexity of investing in decentralized finance and sends you the gains.
​
Everyone is familiar with the saying: no pain, no gain.

EasyDefi has one purpose, remove the pain and leave the gain.
​
First, let me explain the pain...
​
Investing in Decentralized Finance is complicated.
​
You need to:
​
Initiate a cross blockchain asset move to get your Hive blockchain assets onto the Binance Smart Chain blockchain.

Move your assets by wrapping Leo as bLeo on Binance smart chain, which is a BEP-20 token. The Binance equivalent of an ERC-20 token.

Provide liquidity for the trading pair Cub-BUSD or CUB-BNB, or others by depositing dollar equivalent amounts of those tokens.

Those assets must be wrapped also from their native chain to BEP-20 equivalents on Binance Smart Chain.

Once you deposit these assets on PAnCakeSwap, you are awarded Liquidity Provider Tokens by PAnCakeSwap, which are your receipt for the assets you deposited, and those assets are referred to as Liquidity.

Stake those Liquidity Provider Tokens received from website PanCakeSwap on another website called Cubfinance.

Deposit the Liquidity Provider Tokens into the Yield Farm with same assets as the trading pair on PanCakeSwap.

Now you can earn Cubfinance project tokens called Cub every day.

Excellent, now you are investing in DeFi, as a liquidity provider on PAnCakeSwap, and a yield farmer on Cubfinance.

But thats pretty complicated and...

if you make a mistake you lose your investment.

and you pay a lot of transaction fees, every movement of your asset costs money

transaction fees ultimately reduce your ultimate investment size when you get to the end of journey paying fees at every turn.
​
​
Easydefi removes the pain
​
EasyDeFi removes the pain completely.

Investing in defi via @easydefi doesn't involve any of the multitude of steps above
​
No pain: you simply send your investment capitol to @shortsegments with Easydefi in the memo and I do everything else.

Just gain; every week your investment profits are transferred to your wallet.
​
***Simplicity: Keep it Simple: Send Leo or Hive or SPS***
​
Send 100 Leo or 50 Hive or 125 SPS to @shortsegments with EasyDefi in the wallet memo via wallet transfer and on the Sunday 7 days later you start earning Leo which is sent directly to your Leo wallet.

No pain, only gain.

I post an investors report with all the numbers every Sunday also.

Trust, but verify. All transactions are on the blockchain, all numbers are posted every Sunday.
​
​
Why Cubfinance?
​
Trust
The founder of Cubfinance @khaleelkazi is well known in the 20k member Leofinance Community on Hive. The token Leo is a Hive-Engine token, so you can trade your Leo tokens for Hive or SPS on the Hive-Engine exchange, or stake them on Cubfinance in the Cub Kingdom staking pool for 68% APR
​
High Yield
The Cubfinance Pool I invest in earns over 105% per year.
​
Audited Program
Cubfinance is a CertiK audited project.
​
Cubfinance is a fork of PanCakeSwap and on version 2.0
​
Cubfinance is a fork of Gooseswap, which is a fork of Sushiswap, which is a fork of PanCakeSwap.

Each fork closed vulnerabilities of the previous version.

PanCakeSwap is one of the largest, oldest and probably safest project on Binance Smart Chain: PanCakeSwap.

The newest version of Cubfinance uses PanCakeSwap version 2, for even greater security.
​
​
I am a writer, investor and decentralized finance project builder.

I joined Steemit over 2 years before the HardFork which gave birth to Hive.

So I have been on Hive since it's birth.

I built several investor programs on the Steem blockchain, and I have two active projects on the Hive blockchain, in which I invest about 25,000 Leo from over 50 investors.

EasyDeFi @easydefi

No Loss Lottery @nolosslottery

These projects are over six months old, and while they are profitable individually, their greatest potential lies in their future growth, and the growth in token prices.

I am building for the future, so I have a longterm outlook, and I hope you will invest with my projects longterm.
​
The end .. for now..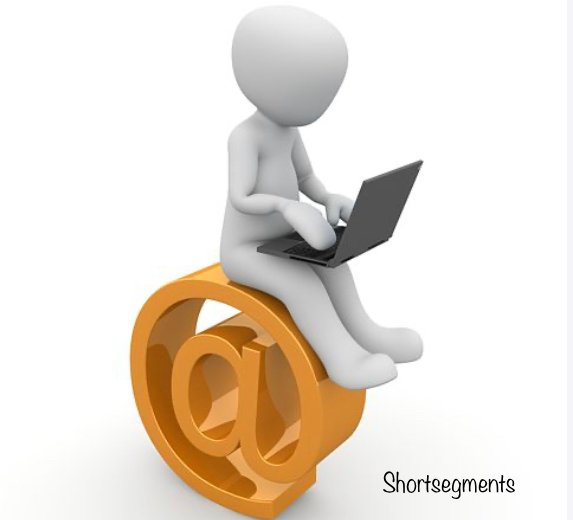 ​
**Rules**
​
Join the EasyDefi investment pool with a friend by sending 25 Hive or 125 SPS or 100 Leo to @shortsegments with Easydefi in the wallet memo
​
​
---