Walmart Litecoin False News Story a lesson in due diligence.
---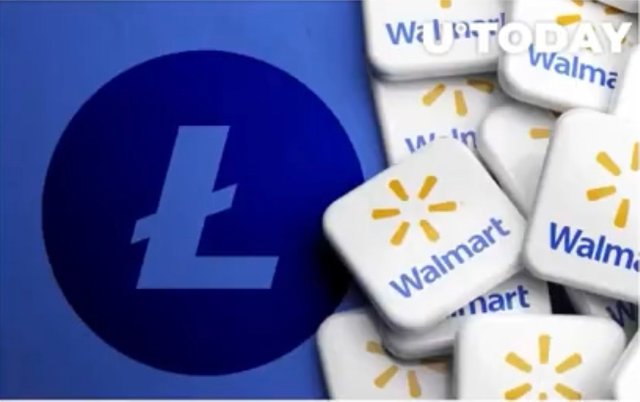 Article plus links to six news stories and three Leofinance posts on this topic.
A lesson in the need for Due Diligence
The news story about Walmart appears to be false, and is being Officially Denied by the Litecoin Foundation.

Apparently, this false story started when someone or some persons "supposedly" paid a Pay for Press Release site called #GlobeNewsWire to release a story this person or persons wrote.

So the press release was published on GlobeNewswire, a paid press release site, and their story was repeated in a article by Yahoo Finance, and then the same was written up by Reuters and CNBC, then the story was tweeted by the Official Litecoin Foundation Twitter account.

This of course made the Litecoin price jump nearly 30 percent in no time. Then it sold off when the news was shown to be false.

Subsequently the Litecoin Foundation issued an official press release stating the story was false.
Amazing what happens when people Assume something is true
GlobeWire is being characterized as a pay for news site but this is a rumor.
'Yahoo News assumed the story was Hot News and published it.
Reuters and CNBC assumed Yahoo News story was true and published it.
'Litecoin Foundations Official Twitter account also assumed these reputable news sites stories were true and without checking with their own organization Tweeted the story.
As my dad use to say, if the shoe fits…
I guess we all learned the importance of doing our own due diligence.
Read more on this story here:
Link 👉 #Leofinsnce Post by @cryptowendyo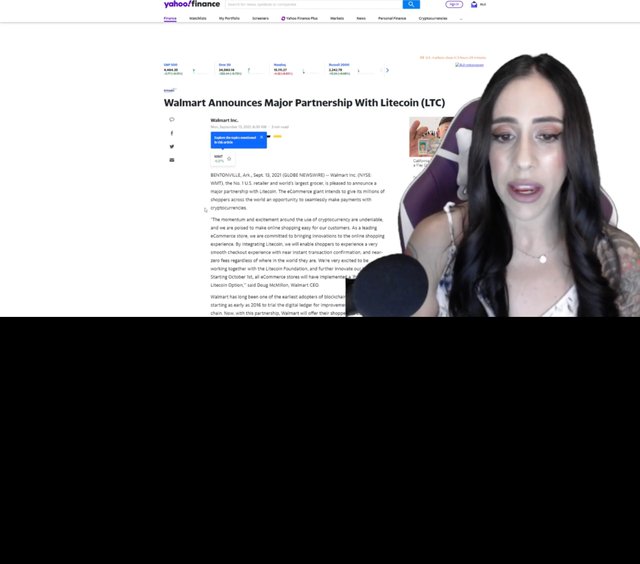 Other Posts on Leofinance about this story:
.
Link 👉 Cryptowendyo YouTube Video]
.
.
Link 👉 U-Today


.
Link 👉 U-Today#2


Link 👉 Litecoin Foundation Tweet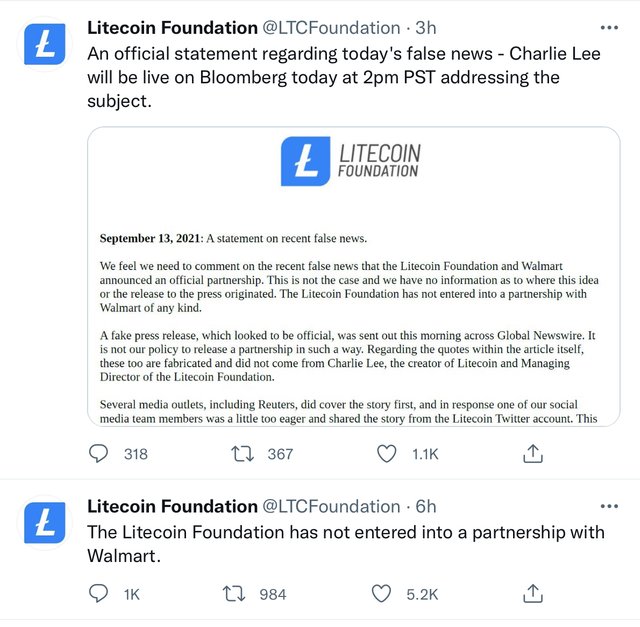 .
Link 👉 Wall Street Journal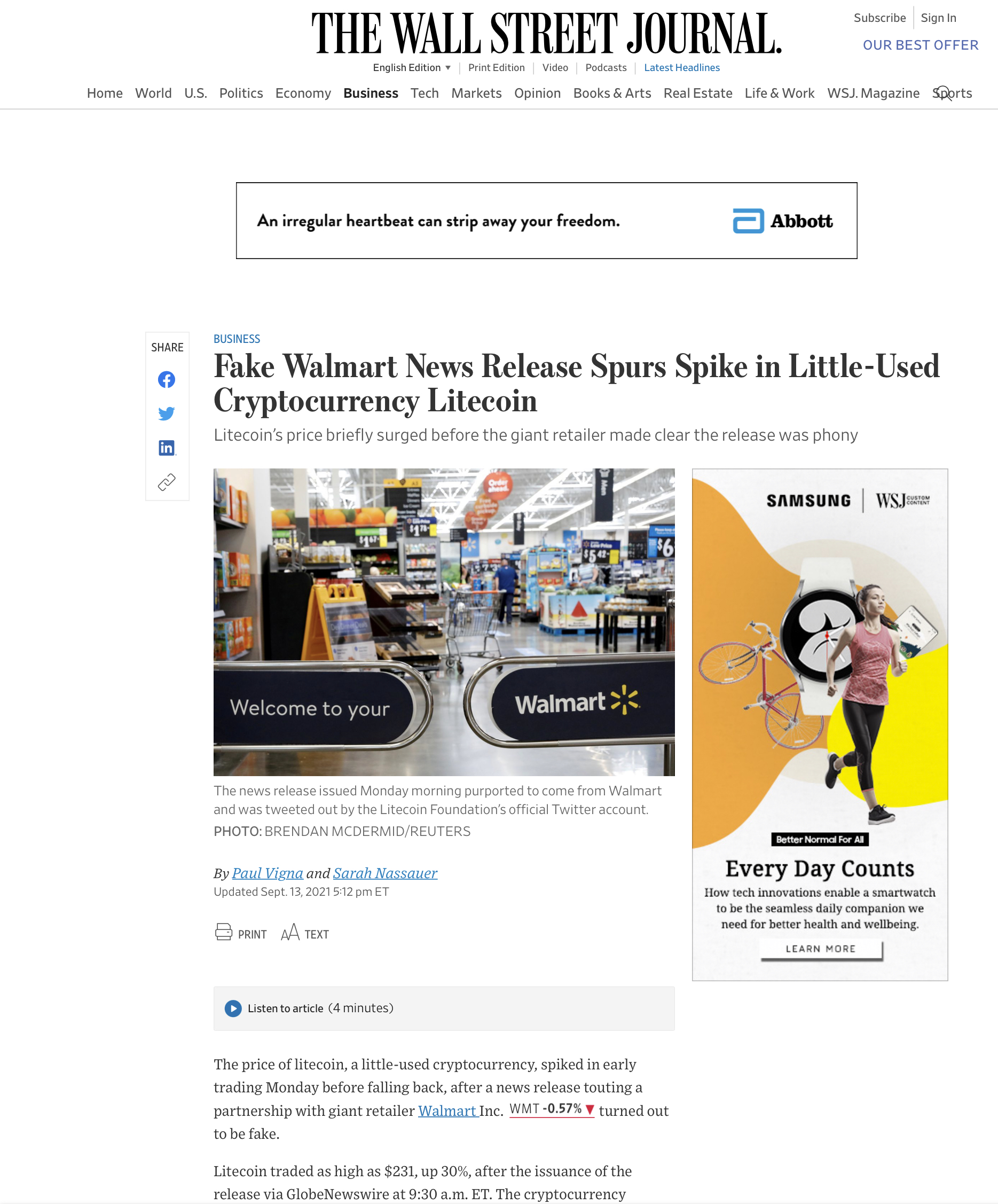 .
Link 👉 Reuters News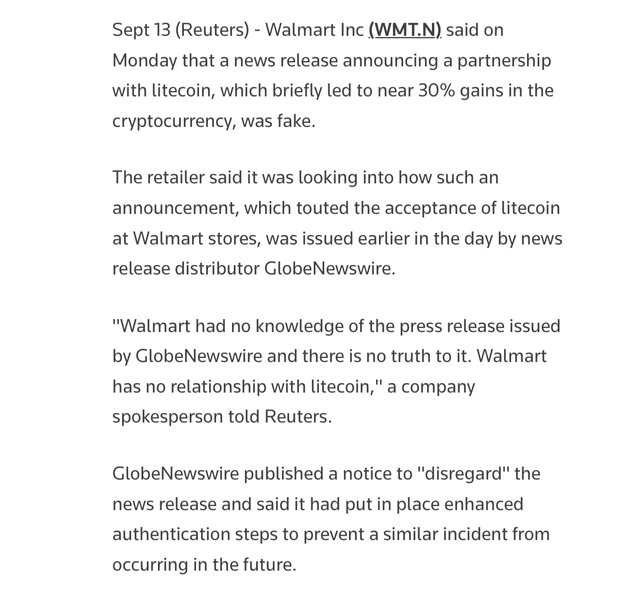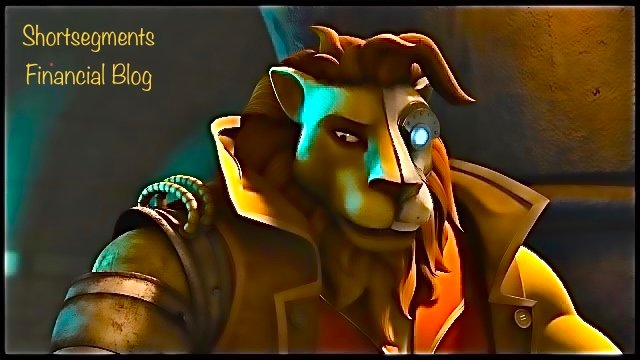 Shortsegments is a writer focused on cryptocurrency, the blockchain, non-fungible digital tokens or NFTs, and decentralized finance. He has been a community member for more then three years.
He is also a builder, with two current projects:
The first is the No Loss lottery, a prize linked savings account here on Hive, which awards more the 100 Leo in prizes weekly, and which recent surpassed 1000 tickets sold. @nolosslottery

The second project is Easy DeFi, which creates a community investment pool allowing community members not yet confident enough to invest on their own, a chance to easily invest in yield-farming and staking on Cubfinance. @easydefi
Leofinance, where you can blog or share financial topic content to earn cryptocurrency, as part of a passionate social media community.

GIF created by @mariosfame
Learn more about Leofinance with my Seven Minute Quick overview and QuickStart Earning Guide. Then you can Join for FREE! Signup takes 20 Seconds!

Posted Using LeoFinance Beta
---