New Purchase - Splinterlands
---
Another Goblin Card!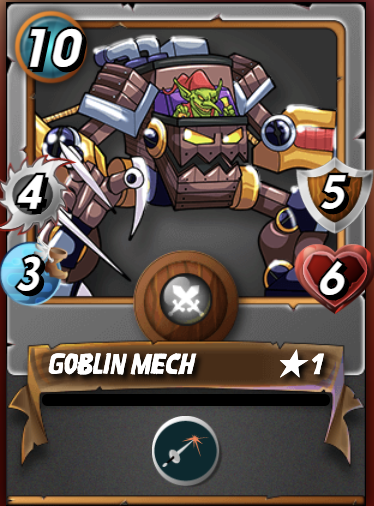 Yesterday I lost a few low Mana battles to my opponents' Goblin Mech cards from the Neutral Splinter, which made me curious about him.

Goblin Mech costs 10 Mana to use, has 4 Melee, 3 Speed, 5 Armor, 6 Health, and the starting ability of Piercing which lets spill-over damage go to enemy Health after depleting enemy Armor in one hit--which is a great ability. For example, if someone with 2 Melee and the Piercing ability attacks an enemy with 1 Armor and 1 Health, not only will the enemy's Armor be depleted but their Health as well--while without the ability only the Armor will be gone while the Health remains unaffected.

Here's his stats and abilities. Not only does Goblin Mech have Piercinga ability but at Level 6 it gets the Stun ability which allows some attacks to cause targeted enemies to skip their turn.




Here's a full-image of Goblin Mech and its lore. I love the idea of Goblin power, just a whole bunch of goblins physically performing the mechanical work to make their goblin robot move and attack, very cool.


If you haven't checked out the lore section on Splinterlands summoner and monster cards, I highly recommend you explore it. The images are very large and detailed, plus some monsters look a lot different on their lore section than they do from their card images. Sometimes, you'll be in a for a pleasant or interesting surprise--but most of the time you'll only find out that these summoners and monsters look and sound ... even way-more cooler than you previously thought!
Image Source: Splinterlands website
---