2022 Tuvalu Silver Black Flag - The Rising Sun
---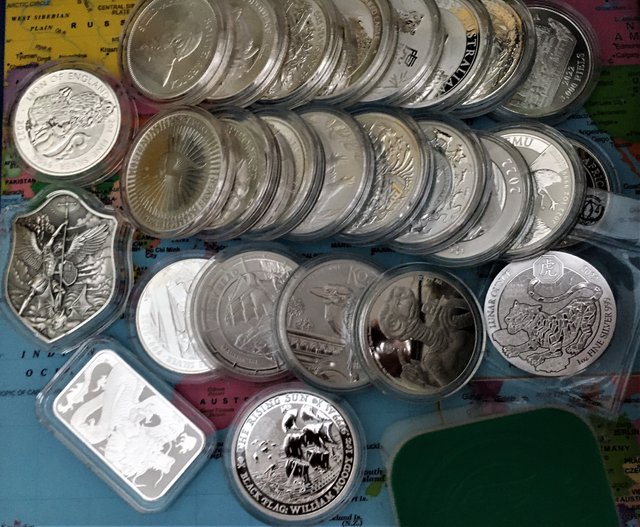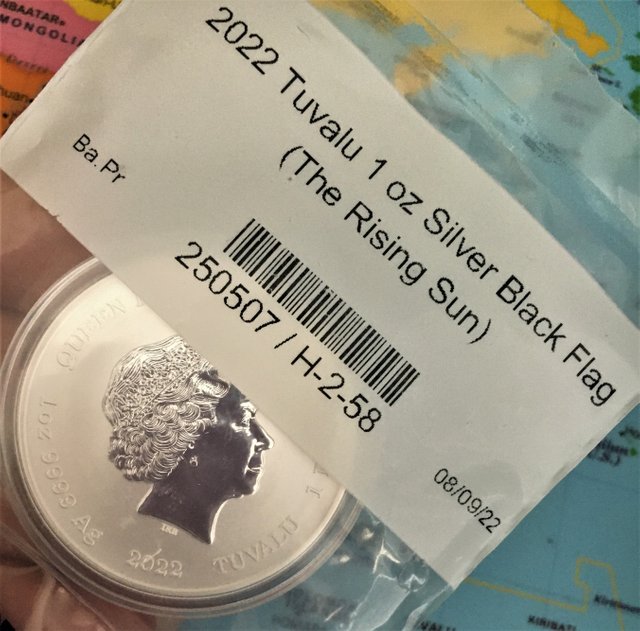 2022 Tuvalu Silver Black Flag - The Rising Sun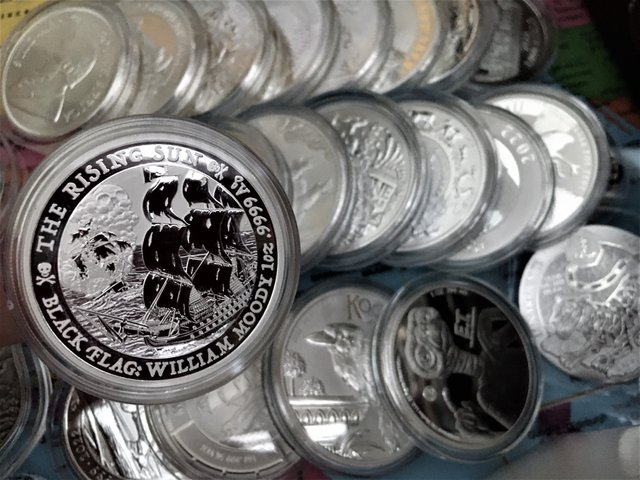 Coin Highlights:

Contains 1 oz of .9999 fine Silver.

Limited mintage of only 15,000 coins worldwide.

Obverse: The Ian Rank-Broadley likeness of Her Majesty Queen Elizabeth II, the monetary denomination, and the 2022 year of issue and the coin's weight and fineness.

Reverse: Captain Moody's ship, The Rising Sun, with a burning ship in the background – the design of a skull visible in the smoke. The design also has the words "THE RISING SUN," "BLACK FLAG: WILLIAM MOODY," the weight, fineness, and The Perth Mint's traditional "P" mint mark.

Sovereign coin backed by Tuvalu government.




Source: Apmex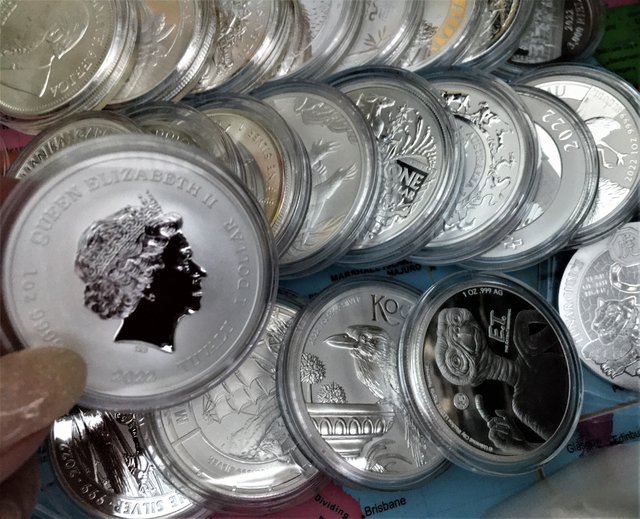 Newest In Series: The Rising Sun The fourth release features William Moody's legendary ship, the Rising Sun. Moody was a pirate known for looting and burning countless ships in the Caribbean for a short time between 1718 to 171. Moody's reign on the open ocean was short lived due to his treatment of the sailors on his ship and resentment began to grow. Soon after, the crew forced Moody, along with a few of his supporters, into a small boat and set sail without them. Captain Moody was never seen again and presumed lost at sea.
Source: Black Flag Series.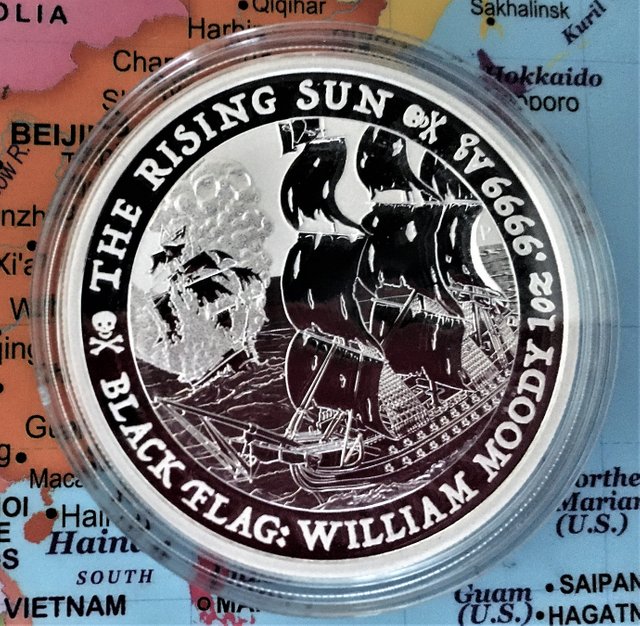 There are a number of pirates in history. Your guess is as good as mine when it comes to the next year's series.
To name a few pirates (not yet featured in this series) are Henry Every "Long Ben", Anne Bonny, Henry Morgan, William Kidd, Calico Jack, Howell Davis, Charles Vane, and the riches of them all Samuel Bellamy. Samuel Bellamy was captain of the Whydah, one of the most formidable pirate ships of that age. I wonder if he is next.
I hope the Perth Mint does not cut the series short, the way The Solomon Silver Pirate Queens Series ended when there were some more female pirates they could have featured.

The Black Flag Series
Did you notice that The Red Flag Fleet does not have the skull in the background?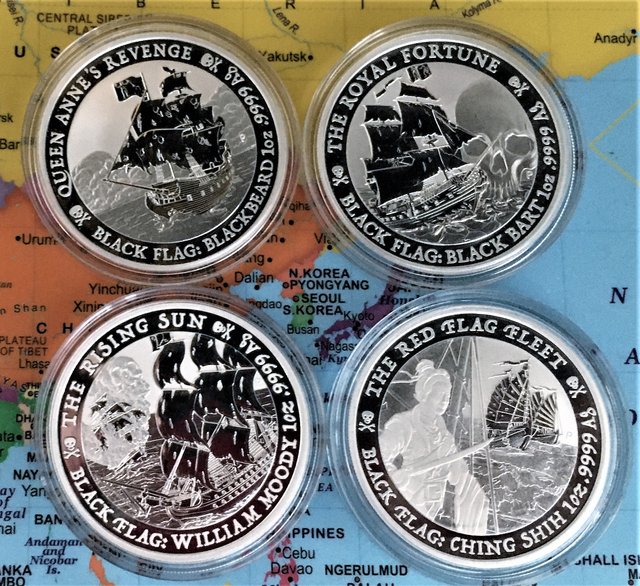 2022 Tuvalu Silver Black Flag - The Rising Sun
2021 Tuvalu Silver Black Flag - The Red Flag Fleet
2020 Tuvalu Silver Black Flag - The Royal Fortune
2019 Tuvalu Silver Black Flag - Queen Anne's Revenge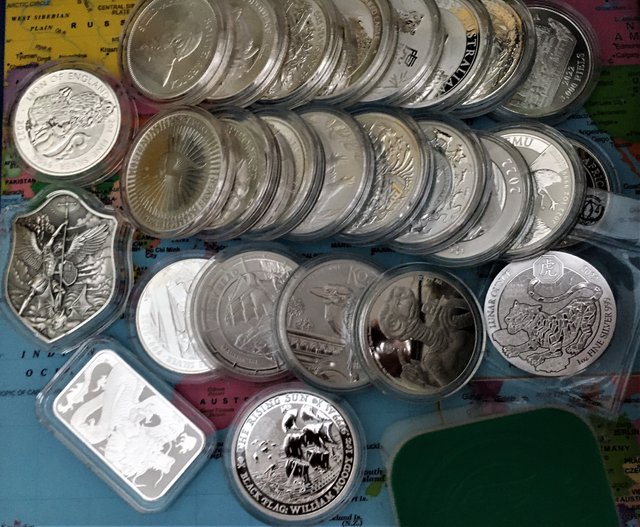 Here are the 2022 coins I have shown so far:
2022 Tuvalu Silver Black Flag - The Rising Sun
2022 Niue Silver E .T. 40th Anniversary Coin
2022 Australia Silver Coat of Arms: New South Wales
2022 Australia Silver Emu
2022 Australia Dragon Rectangular Coin
2022 Great Britain Silver The Royal Arms
2022 British Silver Little John Coin
Shield of St. Michael Silver Stacker - South Korea
2022 Australian Silver Swan
2022 Australian Silver Wedge-Tailed Eagle
2022 St. Helena Silver Queen's Virtues - Truth
2022 Great Britain Silver Myths & Legends - Maid Marian
2022 Solomon Silver Pirate Queens - Mary Read
2022 British 2 oz Silver Tudor Beasts Lion of England
The 2022 American Silver Eagles
2022 Australia Silver Kangaroo
Solomon Island Silver Pirate Queens - Ching Shih
2022 Australia Silver Koala
2022 China Silver Panda.
2022 Cambodia Lost Tigers Coin
2022 Rwanda Silver Lunar Ounce Tiger
2022 Royal Australian Mint Silver Year of the Tiger
2022 Australia Silver Lunar Tiger III
2022 Australia Silver Kookaburra
2022 Austria Silver Philharmonic
2022 Canada Silver Maple Leaf
2022 South Africa Silver Krugerrand
2022 Great Britain Silver Britannia
2022 Somali Silver Elephant
😍#ilikeitalot!😍

All photos, gif, and video were taken by me with my iPhone, unless specified.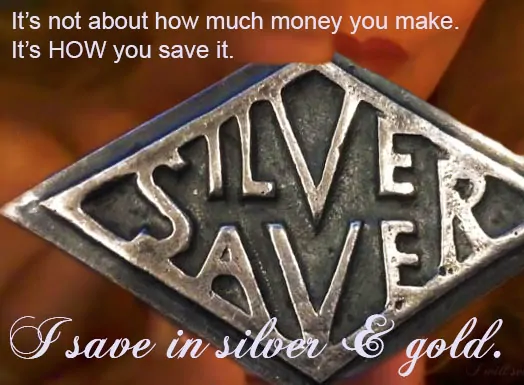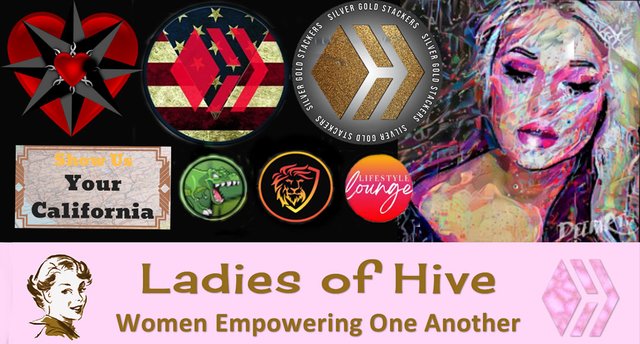 Thank you for stopping by to view this article.

I post an article daily, and I hope to see you again soon!






Hugs and Kisses 🥰🌺🤙!!!!






@silversaver888
Posted Using LeoFinance Beta
---