This bearish signal was a false flag.
Selling put options is a great way to generate income and solid annualized returns by taking less risk than owning the same amount of common stock long. When I look for these trades I target earning 2% or more for every 30 days of expiration time.
Selling a put option is a strategy where you are slightly bullish on a stock and this reduces your risk by being able to name the price (called the strike price) you are willing to pay for the company. This contract is valid for a specific amount of time called the expiration date.
These terms are set by you and for agreeing you are paid upfront for the potential obligation to buy 100 shares of stock for every put sold. I typically look at options expiration dates between two weeks and two months.
Bullish Percent Index is useful to look at sector sentiment.
The number on the chart basically tells you how many financial companies in the index have a bullish trading pattern so when the chart reads 95 it means 95% of all financial companies are trading higher. Just like on other TA measure extreme numbers such as greater than 80 on this chart or greater than 70 on RSI charts usually leads to significant pullbacks in share prices as some of the bullish action is corrected.
Historically pullbacks of greater than 10% occur after this many companies are bullish shortly before the bullish percent index begins to decline. In financials case this round they only fell 4.6%. Financial stocks are just trading with that much strengthen that they will be overbought for some time.
I will play this strength using American Express (AXP).
AXP is a $124 billion credit card giant which also has additional banking services. As a whole the business is undervalued compared to a pure play credit card company or a banking institution.
American Express currently has 114 million card holders worldwide which spend more than $1 trillion per year.
The company has used exclusivity and prestige to develop one of the most valuable brands today (ranked 23 globally by Interbrand). With invitation only Centurion Card which costs $5,000 per year. This creates a desire by consumers to improve their credit so that they can climb the credit card latter and grab the best benefits.
AXP credit card business earns in three ways: first they charge merchants transaction feeds for accepting its cards, then interest is charged consumers on outstanding balances and finally they are paid upfront annual fees for consumers to own some of the hottest credit card benefits.
Business is good: in the last 12 months they had $35 billion in sales with a 19.6% profit margin and $8.6 billion in free cash flow. Using the free cash flow the company has repurchased 16% of its shares over the last five years making each remaining share more valuable.
The company share price remains cheap at only 12.5 EV/EBITDA a huge discount to S&P 500 of 19.7 times.
Share are in a strong uptrend using the 50 day moving average as support.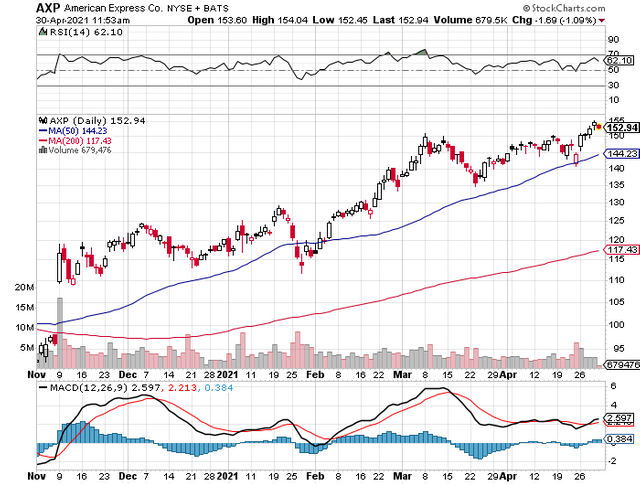 Use the pause at the recent highs to establish a great trade.
Sell to open the June 18 $150 put on AXP for $3.60 or better using a limit order. You are paid 2.4% upfront for agreeing to buy shares at a 3% discount to yesterday's closing price.
If shares are above $150 on expiration day: put sellers keep the $3.60 (a 17.5% annualized return) and move on to the next opportunity.
If shares are below $150 on expiration day: put sellers will own 100 shares of stock for every put sold bought at a 5% discount to yesterday's closing price. Now you can earn more income by selling covered calls.
For protection use a stop loss at $109.80 which is about 25% below your adjusted cost basis ($150 - $3.60 = adjusted cost basis).
Sell puts today to earn income and potential buy shares at a discount. Happy Friday, now get out there an earn some income!

Divider provided by barge

Disclosure: I wrote this article myself, and it expresses my own opinions. I have no business relationship with any company whose stock is mentioned in this article. The information provided should NOT be considered advice. The topics discussed are risky and have the potential to lose a substantial amount. I am not an investment professional and therefore do not offer individual financial advice. Please do your own research before investing.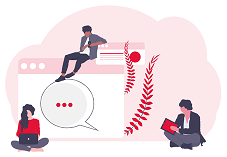 Need a Hive account? Sign up free here!
(Unsupported //ad.a-ads.com/1363352?size=728x90)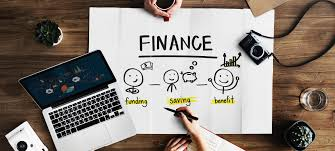 Posted Using LeoFinance Beta